Quick, easy, and perfect for weeknight meals, these Shrimp Fajitas are packed with flavor. They're naturally gluten free and dairy free as well. You'll find tips below for how to make these paleo or into a fajita bowl. Any way you end up going, you'll definitely want to load up on all the toppings!
Fajitas are such a crowd pleasing recipe! And it's no wonder with all the flavor packed spices and bright zesty lime flavor.
We love making my Sheet Pan Chicken Fajitas regularly for a simple meal. So it's about time to have a seafood version around here as well.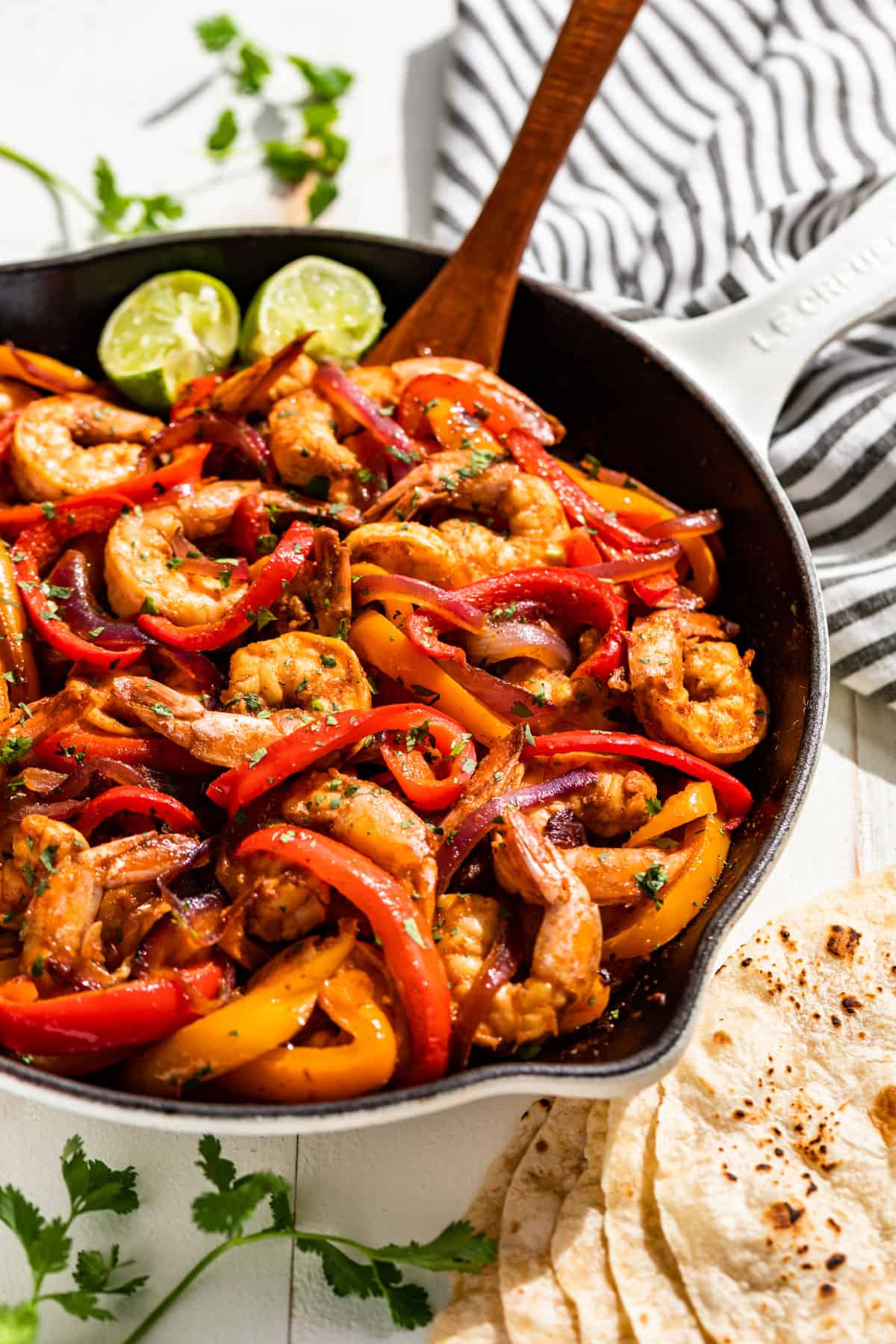 Ingredients & Substitutions
Shrimp – fresh or frozen work here, just thaw them in the fridge, then drain before using them. I like to use large shrimp here (31/35 per pound). You can use any size you have in this recipe, just adjust the cooking time accordingly. Shrimp cook really fast, so if they're smaller, just be aware of that. If you're using tortillas, try to find shrimp without the tails on, or remove them. If you're making the rice bowls, you can remove the tails as you eat your bowl.
Bell peppers – I like to use a mix of red and yellow or orange for a nice color contrast. But you can use any mix of colors you enjoy, or what you have on hand for these fajitas.
Onion – red onion is a nice flavor in fajitas and adds color, but sweet, yellow, or white onions all work here.
Fajita seasoning – you can use any fajita seasoning you'd like here. I use 2 tbsp of my homemade Fajita Seasoning mix.
Avocado oil – is for sautéing the veggies and the shrimp. It can be used over high heat and it's my go-to, but you can use any neutral tasting oil good for high heat here.
Garlic – just a touch adds so much flavor. Try using a garlic press to speed up your prep time.
Lime – a fresh squeeze of lime is what makes fajitas different from other Mexican dishes like tacos.
Cilantro – a bit of chopped cilantro goes a long ways to adding the perfect amount of fresh flavor.
Tortillas – any tortilla you usually use works great here. We love the grain free tortillas from Siete. Sometimes we just pile all this on rice instead, see the details below tips.
Toppings – feel free to add anything you like on fajitas. We like to add salsa, diced avocado or guacamole, sour cream, and sometimes some grated cheese too. For dairy free fajitas we love drizzling my Cilantro Lime Dressing over the top.
How to make this recipe step by step
Step 2: Toss the shrimp together with the fajita seasoning and set it aside.
Step 3: Next heat a 10″ or larger skillet over medium high heat. When the pan is hot, add half of the avocado oil along with the minced garlic. Cook until fragrant, about 30 seconds, then add the peppers and onions. Cook over high heat to sear the veggies and remove them from the pan when they're just tender.
Step 4: Then in the same skillet, add the remaining avocado oil along with the shrimp. Cook over medium high to high heat stirring as the shrimp turn pink. Cook until the shrimp are barely done, then add the veggies back to the pan along with the lime juice. Toss to combine and finish cooking the shrimp. Serve immediately!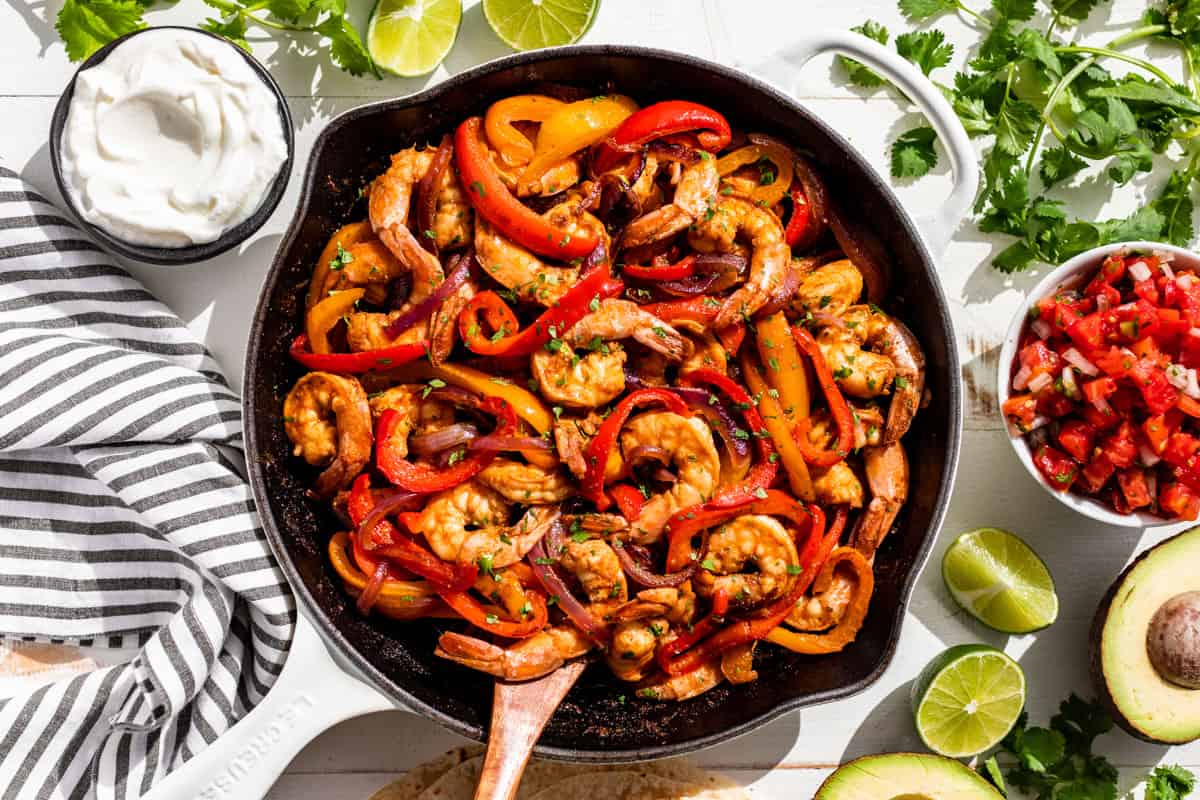 Ways to serve this
as a traditional fajita on tortillas with all your favorite toppings like Pico de Gallo, sliced avocado or Best Guacamole, and sour cream.
make a rice bowl like you would get at Chipotle, and serve these Shrimp Fajitas over plain steamed rice or my Cilantro Lime Rice with all the toppings.
make a quesadilla out of any leftovers, chop up the shrimp, peppers, and onions into bite sized pieces first.
FAQ's
What toppings do you put on a fajita?
The sky is the limit from sliced avocado or guacamole to fresh Pico de Gallo or Restaurant Style Salsa. We usually add grated cheese and sour cream as well. The veggies are already combined with the shrimp, so you don't need to add those. Serve with lime wedges to squeeze over the top as an extra topping.
What is the best meat to use in fajitas?
Whatever meat you're craving, you can make fajitas with steak, chicken, shrimp, etc. Sliced tender pork or sliced tender steak are really tasty. Just make sure any meat you choose to use is a tender cut.
Can I use chicken instead of shrimp in these fajitas?
Yes, just cut chicken thighs or chicken breasts into bite sized pieces and sauté them in place of the shrimp.
Storing leftovers
Store – place any leftovers into an airtight sealed container and refrigerate for up to 4 days.
Reheating – gently reheat over medium heat in a skillet adding a touch of water if necessary to keep it from sticking. The shrimp will be overcooked, but still pretty tasty.
Freeze – I don't recommend freezing this recipe because the veggies loose their texture and shrimp is just too delicate after being cooked.
Tips & Tricks
Make sure you have everything else prepped before you begin to cook because shrimp cooks so fast.
Definitely cook the veggies first as listed in the recipe, then cook the shrimp. Shrimp cooks so fast you don't want it to overcook while you cook the veggies!
Use as many or few of the topping options as you'd like. We often keep it super simple with just sliced avocado or a dollop of sour cream and some fresh cilantro. Sometimes less is more, and it's definitely less time in the kitchen!
If you're not a fan of shrimp, try cubing up some chicken thighs into bites sized pieces to use instead. Just cook a touch longer and make sure the chicken is done before adding the peppers and onions back to the pan.
Dietary Options
Paleo – serve the shrimp fajitas over cauliflower rice or my roasted sweet potatoes with avocado or Guacamole, salsa, and/or Cilantro Lime Dressing drizzled over the top.
Bowl style – make a batch of my Cilantro Lime Rice or freshly steamed rice and serve these shrimp fajitas piled over the rice with all the toppings you like.
Fajita Toppings & Sides Recipe Inspiration
I really hope you enjoy these Shrimp Fajitas! If you do get a chance to make this recipe, I'd love to hear from you in the comments.
INGREDIENTS
2

tbsp

avocado oil

2

large

bell peppers

-

red and yellow

1

large

red onion

1

clove

garlic

-

minced

1

pound

shrimp

-

(31/35 per pound) fresh or frozen thawed and drained

2

tbsp

Fajita Spice Mix

2

tbsp

freshly squeezed lime juice

-

more or less to taste

1/4

cup

cilantro

-

chopped
Toppings
tortillas or steamed rice, sour cream, avocado or guacamole, fresh salsa or restaurant style salsa, & lime wedges
INSTRUCTIONS
Remove the stems and seeds from the bell peppers and slice between 1/4"-1/2" thick. Set them aside.

Then cut the ends from the onions and peel away the tough outer layer. Cut the onion in half, then slice into 1/4" thick half moon slices.

In a medium sized bowl, toss the shrimp together with the fajita seasoning and set it aside.

Prep all the toppings you'll be using, then preheat a large 10" or larger skillet over medium high heat.

When the pan is hot but not smoking, add 1 tbsp of the avocado oil along with the minced garlic. Sauté until fragrant about 30 seconds, stirring to break it up.

Then add the bell peppers and onions. Cook over medium high or high heat to sear the veggies. When the veggies are just tender, remove the from the pan, 4-5 minutes.

Add the remaining tbsp of avocado oil to the same skillet along with the shrimp. Cook over medium high heat stirring as the shrimp turn pink, 2-3 minutes.

When the shrimp are almost done, add the veggies back to the pan and toss to combine seasoning to taste with the fresh lime juice.

Adjust the salt to your taste depending on what spice mix you use and serve immediately with your choice of toppings.
Bonus Step
If you made this recipe, please leave a rating/comment. Ratings really help us continue to bring you high-quality free recipes. Rate This Recipe!
NOTES
The calories for this recipe were calculated without any toppings, tortillas, or rice you might serve with these shrimp fajitas.
nutrition facts
Calories:
471
kcal
|
Carbohydrates:
10
g
|
Protein:
88
g
|
Fat:
12
g
|
Saturated Fat:
1
g
|
Polyunsaturated Fat:
1
g
|
Monounsaturated Fat:
5
g
|
Cholesterol:
1293
mg
|
Sodium:
4062
mg
|
Potassium:
308
mg
|
Fiber:
4
g
|
Sugar:
5
g
|
Vitamin A:
3825
IU
|
Vitamin C:
110
mg
|
Calcium:
481
mg
|
Iron:
9
mg