I don't think there is a day where I'm not craving Pad Thai, and I know I'm not alone on this. One of my friends is so addicted to Pad Thai that after she went away to college, she would stock up on the local Pad Thai every time she came home. She would order several of them to go and pack them with her back to college the next day. Now that's the kind of obsession I can get behind!
Pad Thai varies so much from place to place that I have a hard time ordering it anywhere other than my favorite spot. Over the 4 years that my husband and I traveled back and forth from Calgary to Montana on the weekends to see each other while we were immigrating, we drove right through Fernie B.C. There's this great little place right off the main highway called the Curry Bowl.
Normally it's the kind of place I would shy away from because they do a little bit of all kinds of cuisines from Thai to Indian. Usually this spells disaster because most restaurants trying to do it all fail across the board, but that's not the case with the Curry Bowl. Every time we go, it's this battle between their absolutely amazing Pad Thai and all the other delicious things on their menu, (like Red Curry Noodles with Shrimp, the Japanese Karaage, or the Panang Curry).
I usually cave and go with the Pad Thai because how often do you get a truly spectacular Pad Thai!?! Since we don't pass through Fernie very often anymore, I've been trying to come up with a simple at home version with normal ingredients I can actually find at our local grocery store. As it would turn out, it's pretty easy to get Pad Thai wrong at home, whether it's overcooking the noodles, to not enough sauce, and the list keeps going on.
So I turned to one of my favorites, veggie noodles! First I tried zucchini noodles which are definitely good, but with all zucchini noodle dishes it's easy for them to get overcooked and watery. One day a lightbulb finally came on and I decided to try sweet potato noodles which never get watery, and their sweet flavor turns out to be the perfect pairing for the flavors of Pad Thai.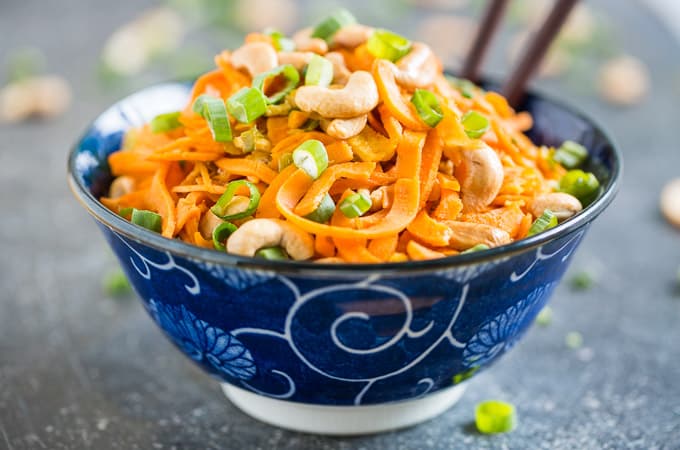 And finally I had a super easy Pad Thai to make at home that I absolutely love! Obviously sweet potato noodles are a bit different than rice noodles. There will always be a place in my heart for the traditional version, but I do love the ease of sweet potato noodles, and the flavor as well as the nutrition can't be beat.
If you've never used fish sauce before, I'd like to start by telling you not to worry about it's awful smell because it makes everything taste amazing! That being said, it's really important to buy a good quality fish sauce. Thai Kitchen makes a good one that's available at most grocery stores, but it does have a fractional amount of sugar in it (although not even enough to registar on the nutrition facts). If you can't have any sugar at all, you can special order Red Boat fish sauce which doesn't have any added sugar.
As far as the chili powder in the sauce goes, some people prefer it that way, and others never add it. I've used everything from normal chili powder to a special order Mexican guajillo chili powder when I ran out of normal chili powder one time, and it's good with any type I've tried.
Print
Simple Sweet Potato Noodle Pad Thai
---
Omelet shreds:
Sweet Potato Noodles:
1 1/2

pounds sweet potatoes, peeled

2 Tablespoons

avocado oil

1

large clove garlic, minced

1

bunch green onions, thinly sliced, both green and white parts
Pad Thai Sauce:
3 Tablespoons

fish sauce

1 Tablespoon

tamarind paste

1 Tablespoon

freshly squeezed lime juice

1 Tablespoon

coconut sugar, or maple syrup

1 Teaspoon

chili powder
Toppings:
1 cup toasted cashews or peanuts for traditional

1/2 cup

chopped cilantro

1

lime cut into

3

wedges for serving
---
Instructions
Mix together all the ingredients for the sauce, and prep all the toppings to set aside until the end.
Preheat a 15″ non-stick skillet over medium heat. Add 1-2 teaspoons oil to the pan, whisk the eggs together in a bowl and then pour them into the preheated pan. Swirl the eggs around to all the edges, then push the set eggs to the middle and continue to swirl the uncooked eggs to the edges. When the eggs are about half cooked, lower the heat to low and cover. Cook without stirring until the omelet is done. Using a spatula, carefully slide the omelet out of the pan onto a cutting board. Don't worry if it breaks a bit. Cut the omelet into strips about 1/4″ wide, and set them aside until the end of the cooking time.
Spiralize the sweet potatoes using the 6mm blade (the bigger noodle blade) on a Paderno 3-blade spiralizer, and set the noodles aside.
Add the 2 tablespoons of oil to the same pan you used for the omelet along with the garlic and green onions, sauté over medium high heat for about 1 minute, and then add the sweet potato noodles. Sauté the sweet potato noodles until just softened, about 8-10 minutes. I partially cover the pan with a lid to speed things up a bit, and it creates a softer noodle.
When the noodles have softened, add the Pad Thai sauce, omelet shreds, cashews, and chopped cilantro to the pan. Continue cooking over medium high heat while tossing the noodles just until everything is coated. Serve immediately with lime wedges.
If you have leftovers they do reheat well in a skillet with 1-2 Tablespoons water to keep the noodles from sticking.
Notes
I usually make this without meat, but it's also very good with chicken, shrimp, or a little bit of both.
Prep Time:

30 mins

Cook Time:

15 mins