Easy and healthy comfort food for dinner tonight, this simple Vegetable Pasta Bake is a long-time vegetarian favorite in our house! It's an easy way to eat lots of veggies because they're loaded with flavor and surrounded by molten melty cheese. We love this pasta bake with either my Best Oven Roasted Broccoli or my Easiest Garlic Roasted Green Beans.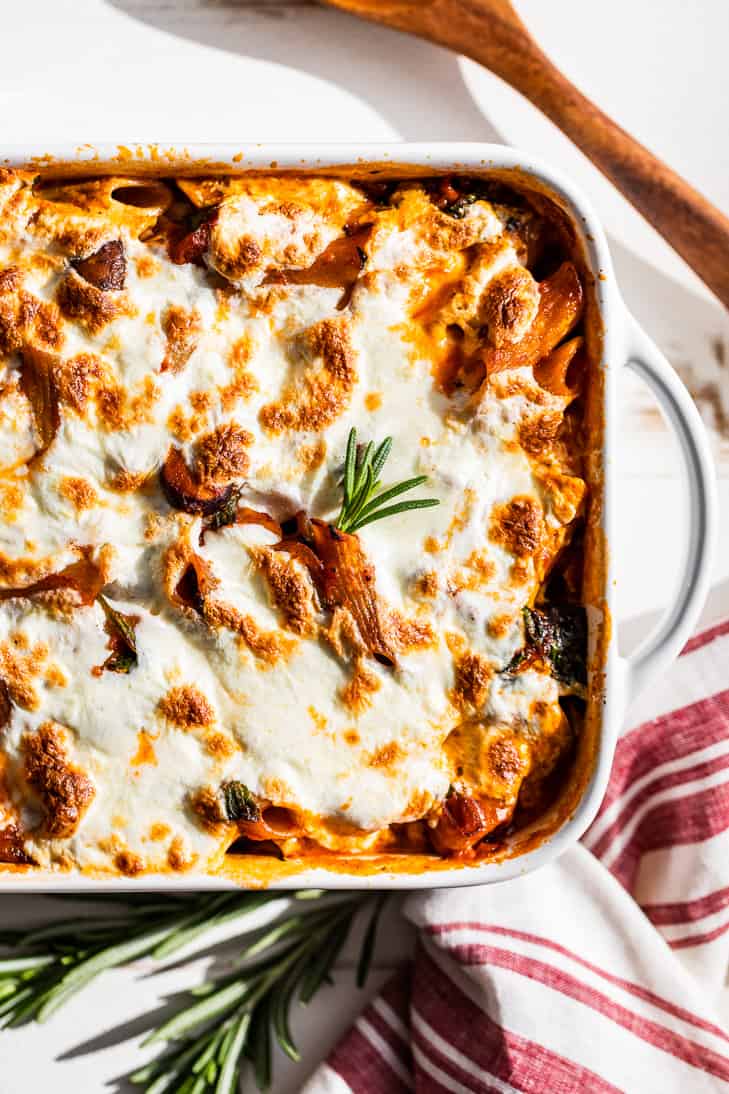 Tender pasta tangled up with caramelized onions and spinach, sauced with tomatoes, and baked into a perfection of cheesy comfort! Even though I can't wait for summer, I'm still reveling in comfort food while it's still chilly.
There's nothing quite like all the yummy things baked together into deliciousness. And… when it involves molten cheese, you can always count me in.
I've added all sorts of things to this pasta, but in the end, I went with my original recipe in its simplicity. That's not to say you can't go a little wild with this recipe though.
It's great with roasted delicata or butternut squash, browned hot Italian sausage, or any of the different herb suggestions as well. You can also easily change up the flavors by using a different pasta sauce as well.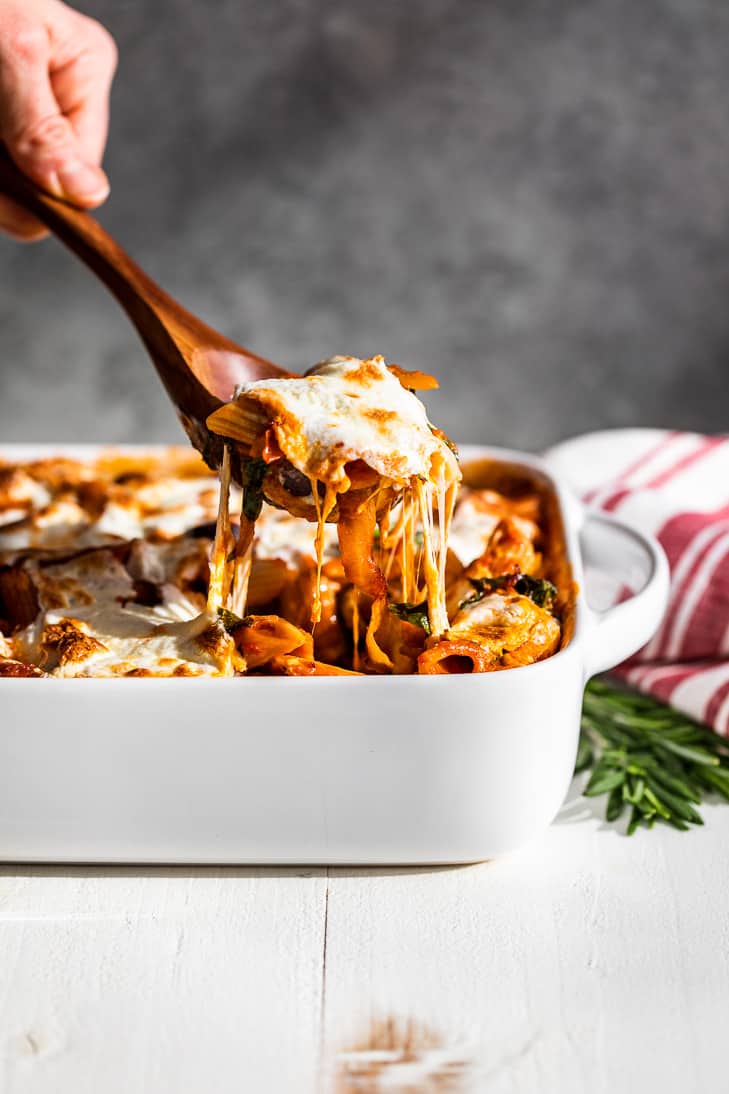 Ingredients for this Vegetable Pasta Bake
Onions – are caramelized first as the base of this pasta bake. It takes a few minutes, but caramelized onions add so much flavor. And you can prep the rest of the ingredients while they cook.
Mushrooms – also add to the flavor of the sauce along with being a fantastic way to add a 'meaty' texture to this vegetarian dish.
Rosemary – is my favorite fresh herb to use here, but thyme works as well. You can also use dried herbs instead. The ratio is 3:1 fresh herb to dried herb. So to replace the 1 tablespoon of fresh rosemary, use 1 teaspoon of dried herb of choice. My top pick would be Italian seasoning in place of the fresh herbs.
Tomato Sauce – This recipe works with a 28-oz can of fire-roasted tomatoes blended into a sauce in the blender. Or you can also use your favorite 25-oz jar of pasta sauce. With the fire-roasted tomatoes, you will need to add sea salt to taste. And with the jarred pasta sauce, you can easily customize this recipe by changing the flavor of the sauce you use. Tomato basil has been my favorite, by the spicier arrabiata, or marinara sauce is really good here as well as a vodka tomato sauce or roasted garlic.
Spinach – adds a bright pop of color and loads of greens to the dinner table. It simply melts right into the pasta bake and is an easy way to add another serving of veggies.
Pasta – I use gluten-free 100% brown rice penne pasta, (Jovial is our favorite because the texture is incredible). You can use any shape you like, but I would steer clear of any of the super small shapes. Penne and farfalle are my go-to's for this recipe.
Fresh Mozzarella – is added in the middle of the pasta bake and on the top for cheesy goodness. I recommend not subbing in regular mozzarella since it's drier. Fresh mozzarella sheds its moisture as it bakes which adds a touch of creaminess but also contributes to the moisture level of the pasta bake. I haven't tried this with regular mozzarella that you can grate, so I'm not sure if the pasta bake would be too dry.
Make this recipe step by step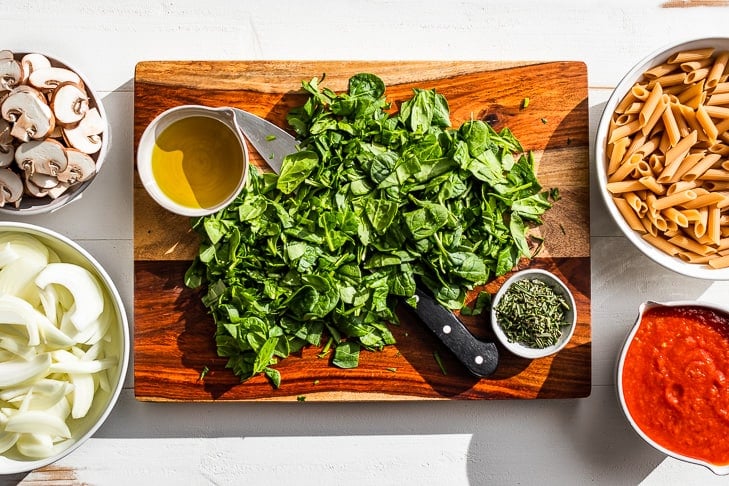 Step 1: Prep the onions and get them caramelizing in a large skillet. They take at least 20 minutes to get that perfect golden browned flavor and you can prep everything else while they cook!
To prepare the onions, cut off both ends and peel the outer layer. Next lay each onion half flat side down on the cutting board – then cut across the rounded top to create 1/4″ half-moon slices.
Step 2: Caramelize the onions in a skillet over medium heat. Cook until they're golden browned and softened, about 20 minutes.
Tip: I highly recommend doubling the amount of onions called for in the recipe. Try them out in an omelet or with my In and Out Style Burger Lettuce Wraps.
Step 3: When the onions are done, add the chopped rosemary and mushrooms to the pan.
Cook over medium-high heat stirring frequently until the mushrooms are partially softened.
Steps 4 & 5: In the meantime, cook the pasta in a large pot of salted water until it is softened but with a fair bit of bite in it. This is about 4 minutes less than the usual cooking time, (it finishes cooking in the oven).
Next, add the pasta sauce to the pan with the veggies, and bring it to a simmer.
Step 6 & 7: Add the roughly chopped spinach to the pasta sauce mixture. Mix it in the best you can and remove it from the heat. Don't worry about fully cooking the spinach, it will finish in the oven.
Toss the freshly cooked pasta together with the tomato sauce mixture and layer it into a deep dish baking dish.
Steps 8 & 9: I like to add about 1/3 of the fresh mozzarella right into the pasta mixture – that way there are cheesy pockets in the middle of the pasta bake! Then top the pasta with the remaining mozzarella.
Place the pasta dish in the oven and bake until the cheese is melted and browning and the pasta bake is bubbling. Serve immediately!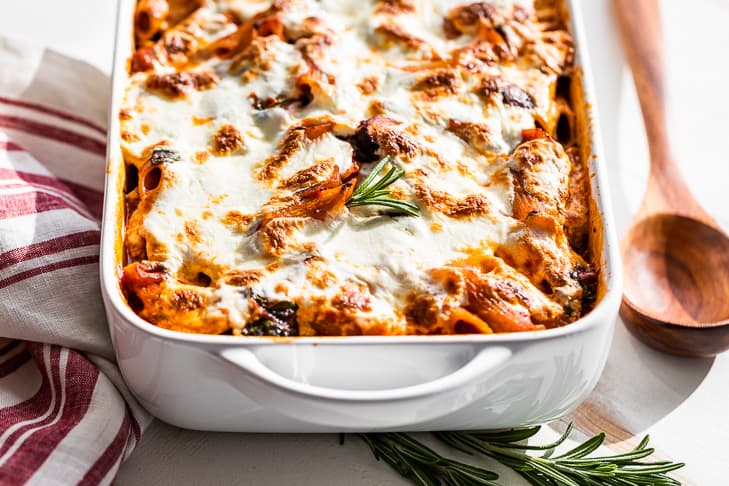 Storing leftovers
To store – place any leftovers into an airtight container and store them in the refrigerator for 3-5 days.
Make ahead – this pasta bake is best served fresh. However, my favorite way to get a jump start on this recipe is to make the sauce up until the point where you add the spinach. From there you can refrigerate the sauce for 1-2 days before proceeding with the recipe.
Reheating – place any leftovers into a small skillet with a few tbsp of water and reheat over medium heat covered, stirring as needed until heated through and the pasta softens. Or you can also microwave.
To freeze – you can freeze the leftovers in an airtight container for up to 3 months. Defrost in the fridge overnight before reheating. The pasta bake and veggies will be way softer!
Tips & Tricks
Make sure you don't overcook the pasta before baking it. You want to remove it from the cooking water when it's still quite firm so it bakes up perfectly.
You can add cooked Italian sausage or chopped cooked chicken to make this a full meal if desired.
Don't skip caramelizing the onions, it adds so much depth of flavor to this recipe. It does take a bit of time, but it's mostly hands off and you can prep the rest of the ingredients while they cook.
I really hope you enjoy this easy-to-make Vegetable Pasta Bake! And if you do get a chance to make this, I hope you'll leave me a comment/rating below. I always love hearing from you here!
Simple Vegetable Pasta Bake
---
INGREDIENTS
1/4

cup

olive oil

1

large

onion

-

1 pound, halved and sliced into 1/4″ slices

8

ounces

crimini mushrooms

-

cleaned and sliced, about 10

1

tbsp

fresh rosemary

-

chopped, or 1 teaspoon dried Italian seasoning

25

ounce

jar pasta sauce

-

I used tomato basil, see notes

4

cups

baby spinach

-

roughly chopped, 4 ounces

12

ounces

dried pasta

-

I used 100% brown rice penne

12

ounces

fresh mozzarella

-

cut into 1/2″ chunks
INSTRUCTIONS
Preheat a large 12" skillet over medium heat, and preheat the oven to 450ºF.

Add the olive oil and sliced onion to the preheated skillet. Sauté the onions until they caramelize, about 20 minutes. Don't be tempted to turn up the heat, the onions won't properly caramelize over high heat.

While the onions are cooking, prepare the rest of the ingredients. When the onions are done, add the mushrooms and rosemary to the pan and cook over medium-high heat just until the mushrooms begin to soften. 

Meanwhile, bring a pot of water to a boil and cook the pasta until it has softened but is firmer than you would usually cook it, about 4 minutes less than the cooking time listed on the box.

Add the pasta sauce to the veggies, and simmer for 1-2 minutes. Then add the spinach, stir to combine, and remove it from the heat.

Drain the pasta and add it to the sauce mixture. Season to taste with salt and pepper.

Stir to combine and then add about 1/3 of the fresh mozzarella cubes. Mix thoroughly, then transfer the pasta into a deep dish 11" x 7" baking dish.

Top with the remaining mozzarella and bake for 20-25 minutes, or until the cheese begins to bubble and brown.

Serve immediately.
Bonus Step
If you made this recipe, please leave a rating/comment. Ratings really help us continue to bring you high-quality free recipes. Rate This Recipe!
NOTES
You can also use 1-28 ounce can fire roasted tomatoes blended into a sauce. You'll need to simmer it for 5 minutes in the skillet with the onions and mushrooms and season to taste with salt.
nutrition facts
Calories:
497
kcal
|
Carbohydrates:
54
g
|
Protein:
21
g
|
Fat:
24
g
|
Saturated Fat:
9
g
|
Polyunsaturated Fat:
2
g
|
Monounsaturated Fat:
10
g
|
Cholesterol:
45
mg
|
Sodium:
966
mg
|
Potassium:
714
mg
|
Fiber:
4
g
|
Sugar:
7
g
|
Vitamin A:
2780
IU
|
Vitamin C:
16
mg
|
Calcium:
336
mg
|
Iron:
3
mg