Slowly but surely I've been recreating spiralized versions of some of my favorite take-out dishes. You can always visit my spiralized category to see all sorts of fun things to do with veggie noodles. But I'll be sure and leave the links near the end of this post specifically for all the take-out versions.
We're both big fans of all types of veggie noodles, and I find them to be critical in avoiding boredom with healthy meals. They're great for adding lots of veggies to your diet to be sure, but there's just something about eating zucchini or sweet potato as a noodle that makes it more fun.
I'm never a fan of adding yet more equipment to your kitchen, (in fact I still don't have an Instant Pot – which everyone finds shocking). But a spiralizer is pretty invaluable in a healthy eating kitchen. And I'm guessing I'll be on the Instant Pot train eventually, I mean… it just cooks things so fast, that has to be reason alone to try it out!
Since this recipe is basically a stir fry, it's best to have everything prepped before starting to cook. (I used broccolini for this recipe because it's more affordable and readily available here, but broccoli works well too.)
Once you have your veggies chopped/spiralized and all the garnishes assembled, it's time to make the omelet. I like to cook the eggs for this recipe in a flat omelet, then thinly slice it to add at the end. It's just my preference in texture, I know some people just scramble the eggs in at the end.
Then the sauce is mixed together and set aside. It gets it's vibrant color from curry powder and a touch of turmeric.
Next the chicken and shrimp aare quickly sautéed and removed from the pan before the veggies go in. Then I cook all the veggies until they start to soften, but are still crisp before adding the zucchini noodles. Zucchini noodles cook quickly, so they need to go in towards the end.
After the zucchini noodles have just started to soften, the omelet, chicken and shrimp, and sauce are added. Everything is cooked briefly to make sure the sauce coats everything. Then it's served with the prepared garnishes.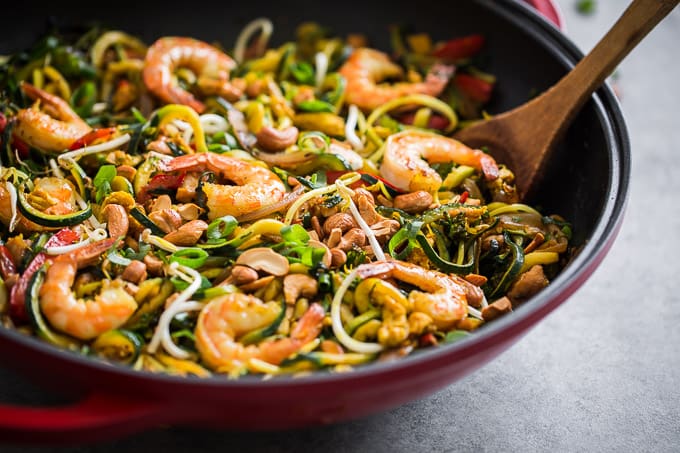 Additional Healthier Take-Out  Inspiration:
Rainbow Veggie Pad Thai Salad – coming next week.
To further simplify things if you'd like, you can use either chicken or shrimp, but I do love this dish with both.
Print
Singapore Chicken and Shrimp Zucchini Noodles
---
2

–

3

Tablespoons avocado oil

2

–

3

large eggs, cracked into a bowl, and whisked

1/2

pound boneless skinless chicken thighs, cubed into

1/2

" pieces

1/2

pound shrimp, peeled, I used 31-40/pound sized shrimp

1

red bell pepper, cored and thinly sliced, 8 ounces

1/2

pound broccolini or broccoli, chopped into 1/2″ pieces, about

3 cups

1 1/2 cups

thinly sliced red onion, 5 ounces, 1/2 regular sized onion

1 Tablespoon

minced ginger

3

cloves garlic, minced

4

zucchini, 2 1/2 pounds, spiralized, see notes

1/2 cup

thinly sliced green onions
Sauce:
1 Tablespoon

curry powder, see notes

1/2 Teaspoon

ground turmeric

1/4 cup

gluten free soy sauce, tamari, or coconut aminos

1 Tablespoon

maple syrup or honey

2 Teaspoons

toasted sesame oil
Garnishes:
1 cup

chopped toasted cashew pieces

1/4 cup

chopped cilantro
Thinly sliced green onions if desired
---
Instructions
Prep all the veggies, sauce, and garnishes before starting to cook because this recipe comes together quickly once you start cooking.
When everything is prepped, preheat a large non-stick/ceramic skillet, (15″) over medium heat. When the pan is hot but not smoking, add 1 tablespoon of the oil and swirl to coat the bottom. Add the whisked eggs, and swirl them to evenly coat the bottom. Using a spatula, push the cooked egg to the center of the pan, tilting to swirl the uncooked egg to cover the pan as you move the cooked egg towards the center. When the eggs are mostly set in an even layer on the bottom of the pan, place a lid over the skillet and let it cook about 2 minutes or until the omelet is set. Using the spatula, slide the omelet out of the pan onto a cutting board to cool slightly.
Then return the pan to the stove, and turn the heat up to medium-high. Add an additional tablespoon of oil along with the chicken. Cook until the chicken is almost done, 3-4 minutes, then add the shrimp and cook 2-3 minutes until pink. Remove the chicken and shrimp from the pan and set them aside. It's best to slightly undercook the shrimp because it will finish cooking in the sauce at the end, and you don't want it to be rubbery. Thinly slice the omelet and set it aside until the end.
Place the pan back on the stove, and turn the heat up to high. Add the remaining tablespoon of oil if needed, along with the red bell pepper, broccolini, and red onion. Sauté until the veggies are starting to soften, but are still crisp.
Then add the ginger and garlic, stirring to combine. Cook about 30 second, or until fragrant, then add the zucchini noodles and green onions. Using nonstick tongs to toss, cook tossing constantly to combine and to keep everything cooking evenly. Cook just until the zucchini noodles are crisp tender, about 4-5 minutes.
Finally add the thinly sliced omelet, cooked chicken and shrimp, and the sauce to the pan. Toss to combine and make sure the chicken and shrimp are cooked through.
Remove the pan from the heat, and serve immediately with the garnishes.
Notes
I used the 3mm blade on the Paderno 3-blade spiralizer for my zucchini noodles.
The curry powder I used comes from the bulk section at Natural Grocers and is very mild. Be aware that some curry powders can be quite spicy.
Prep Time:

30 mins

Cook Time:

15 mins