This lasagna is just like the one my mom makes, but instead of the usual pasta, I've subbed in butternut noodles. It's also conveniently made in a skillet, so there's no layering involved which makes it just a bit easier. I've tried several versions of this lasagna with zucchini noodles and sliced zucchini, but they are alway a little watery, (but still really tasty if you want to go that route).
Finally after many test runs, I decided to switch things up and try butternut squash noodles instead, and it was a huge hit with everyone! The butternut adds a subtle sweetness that I love to paired with spicy Italian sausage, and the creaminess of ricotta. Another thing I've changed from my family's lasagna recipe is the type of canned tomatoes. I just started using fire roasted tomatoes, and it adds a whole new dimension of flavor that I know you'll love.
For the Italian sausage you can use either mild or hot, and bulk ground or thinly sliced sausage links. I used sliced hot links because we don't have bulk Italian sausage available right now. Bulk sausage is a little easier if you can get it because you don't have to slice it up before you put it in the pan.
For all my marinara and spaghetti sauces, I always start with good quality whole canned tomatoes. I think the whole tomatoes generally have better flavor than diced tomatoes or tomato sauce. To quickly break up the whole tomatoes into a chunky sauce, I give it a quick whirl in the blender.
For this tomato sauce you want to reduce it down further than you would for regular pasta into a very thick sauce. The butternut noodles won't soak up as much liquid as pasta does.
For butternut noodles you only use the top portion, keeping the bulb shaped end for another use (I like to make roasted veggies out of the leftover squash). The amount of noodles you'll get will vary a bit each time depending on the shape of your squash. For spiralizing into noodles, I look for a squash with the smallest ratio of bulb end to the top portion. I bought a 6 pound butternut squash and by the time I made noodles, I had 2 1/2 pounds of noodles.
If you can find 2 smaller squash equalling 6 pounds, it is a little easier to spiralize veggies that aren't gigantic!
When I mix the fresh herbs into the ricotta mixture, I like to mash them a bit with the back of a spoon which helps them give off more flavor and meld together.
The butternut noodles are simmered on the stove for a bit until they're just tender before the ricotta herb mixture is dolloped around the top.
Next you tear/cut up pieces of fresh mozzarella and scatter them evenly over the surface.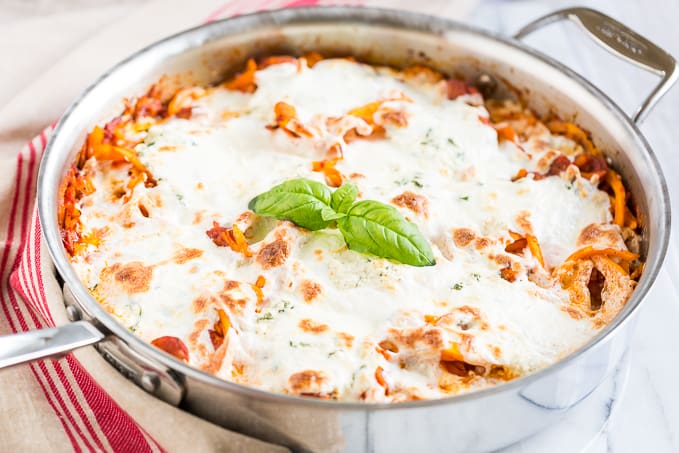 After a little time in the oven, everything is browned and bubbling.
As with any of my mom's recipes that I remake, I always make sure she is in on the recipe testing to check that my recipe is up to snuff! And on a final note, I know that this recipe makes a massive amount of lasagna, but I'm not sure there's any other way to make lasagna! (Just kidding, you can totally make a half recipe if you'd like, but the leftovers are really good so you might want the big batch.)
Print
Skillet Lasagna with Butternut Noodles
---
Sauce:
1 Tablespoon

olive oil

12 ounces

Italian sausage links, thinly sliced

2

cloves garlic, minced

1

–

28

ounce can fire roasted whole tomatoes
Sea salt to taste
Noodles:
1

large butternut squash, 6 pounds (or

2

small)
Ricotta Mixture:
1 cup

ricotta cheese

1/4 cup

chopped fresh basil, 15 leaves

1/2 cup

freshly grated parmesan cheese
sea salt and freshly ground black pepper to taste
Topping:
10

–

12

ounces fresh mozzarella
Fresh basil for garnish if desired
---
Instructions
Preheat the oven to 450ºF and preheat a large 6-quart skillet (with a lid) over medium high heat. When the pan is hot but no smoking, add the olive oil and sliced (or bulk) Italian sausage.
Brown the sausage, and while the sausage is browning blend the tomatoes in a blender into a chunky sauce.
Next add the garlic to the pan and sauté just until fragrant, about 30 seconds. Add the blended tomatoes to the pan and simmer over low heat until the sauce is very thick, about 15 minutes.
While the sauce simmers, make the butternut noodles by cutting off the bulb end of the squash and reserving it for another use. With the top portion of the squash, cut off the stem and peel the squash. Spiralize it with the 6mm blade for bigger noodles. You should have about 2 1/2 pounds butternut noodles.
When the sauce is very thick, season to taste with sea salt and pile the butternut noodles into the skillet. Using a pair of tongs do your best to mix them into the sauce a bit. Cover the skillet and simmer over low heat for 10-15 minutes or until the noodles have started to soften. Toss the noodles with a sauce a couple of times during the cooking process.
While the noodles cook, mix together the ricotta mixture and tear/cut up the fresh mozzarella.
When the noodles are just tender, turn off the heat and toss the noodles again with the sauce to make sure they're thoroughly mixed. Dot the top of the noodles with the ricotta mixture and scatter the mozzarella evenly over the surface.
Bake the lasagna for 15-20 minutes or until the lasagna is browned and bubbling. Serve immediately with fresh basil if desired.
Prep Time:

30 mins

Cook Time:

40 mins