Don't worry about dinner tonight! This Slow Cooker Chipotle Chicken is so easy to make it pretty much takes care of itself. And can be frozen as part of meal prepping as well. We love making taco bowls with it along with quesadillas as well. It's really versatile and only takes a few minutes of prep work and the slow cooker does the rest!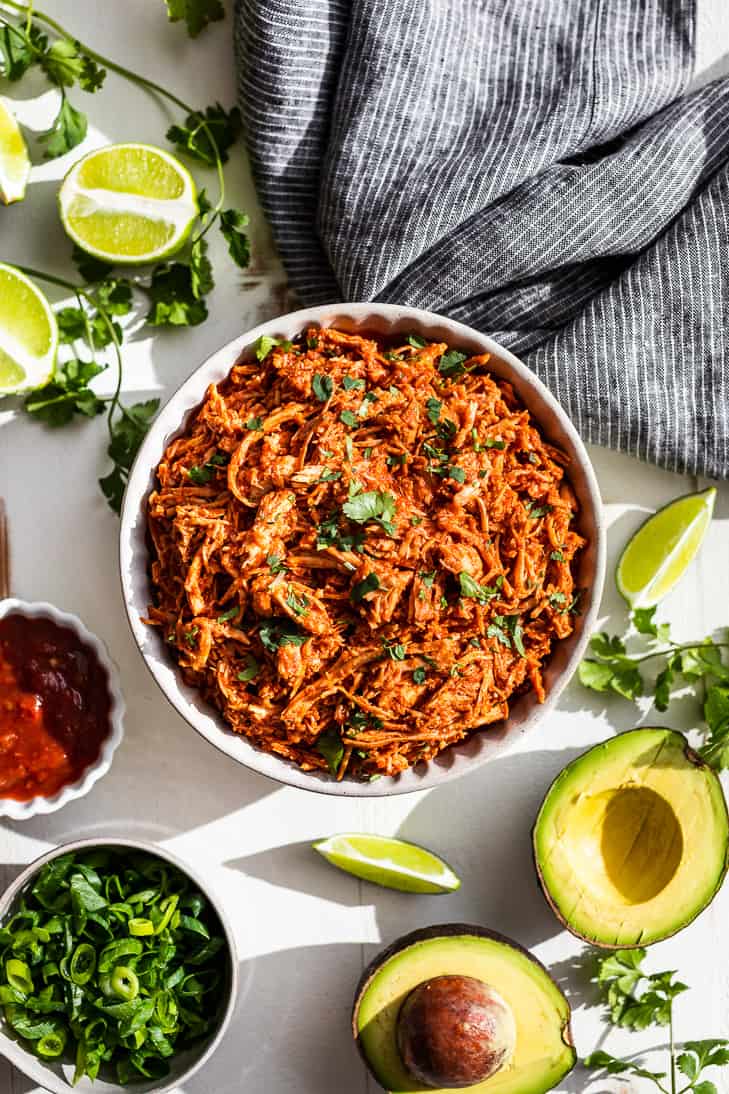 Mexican food always sounds good to me, and I particularly love the flavor of smoky chipotle added to as many dishes as possible. It's one of those flavors that simply never gets old. And maybe that's because it's so multidimensional, being simultaneously smoky/spicy/earthy/with a hint of sweetness hanging out there in the background.
This recipe is another super easy recipe along the lines of my Salsa Chicken or Salsa Beef which are pretty much the easiest slow cooker recipes ever. You basically place the meat in the slow cooker, top it with salsa, punch in the cooking time, and walk away.
And while I'm still rather fond of this method, I thought it might be time to shake things up a bit. So I still kept things simple with just a few ingredients in this recipe. And this means it's so easy, I can have this in the slow cooker in just 10 minutes flat!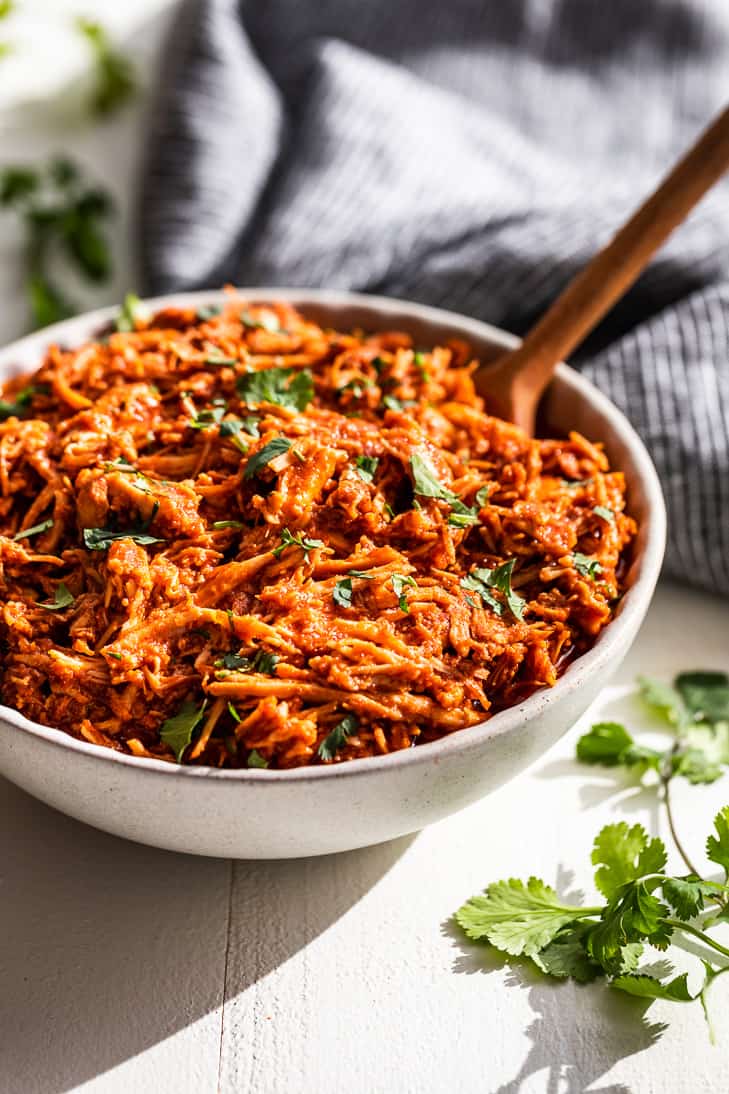 I thought about going all out with fresh onions and garlic for a minute before realizing that no one including myself really wants to have to sauté onions before putting them into the slow cooker.
That's my biggest pet peeve about slow cooker recipes is that you have to cook half the recipe before placing them into the slow cooker to cook them some more. This seems like too much work and too many dishes for an extra easy meal to me. And why get the stove top dirty if you don't have to?!
Ingredients & Substitutions
Chicken – this recipe calls for chicken breasts, but you can also use boneless skinless chicken thighs. They don't take quite as long to cook, so I would start checking the slow cooker after about 4-5 hours on low.
Tomato paste – makes up the base of the sauce for this recipe which is flavored with the spices below.
Chicken stock – is to go along with the tomato paste for the base of the sauce. It also provides the right amount of liquid for super juicy shredded chicken.
Spices – as mentioned above, to make this recipe extra easy there are no fresh ingredients here, so the spices are key for flavor! I use a combination of onion & garlic granules along with cumin, chipotle powder, and some sea salt. You can add some of the salt at the beginning of the cooking time, then season to taste at the end to make sure it's the perfect amount for you!
Honey – or maple syrup is just the right touch of sweetness that compliments the chipotle flavors so well. But if you can't have any kind of sugar, it can be left out as well.
Now let's make this Slow Cooker Chipotle Chicken step by step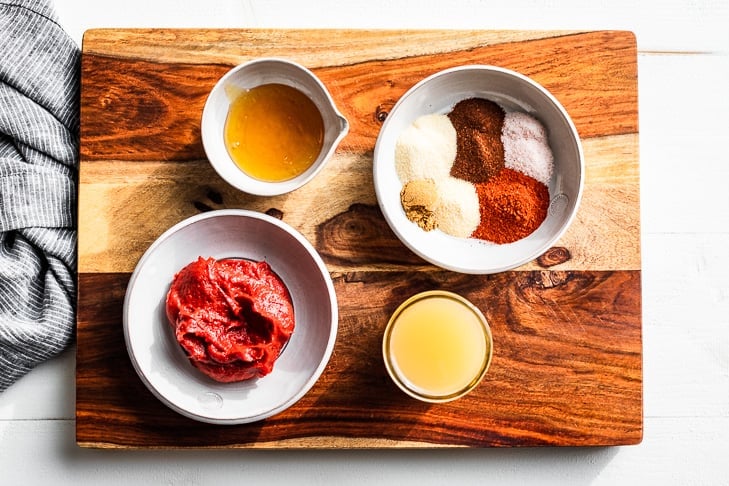 Step 1: measure out all of the ingredients listed in the recipe.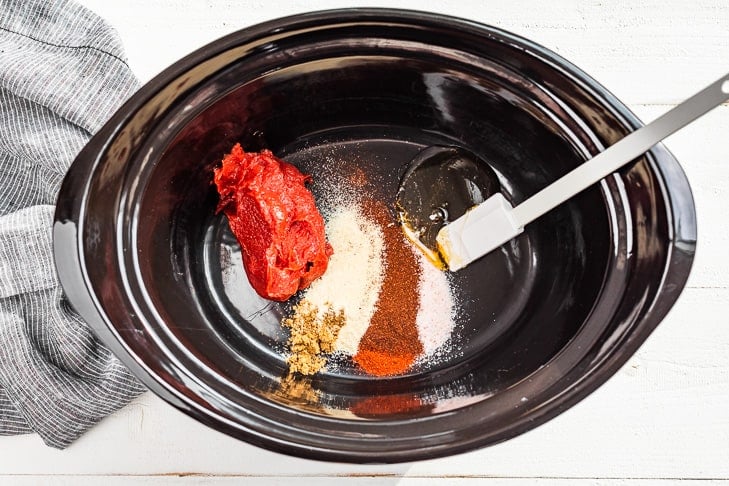 Step 2: add all of the ingredients to the slow cooker bowl. As mentioned above you don't have to add the salt at this time, you can season to taste at the end of the cooking time.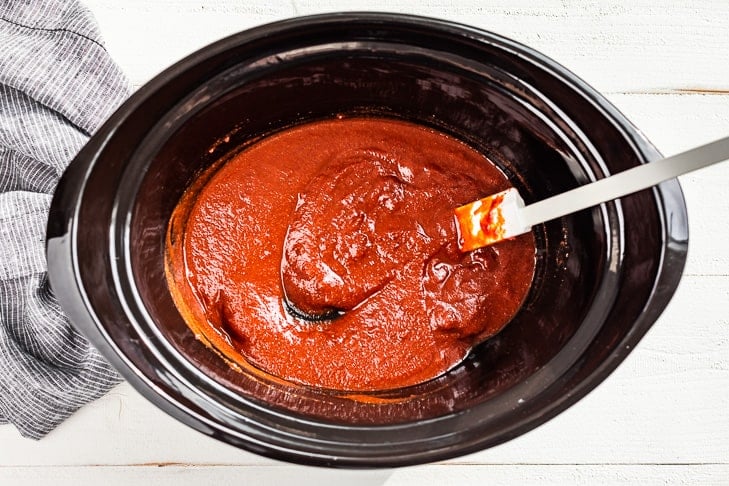 Step 3: mix together all of the ingredients you added to form a thick sauce.
You might find a whisk helpful here, but a spatula will work as well.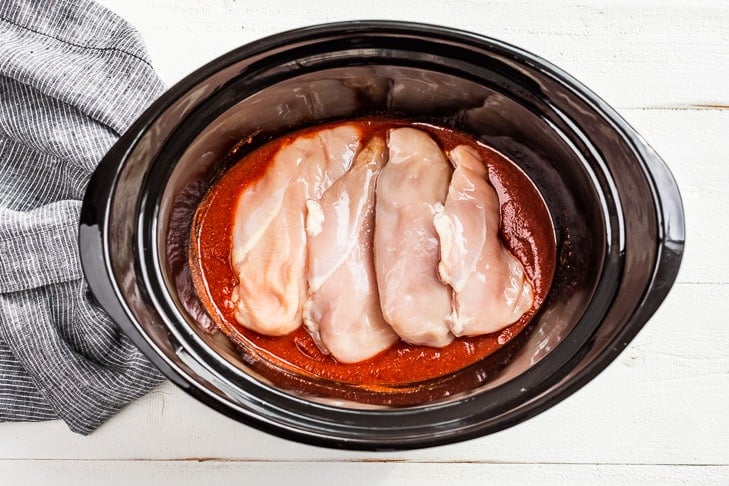 Step 4: add the chicken breasts to the slow cooker bowl.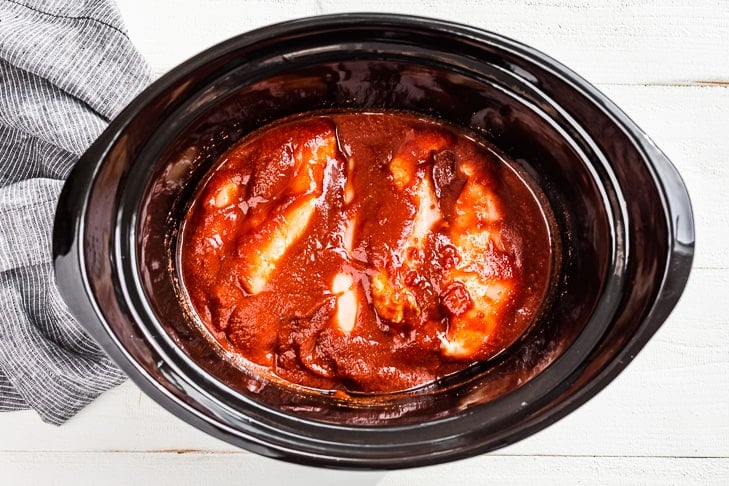 Step 5: Turn the chicken to evenly coat it in the sauce.
Set the slow cooker to 8 hours on low or 4 hours on high.
Tip: You may find your chicken cooks faster than the listed time. This is because the size of chicken breasts varies a lot. I've found it's best to start checking around the 6 hour mark when you're cooking on low.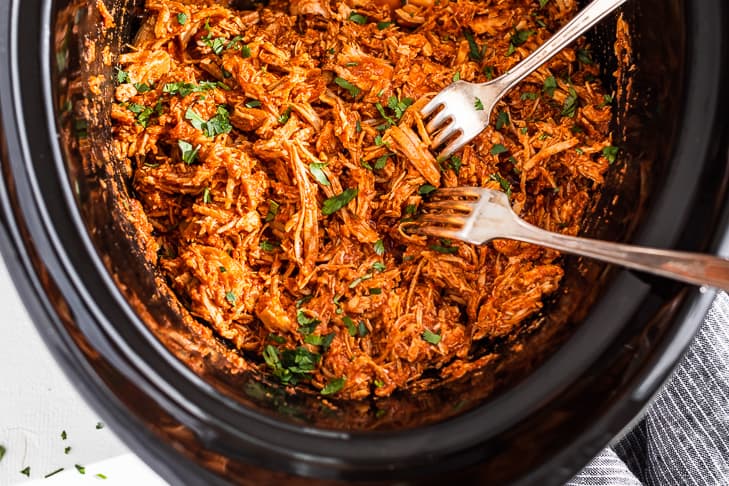 Step 6: When the chicken is done, pull it apart into shreds with 2 forks.
Stir the chicken into the sauce and serve!
FAQ's
Can I use chipotle peppers in adobo sauce?
Yes, just omit the chipotle chili powder and use 1 + tablespoon chipotle in adobo to your taste. Also, be aware that not all brands of chipotle in adobo sauce are gluten-free if you have allergies.
How do you know when the slow cooker chicken is done?
It's easy to tell if your chicken is done by trying to shred it. If it resists shredding it needs to cook some more. If it comes apart easily, you're ready to go!
Storing leftovers
To Store – place any leftovers into an airtight container and refrigerate for up to 4 days.
Reheat – in a small skillet/pan over medium heat stirring until warmed through.
To Freeze – place in an airtight container and freeze for up to 3 months. Thaw overnight in the refrigerator and reheat.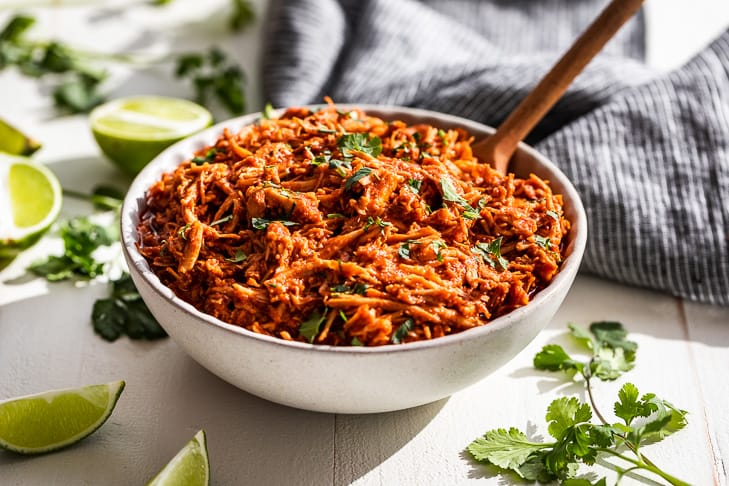 Tips & Tricks
Every slow cooker I've ever used cooks at a different rate so you may find your chicken is done earlier or needs a bit more time. You'll know the chicken is done when it shreds easily.
If you like more heat try adding a touch more ground chipotle chili powder. If you're looking for more smoky flavor without added heat, try adding 2 tsp smoked paprika chili powder.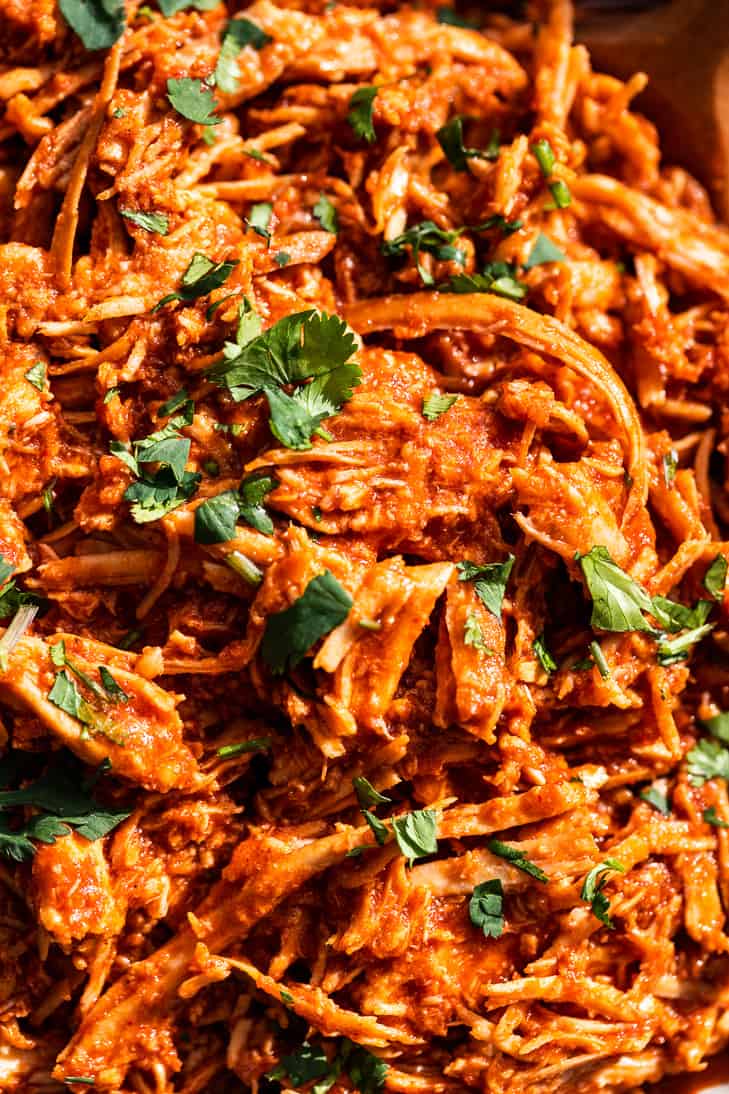 I hope you enjoy this shredded chipotle chicken as much as we have. It's been a long-time favorite, and you'll almost always find a package in my freezer for those 'just in case I'm really frantic days!'.
And if you're looking for some more easy slow cooker dinners, definitely let me know below what you'd like to see. If you do make this, I hope you'll leave me a comment/rating below, I always love hearing from you here.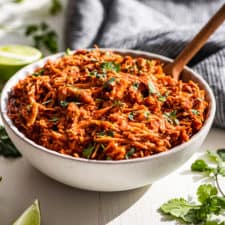 Slow Cooker Chipotle Chicken
---
INGREDIENTS
2

tsp

ground chipotle chili powder

2

tsp

onion powder

1

tsp

garlic powder

1/2

tsp

ground cumin

2

tsp

sea salt

-

or to your taste at the end of the cooking time

2

tbsp

honey

6

ounce

can tomato paste

-

10 Tablespoons

1

cup

low sodium chicken stock

-

or water

2

pounds

boneless skinless chicken breasts

-

4

Optional: chopped fresh cilantro to sprinkle on top and lime wedges/ lime juice
INSTRUCTIONS
Whisk/stir together the spices, sea salt if using, honey, and tomato paste in a slow cooker. Whisk in a small amount of chicken stock at a time until the mixture isn't quite as thick before adding the rest of the chicken stock. Whisk until completely combined.

Place the chicken breasts into the tomato/spice mixture and turn to coat both sides.

Top the slow cooker with the lid and set the program for 4 hours on high heat or 8 hours on low heat.

When the cooking time is done, use two forks to pull apart the meat into shreds.

Serve immediately with your choice of sides. Rice/cauliflower rice are great along with taco toppings, like tomatoes, shredded lettuce, sour cream, and grated cheese.

Otherwise if you're not using some/all of the chipotle chicken right away, cool the meat completely in the refrigerator before packaging it into containers for the freezer.

Freeze and use within 3 months. To defrost the meat, get the container out of the freezer the night before and place it in the refrigerator to thaw over the next 24 hours.
Bonus Step
If you made this recipe, please leave a rating/comment. Ratings really help us continue to bring you high-quality free recipes. Rate This Recipe!
NOTES
If your chicken breasts are on the small side, (less than 8 ounces) start checking them for doneness at around the 6-hour mark if cooking on low heat.
If you like more heat try adding a touch more ground chipotle chili powder. If you're looking for more smoky flavor without added heat, try adding 2 tsp smoked paprika chili powder.
nutrition facts
Calories:
172
kcal
|
Carbohydrates:
10
g
|
Protein:
26
g
|
Fat:
3
g
|
Saturated Fat:
1
g
|
Polyunsaturated Fat:
1
g
|
Monounsaturated Fat:
1
g
|
Trans Fat:
0.01
g
|
Cholesterol:
73
mg
|
Sodium:
899
mg
|
Potassium:
685
mg
|
Fiber:
1
g
|
Sugar:
7
g
|
Vitamin A:
508
IU
|
Vitamin C:
6
mg
|
Calcium:
20
mg
|
Iron:
1
mg
This recipe was originally published in 2016 but has been updated with more information, tips, nutritional info, and new photos.