Once upon what seems like a long time ago now, it was recommended to me to try eating grain free. My first thought was 'grain free? what on earth is left to eat?'. Eating grain free to me seemed like trying to go gluten free, but so much worse!
During that time one of the first things I came up with to eat was this spaghetti squash with meatballs, and it's been a staple ever since. But with the Instant Pot coming on the scene, I wanted to do a variation of what's now a classic in our house.
The Instant Pot is really handy for quite a few things. Although to be completely honest, I'm not totally sold on my Instant Pot yet. However spaghetti squash alone might be a reason to get one. Because get this… you can put the whole spaghetti squash right into the Instant Pot, and cook it in just 25 minutes.
Well I don't know about you, but that definitely has my attention. After all if you've ever tried to cut a spaghetti squash in half to roast it, you'll know it's no easy feat. So being able to just place it right into the Instant Pot, and have it cook faster than any squash I've ever roasted is so awesome.
In fact this fall my mom and I went to a local farm for their annual stock up sale. While we were loading up on spaghetti squash, we sold quite a few to other people around us by talking to them about the Instant Pot. Most people were shying away from spaghetti squash because it's hard to cut up. But once we explained how you can just cook them so easily, they started loading up too.
So here's the deal, you place a 3-4 pound spaghetti squash, (any bigger doesn't tend to fit) on the trivet in the Instant Pot. Then you add a bit of water and…
… 25 minutes later it looks like this. The first time I tried this, I cut the cooked spaghetti squash in half lengthwise. That wasn't as successful as I'd like, because it broke into a bunch of pieces which made it a bit harder to get the seeds out.
So the key is to cut it in half widthwise, which avoids the tough stem. From there you can scrape out the seeds no problem, and easily scoop out the spaghetti squash strands.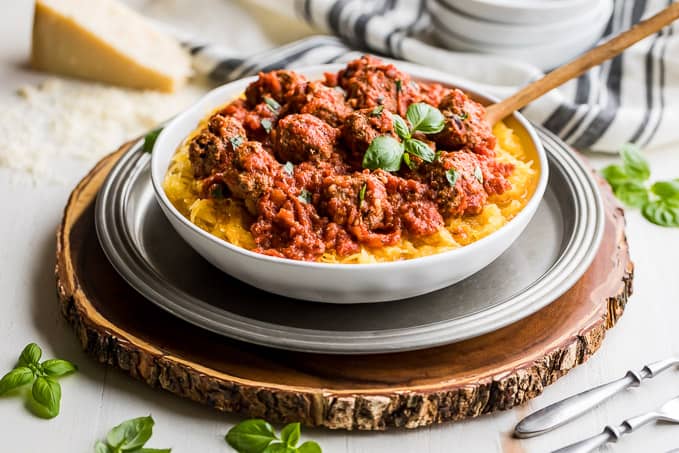 My first go around with this recipe, I tried to make the meatballs, sauce, and spaghetti squash all in the Instant Pot. Well… that was a big flop because the Instant Pot kept shutting down saying 'Burn' on it. And I'll tell you what, when it says 'Burn' it really means it.
So I had to give up on cooking it all in one pot, and move on to having just the spaghetti squash cooked in the Instant Pot. In the end, I found it was actually easier to make the meatballs and sauce on the stove top, then to try and cook it all in the Instant Pot.
This is great because not only do you not have to worry about this recipe being problematic or seeing the 'Burn' sign over and over when you just want to eat dinner. But also the sauce cooked on the stove top tastes better as well, so it's a win win all the way around!
Print
Instant Pot Spaghetti Squash with Easy Meatballs
---
Author:

Kari

Total Time:

45 minutes

Yield:

4

–

6

servings

1

x
Description
Super easy spaghetti squash in the Instant Pot along with a tasty tomato sauce loaded with flavorful meatballs!
---
1 – 3 pound spaghetti squash, see notes
Easy Meatballs:
2 cloves garlic, minced
1/4 cup fine almond flour
1 pound Italian sausage, see notes
1/2 Teaspoon sea salt, amount may vary depending on the sausage you use
1 egg yolk
1 Teaspoon Italian seasoning, without sugar, salt, or additives
Olive oil to sauté
Tomato Sauce:
1–2 Tablespoons olive oil
2 cloves garlic, minced
1/2 Teaspoon Italian seasoning
1 – 28 ounce can whole fire roasted tomatoes
1/2 Teaspoon sea salt, or to taste
Freshly ground black pepper to taste
Serve with: chopped basil, grated parmesan (omit for paleo and Whole30)
---
Instructions
Place the trivet into a 6-quart Instant Pot. Then pour in 1 cup of water and place the spaghetti squash on the trivet in the center of the pot. Set the valve to sealing and cook on high pressure for 25 minutes.
While the squash is cooking, mix together all the ingredients for the meatballs until combined. Portion them out into small meatballs, about 2 Tablespoons each, for a total of 18-20.
Blend the whole tomatoes with their juice for a few seconds to make a chunky tomato sauce, then set this aside.
Heat a large 9-10″ skillet over medium high heat. Add just enough olive oil to coat the bottom of the pan and swirl to coat. Then add all the meatballs evenly spaced out across the skillet. Sauté to brown several sides of the meatballs, 5-8 minutes.
After the meatballs are browned add 1 Tablespoon olive oil or more if needed to the pan along with the the garlic and Italian seasoning called for in the tomato sauce section. Sauté the garlic for a few seconds, then add the blended tomatoes and bring the sauce to a boil.
When the sauce is boiling reduce the heat to maintain a simmer and cook stirring occasionally until the meatballs are done in the middle, about 10-15 minutes.
Use the quick release function to release the pressure when the squash has finished cooking. When the pressure has finished releasing, remove the squash from the Instant Pot, and cut it in half widthwise.
Let it cool slightly, then scrape out the seeds with a spoon. And finally shred the spaghetti squash with a fork into shreds.
Season the sauce to taste with sea salt and pepper when the meatballs are done.
Serve the spaghetti squash with the meatballs and sauce, along with the optional basil and parmesan.
Notes
I've fit spaghetti squash into my 6-quart Instant Pot up to 4 pounds. The 3 pound squash called for has been a good amount to go with the sauce. But if you end up with a slightly larger squash, increase the cooking time by 5 minutes or so.
To keep this recipe Whole30 and paleo, make sure the sausage you use is compliant without additives and sugar.
Prep Time:

20

Cook Time:

25

Method:

Instant Pot

Cuisine:

Italian
Keywords: Whole30, Paleo, Dairy Free, Gluten Free, Italian, Grain Free