We make fried rice fairly often because it's a fantastic way to use up little bits of leftovers in the fridge. Sometimes I use cauliflower for a veggie packed version, but sometimes I use cold leftover cooked rice when I'm really craving carbs.
Either way you make it, fried rice is both delicious and budget friendly, (and I need all the help I can get in that department).
I usually don't measure anything at all, and some of my variations come out better than others. But I knew when I started making this sriracha fried rice over and over, I needed to get the measurements down to share.
In fact we both love this one so much, I started making sure I had either cauliflower or leftover rice around just to be sure I had everything I needed to make it.
This recipe starts with either riced cauliflower, or cold refrigerated leftover rice. It's essential if you're using actual rice that it be leftover because freshly cooked rice turns to mush when you stir fry it.
You can make cauliflower rice by either grating it with a cheese grater, or placing cut up florets into a food processor, (as pictured above).
For the veggies, you want to keep them as thinly sliced as possible so they cook faster in the skillet.
I had purple cabbage on hand, so that's what I used, but if you think you might have leftovers just be warned that purple cabbage turns everything grey as it sits in the fridge.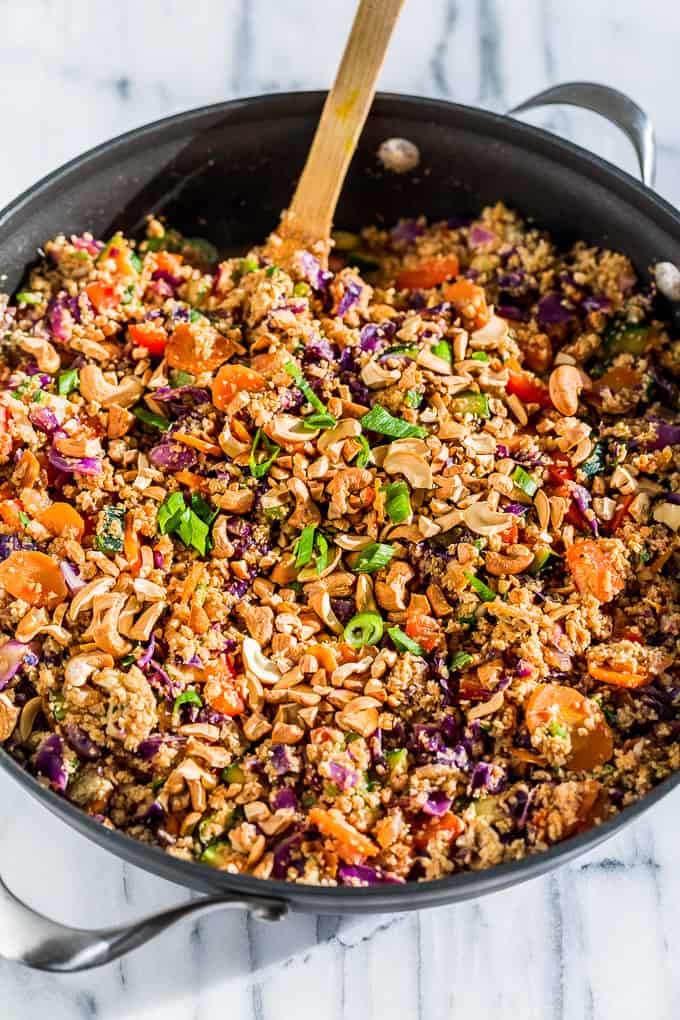 Once everything has been stir fried together, it's time to sprinkle in chopped cashews, green onion, cilantro, and of course a bit more sriracha.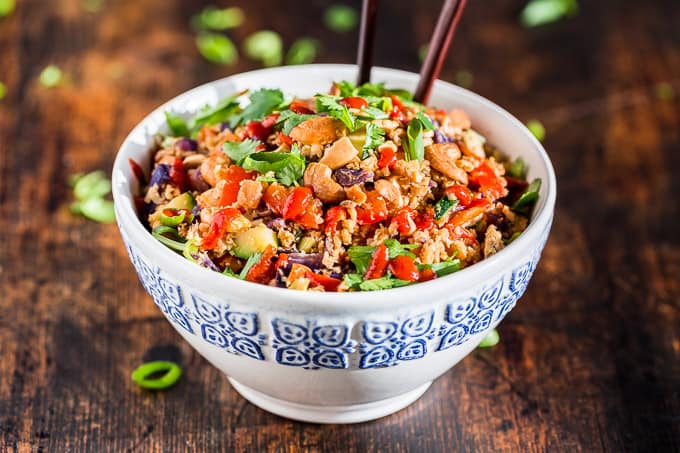 I kept this recipe vegetarian, but you can easily add a little chicken or shrimp if you're looking for a bit more protein.
Print
Sriracha Cauliflower Fried Rice
---
2

–

3

Tablespoons avocado oil

1

large head of cauliflower, 2 pounds, see notes

1

small onion, 7 ounces

4

carrots, 12 ounces

1

red bell pepper, 8 ounces

1/2

small purple cabbage, 1 pound

2

cloves garlic, minced

1

bunch green onions, thinly sliced

4

eggs

4 Tablespoons

gluten free soy sauce, or coconut aminos, or tamari

1

–

2

Tablespoons sriracha, to taste

1/2 cup

chopped toasted cashews,

1/2 cup

chopped fresh cilantro
---
Instructions
Prepare the cauliflower rice by trimming away the leaves from the base. Then cut the florets away from the stem, and place then in a food processor. Secure the lid and process until the cauliflower is the consistency of rice. Or you can leave the trimmed cauliflower whole and grate it into rice on a cheese grater.
Next cut the onion into 1/4″ dice yielding 1 1/2 cups. Trim the ends of the carrots and peel them. Thinly slice the carrots, and set aside. Remove the core and seeds from the bell pepper, and cut it into strips. Then cut the strips crosswise into 1″ long pieces. And finally cut the cabbage into thin shreds.
Preheat a large skillet, (13″-15″) over medium high heat. When the pan is hot but not smoking, add the avocado oil along with the diced onion and carrots. Sauté for 3-4 minutes stirring as the veggies brown, then add the bell pepper, shredded cabbage, garlic, and green onions. Continue to cook stirring as the veggies brown until they're crisp tender, about 5 minutes.
Add the cauliflower rice, (or leftover cold rice) and stir fry until the cauliflower softens, adding the additional tablespoon of oil if necessary.
Then add the eggs to the pan and stir fry until the eggs set, about 2 minutes. Finally add the soy sauce and sriracha. Stir to combine and take the fried rice off the heat. Taste to adjust for additional salt or sriracha, and mix in the toasted cashews and cilantro.
Serve immediately.
Notes
You can use cold refrigerated leftover rice in place of the cauliflower rice if you'd like, just sub in 6 cups of cooked leftover rice for the cauliflower.
Prep Time:

30 mins

Cook Time:

15 mins