Easy to make in less than 5 minutes, this Sriracha Mayo is incredibly good with so many things. You may just find yourself making it regularly to put on everything. From Asian-inspired recipes to burgers and fries, this sriracha mayo will add some zip to your dinners. You can quickly stir this recipe together with store-bought mayonnaise or make your own in minutes. Either way, this sauce is one you'll come back to again and again.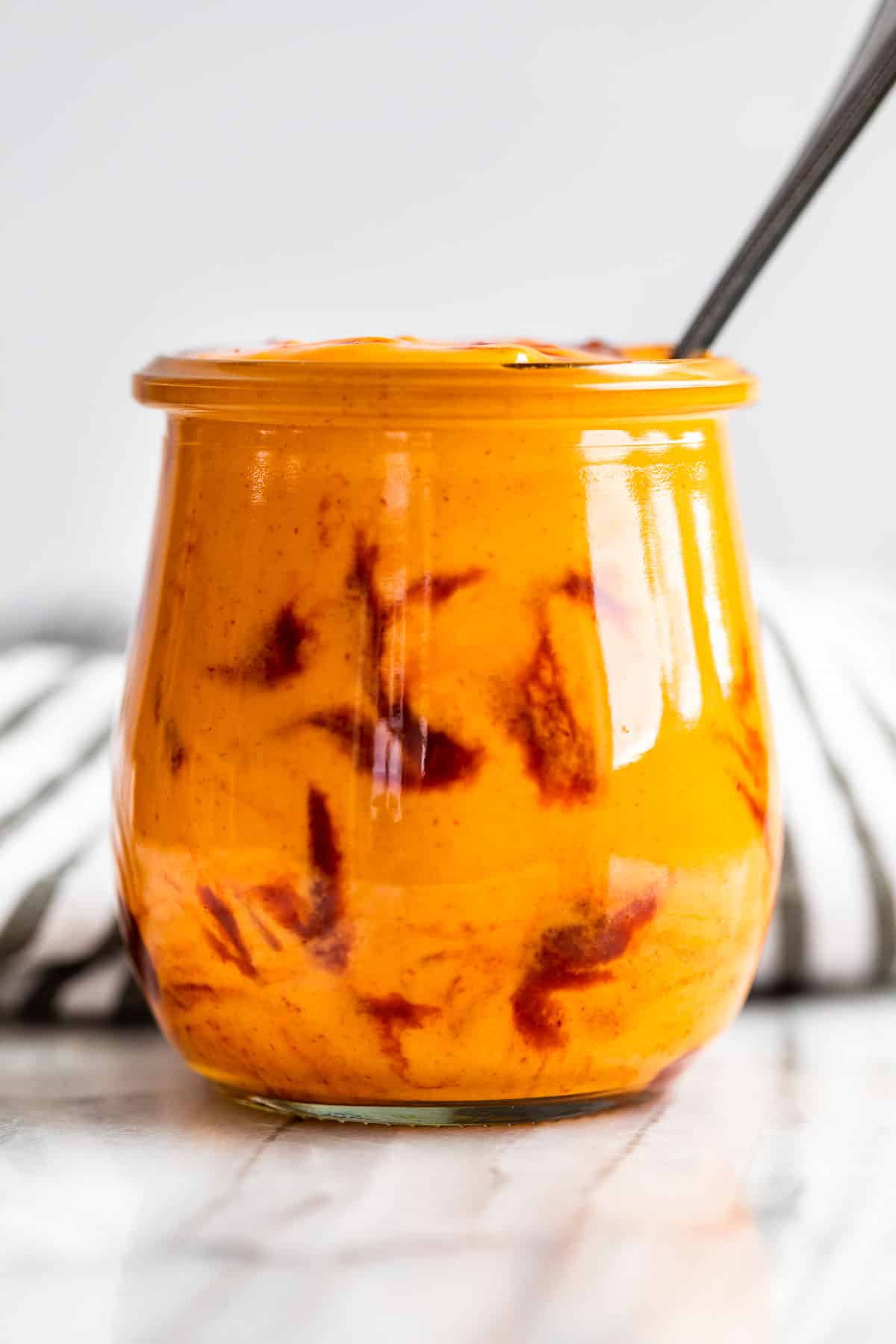 Ultra creamy, this Sriracha Mayo is one of our most-made recipes from week to week. It's such a simple sauce, and you can mix it together in just minutes.
In its simplest form, this sauce is just 2 ingredients: sriracha and mayo. However it's also tasty to add a touch of lime juice, and we sometimes add a little sweetness too.
You can use store-bought mayonnaise to make this recipe super quick. But I usually make homemade sriracha mayo from scratch because it's so much more affordable than buying avocado oil mayo. And starting from scratch only takes another couple of minutes!
But if you'd rather make sriracha mayo without raw eggs, simply buy your favorite mayonnaise and follow the measurements listed in the recipe.
Ingredients & Substitutions
Mayonnaise – to make this recipe even faster, use store-bought mayonnaise. Avocado oil mayonnaise is the best-tasting option for this recipe, but use the best quality you can find. You can also sub in a vegan mayo here.
Homemade Mayonnaise – is easy to make and more budget-friendly than buying store-bought. It only takes a couple of minutes to blend together.
Sriracha – is added to your taste to make the right amount of spicy.
Garlic – adds depth of flavor to this mayo.
Lime Juice – adds zesty flavor and a little punch.
Make it a dipping sauce – add a bit more freshly squeezed lime juice to taste along with a touch of Grade A maple syrup (or agave nectar) until your desired consistency is reached.
How to make this recipe step by step
Step 1: Add the egg, lime juice or rice vinegar, sea salt, and garlic to a blender container. Blend to combine, then add the avocado oil in a thin steady stream while the blender is running until it's emulsified and thick.
If you're using store-bought mayonnaise, add it to a bowl along with the lime juice and garlic. Mix together before adding sriracha and sea salt to taste.
Step 2: Add the sriracha to the blender container with your homemade mayo.
Be sure to keep some back if you're worried about it being too spicy, you can always add more.
Step 3: Blend the mayo again just to thoroughly combine the sriracha.
Step 4: Transfer the mayo to a storage container of your choice. I swirled some extra sriracha around the edges of my jar to look pretty and it's a fun look if you're entertaining.
Tip: you can also transfer this sriracha mayo straight into a squeeze bottle for storage. This way it's super easy to squeeze some over the top of your meals.
FAQ's
What is sriracha mayo made of?
2 ingredients, mayonnaise and sriracha mixed together. Sometimes you'll find a bit of fresh lime juice, soy sauce, and sweetener added as well to make sriracha mayo sauce.
How hot is sriracha mayo?
It's medium hot, (like a medium salsa) as written in the recipe, but you can make it more or less spicy as you'd like.
What is sriracha mayo good on?
It's very tasty with Asian-inspired rice bowls and sushi along with my Korean Beef Bowls. But it's also fantastic on avocado toast, with any kind of potatoes including as a dip for french fries and drizzled over steamed or roasted veggies. One of my favorite combinations is sriracha mayo as a dipping sauce for sweet potato fries, as well as loaded onto burgers or sandwiches.
What is sriracha?
Sriracha is a spicy sauce that's found in the condiments section or Asian aisle in the grocery store. It's made from chilis, vinegar, garlic, salt, and sugar. It's sort of like hot sauce but with a different flavor and thicker texture.
Storing leftovers
To store – any leftovers can be stored in an airtight container in the refrigerator for up to 5 days if you used store-bought mayo. For homemade mayo, the recommendation is to use it up within 2-3 days.
Make ahead – This sriracha mayo can be made 1-2 days ahead of time, but keep in mind the leftovers won't keep for as long.
Tips & Tricks
Make this sriracha mayo a sauce by adding a touch of freshly squeezed lime juice along with a little maple syrup or agave nectar to taste.
Use less sriracha, or more for a spicier option. Simply mix in sriracha until it's the spice level you like. Also, check out the fermented sriracha from the Wild Brine brand, (it's in the refrigerated section) it's absolutely incredible. It's not as thick as bottled sriracha sauce so your mayo texture will be looser, but the flavor is amazing.
If you don't want to make your own mayo, be sure to use the best quality mayonnaise you can. Avocado mayo is so good with this recipe. Making your own mayo only adds 1-2 extra minutes to this recipe and it's way more budget-friendly than buying avocado oil mayo.
Why make your own sriracha mayo
It's cheaper to make your own sauces, and sriracha mayo only takes minutes to mix together.
You're in control of the ingredients! Store-bought sriracha mayo is usually made with soybean oil along with all sorts of additives like xanthan gum, potassium sorbate & sodium, calcium disodium EDTA, natural flavors, sulfur dioxide, acetic acid, and assorted other derivatives & preservatives.
More homemade sauce recipe inspiration
I really hope you enjoy this Sriracha Mayo! If you do get a chance to make this recipe, I'd love to hear from you in the comments.
INGREDIENTS
1

egg

-

see notes

1

tsp

freshly squeezed lime juice

-

see notes, or rice vinegar

1

clove

garlic

-

minced

1/4

tsp

sea salt

-

only add to taste if using store bought mayo

3/4

cup

avocado oil

-

you may need an additional 2 tbsp, or other neutral tasting oil

2

tbsp

sriracha

-

add to taste, we like 4 tbsp for spicy mayo
INSTRUCTIONS
If you're using store bought mayonnaise, add 1 cup to a small bowl along with the lime juice and garlic. Stir to combine, then add sriracha and sea salt to taste.

To make this from scratch, add the egg, lime juice, garlic, and sea salt to a blender.

Blend to combine, then add the avocado oil to the blender with the motor running in a thin steady stream. Make sure the oil is emulsifying as you add it so the mayo doesn't break.

When all the oil has been added and the mayo is thick, add the extra oil only if the mayo hasn't become very thick. Then add the sriracha to taste and blend to combine.

Transfer the sriracha mayo to a storage container and refrigerate for 2-3 days if you made the mayo from scratch. This will keep for up to 5 days if you used store bought mayo.
Bonus Step
If you made this recipe, please leave a rating/comment. Ratings really help us continue to bring you high-quality free recipes. Rate This Recipe!
NOTES
Instead of the egg and avocado oil, you can sub in 1 cup good quality mayonnaise and add the lime juice, sriracha, and sea salt to taste.
You can add a little extra fresh lime juice along with a little Grade A maple syrup or agave nectar to taste to create a sriracha mayo sauce.
nutrition facts
Serving:
1
tbsp
|
Calories:
95
kcal
|
Carbohydrates:
0.1
g
|
Protein:
0.4
g
|
Fat:
10
g
|
Saturated Fat:
1
g
|
Polyunsaturated Fat:
1
g
|
Monounsaturated Fat:
7
g
|
Trans Fat:
0.001
g
|
Cholesterol:
10
mg
|
Sodium:
83
mg
|
Potassium:
7
mg
|
Fiber:
0.01
g
|
Sugar:
0.04
g
|
Vitamin A:
18
IU
|
Vitamin C:
1
mg
|
Calcium:
2
mg
|
Iron:
0.1
mg