This recipe is actually a mash up of two different ideas I've had floating around for a while. First off I've been wanting to do something with sticky bun topping. You know the one that's a super addictive caramel pecan combination that tops the cousins to cinnamon rolls! And secondly, it's pumpkin season, so I knew I wanted to make some type of easy to make pumpkin cake.
So as I was perusing over my recipe notes, I had the idea to combine these two concepts together. It turned out to be my lucky day because this cake is so good, I had to immediately freeze the leftovers to keep myself from eating anymore. In fact for the next couple of hours after I froze it, I kept thinking 'hmm… I wonder if it's too frozen to sneak another bite out of the freezer'!
This isn't unusual behavior for me in the dessert department, but it is unusual when it comes to pumpkin. I'm really a chocolate or caramel kind of person, and pumpkin desserts come in so low for me I can completely pass them up altogether. In fact I haven't made a pumpkin pie at Thanksgiving for over a decade, because not only do I not like it, but it's the only pie that never gets eaten up!
Over the years I've found a few sweet things with pumpkin I like, so there's a few recipes here on the blog. However I find I'm more of a savory pumpkin person. For instance I'd much rather have a pumpkin curry than pumpkin pie.
But I think the reason I'm overly crazy about this cake is the caramel factor. I'm not sure I'd care what flavor of cake was under that caramel-y/pecan sticky bun topping. But I do have to say the pumpkin spice cake turned out to be the perfect compliment to those flavors.
As I mentioned this cake is easy to make, no mixer or special equipment required. Start by mixing together all the dry ingredients.
Then mix in the wet ingredients until just combined.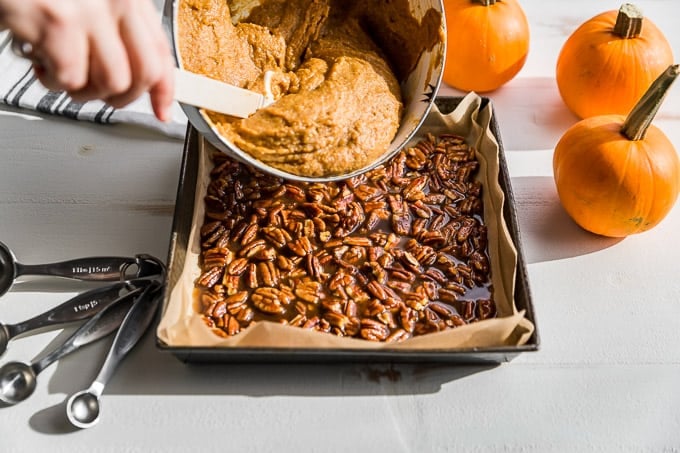 Then the cake batter is carefully poured/spread/dabbed across the pecan topping.
The cake is finished when it's puffed in the middle, and a toothpick inserted into the middle comes out clean. From there you cool it for a bit on a cooling rack, before using a second cooling rack to invert the cake so the pecan topping comes out on top.
From there you're ready to just dive in. You could serve this as dessert with a scoop of ice cream/whipped cream, or you can go for my preferred method and have it for breakfast with a cup of coffee. (After all, it's kind of like a giant muffin!)
We took the frozen leftovers I mentioned to Glacier National Park for a weekend of camping. And while it's most definitely better freshly baked, it's also pretty good half frozen on a frosty morning watching the sunrise!
Print
Sticky Bun Pumpkin Spice Cake
---
Author:

Kari

Total Time:

40 minutes

Yield:

1

2

1

x
Description
This ultra moist, perfectly spiced pumpkin cake, topped with a caramel pecan sticky bun topping will keep you coming back for more!
---
1 1/2 cups fine almond flour
1/3 cup tapioca starch, (sometimes called flour)
1/3 cup coconut sugar
1 1/2 Teaspoons baking powder, see notes
1 1/2 Teaspoons ground cinnamon
1/4 Teaspoon ground nutmeg
Pinch of ground cloves
1/4 Teaspoon ground sea salt
3 Tablespoons melted ghee, butter, or coconut oil
1/2 cup pumpkin purée from the can, (no added spices, just plain pumpkin)
1 egg
2 Teaspoons vanilla extract
Pecan Sticky Bun Topping:
3/4 cup raw pecan halves
1/4 cup caramel sauce, or (Homemade Double Coconut Caramel Sauce)
1 Teaspoon vanilla extract
Pinch of sea salt
3 Tablespoons melted ghee, butter, or coconut oil
---
Instructions
Preheat the oven to 350ºF and lightly grease an 8″ square baking pan. Cut 2 strips of parchment paper the width of the baking pan, then place them into the pan crosswise.
In a medium sized mixing bowl, combine the almond flour, tapioca starch, coconut sugar, baking powder, cinnamon, nutmeg, cloves, and sea salt until no lumps remain. Add the melted ghee/butter/coconut oil, pumpkin purée, egg, and vanilla. Mix until just combined, and set aside.
For the pecan sticky bun topping, mix together the pecans, caramel sauce, vanilla, sea salt, and ghee/butter/coconut oil and pour the mixture into the lined baking pan.
Carefully pour/spread/dab the cake batter evenly over the top of the pecan sticky bun topping with a spatula.
Bake the cake until it's puffed in the middle and a toothpick inserted into the middle comes out clean, 20-25 minutes.
Remove the cake from the oven, and let it cool on a cooling rack for at least 10 minutes. Then using a second cooling rack placed over the top of the cake pan, carefully invert the cake onto the second cooling rack.
Using oven mitts, remove the pan from the cake, pulling away the parchment paper being careful not to break the cake. It should come out easily, if it's not, let it sit for a few more minutes cooling before you try removing the pan again.
Serve warm or at room temperature. This cake is best the first day, but leftovers can be frozen and lightly reheated to serve.
Notes
Baking powder can have all sorts of additives, and isn't always gluten free or paleo. To be safe, you can make your own by mixing together 1 part baking soda to 2 parts cream of tartar, and use the mixture right away.
Prep Time:

15

Cook Time:

25

Category:

Cakes

Method:

Baking