I used to make Vietnamese Caramel Chicken pretty much every week, and serve it with steamed rice and sautéed veggies. But somewhere along the line (actually at Thi Thi Subs in downtown Calgary), I discovered the beauty of Saté Chicken Banh Mi Subs, and somehow I forgot about caramel chicken for a little while.
As it would happen, Vietnamese Caramel Chicken is just as amazing as Saté Chicken, and either one works for Banh Mi. I'm not sure how authentic that is or anything since I've never seen caramel chicken as a sandwich option. We don't worry about those sorts of things too much around, it's just about whatever tastes so good, that your tastes buds light up with an explosion of flavor.
Even though it's been years since I've had a Banh Mi Sub Sandwich, they haunt my thoughts almost daily, (really it's no exaggeration, the addiction is real)! I've made a couple spins off the Banh Mi flavors with my Banh Mi Salad with Sriracha Lime Aioli, and my Banh Mi Slaw with Saté Chicken (a favorite to take camping). And now coming soon… Banh Mi Cucumber Subs which are the closest thing to that elusive sandwich I've ever made without bread.
I feel like I'm loosing my thread a little bit, (what else is new) it's just that I start talking about Banh Mi and everything else goes out the window! But the real reason we're here today is this caramel chicken which came about as a new filling for the aforementioned Banh Mi Subs… of course.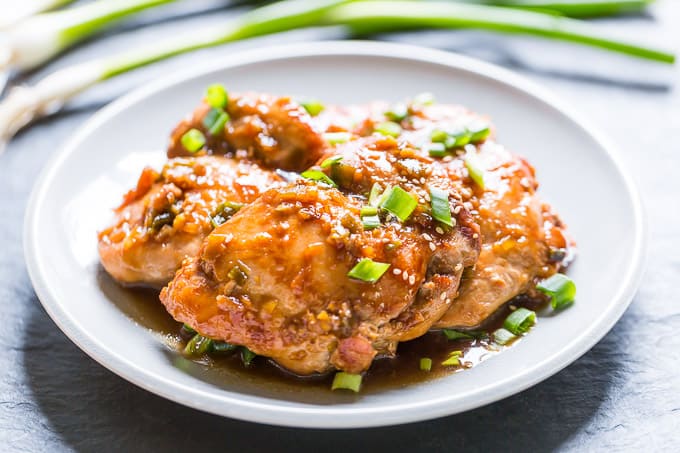 Just like a stir fry, it's best to have all your ingredients prepped before starting. If you're serving it with steamed rice, (or cauliflower rice) and veggies, make the rice first and while it's steaming prep everything else. About 5 minutes before the rice is done, you can start the chicken.
Once the rice is done, it's always best to let it sit without any heat to just steam into perfection for an extra 10 minutes. The chicken takes 15-20 minutes or so to cook depending on the size of your chicken thighs, so it's usually best to start the veggies halfway through the cooking time for the chicken so they don't overcook.
Step by step breakdown:
Start steaming your rice or cauliflower rice.
When it's almost done start the chicken.
Once the rice is done, let it sit without heat until you're ready to serve dinner.
When the chicken is halfway cooked, start sautéing the veggies.
Place everything in serving bowls and serve immediately, (or dish right out of the pan to save time and dishes – YES!).
Traditional caramel chicken recipes usually call for a shallot, but I like to keep things simple, so I just used the white part of the green onions, reserving the green part until later in the cooking time.
This chicken will test every once of your will power not to eat it straight out of the skillet before it even touches your plate. I feel like I've developed some will power over the last few years of constant recipe testing, but this one definitely got the better of me.
I had just sliced into one of the chicken thighs to check and see if it was done, and I got some sauce on my fingers which I of course licked off, and before I knew it I was halfway through a chicken thigh reminding myself that I really shouldn't be eating it before I took some pictures first!
Print
Sticky Vietnamese Caramel Chicken
---
1

pkg boneless, skinless chicken thighs, weighing 1 1/2 pounds

1 Tablespoon

avocado oil

2

cloves garlic, minced

1 Tablespoon

minced ginger

1

jalapeno, thinly sliced

1

bunch green onions, thinly sliced, white and green parts kept separate
Caramel Sauce:
2 Tablespoons

coconut sugar

1/4 cup

fish sauce

1/2 cup

water

1 Tablespoon

rice vinegar, or fresh lime juice
Serve with:
Steamed rice or cauliflower rice
Sautéed seasonal veggies
---
Instructions
Prep all your ingredients before starting, and mix together the caramel sauce.
Heat a large skillet 12″ or bigger over medium high heat. When the pan is hot but not smoking, add the avocado oil, and place the chicken thighs in flat side down. Cook the chicken thighs without moving them for 4-5 minutes, or until they've browned.
Pour in about 1/4 cup of the sauce, and let it caramelize around the chicken thighs, (about 2 minutes) be careful to watch it constantly as the liquid evaporates because you don't want the caramel to burn. When the liquid is almost gone and looks like caramel, add the minced garlic, ginger, jalapeno, and the white part of the green onions. Pour the rest of the sauce into the pan, and turn the chicken thighs over to finish cooking. Reduce the heat to medium, and stir the sauce a bit around the chicken thighs to mix all the ingredients together.
Continue to cook the chicken until it's cooked through with no pink remaining, about 10 minutes. If you start to run short on liquid before the chicken is done, add a couple tablespoons of water.
Serve the chicken immediately with your choice of sides.
You can also let the chicken cool to room temperature, and add it to any kind of Asian inspired salad you love.
Prep Time:

10 mins

Cook Time:

20 mins