First off, I just want to tell you that these pictures aren't fake or color enhanced at all – not even one bit! There is a secret to the crazy beautiful color though – I used frozen strawberries from our garden last year, so they're intensely colored because they were ripe when we picked them.
A few months ago, we upgraded to a new camera system and new lenses. While it was incredibly expensive, you can see the results in these photos – they're not edited at all – no contrast or color enhancement – this is exactly how they came out of the camera!
Maybe I'm little strange, but I was jumping up and down in excitement when I first uploaded these pictures! I love being able to take pictures and have them turn out just like it looked in real life, with no tinkering! Seriously though, these new cameras are so complicated – I hardly know how to use the basics on mine. I still need to learn where the timer feature is – nothing like owning something incredible, and then barely knowing how to use it, (little by little I'm learning)!
These crepes are really easy to make. Both the whipped cream and strawberry sauce can be made ahead, so they'd be perfect as part of an all out brunch menu! With all the pink going on – I'm thinking Mother's Day!
To make the strawberry sauce, combine the tapioca with a little bit of the juices from the thawed berries. When there's no lumps, add the berries and honey. I like to cook my fruit sauces over high heat, constantly stirring until they thicken. I've recommended medium high heat in the recipe, but feel free to crank it up if you're comfortable cooking with high heat.
A couple of tips for the crepes:
1. You don't need a special pan to make these, I used a 12″ non-stick skillet.
2. One trick I learned in the cooking classes I've taken, is to lightly oil the skillet using a paper towel. Tear off a small piece of paper towel and soak it in a neutral oil – like avocado oil. Lightly rub the oiled towel over the surface of the skillet (it should leave behind a visible trail of oil). You can repeat this as often as you need, depending on the condition of your pan, (I oiled my pan every 4-5 crêpes).
3. A non-stick pan in good condition is pretty much mandatory for the easy crepe experience. If your pan is loosing it's nonstick-ness you may find the process frustrating as your crepes will continually stick. If you have a good pan and follow the oiling process described above, you won't have any problems.
4. You'll see the crepe in the above right hand photo is torn. This is what happens if you try to flip a crepe too soon! You want to make sure that the crepes have time to 'set' and isn't runny on the edges before turning.
5. I've found the easiest way to flip crepes for me, is to loosen the edge with a spatula and then I use my fingers to lightly pull the crepe off the pan and flip it over. I've never mastered the French technique – shake and flip, (they also use a special pan which is supposed to help). I've tried using just a spatula, and I tend to break and tear the crepes, but ever since I started using my hands to flip crepes I haven't had any problems at all!
For this recipe, I filled the crepes with coconut whipped cream, folded each crepe into quarters, and topped them with warm strawberry sauce.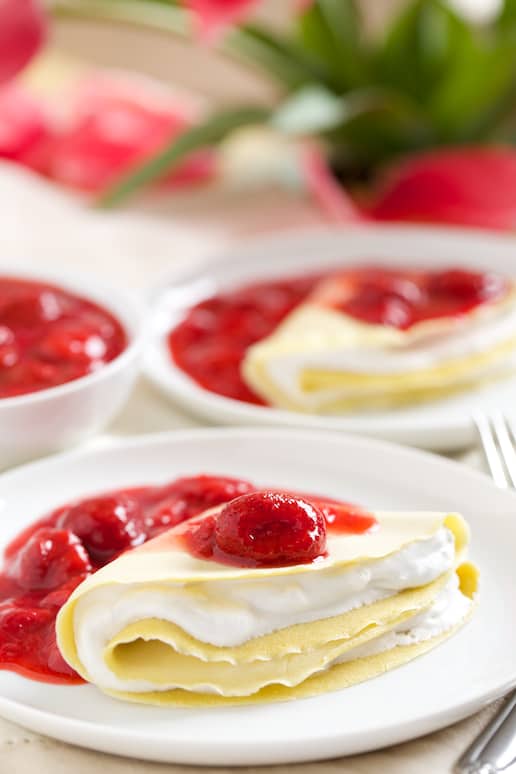 I noticed that these crepes are nice and tender when they're fresh out of the pan. After they sit for awhile, they become a lot more sturdy, which has got me thinking they'll be perfect for savory baked crepes!
Print
Strawberries and Cream Crêpes
---
Crêpes:
2

eggs

1/4 cup

almond milk

2 Tablespoons

coconut flour

2 Tablespoons

tapioca starch
a pinch of sea salt
avocado oil for oiling the pan
Strawberry Sauce:
12 ounces

frozen strawberries, thawed

1 Tablespoon

honey

1 1/2 Teaspoons

tapioca starch
Coconut Whipped Cream:
---
Instructions
For the strawberry sauce, mix together the tapioca starch and a little of the juices from the thawed berries until there's no more lumps.
Add the thawed berries, the rest of the berry juice, and the honey.
Cook over medium high heat, stirring constantly until the sauce comes to a boil and thickens. Once the sauce has thickend, remove it from the heat, cover with a lid and set aside.
For the whipped cream, scoop out the coconut cream from the top of the can, leaving the liquid behind.
Place the coconut cream in a mixer with the honey and vanilla extract. Turn the mixer to high and whip for 6-8 minutes until it's light and fluffy.
For the crêpes, combine all the ingredients into a blender and blend until smooth.
Place a non-stick 12″ skillet over medium low heat.
Tear off a small piece of paper towel and pour a small amount of avocado oil on it. Run the paper towel around the pan to very lightly oil it.
Pour a small amount of crêpe batter into the preheated pan. The diameter of of the batter will be about 6″. Immediately after the batter hits the pan, tilt the pan to spread out the crêpe batter into an even circle.
Put the pan back down on the heat and let cook for a minute or two until the crêpe batter is set. Using a spatula, loosen an edge of the crêpe and carefully peel it off the pan and flip it to cook the other side. I find it easiest to use my fingers rather than a spatula to flip crêpes – but be careful you don't want to burn yourself!
Continue cooking the crêpes, oiling the pan anytime you feel that they're beginning to stick.
To assemble, spread some coconut whipped cream on each crêpe, fold into quarters, and top with warm strawberry sauce.
Prep Time:

20 mins

Cook Time:

10 mins