We're definitely in the middle of spring around here, one day it's all fresh tasting quinoa salads and sunshine, and the next it's raining and I'm baking Double Chocolate Almond Butter Cookies – but… what can you do but enjoy the ride? I actually love spring, maybe it's because the winters around here are rather long, but the first produce of spring fills me with more ambition in the kitchen than the last several months combined! And, I've been known to hop up and down in a ridiculous state over the first flower that blooms, even if it's only a dandelion – anything other than more fluffy white snow!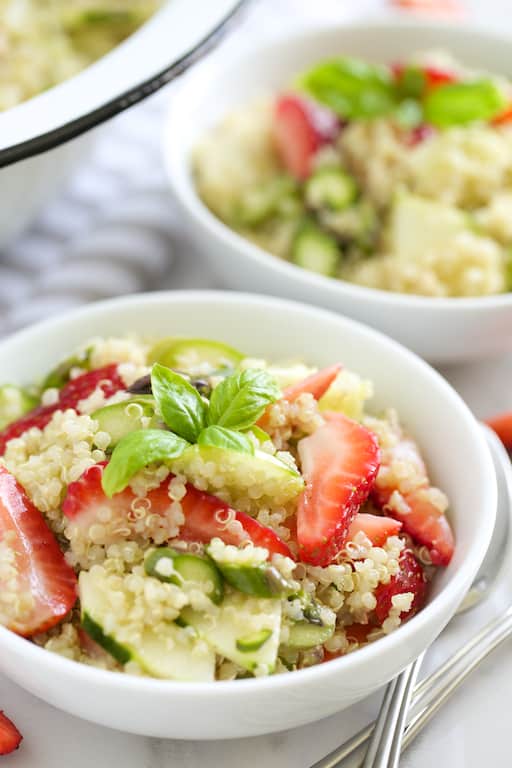 For the asparagus, it looks nice to slice it on the bias – which only means you hold your knife differently. Simply slice it with your knife at a 45º angle (but perpendicular to the cutting board), like the above picture.
Tip: If you go through a lot of strawberries, I recommend buying one of those tomato corers. They're great for tomatoes, but they also get the tops off strawberries in a real hurry!
For the cucumber, peel 4-5 strips of the skin and cut off both ends. Then, cut it lengthwise into quarters and finally cut the quarters crosswise to make thinly sliced triangles.
Place all the prepared produce in a large bowl and set it aside while you make the dressing. This basil vinaigrette is adapted from a previous basil dressing, but I added quite a bit more salt and lemon juice than my original recipe to compensate for the blandness of quinoa.
The quinoa for this salad should be cooked and cooled ahead of time. You could use it warm, but the leftovers won't keep in that case. I find it easiest to cook some quinoa the day before when I'm making dinner. When it's cooled a bit, I transfer it to the refrigerator where it will be ready the next day for a salad like this one. You can also cook some quinoa ahead if you do any food prepping at the beginning of the week – then you have it already on hand for a super quick salad.
So… raw asparagus – why does that sound wrong and why do we almost always cook it? I'm branching out this year and adding raw asparagus to all sorts of things. I've always been a fan of it raw, straight out of the garden – in fact I grew up eating it that way. But… something happens between the garden and the table and suddenly the asparagus is grilled or roasted. So here's to more raw asparagus amazingness!
Print
Strawberry Asparagus Quinoa Salad with Basil Vinaigrette
---
1 cup

quinoa, rinsed

2 cups

water

1

small bunch of asparagus (

8 ounces

)

8 ounces

fresh strawberries

8 ounces

cucumber
Dressing:
4 Tablespoons

freshly squeezed lemon juice

1/4 cup

(packed) fresh basil

1

clove garlic minced

1 Tablespoon

Dijon mustard

2

–

3

Teaspoons sea salt (adjust to your taste)

1/4 Teaspoon

black pepper

1 Teaspoon

maple syrup

1/2 cup

avocado oil
---
Instructions
Place the rinsed quinoa and water in a medium sized saucepan and bring it to a boil over high heat. Once it comes to a boil, lower the heat to low and cover with a lid. Continue to cook for 15-20 minutes, or until the water is absorbed and the quinoa is tender. Set it aside to cool, (cool completely in the refrigerator if you're keeping the salad for up to 2 days).
While the quinoa cooks, prepare the rest of the recipe.
Wash the asparagus and trim the woody ends. Thinly slice it, (on the bias if you'd like) and place it in your serving bowl.
Wash and hull the strawberries. Cut them into quarters lengthwise and then into eights – add them to the serving bowl.
Peel 4-5 strips from the cucumber and cut off the ends. Cut the cucumber into quarters lengthwise, and then thinly slice it crosswise to form triangles. Add them to the serving bowl as well.
Place all the ingredients for the dressing into a blender and blend starting on low and working up in speed to 5-6 on a Vitamix. Blend until the dressing is completely emulsified.
Add the quinoa and dressing to the serving bowl with the prepared veggies and strawberries.
Toss to combine, and serve immediately.
Notes
You can combine this salad with the quinoa still warm, but it won't keep in the fridge. If you cool the quinoa completely before assembling the salad, it will keep for 2 days.
Prep Time:

20 mins

Cook Time:

20 mins