This Strawberry Rhubarb Sauce is simple to make, and there's no refined sugar added! Instead, you can use either maple syrup or honey which both make for an incredible flavor pairing with this dynamite duo. The sweetness of the strawberries tempers the tangy nature of rhubarb so you don't need quite as much sweetener either. This sauce keeps well for days in the fridge, and it's perfect over my Homemade Coconut Ice Cream. Or try it with your favorite creamy yogurt topped with my Maple Cinnamon Granola.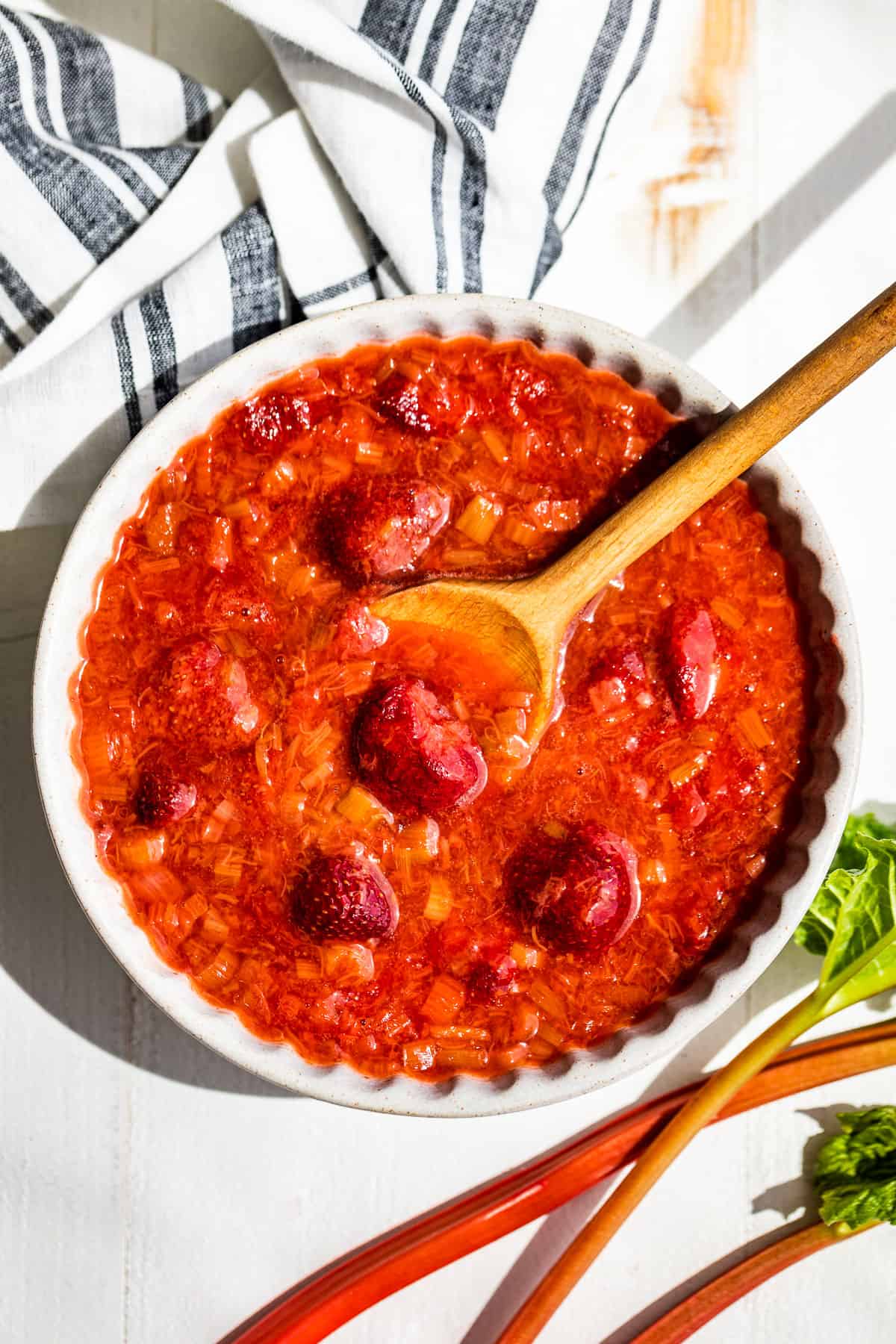 Have you ever eaten raw rhubarb? Well… I wouldn't recommend taking a very big bite that's for sure! My Grandpa used to think it was so funny to initiate each of his grandkids into rhubarb by feeding it to us raw. It's incredibly sour, and he laughed so hard at our puckered-up faces that he'd pretty much fall to his knees with mirth!
I think he'd love to know that I'm still eating it raw all these years later, albeit in very small bites! But raw rhubarb is sort of like biting into a lemon, so that's why it's the best in recipes like this sauce.
And once you've made this, you definitely need to head over to make my Strawberry Rhubarb Crisp too. This time of year rhubarb is plentiful, so if you've never tried it before, I hope this super tasty recipe will inspire you!
Ingredients & Substitutions
Rhubarb – can usually be found at a regular grocery store during the spring to early summer months. And you can definitely find it at your local farmer's market or maybe you have a neighbor that would be happy to get rid of some! You can sometimes find rhubarb plants at a farmers market and you could add this to your flower beds. It pretty much takes care of itself and will reward you with loads of rhubarb.
Strawberries – I use frozen berries here because that's all I have when rhubarb is most plentiful. But you can use fresh as well, although it may be less saucy if you use store-bought fresh strawberries because they don't have much juice.
Honey or maple syrup – either sweetener is good here, but I especially love honey because the flavor combo is so good with the strawberries and rhubarb.
Tapioca starch – or cornstarch both work here to thicken up the sauce.
Now let's make this recipe step by step
Step 1: Trim your rhubarb stems by cutting off the tough stem ends and removing the leaves.
Step 2: Slice the rhubarb into 1/4-1/2 inch pieces. Zest the orange and measure out the rest of the ingredients.
You can slice them even larger if you'd like for more texture you just need to cook it for a few minutes longer.
Step 3: Start stirring together the tapioca starch together with water until smooth with no lumps remaining. Then add the remaining ingredients, (except the optional orange juice) to the pan and stir together.
Step 4: Simmer for a few minutes until the rhubarb is tender and beginning to fall apart, stirring occasionally. When the sauce has simmered and thickened, remove it from the heat and add the optional orange juice.
FAQ's
How do you thicken strawberry rhubarb sauce?
With cornstarch or tapioca starch. If your sauce is too thin, mix together some cornstarch with water until smooth and add it slowly to the bubbling sauce until it's as thick as you'd like. Keep in mind it will thicken up significantly when refrigerated.
How long does strawberry rhubarb sauce last?
Strawberry rhubarb sauce will last 1 week covered in the refrigerator or 1 month frozen.
Storing leftovers
To store – place the leftovers into an airtight sealed container and refrigerate for up to 1 week. I like to pour mine into quart mason jars because they don't take up much space in the fridge.
Make ahead – this sauce keeps well for 1 week, so it's the perfect make-ahead recipe for any way you want to serve it.
Reheat – place the amount you want to reheat in an appropriately sized pan and heat stirring constantly over medium heat until warmed or hot.
To freeze – place the leftovers into an airtight container that can go in the freezer and freeze for up to 1 month. Defrost overnight in the fridge before using. If you use a Ziplock bag, place the bag in a dish to catch any leaks! If the sauce has separated, you can reheat it to bring it back together.
Tips & Tricks
Try the optional orange juice addition in the recipe below. Orange really pairs well with strawberry and rhubarb.
You can make this with fresh strawberries, but I prefer to use frozen unless I have a lot of fresh berries to use up. Frozen strawberries are perfect for sauce and overall they're much more economical.
Try using honey in place of the maple syrup. Honey is a wonderful flavor pairing for this sauce as well.
Be sure to mix the tapioca (or cornstarch) together well with the maple syrup until no lumps remain. This is the easiest way to incorporate the starch. If you use honey, mix the starch together with water or the optional orange juice. It's a bit difficult to mix the starch together with honey because it's much thicker than the maple syrup.
You can also use can sugar to taste or even agave nectar in this recipe. Start with 1/2 cup sugar, then add more to taste if needed.
More Spring Desserts Recipe Inspiration
I really hope you enjoy this Strawberry Rhubarb Sauce! And if you do get a chance to make it, I hope you'll leave me a comment/rating below. I always love hearing from you here! If you're crazy about strawberry and rhubarb, try my Strawberry Rhubarb Crisp or my Strawberry Rhubarb Streusel Tart.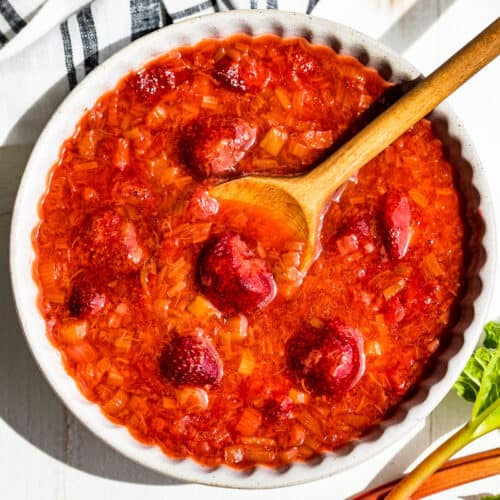 INGREDIENTS
1

tbsp

tapioca starch

-

or cornstarch mixed with 1/4 cup water

1.5

pounds

rhubarb

-

sliced 1/4-1/2″ thick, 5-6 cups

1

pound

frozen or fresh strawberries

-

4 cups frozen, 2 cups when thawed

1/4-1/2

cup

maple syrup -

or honey, to your taste

1

tbsp

orange zest

-

or lemon zest
Optional:
freshly squeezed orange juice from 1 orange

-

1-2 tbsp freshly squeezed lemon juice
INSTRUCTIONS
Start stirring together the tapioca starch together with water until smooth with no lumps remaining. Then add the remaining ingredients, (except the optional orange juice) to the pan and stir together.

Bring to a boil stirring frequently. Simmer on low for a few minutes until rhubarb is just tender.

When the sauce has simmered and thickened, remove it from the heat and add the optional orange juice. Add additional sweetener to taste if needed.

Remove from heat to cool. Cover and place in the refrigerator until ready to use. Or serve warm over ice cream!
Bonus Step
If you made this recipe, please leave a rating/comment. Ratings really help us continue to bring you high-quality free recipes. Rate This Recipe!
NOTES
When I serve this with a dessert I only add 1/4 cup honey because I like it to be a bit tangy with my ice cream. For eating it plain or for breakfast, I use 1/2 cup honey because I mix it with plain yogurt.
nutrition facts
Calories:
89
kcal
|
Carbohydrates:
21
g
|
Protein:
2
g
|
Fat:
0.5
g
|
Saturated Fat:
0.1
g
|
Polyunsaturated Fat:
0.2
g
|
Monounsaturated Fat:
0.1
g
|
Sodium:
7
mg
|
Potassium:
473
mg
|
Fiber:
4
g
|
Sugar:
13
g
|
Vitamin A:
125
IU
|
Vitamin C:
54
mg
|
Calcium:
124
mg
|
Iron:
1
mg
This post was originally published in 2013 but has been updated to include new photos, prep photos, nutritional facts, more information, and tips.