What is it about baking that's so much more fun than making dinner? Is it because baking is usually for something out of the ordinary, or that it's a way to show loved ones how much we care? Whatever the motivation happens to be, baking is one of my favorite activities, I'd even go so far as to call it a hobby.
But I'll tell you something that you probably already know, grain free baking is another beast altogether. It's difficult and demanding – which is usually not my favorite combination. I bake to enjoy myself, and for the sense of calm it always brings as buttery vanilla scents make their way through the house. I don't bake for sheer frustration as yet another batch of some 'healthy' baked good turns out as a total disaster!
Practice sure helps because over time, I've come up with a few key reliable ingredients to fall back on when I'm in the mood for making treats. The duo of almond flour with a smidge of tapioca starch is always a winning combo, so that's where I started with this recipe.
Really this whole project started with a gorgeous raspberry cookie bar at my local coffee shop, it was loaded with crumbly streusel, and glazed with white icing. Me and the bar had a stare down as I waited in line for my coffee, and I'd like to say that I won. But since I went home and made these bars, and then made them again, I can't say that I overcame my sudden craving for baked goods!
The shortbread and streusel are mixed together at the same time, saving some extra time. Just pat half of the mixture into the pan, then we par bake it (which means to partially bake) to keep it from getting soggy when the berries get piled on.
Once the shortbread crust comes out of the oven, it's heaped with strawberries…
… and the other half of the shortbread/streusel mixture gets crumbled over the top.
It's best to wait until the bars are fully cooled before drizzling the glaze over the top so that it stays white on top instead of soaking in. I use a plastic squeeze bottle for drizzling the glaze on top because it makes such nice lines. You can find them at your local restaurant supply along with all sorts of cool kitchen stuff.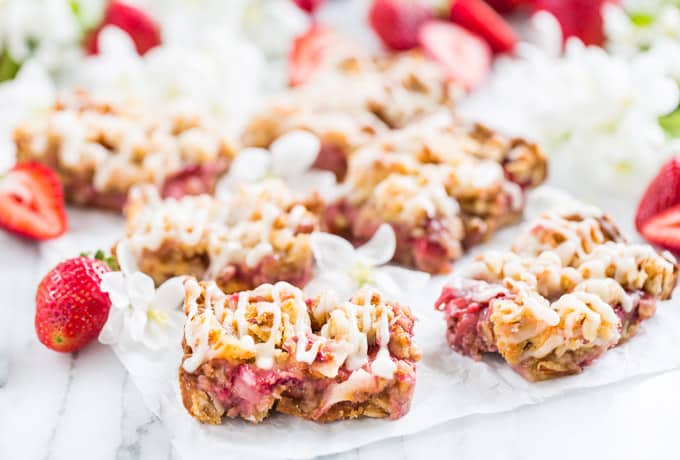 These bars truly embody my ideal weekend – I love something buttery and sweet to start my Saturdays! Add perfectly scrambled eggs and maybe some bacon, and you're looking at the perfect brunch.
Print
Strawberry Shortbread Bars
---
Shortbread and Streusel:
2 1/2 cups

almond flour

3 Tablespoons

tapioca starch, also called flour

1/2 Teaspoon

sea salt

1/2 Teaspoon

Vietnamese cinnamon

1 Tablespoon

lemon zest

6 Tablespoons

coconut oil, (or butter) melted

6 Tablespoons

maple syrup, or honey

1/2 Teaspoon

almond extract

2 Teaspoons

vanilla extract

3/4 cup

sliced almonds

3/4 cup

big flake unsweetened coconut
Strawberries:
8 ounces

strawberries, hulled and sliced, 2 cups

1 Tablespoon

maple syrup
Glaze:
1/4 cup

coconut butter, also called mana

2 Teaspoons

freshly squeezed lemon juice

2 Teaspoons

maple syrup

2

–

3

Tablespoons warm water
---
Instructions
Preheat the oven to 350ºF.
Mix together all the ingredients for the shortbread/streusel in a medium sized mixing bowl. Pat 2/3 of the mixture into an 11″ x 7″ baking pan to create the shortbread bottom, (reserve 1/3 of the mixture for the streusel topping). Par bake, (which means partially cook) the bottom shortbread for 10 minutes, or until it's starting to set and light golden brown.
Remove the shortbread from the oven and scatter the sliced strawberries evenly over the crust. Crumble the remaining shortbread/streusel mixture over the top of the strawberries, and drizzle with 1 Tablespoon maple syrup.
Place the pan back in the oven and bake until the fruit is bubbling and the streusel is deep golden brown, about 25-30 minutes.
Remove the pan from the oven and cool completely before glazing. You can serve them warm, but the glaze sort of disappears into the remaining bars as they cool.
Make the glaze by melting the coconut butter over low heat. Remove the pan from the heat and whisk in the lemon juice and maple syrup. Depending on how the consistency of the glaze is, (this really varies with different coconut butters) whisk in warm water 1 Tablespoon at a time until the glaze reaches a drizzling consistency.
To make nice lines across the shortbread bars, pour the glaze into a plastic squeeze bottle and glaze the bars as desired after they've cooled.
These bars keep at room temperature for 3-4 days, but they're soft not crunchy after the first day. They can be reheated at a low temperature until crunchy and glazed as needed.
Prep Time:

30 mins

Cook Time:

40 mins