This fresh and tasty Detox Island Tropical Green Smoothie has all the appeal of the popular smoothie chain version. It's easy to make at home and more affordable too. You also get to easily customize any superfoods you want to add.
Tropical flavors are probably my #1 favorite when it comes to green smoothies. There's just something about this particular combination that really gets me. And I know I'm not the only one since some form of this flavor combo is on every smoothie chain menu.
It's probably because pineapple is such a strong flavor, that it makes a great pairing for extra greens. It's also my first recommendation to anyone who's new to green smoothies. Next up would probably be my Pink Grapefruit Green Smoothie which has always been my other obsession!
How to make a truly delicious green smoothie.
Start small and work up – when I first started drinking green smoothies, I didn't add very many greens because I didn't find it palatable. However, over the years, I've worked up to more than 4x the greens I used to put in!
Invest in a good blender! This is super important if you're going to be drinking smoothies often. My first green smoothie was made in a very cheap blender, and it was terrible to say the least. I had made a recipe with berries and loads of greens. Not only was it horribly gritty, but it tasted so terrible, I couldn't drink it. It was a while before I tried again, but my next try was with a Vitamix. They're very pricey, but they're worth every penny and then some. I've had mine for about 10 years now, and it's still going strong. I use it multiple times a day, and I've only had the container replaced once within the warranty period from overusing it to make ice cream, (I now use my food processor for that and have never had a problem since). Also I have to say there's just something about that super smooth texture that makes drinking a green smoothie so much better!
Ingredients for the best Tropical Green Smoothie
Pineapple, as mentioned above, this is the star ingredient! I prefer fresh for a couple of reasons. First of all, I have yet to get a bag frozen pineapple where we live that tastes very good. And secondly, I love having fresh pineapple around for my Pineapple Facial and Pineapple Body Treatment – both are amazing for super soft glowing skin.
Mango, I most often buy this ingredient frozen because good fresh mangoes come and go here. Also it's very important to have 1 or more frozen ingredients to make the best smoothie.
Banana, which is important for the creaminess factor, and adds a bit of extra sweetness that really helps if you're new to green smoothies. This one can be added in fresh or frozen.
Liquid, I like to use a mix of coconut milk and around a half of a peeled orange in mine. Oranges add lots of liquid to the mix along with Vitamin C, and coconut milk adds that extra tropical flavor and creaminess.
Greens, I have spinach pictured here, but kale is great too. Lacinato kale is my favorite in smoothies, and you might give it a try if you've found the other types of kale to be too 'grassy' in flavor.
How to layer your ingredients for the easiest blending.
Fresh fruit on the bottom,
frozen fruit next,
then any superfoods, (which we'll talk about below)
next up liquid,
and finally the greens!
Best superfoods to add!
Hawaiian spirulina – which is a blue-green microalgae that's absolutely packed with nutrients. It's very high in both Vitamin A and Vitamin B12. It's important to find Hawaiian spirulina because not all algae powders are created equal. I've definitely had my fair share of bad experiences where my smoothie ended up tasting like the ocean smells. But that's not the case with Hawaiian spirulina!
Flax meal or chia seeds – I like to add a tablespoon or 2 to my smoothies of either of these for the added fiber and other benefits like omega 3's in flax meal, and antioxidents, omega 3's, iron, and calcium in chia seeds. I go back and forth to mix things up from day to day.
Protein powder or collagen – I usually add a scoop or 2 of collagen to every smoothie I make for both protein, and because I hope all the gut health claims being made are true!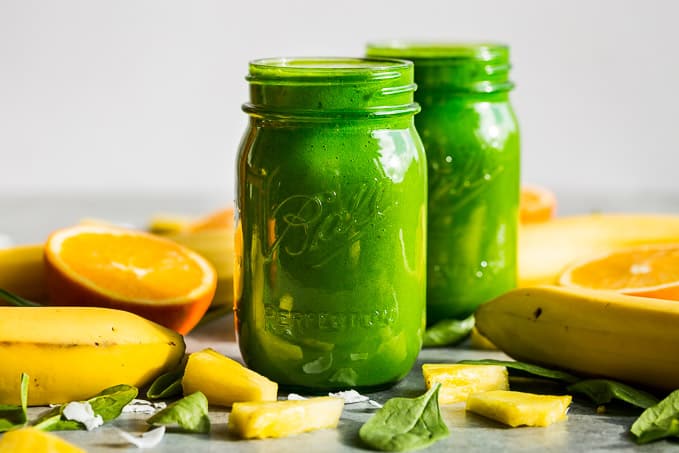 For even more superfood options and information about their benefits, check my whole post on Superfood Smoothie Boosters!

And for meal prepping tips, definitely check out How to make your own Freezer Smoothie Packs.
More Green Smoothie Recipe Inspiration
Just one more thing I almost forgot! This smoothie also seems to be a big hit with kids. I made it when my 3 nephews and niece were staying with us, (a little while back now). I served it along with my Paleo Chocolate Chip Banana Muffins, (which are also a hit with kids incidentally) and they all drank it down no problem!
So I hope you'll enjoy this super delicious green smoothie! If you do make it, I hope you'll leave me a comment/rating below. And I always love hearing from you here. Or over on Instagram where you can tag me at #getinspiredeveryday with your photos.
Print
Detox Island Tropical Green Smoothie
---
Author:

Kari Peters

Total Time:

10 minutes

Yield:

5 cups

1

x

Diet:

Gluten Free
Description
A sweet and creamy green smoothie, with all the flavors of the tropics along with a good dose of superfoods thrown in as well!
---
1 cup fresh pineapple chunks
1 ripe banana, peeled and cut into chunks
1 cup frozen mango cubes
1–2 cups liquid, coconut water, coconut milk, or a peeled orange, see notes
4 cups baby spinach, or a mix of spinach and kale start with less if you're new to green smoothies
1 Teaspoon vanilla extract
Superfood extras choose 1-2:
1 small slice of ginger
3–4 Tablespoons flax meal or chia seeds
2 servings Hawaiian spirulina
2 servings protein powder or collagen, or vegan option
---
Notes
Add more or less liquid depending on how thick you like your smoothie. I usually add 1 cup of coconut milk from the can along with 1/2 of a peeled orange. 
The nutritional information has been calculated with the liquid combination I described above and with 4 Tablespoons chia seeds, and 2 teaspoons spirulina.
Prep Time:

10

Category:

Smoothie

Method:

Blending

Cuisine:

American
Keywords: Tropical Green Smoothie Island recipe, Island Tropical Green Smoothie recipe, Pineapple Green Smoothie, Tropical Green Smoothie with Superfoods