Easy to make for family dinner and better than takeout, this Sweet Chili Chicken Stir Fry is a crowd pleaser. Packed with veggies and protein, this stir fry is naturally gluten free and dairy free too. Just a touch of spice is perfect with the sweetness in the sauce. So the next time you're craving takeout, this recipe is the answer!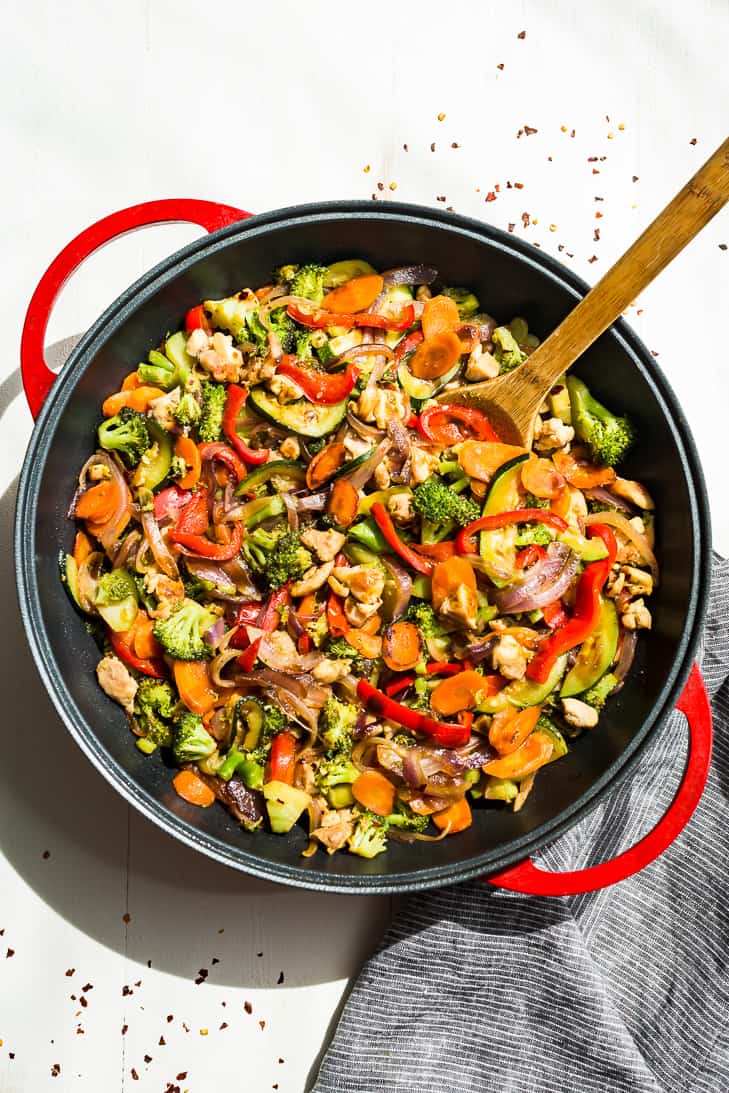 Sweet Chili Sauce makes pretty much everything delicious. The only problem is it's made up almost entirely of white sugar! So for a while now I've eliminated it from our refrigerator. However, like I said it's incredibly delicious. So I finally came up with a healthier version to get this wonderful sauce back in our life!
Since I err on the side of easy in my recipes, (or read lazy/strapped for time) my chili sauce would probably be qualified as a hack. This means only good things because you don't even need to make a sauce on the stove. You just stir a couple ingredients together and you're in business!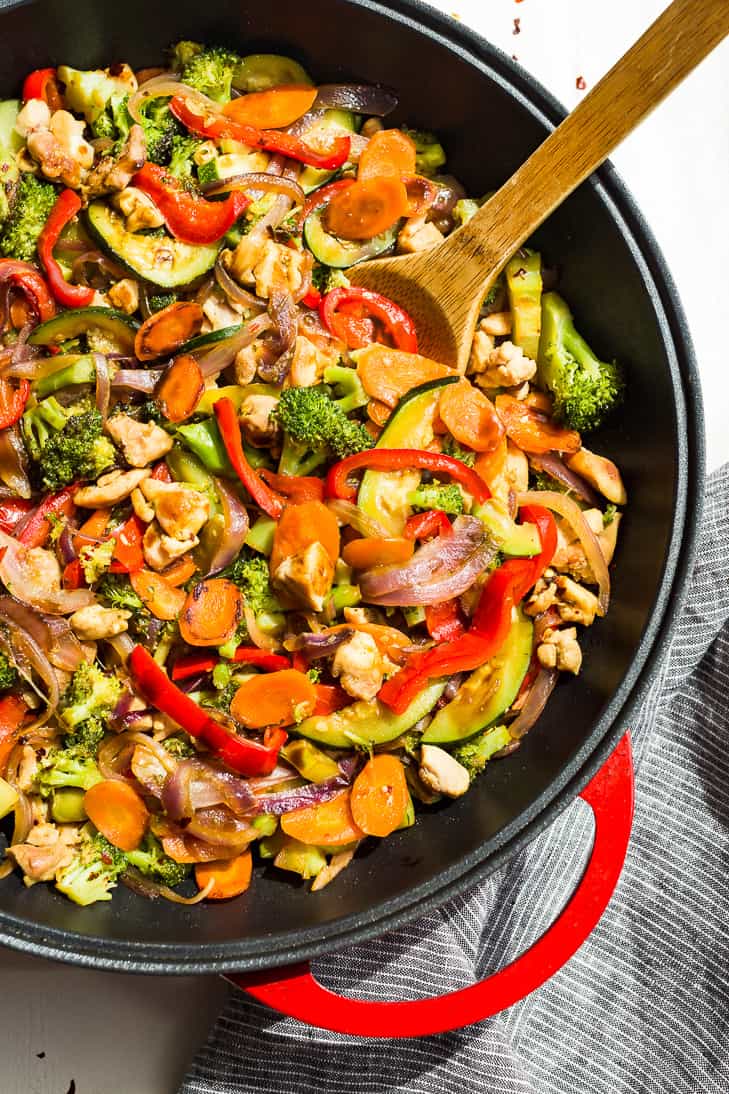 I first started using this hack of a chili sauce recipe in my Thai Broccoli Salad. And just like magic, chili sauce swoops in and coats the broccoli, transforming it into some sort of ridiculously addictive semblance of it's original self.
Anything that can turn veggies into magic is always a good thing. Especially since broccoli used to require copious amounts of cheese sauce to catch my attention.
One of my favorite things about studying the flavors of other cultures, is it's taught me that I can indeed enjoy my veggies without making them vaguely unhealthy. All the exotic spices and flavorings that used to be so difficult to find are becoming readily available, even here in Montana, making it so much easier to branch out and get creative.
Now let's dive into how to make this Sweet Chili Chicken Stir Fry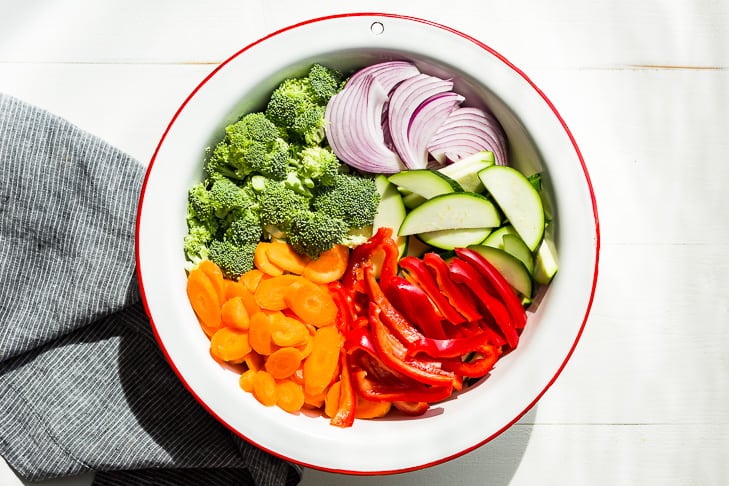 You're going to start by prepping all the veggies and chicken first.
Then mix together the sauce.
Once everything is prepped, then you're ready to stir fry!
Tip: To get the most out of your broccoli, peel the tough outer layer away from the stem with a peeler. Then just slice up the stem like you would a carrot! I love the stem of broccoli because it's a bit sweeter and milder in flavor.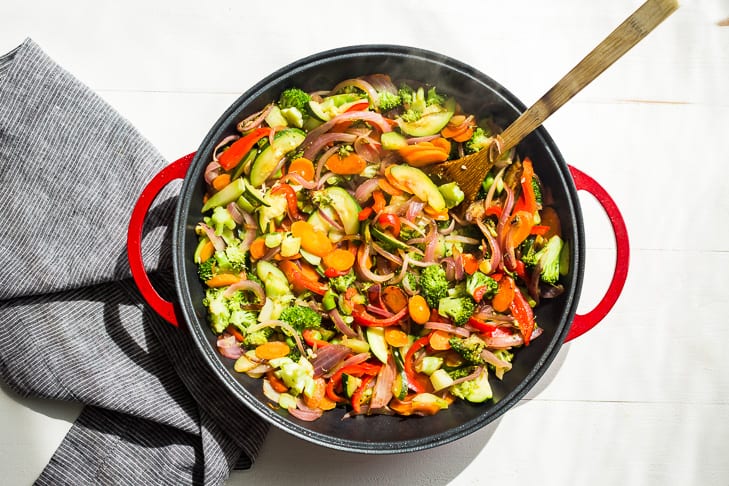 For the stir fry, first you sauté the chicken, then remove it from the pan. Next up sauté the veggies until crisp tender and the color is still bright like the above photo.
Finally add the chicken back into the pan along with the chili sauce. Cook for just long enough for the sauce to thicken and be thoroughly mixed in. Then serve it with freshly steamed rice/cauliflower rice, or even all on it's own.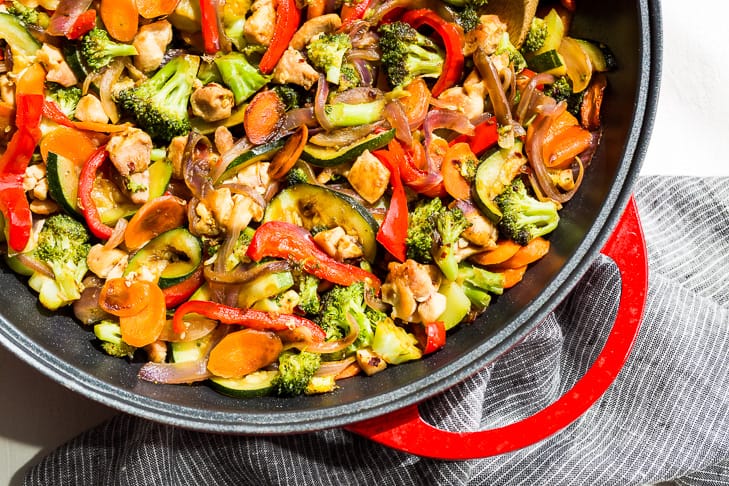 Stir Fry Tip: the best tasting stir fries are from cooking over high heat!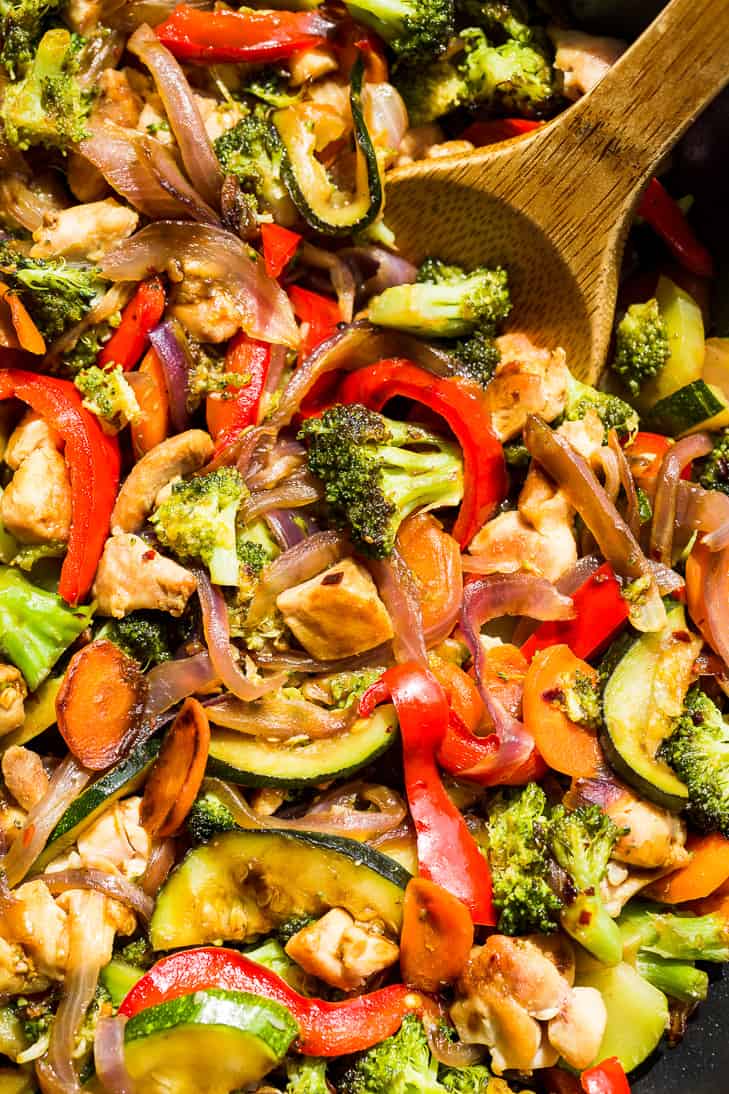 If you cook at a lower heat, the veggies and meat will steam/fry instead of the searing effect that happens at high heat. Don't get me wrong, the stir fry will still be good. But the high heat is what really gives you that stir fry flavor we all know and love!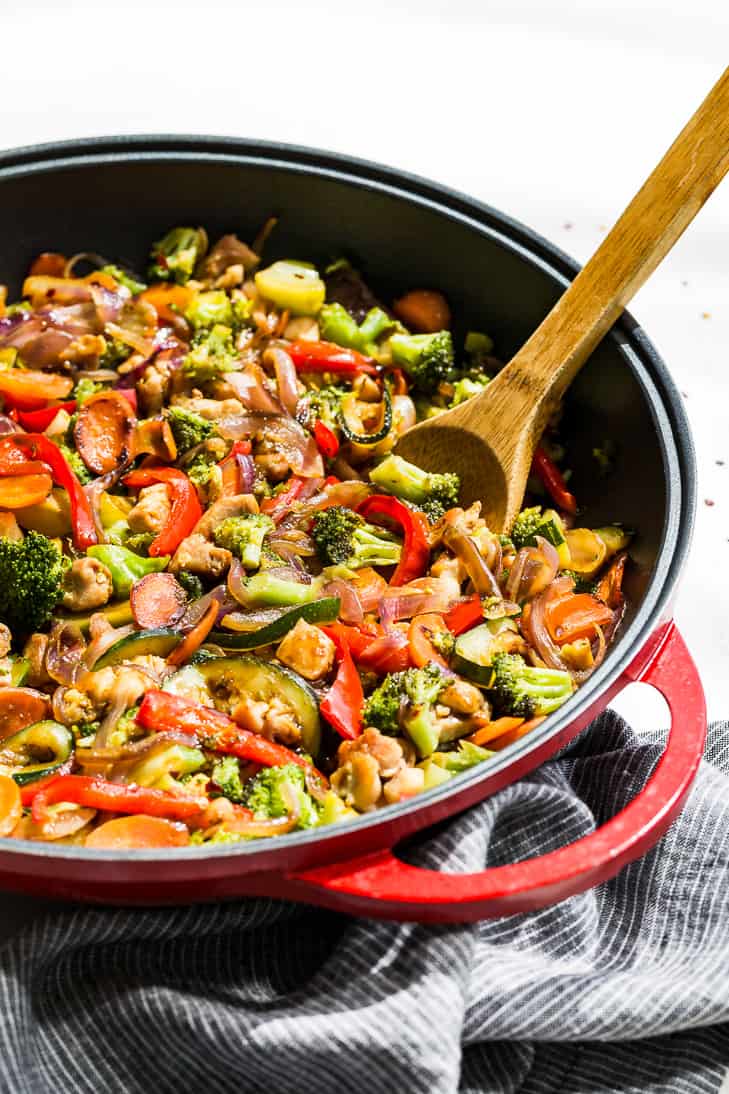 I hope you enjoy this stir fry as much as we have! If you do make it, I hope you'll leave me a comment/rating below. And I always love hearing from you here, and over on Instagram where you can tag me at #getinspiredeveryday with your photos.
Print
Sweet Chili Chicken Stir Fry
---
Description
This stir fry is hard to beat with it's sweet, slightly spicy flavors!
---
1 pound boneless skinless chicken breasts, cut into 1" cubes
1/4 cup avocado oil
1 small onion
1 red bell pepper, cored, seeded, and sliced 1/4″ thick
2 small heads of broccoli
2 large carrots, peeled and sliced 1/4″ thick
4 cloves of garlic, minced
3 small zucchini or 1 large
Sweet Chili Sauce:
1 Teaspoon tapioca starch
1/4 cup coconut aminos, or gluten free soy sauce
1 Tablespoon sambal oelek chili paste, or 1/2 Teaspoon red pepper flakes
 2-4 Tablespoons honey, add to your taste
---
Instructions
Start by prepping all parts of the stir fry before beginning to cook.
Cut both ends off the onion, peel away the tough outer layer and slice in half from the top to the bottom. Lay each half flat side down and slice across the rounded top to create half moon slices.
For the broccoli, peel the tough outer layer of the stem with a peeler and slice the stem into 1/4″ thick slices. When you reach the florets, break them apart into roughly 1/2″ pieces.
Cut both ends off the zucchini and quarter them lengthwise. Then slice across the quarters into 1/4″ thick triangular slices.
For the chili sauce, mix together the tapioca starch and coconut aminos together in a bowl until the tapioca starch is completely dissolved and there are no lumps. Mix in the chili paste and the honey, don't worry if the honey is clumpy, it will dissolve and mix in when you add the sauce to the pan.
Heat a large 15″ skillet over high heat. When the pan is almost smoking, add 2 Tablespoons of the avocado oil and sear the cubed chicken for about 2 minutes on each side to create a nicely browned exterior. Remove the chicken from the pan and set it aside, it will finish cooking completely at the end of the stir fry.
Add the remaining 2 Tablespoons of avocado oil to the pan along with the onion, bell pepper, brocolli, carrots, and minced garlic.
Sauté the veggies for about 4 minutes, or until they're just starting to soften. Add the zucchini and stir fry for an additional 2 minutes or until the zucchini begins to soften and all the veggies are crisp tender.
Add the chicken back to the pan along with the chili sauce.
Cook just until the chicken is cooked completely through and serve immediately.
Notes
All the veggies for this recipe should be about 8 ounces each. You can mix and match whatever you'd like for a total of 2 1/2 pounds of veggies!
The nutritional information is calculated for 4 servings with 2 Tablespoons honey.
Prep Time:

25 mins

Cook Time:

15 mins

Category:

Dinner

Method:

Stir Fry

Cuisine:

Asian
Keywords: Chicken Stir Fry Recipe, Sweet Chili Sauce Stir Fry, Sweet Thai Chili Chicken Stir Fry, Sweet Chili Sauce Chicken Stir Fry