Easy to make, these Taco Bowls with American-style flavors can customized for endless combinations. They're a simple weeknight kind of recipe that the whole family will love. But you can also add more fun toppings and make a taco bar for entertaining! They're naturally gluten-free with dairy-free and paleo options as well.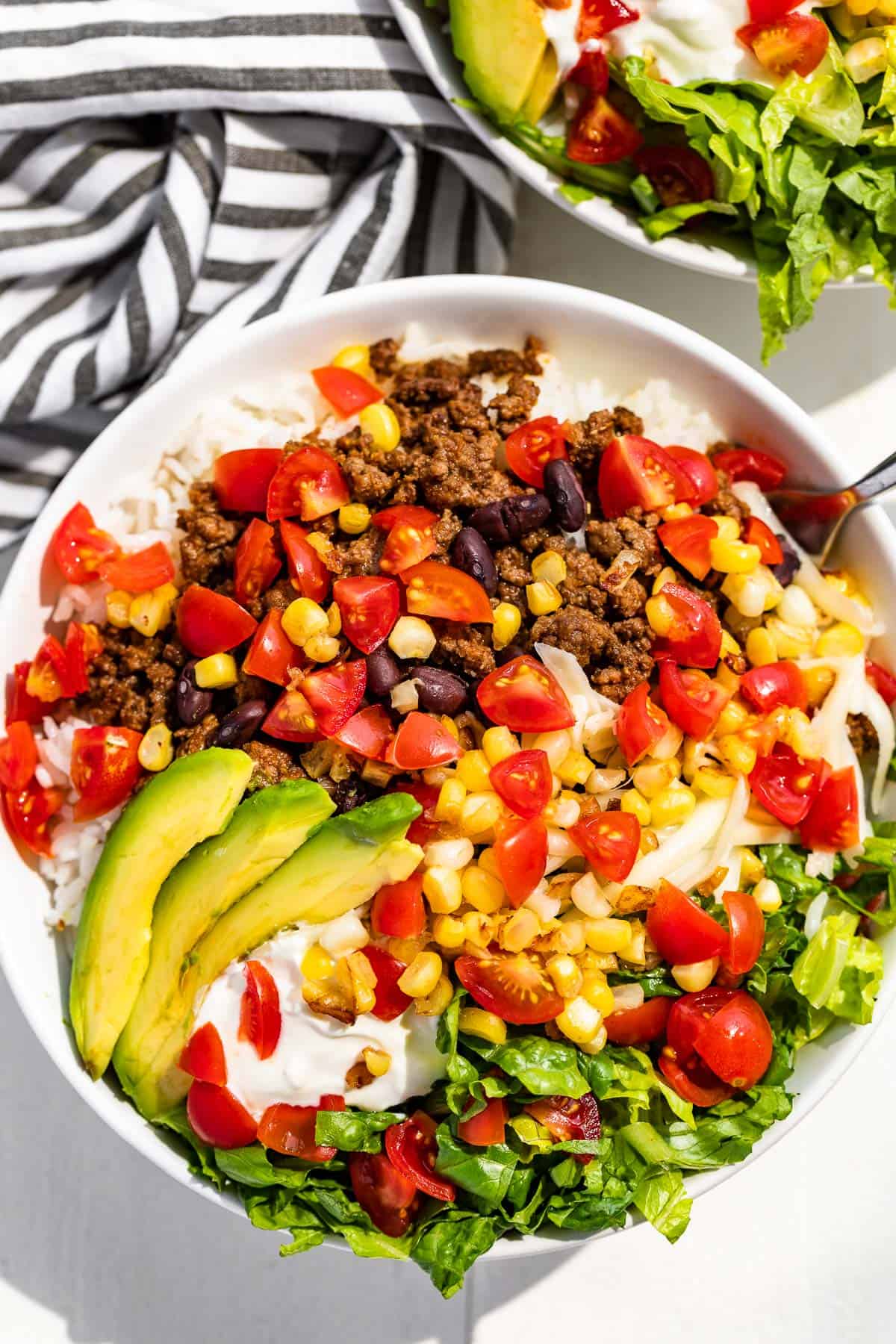 Taco bowls are the ultimate weekday meal and entertaining recipe for me! Everyone can customize their own bowl, and it's easy to accommodate any dietary needs or allergies.
Plus there's just something about taco flavors everyone loves. After all, that's probably why we have Taco Tuesdays, they're just happy food.
This recipe is gluten-free, but it can easily be customized with my options below to be dairy-free and even paleo.
Classic Taco Formula: Carb of choice + Taco meat + Lettuce + Tomatoes + Cheese + Sour Cream

Customizable Taco Formula: Carb of choice + Taco meat + Lettuce + Toppings of Choice
Ingredients & Substitutions
Ground beef – use lean ground beef so you don't need to drain off any extra grease, (90/10). You can also mix it up with ground pork, ground turkey, or ground chicken. If you use ground poultry, add a little oil to the pan so it doesn't stick, and be careful not to overcook it.
Carb of choice – we like to use either freshly steamed rice or my Roasted Sweet Potatoes instead of tortillas for these taco bowls. Both are equally good but different. The rice makes a subtle base that is so tasty with taco flavors, but the sweet potato adds a bit of sweetness that's hard to beat. Try both and let me know which one is your favorite! You can also use brown rice or quinoa.
Taco seasoning – I use my Homemade Taco Seasoning for tacos, but you can use any seasoning mix you'd like. Making your own is super easy and budget friendly too. Plus you don't need to worry about extra ingredients you don't want.
Lettuce – I like to use crunchy romaine for taco bowls, but green leaf and iceberg lettuce work as well.
Tomatoes – cherry tomatoes are the most reliable for flavor and are usually the ripest. But you can use any kind of tomato you'd like here.
Beans, corn, etc – feel free to add or omit any toppings you'd like. Black beans, (or pinto beans) and either frozen corn or canned corn briefly cooked add lots of flavor and texture. But I usually keep it super simple for weeknights and only add these when we're entertaining. Black olive are also common. We don't care for them but feel free to add them if desired.
Avocado – adds creaminess and buttery flavor, but I omit this whenever I don't have avocado on hand or just want to keep it simple.
Lime – a wedge of lime squeezed over the top adds a lot to these American-style taco bowls. It's not traditional with American tacos, but I think you're going to love the fresh flavor of lime juice.
Cheese – I use either grated cheddar cheese or jalapeno jack cheese because both have lots of flavor. I would avoid blander cheeses like mozzarella.
Sour cream – another classic in American-style tacos but you'll find dairy-free substitutes below besides just using dairy-free sour cream. You can also substitute Greek yogurt here if desired.
How to make this recipe step by step
Step 1: I like to slice the romaine as finely as possible. The shredded texture is nice and easier to eat in taco bowls.
Step 3: For the taco meat, break up the ground beef with a wooden spoon in a large skillet over medium-high heat.
When the meat is almost done, add the taco seasoning to the pan and continue to cook stirring to incorporate the seasoning and finish cooking the meat.
Step 4: Once everything is prepped, serve it all family style or portion it out into bowls.
Ways to serve this
These taco toppings are great piled over freshly steamed rice as pictured. But we also love taco toppings over my Roasted Sweet Potatoes. The sweet potato version is the first way I ever made this recipe, and we still make it that way all through the winter months.
Add any toppings you love on classic American-style tacos.
Try my Vegan Queso or creamy Cilantro Lime Dressing in place of the cheese and sour cream in this recipe for my favorite dairy-free options.
Try my Pico de Gallo in place of the tomatoes, or Restaurant Style Salsa when tomatoes aren't in season.
FAQ's
What is a taco bowl made of?
A taco bowl can be made up of any taco fillings and taco toppings you'd like. This taco bowl recipe is for classic American-style taco flavors. But there are also options to use so many other kinds of fillings as well like beef barbacoa, chipotle chicken, and chicken tinga.
What do you serve with a taco bowl?
A taco bowl is a full meal on its own and doesn't need any kind of side dish. Rather than side dishes try adding more toppings like beans for a bigger meal.
Storing leftovers
To store – store each part of this recipe separately in airtight containers in the fridge for 4-5 days. The avocado doesn't keep, and the tomatoes will only keep for 3 days or so when they're cut.
Make ahead – make your own taco seasoning ahead of time. You can also make the taco meat ahead and gently reheat it for serving.
Reheating – the rice will get really hard as it sits in the fridge so I like to heat it in a skillet with some of the taco meat and a touch of water over medium heat until it softens. From there you can pile on all your favorite toppings.
To freeze – the taco meat can be made ahead as meal prep in large batches and frozen for up to 3 months.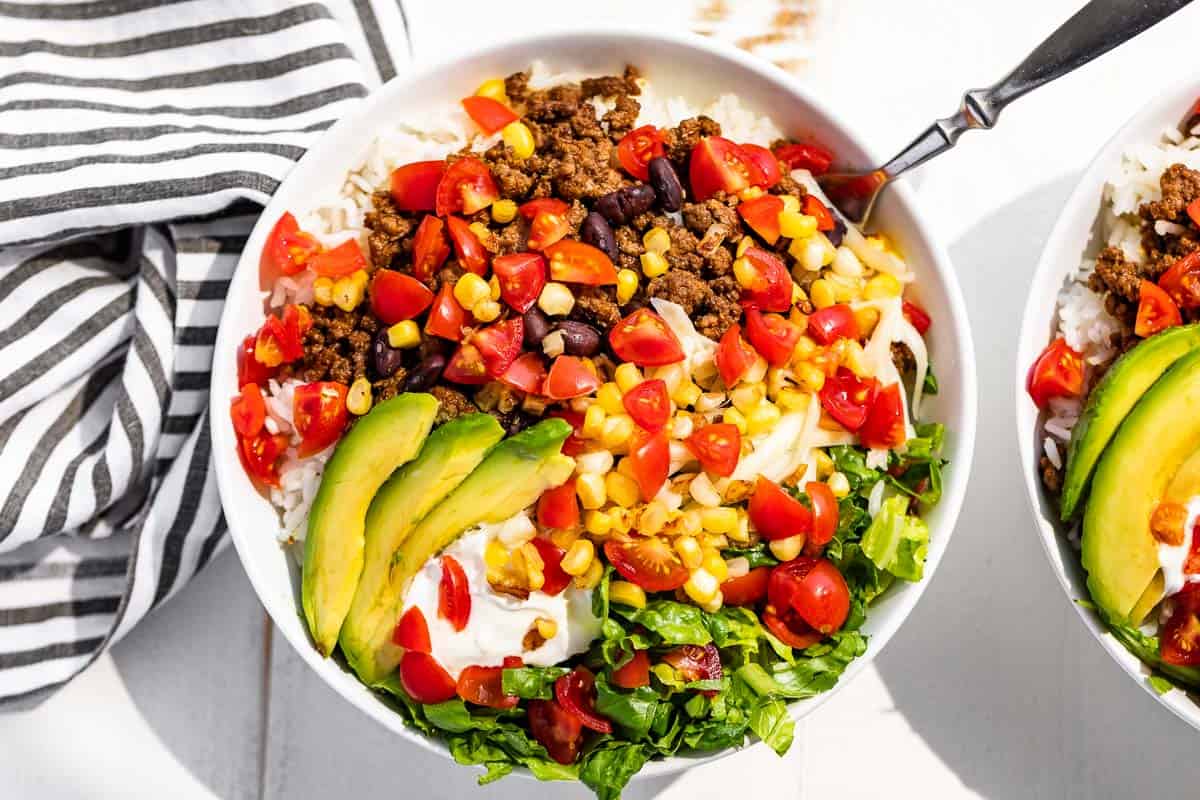 Dietary Options & Substitutions
Dairy-free – use dairy-free sour cream and cheese, or omit them both. I like to use a drizzle of my Cilantro Lime Dressing in place of the dairy for this recipe rather than dairy-free cheese options. My Vegan Queso makes a great topping as well.
Paleo – use the roasted sweet potato option and omit the dairy and optional black beans and corn. The sweet potatoes are our favorite winter option in this recipe. And in place of the dairy, my Cilantro Lime Dressing is lightly creamy and adds a nice punch of flavor! You can also serve the taco toppings over cauliflower rice.
Be careful choosing a taco seasoning if you don't make your own because there are often a lot of extra ingredients added. Homemade taco seasoning is easy to make with chili powder, cumin, paprika, garlic powder, salt, etc.
More Taco Recipe Inspiration
I really hope you enjoy these Taco Bowls! If you do get a chance to make this recipe, I'd love to hear from you in the comments.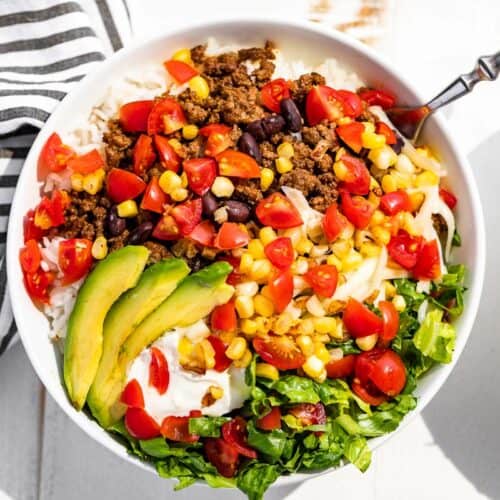 INGREDIENTS
1

cup

long grain white rice

-

cooked, or 1.5 pound sweet potatoes cubed and roasted

1

pound

ground beef

-

90/10 lean

2

tbsp

taco seasoning

4

cups

shredded lettuce

-

(8 ounces)

2

cups

chopped tomatoes

-

(12 ounces)

1

cup

grated cheddar cheese

-

or jalapeno jack

1/2

cup

Sour Cream

-

Greek yogurt, or dairy free option in notes
Optional Toppings:
1

avocado

-

sliced or diced

1/2

cup

corn

-

frozen or canned, cooked

1/2

cup

cooked black beans

1

lime

-

cut into wedges
INSTRUCTIONS
Start by cooking the rice or sweet potatoes. I use my Instant Pot for rice, add the rice + equal parts water and select the 'RICE' setting. Let the Instant Pot release naturally after the cooking time ends.

Next, cut the romaine into shreds and use a salad spinner to wash and dry it. Cut up the tomatoes, grate the cheese, and prep any optional topping you want to use.

When the rice or sweet potatoes are almost done, heat a cast iron skillet over medium-high heat. When the pan is hot, add the ground beef and break it up with a wood spoon or metal utensil.

When the ground beef is almost cooked, add the taco seasoning and cook stirring to incorporate the seasoning and finish cooking the beef.

Serve everything family style.
Bonus Step
If you made this recipe, please leave a rating/comment. Ratings really help us continue to bring you high-quality free recipes. Rate This Recipe!
nutrition facts
Calories:
670
kcal
|
Carbohydrates:
57
g
|
Protein:
36
g
|
Fat:
33
g
|
Saturated Fat:
15
g
|
Polyunsaturated Fat:
1
g
|
Monounsaturated Fat:
11
g
|
Trans Fat:
1
g
|
Cholesterol:
122
mg
|
Sodium:
548
mg
|
Potassium:
922
mg
|
Fiber:
6
g
|
Sugar:
6
g
|
Vitamin A:
4874
IU
|
Vitamin C:
20
mg
|
Calcium:
323
mg
|
Iron:
5
mg
This recipe was originally published in 2013 and republished in 2023 with new photos, new tips, and more information.