What makes the best-ever guacamole? It's less than you'd think, which is great news for those of us who love simple recipes! Great guacamole is about a few fresh ingredients and a couple of tricks that make the flavors stand out even more. This easy guacamole recipe is great for pretty much any Mexican inspired meal and wonderful as a snack too.
Less is always more for the perfect guacamole, and that's what makes this recipe 'the best'. Simple ingredients combine together for phenomenal fresh flavor. And you'll find yourself making this pretty much every week when you see how easy it is to make.
You'll find all sorts of what I call 'unnecessary' ingredients in guacamole recipes like sour cream or even mayonnaise. A spoonful of salsa or even some ground cumin is enough to mute the flavors of perfect guacamole. Really good guacamole has just a few ingredients in it, and there's no secret ingredient sour cream in sight!
So while I try not to use words like 'the best' too often, it seemed like the most accurate way to name this recipe. And maybe not as over the top as what my husband likes to call it – 'the best guacamole in the universe!'. Although he's really not exaggerating, it's way too good!
How to buy avocados
The best way to buy an avocado in my experience is to make sure they're rock hard at the store. Then bring them home to ripen over the next 3-5 days. This is just my personal experience living up north where avocados will never be local. So it's been hit or miss when I buy a ripe avocado at the store. Sometimes they're perfect, and sometimes they're rotten.
If you're desperate for guacamole right away, try to find avocados with a slight 'give' in them when you gently squeeze them. You also want to look for avocados that 'fill out their skin'. You don't want them to have large sunken or shriveled areas which are usually bruises or rotten spots.
Finally, pop out the stem and see if it's bright green. If it's green, it's perfect! If you pull out the stem and it's brown, it's no good.
Maybe you've seen all those avocado memes about avocados being just right for about half a second. And then of course they're too ripe, so these tips below are for you!
Tips for how to store avocados
Keep your barely ripe avocados in the refrigerator. I buy packages of 6 rock-hard avocados at a time and place them on the counter to ripen. They take about 3-5 days to become just ripe. From there I place them in the fridge where they easily keep for about 10 days after that. The refrigerator stalls the ripening process and gives you more time to use them up.
Any avocados you're not going to use, you can cube up and place in the freezer to use in smoothies and salad dressings.
To ripen avocados faster, place them in a brown paper bag and roll the top down to 'seal'.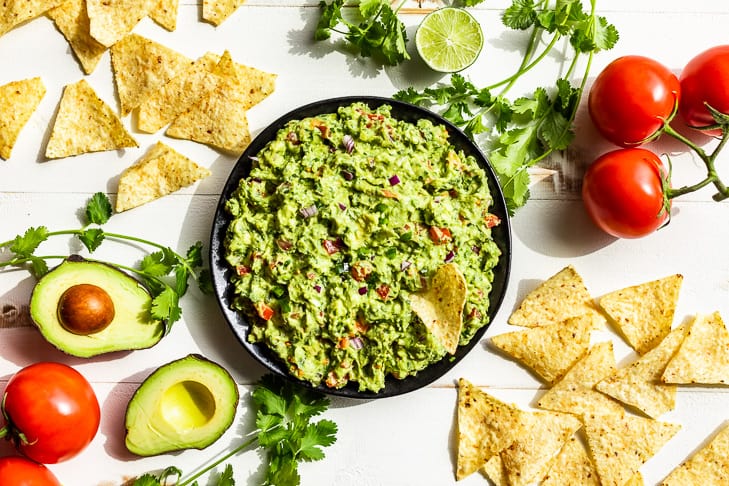 Ingredients for Homemade Guacamole
Avocados – Perfectly ripe avocados are the secret to the best guacamole. If your avocados are too hard, the flavor isn't quite as good, and the texture suffers a lot. The avocado flesh should be soft enough to mash easily.
Onion – Red onion or shallots are our favorite onion to use in guacamole. But I've used everything from regular white or yellow onions, to the white ends of green onions when it was all I had. They all work, but we're partial to red onion or shallots.
Garlic – This is a matter of personal preference. We used to always add a touch of garlic, but now we never do and have come to like it that way better. Try it both ways and see what you like!
Jalapeno – freshly minced jalapeno is a must, and if you like spicy add as much as you'd like. We like right around 1 tablespoon which adds the perfect amount of flavor to be in balance with the avocados.
Cilantro – is also key and adds so much fresh flavor to guacamole. Look for bunches of cilantro at the farmer's market and prepare to be amazed at how much better the flavor is!
Lime juice – I add just a touch of lime juice to my guacamole so the avocado can really shine. But feel free to keep adding a bit more to your taste. Don't sub in lemon juice for lime juice in this recipe, the flavor just doesn't work in the same way.
Sea salt – Salt is always important in a recipe, but even more so when the ingredients are fresh and simple. Start with the smallest amount of salt and work up to your taste. It will bring out all the flavors here.
Tomatoes – to me are optional in guacamole since they're so seasonal. It's hard to get good tomatoes for more than a couple of months a year. So when they're not in season I recommend leaving them out or using the best cherry tomatoes you can find. I don't recommend adding a spoonful of salsa as many people call for because the canned salsa mutes the freshness of the guacamole. It's better to go without and make my Fire Roasted Blender Salsa to serve on the side.
let's make this recipe step by step
Step 1: Start by cutting your avocados in half. I like to use the tip of the knife to remove the pit.
Insert the point of the knife into the soft spot at the base of the pit and pop it out. Remove the skin by scooping out the ripe avocado with a spoon, and then place it in a bowl.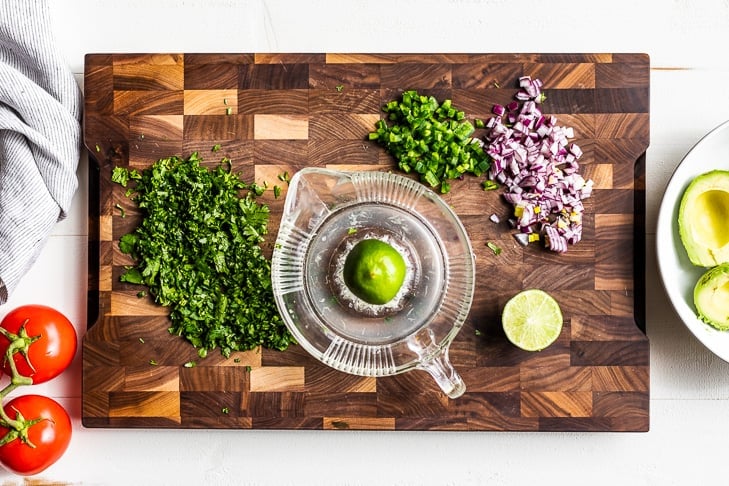 Step 2: Mince the onion, jalapeno, and cilantro and juice half of a lime.
It's important to dice the onion, jalapeno, and cilantro finely so the flavor combines better into the avocados when you mash it.
Step 3: Add the minced onion, jalapeno, and cilantro to the bowl with the avocado.
Step 4: Use a fork to mash the minced ingredients into the avocado.
Be sure to leave some chunks of avocado for texture if desired.
The best guacamole secret: Step 4 of mashing the cilantro, onion, and jalapeno into the guacamole is everything in terms of the flavor. You don't want to simply mix it in. Use the back of a fork and really give it a good mash into the avocado. This releases the flavors and levels up your guacamole!
Step 5: Season to taste with sea salt and pour in the lime juice.
Finally, add the diced tomatoes and stir them in just to combine.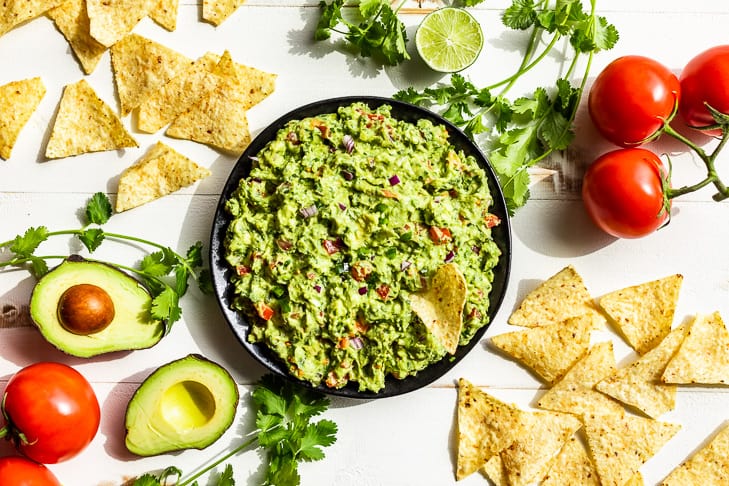 Serve immediately for the best results! The bottom line is guacamole tastes best right away. And no matter how good you get at storing it, the onion gets a bit intense by the next day. However sometimes you do have leftovers, and I've listed out my tips below.
How to store guacamole
Pack any leftovers into an airtight container making sure to keep out any air. I like to use the 1/4 cup or 1 cup mason jars for this because there's less surface area to turn brown.
Then when you take your leftover guacamole out of the fridge, scrape off the brown layer on top.
Or you can cover the guacamole with a bit of water, or plastic wrap before refrigerating to prevent browning.
Best ways to use up leftover guacamole
Make an omelet and use guacamole for the filling with a bit of salsa and jalapeno jack cheese. Or pile it onto veggie scrambled eggs.
Mix it into tuna fish for a guacamole tuna fish salad.
Use it as a salad dressing with a bit more lime juice added in.
Recipes for more dips
I really hope you enjoy this best guacamole recipe, it makes any Mexican inspired dinner that much better! And if you do get a chance to make it, I hope you'll leave me a comment/rating below. I always love hearing from you here! Also for lots more Mexican inspired recipes, head over to the recipe index.
INGREDIENTS
2

ripe avocados

-

halved

3-4

tbsp

chopped cilantro

-

to taste

1

tbsp

minced onion

-

we like red onion or shallots

1

tbsp

minced jalapeno

Optional: 1 small clove garlic

-

minced

1

tsp

fresh lime juice

1/2- 1

tsp

of sea salt

-

to taste

1/2

cup

quartered cherry tomatoes

-

or any diced ripe tomatoes of your choice
INSTRUCTIONS
Cut the avocados in half and remove the pits. Using a spoon, scoop out the avocado from the skins, and add them to a bowl.

Add the cilantro, onion, and jalapeno to the bowl. Using the back of a fork, mash the ingredients into the avocados to release extra flavor. Make sure to leave some chunks of avocado for texture.

Stir in the rest of the ingredients to taste and serve immediately.
Bonus Step
If you made this recipe, please leave a rating/comment. Ratings really help us continue to bring you high-quality free recipes. Rate This Recipe!
NOTES
How to store guacamole:
Pack any leftovers into a container making sure to keep out any air. I like to use the 1/4 cup or 1 cup mason jars for this because there's less surface area to turn brown.

Then when you take your leftover guacamole out of the fridge, scrape off the brown layer on top.

Or you can cover the guacamole with a bit of water, or plastic wrap before refrigerating to prevent browning.
nutrition facts
Calories:
111
kcal
|
Carbohydrates:
7
g
|
Protein:
2
g
|
Fat:
10
g
|
Saturated Fat:
1
g
|
Polyunsaturated Fat:
1
g
|
Monounsaturated Fat:
7
g
|
Sodium:
588
mg
|
Potassium:
363
mg
|
Fiber:
5
g
|
Sugar:
1
g
|
Vitamin A:
199
IU
|
Vitamin C:
13
mg
|
Calcium:
11
mg
|
Iron:
0.5
mg