It all started with an all consuming need for Eggs Benedict! It was super early on a Sunday morning in Fernie B.C. and I just couldn't get the thought of hollandaise out of my head. I mean… is there a better sauce? I don't see how it's possible with all that velvety texture, and supreme richness!
We walked into what was supposed to be the best breakfast place in town, and ordered 2 Eggs Benedict and a large hot chocolate. I asked for hash browns in place of my English muffin, and it's really my fault for not asking more questions. Over 30 minutes later, our breakfasts were placed in front of us, and after the waitress left, Tyler looked at me and said 'where's the rest of it?'.
I laughed out loud because he was right, the portion was tiny with just 1 almost miniature egg each, and the worst part was there was no visible hollandaise on my plate! I mean… everyone orders Eggs Benedict for the hollandaise right? There was a about a tablespoon of sauce between my ham and my lonely poached egg, but not so much that you'd actually taste it. And as if that wasn't bad enough… it would seem that no one makes hash browns anymore because my egg was sitting on a tater tot!
It's not like I don't like tater tots, but the flavor was really off paired with Eggs Benedict. The place was jammed and we didn't have the heart to say anything, so we finished off our breakfasts in less than 5 minutes, and then waited another 30 minutes to get our bill, (which was almost $40 dollars with just 2 breakfasts and 1 hot chocolate). Overall this is a story about how not to do breakfast on a weekend!
Needless to say, this experience left me craving Eggs Benedict even more than I was before. So the next weekend I did what anyone would do, and I got myself a fix. I made homemade Eggs Benedict from scratch because sometimes that's just what your cravings desire. And while the classic is always fantastic, there's more than enough recipes out there already, although I do really recommend Gourmet's Blender Hollandaise Sauce recipe. It's much easier than whisking in butter by hand, and takes a lot of the stress out of making this classic.
So after my initial craving was satisfied, I went in a completely different direction, headed south, and made Eggs Benedict Latin style! And while it might sound crazy to make hollandaise out of avocado, trust me, it's the way to go when you're adding salsa to the mix. The avocado hollandaise pairs much better with the fresh salsa flavors that the traditional butter sauce, (I tried both and the avocado wins in all the combinations I tried other than the classic version).
Another great thing about Avocado Hollandaise is it comes together in just a few seconds in the blender. I use a ripe room temperature avocado and lukewarm water to make the sauce. Some recipes call for hot water, but I've found the hollandaise always turns brown after 15 minutes or so when you use hot water.
For the base, the Eggs Benedict is sitting on crispy tostones. I like to cut up the plantains on the diagonal so that when they're smashed, they make a bigger base to pile the ham and eggs on.
To make tostones, they get fried twice just like french fries. First they're cooked until just golden and slightly tender, they you smash them flat…
… and fry them again into perfect golden brown deliciousness!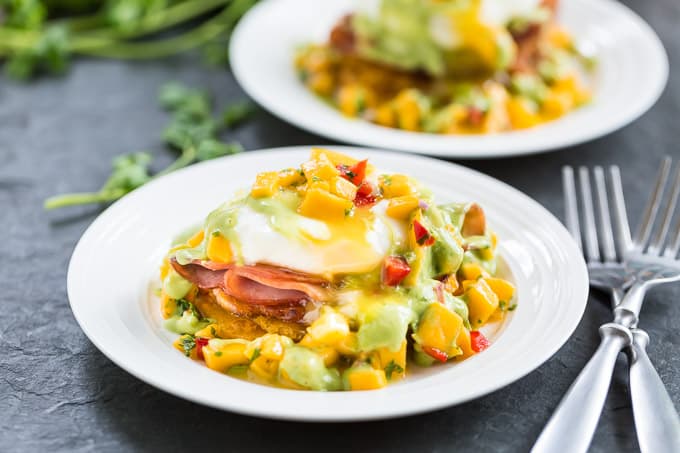 The tostones are then stacked with pan fried ham, perfectly poached eggs, fresh Mango Salsa, and creamy Avocado Hollandaise. Now this is the weekend breakfast of my dreams!
Print
Tostones Eggs Benedict with Mango Salsa and Avocado Hollandaise
---
Mango Salsa:
1

large ripe mango, peeled and cubed

1/4 cup

minced red onion

1/4 cup

minced cilantro

2 Tablespoons

diced red bell pepper

2 Tablespoons

fresh lime juice

1 Teaspoon

minced jalapeno
Avocado Hollandaise:
1/2

large ripe avocado, 4 ounces

1/2 cup

lukewarm water

2 Teaspoons

freshly squeezed lime juice

1/2 Teaspoon

sea salt

2 Tablespoons

avocado oil
Optional: 1/2 cup baby spinach for extra color (you can't taste it)
Tostones:
1

large green plantain, 12 ounces

2

–

4

Tablespoons coconut oil

4

thin slice of ham, 4 ounces

4

–

8

eggs for

1

–

2

per person
---
Instructions
Mix together all the ingredients for the mango salsa and set it aside.
Add all the ingredients for the hollandaise into a blender, and blend starting on low and working up to high. Blend until the sauce is completely smooth, and set it aside.
Peel the plantain by slicing lengthwise through the skin, but being careful not to cut into the plantain. Peel the plantain using a spoon to help you peel back the tough skin. Slice the plantain on the diagonal into 1″ slices.
Preheat a 9″ cast iron skillet over medium heat. When the pan is almost smoking, add 2 Tablespoons of the coconut oil and the plantain slices. Fry for 2-3 minutes per side, or until the plantain slices are golden and slightly tender.
Remove them from the pan and flatten each slice into a 1/4″-1/2″ thick disc. I use the bottom of a salad plate to smash them and when ever they stick, I use a metal spatula to scrape them off. Place the flattened slices back into the cast iron pan, (adding the rest of the oil if necessary) and fry for 1-2 minutes per side or until golden brown and crispy.
While the tostones are cooking, bring a pot of water (3-4″ deep) to a boil, then reduce the heat to a bare simmer. When the tostones are done, keep them warm in the oven, and poach the eggs by slowly lowering them into the pan one at a time. After they've cooked for about 1 minute, use a spoon to make sure they're not sticking to the bottom of the pan. Continue to cook the eggs to your desired doneness.
While the eggs are cooking, quickly sear each ham slice in a nonstick pan, about 30 seconds per side.
Place 2-3 tostones per plate, top with the fried ham slices, poached eggs, mango salsa, and drizzle with the avocado hollandaise.
Serve immediately.
Prep Time:

30 mins

Cook Time:

10 mins