These Tostones with Mango Salsa and Cilantro Chimichurri were inspired by a tasty dish we had at a restaurant that I just had to create a version for at home. Bright and sweet mango salsa piled over freshly cooked tostones all drizzled with a Cilantro Chimichurri makes this one of our all time favorite appetizers.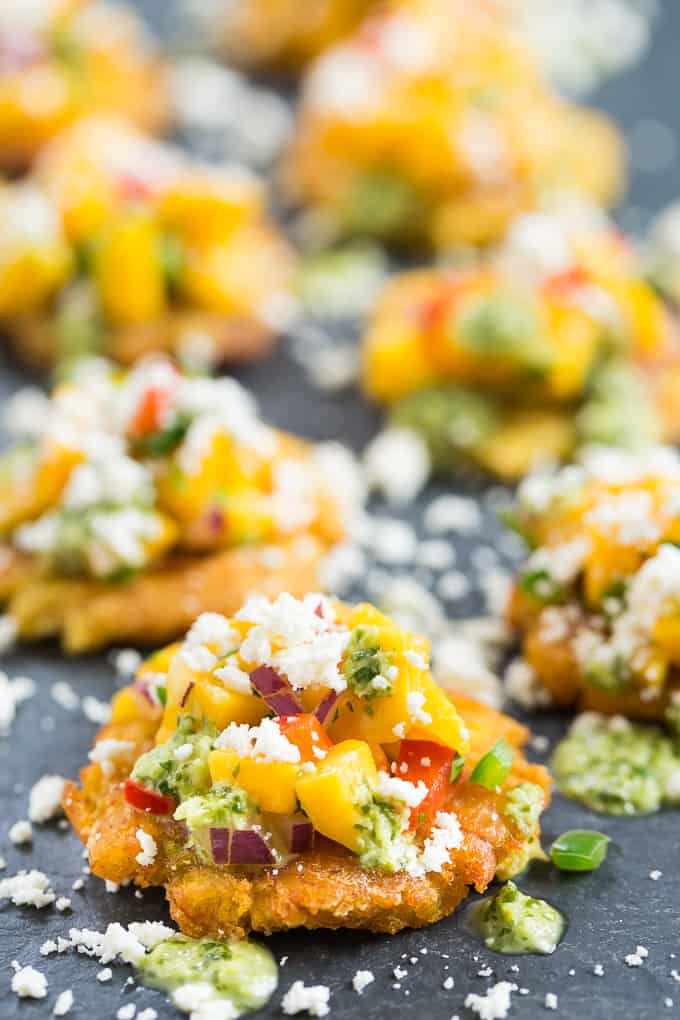 A couple weeks ago, we went on a mini vacation to Fernie B.C. to celebrate our anniversary (we got married there 7 years ago). As it would happen, Fernie has changed dramatically over the last several years, and there are so many cute shops and great restaurants to eat in. In true foodie fashion, I did my best to eat my way through the town in a weekend, and I came back with so many ideas to try out.
We went to a little place called Nevados 2 nights in a row because we loved it so much. They specialize in Latin style tapas, and between the 2 nights, we tried out most of the menu. Needless to say everything was delicious, and I can't wait to go back again this summer.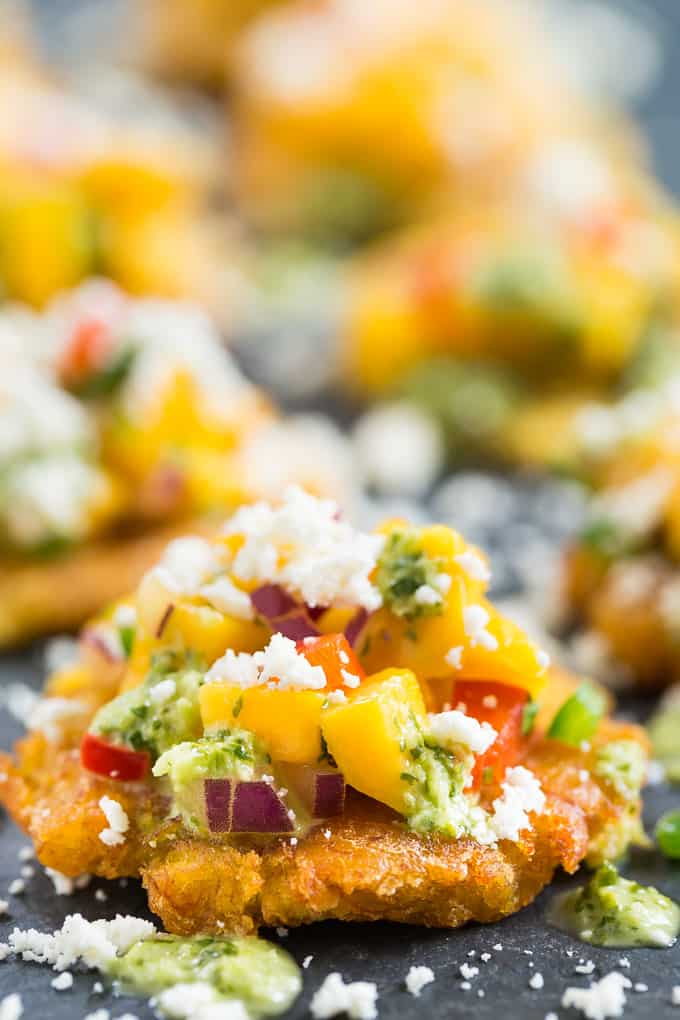 Our favorite dish was the tostones or as they called them patacones, (I looked it up and apparently they both mean plantain chips). They came topped with Pico de Gallo Salsa, Pasilla Chile Sauce, and Queso Duro Cheese.
We ordered them both nights and literally devoured them. We were both instantly hooked on the crispy plantain chips, and I knew right away we would be topping those little beauties with all sorts of delicious toppings.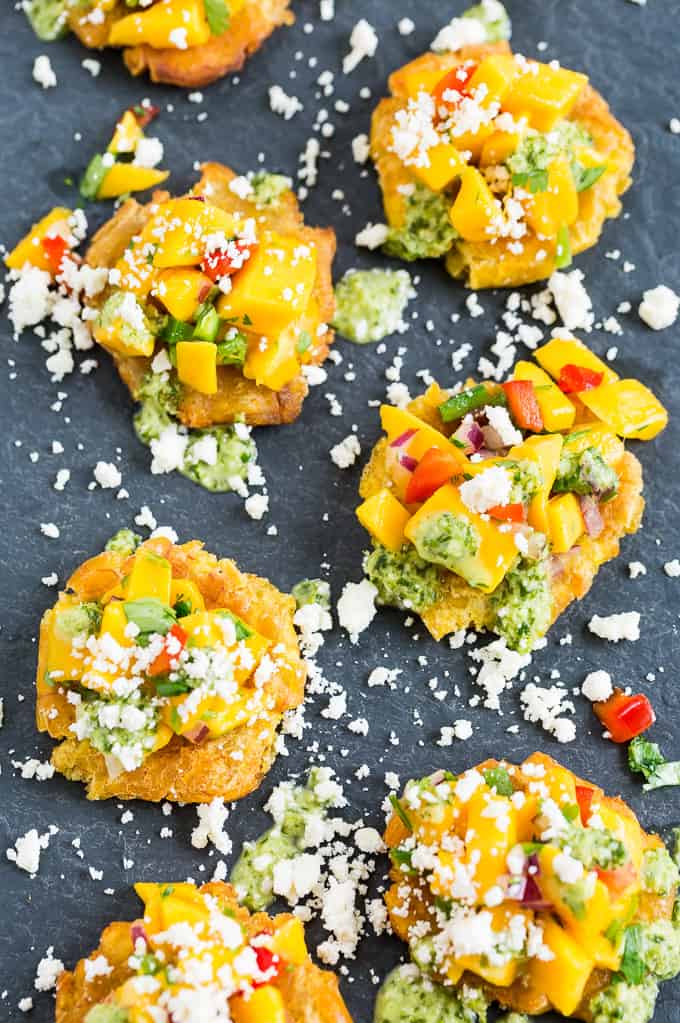 Once we were home, I went shopping right away for some green plantains, and got to work. It turns out that tostones are really easy to make, and we're both completely addicted to them. So much so that I've been creating all kinds of dishes as an excuse to eat some more. Bowl food is a great place to add crunchy tostones, but I recently went way off into left field and created an Eggs Benedict with them, and it was so good I can't wait to share that recipe as well!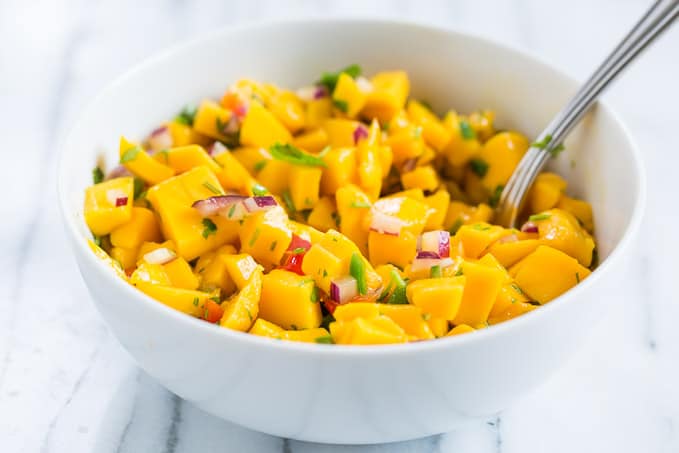 Since champagne mangos are in season right now, (and the off season tomatoes we have here are looking peaked). I decided to recreate their dish with the best produce we have available right now. Their version with the tomato salsa and garlic chile sauce is so good that I want to work on that as well, just as soon as our tomatoes start looking like something other than styrofoam.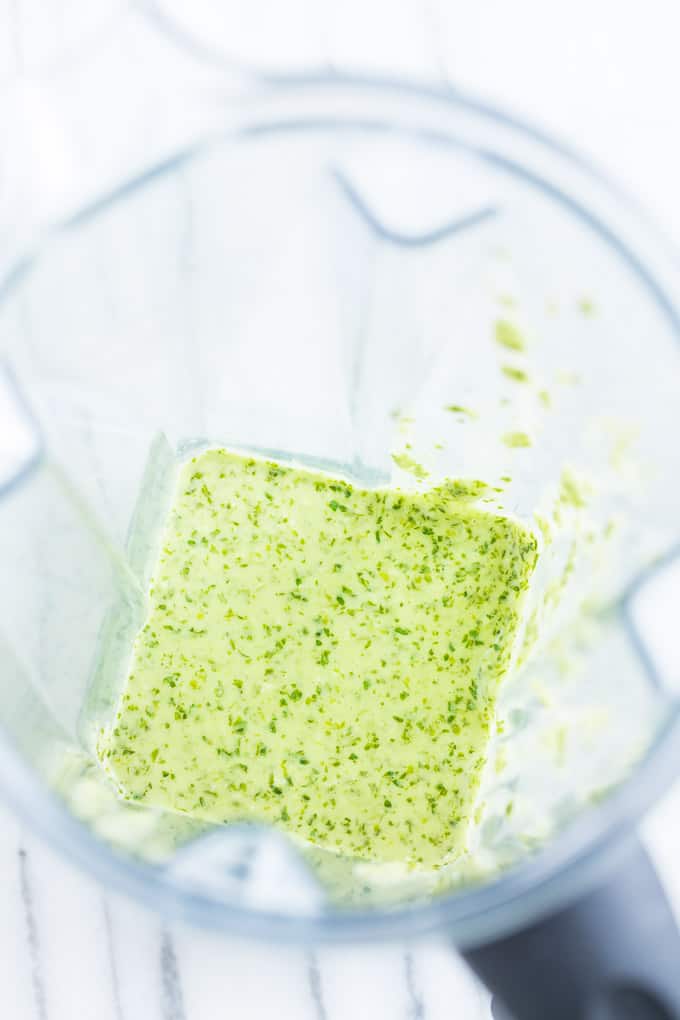 Pasilla chilis are a special order around here so I went for an easier more available option with fantastic Latin flair – chimichurri! This isn't your traditional chimichurri though, I've made this version with cilantro instead of the usual parsley, but it's just as intensely flavored and addictive.
If you have any leftover chimichurri, it makes a great topping for scrambled eggs, and it also makes an awesome salad dressing.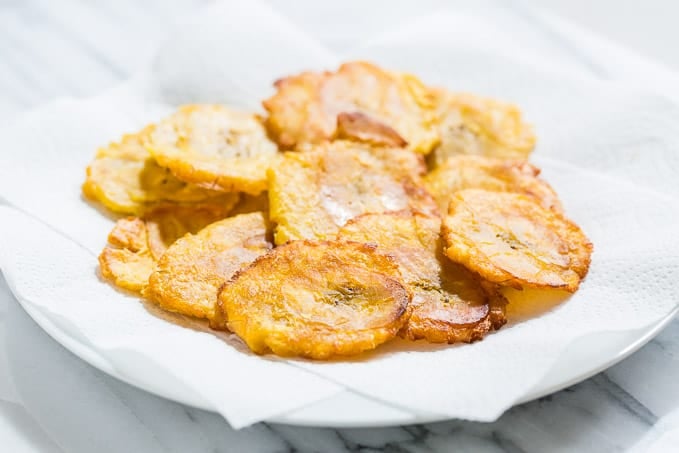 I like to have all the toppings prepped before I fry the tostones because they're really best fresh out of the frying pan. The method for making them is a lot like making french fries but so much easier, and crazily enough I think I like them more than french fries which I can hardly believe I just said that! The plantain slices get a quick pan fry to soften them, then you smash them flat and fry them again into the golden discs of blissfulness you see above.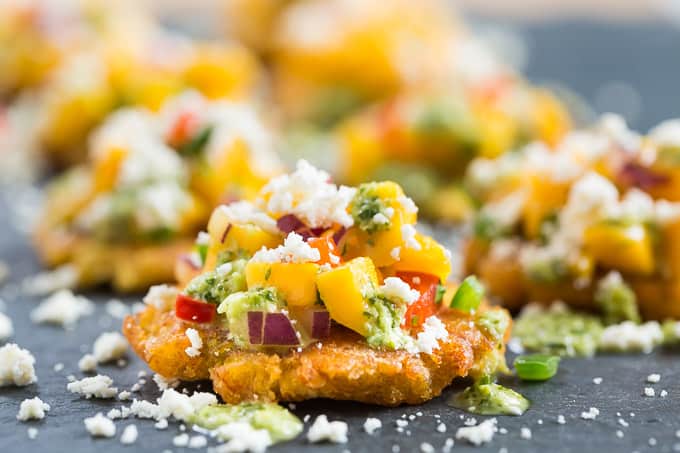 If you want to be authentic in this recipe, try to find a queso fresco or queso duro cheese for crumbling over the top. But I'll be completely honest with you and tell you that I used feta cheese because we don't have any Mexican or Latin cheeses available.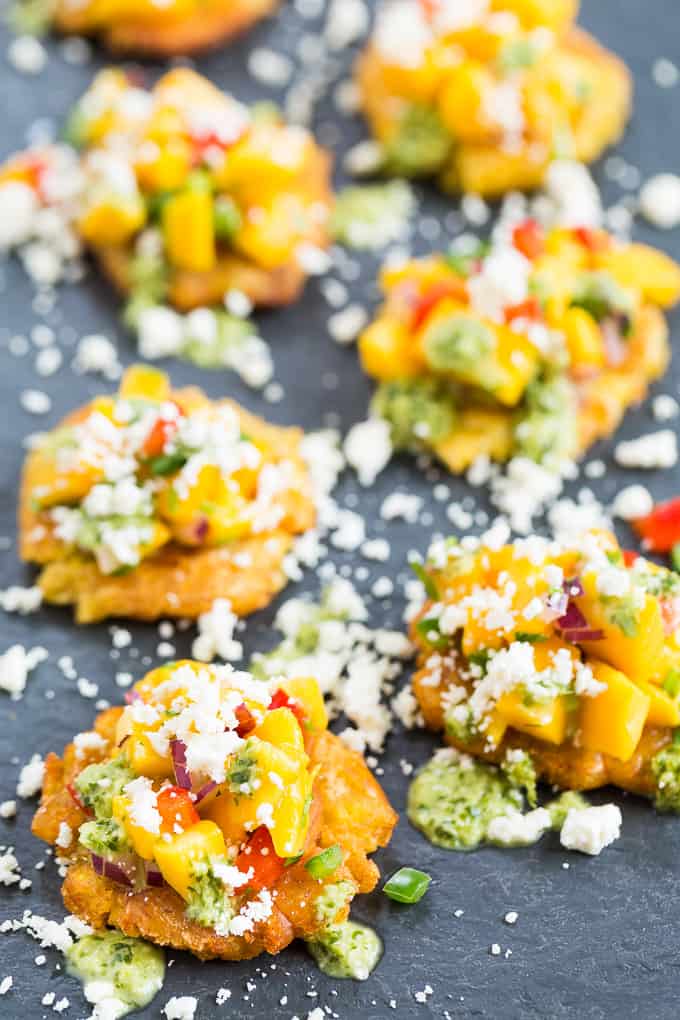 Feta isn't really like queso, but it's salty tang adds a delicious touch to pretty much every dish that calls for queso. So… if you don't mind crossing continents with your ingredients, feta is usually the easiest and best way to go if you don't live anywhere that stocks specialty ingredients.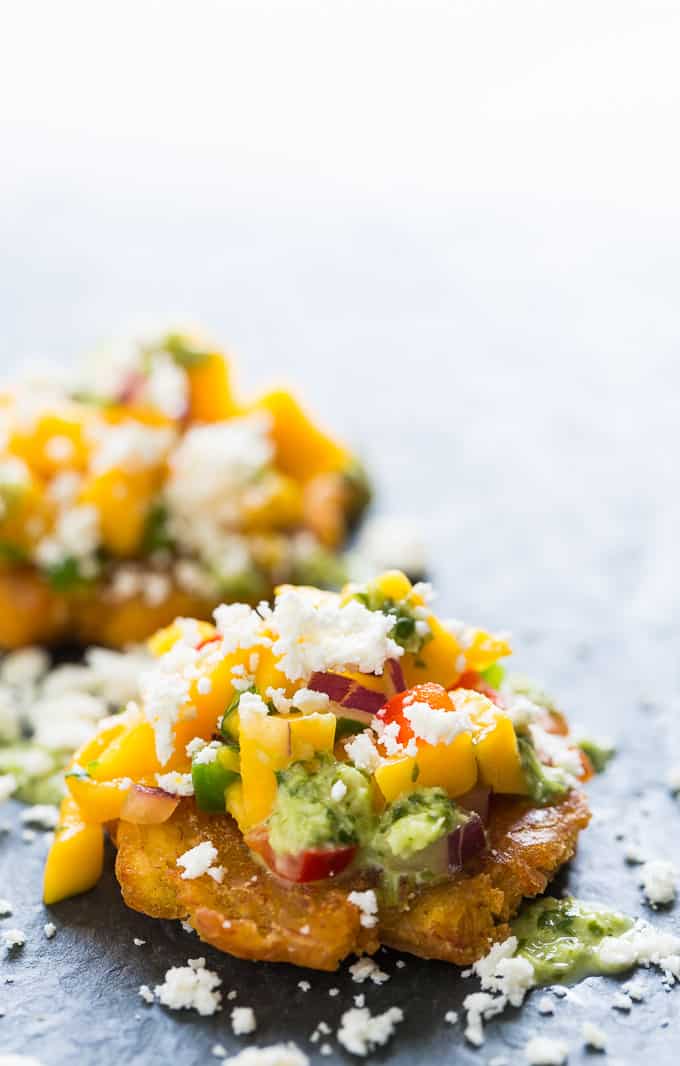 I love trying to be authentic with ingredients when I can, but even when we lived near downtown Calgary, it was still a 20 minute trip one way to get some queso cheese. So even having it available isn't enough sometimes, because time is of the essence so to speak.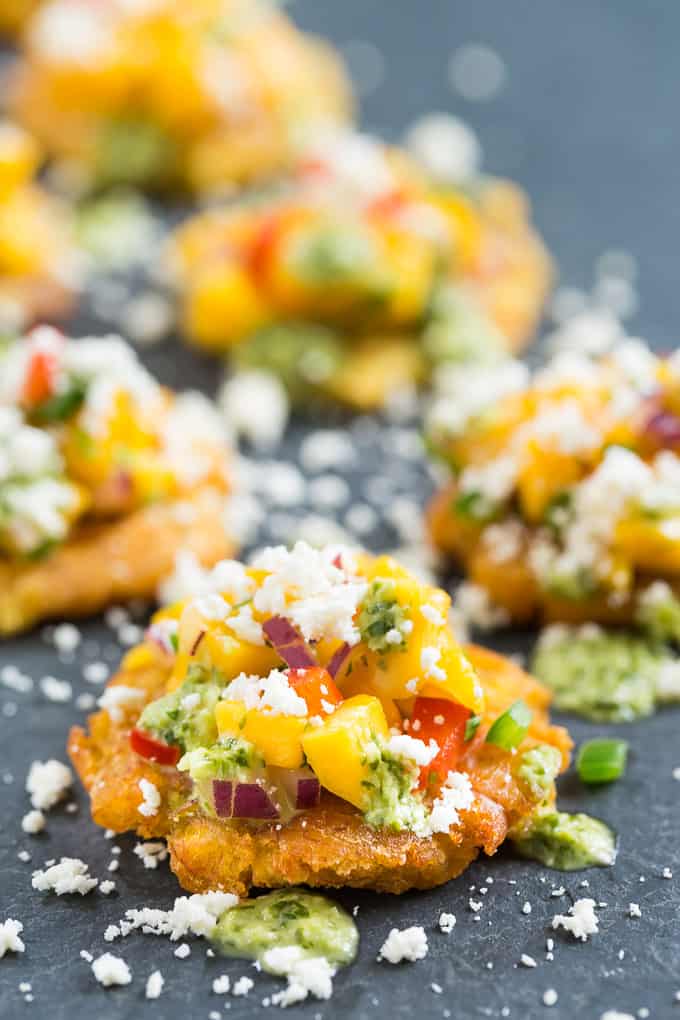 I hope you enjoy these little bites of amazing! These crispy tostones are topped with mango salsa just dripping with sweet juices, zesty cilantro chimichurri, and of course it's all topped off with the salt tang of crumbled feta cheese, (or queso duro if you can find it)!
Print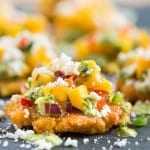 Tostones with Mango Salsa and Cilantro Chimichurri
---
Description
Bright and sweet mango salsa piled over freshly cooked tostones all drizzled with a Cilantro Chimichurri makes this one of our all time favorite appetizers.
---
Tostones:
2 plantains, weighing 1 1/2 pounds
1/4 cup coconut oil
sea salt
Mango Salsa:
1 large champagne mango, 1 pound
1/4 cup minced red onion or shallot
1/4 cup finely diced red bell pepper
1 Teaspoon minced jalapeno
1/4 cup finely chopped cilantro
2 Tablespoons freshly squeezed lime juice
sea salt to taste
Creamy Cilantro Chimichurri:
1 cup packed cilantro leaves, some stems is fine
5 small cloves garlic, minced
1/4 cup onion, diced
1/4 cup freshly squeezed lime juice
2 Tablespoons water
1 Teaspoon minced jalapeno
1/2 cup avocado oil
1/2–1 Teaspoon sea salt, to taste
Optional 1/2 cup crumbled feta or queso cheese for topping
---
Instructions
Start by prepping both the salsa and chimichurri before frying the tostones.
Peel the mango, (I use a sharp vegetable peeler) and cut the fruit away from the pit. Cube the mango and stir the cubes together with the rest of the salsa ingredients. Salt to taste, and set the salsa aside.
Make the chimichurri by adding everything but the oil into a blender. Secure the lid and blend starting on low, add the oil in a thin steady stream increasing the speed as you go to medium. Blend until the chimichurri is creamy and emulsified but with bits of cilantro still remaining. Adjust the salt to your taste and set aside.
For the tostones, preheat a cast iron skillet (9″ or bigger) over medium heat. Make one slit down the length of each plantain skin, trying not to cut into the plantains. Use a spoon to help you pull the peel the skin back from the plantains. Cut each plantain into 1″ slices.
Add the coconut oil to the preheated skillet and add as many plantain slices as you can fit into the pan. Fry for 2-3 minutes per side adjusting the heat if they start to brown too much, you want them to be golden with a hint of brown on each side.
Using tongs, remove the slices from the pan to drain on a paper towel lined plate, and repeat with the remaining slices. Using a flat surface (like the bottom of a salad plate) smash the fried plantains flat into 1/4″ thick discs.
Fry the flattened plantains again, about 1-2 minutes per side until they're golden brown and crispy. Repeat until all the plantains have been fried, flattened, and fried again, adding additional coconut oil if necessary. Sprinkle a small amount of sea salt over the tostones as they come out of the pan so that the salt sticks to the surface.
Top each tostone (plantain chip) with 1-2 Tablespoons Mango Salsa, drizzle with Cilantro Chimichurri, and top with the optional crumbled cheese.
Serve immediately!
Prep Time:

30 mins

Cook Time:

10 mins

Category:

Appetizer

Method:

Pan Frying

Cuisine:

Latin
Keywords: Patacones with Salsa, Tostones with Salsa, Plantains with Salsa, Plantains with Mango Salsa