I created this pie as a healthier version of the chocolate cream pies we had at our wedding 9 years ago. As you're reading this we're on our way for a fun weekend in Canada where we got married. And every year at this time, I always find myself dreaming of chocolate cream pie.
So this year, I decided to get busy and make a healthier version. The original recipe used oreos, and wasn't the healthiest thing by a long shot. And while usually trying to 'healthify' things doesn't always work out, in this case my new recipe is better than the original, (as confirmed by Tyler and my mom, both of whom also tasted the original).
In the end I got a little carried away with the chocolate, which turned this recipe into a truffle pie instead of a cream pie. But everyone loved it this way better, so I decided to keep the amount of chocolate the way it's written below.
If you do want more of a pudding texture, you can always add less chocolate. However I'd love to make a case to you for truffle pie instead! The texture of this pie is ultra smooth and creamy, and it's just like biting into the center of a really good truffle. And as another bonus, the slices hold up nice and pretty on a plate too.
I made the crust with medjool dates for 2 reasons. First off I like to try and use them as a natural sweetener when I can. And secondly, they add the best hint of caramel flavor to this chocolate cookie dough like crust.
Once the crust barely starts to clump together in the food processor, you press it out into a pie pan.
Then once the pudding is cooked, you add it to the crust and let it chill until set. Since cream pies always need to chill, they tend to be the perfect make ahead desserts for entertaining.
Finally the whole thing is topped off with Homemade Coconut Whipped Cream. And of course you can add chocolate shavings if you want to take it right over the top!
(This is exactly what I meant above by the slices holding together so nicely.)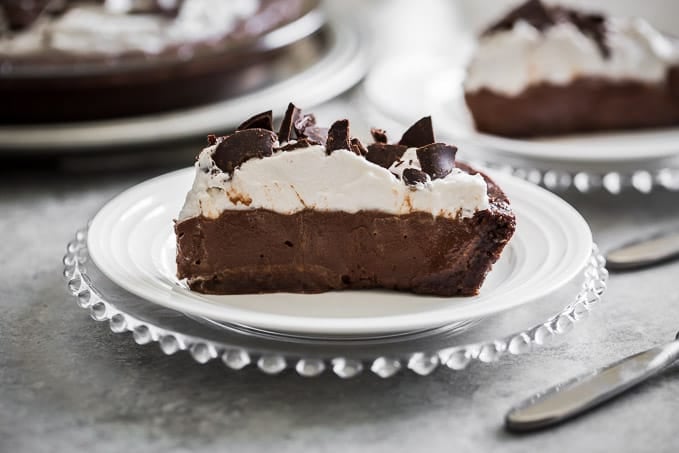 This pie also keeps really well for 2-3 days in the refrigerator if you're lucky enough to have leftovers!
Print
Truffle Chocolate Cream Pie
---
Chocolate Cookie Dough Crust:
2 1/2 cups

raw pecans, 8 ounces

1/4 cup

cocoa powder

8

–

10

pitted medjool dates, 7 ounces
Pinch of sea salt

1 Tablespoon

vanilla extract
Chocolate Truffle Filling:
1/3 cup

Grade A amber maple syrup

3 Tablespoons

organic cornstarch, or tapioca starch

1/3 cup

cocoa powder
Pinch of sea salt

1

can coconut milk

1 Tablespoon

vanilla extract

2 ounces

dark chocolate, chopped, I used the sea salt bar from Alter Eco
Coconut Whipped Cream:
2

cans coconut milk, refrigerated, see notes

1 Tablespoon

vanilla extract

1

–

3

Tablespoons Grade A amber maple syrup, to taste
Pinch of sea salt
Shaved or grated chocolate for garnish if desired, see notes
---
Instructions
Place all the ingredients for the chocolate cookie dough crust into a food processor and process just until the crust starts to clump together. Then press the crust evenly into a 9″ pie pan, a shorter pie pan works best for this recipe as a deep dish is too tall. Cover and refrigerate the crust while you make the filling.
For the filling, whisk together the maple syrup and cornstarch/tapioca in a saucepan until no lumps remain. Then whisk in the cocoa powder, sea salt and coconut milk. Place the saucepan over medium high heat and whisk constantly until the filling comes to a boil. When the filling has come to a boil and thickened, remove it from the heat, (still whisking constantly) and add in the vanilla extract and chocolate. Continue whisking until the chocolate has melted and is completely combined into the filling. Then pour the filling into the prepared pie crust, cover and refrigerate until set, 4-6 hours.
When you're ready to serve the pie, make the coconut whipped cream by scraping off the hardened cream from the top of each can of refrigerated coconut milk into an electric mixer. Start whipping the cream on low speed, increasing to high speed, and whip until fluffy, 2-3 minutes. Add the vanilla extract, maple syrup to taste, and sea salt, and whip again until completely combined and fluffy – 1-2 minutes.
Spread the coconut whipped cream in a swirling pattern over the top of the truffle filling. Garnish with shaved/grated chocolate if desired and serve.
Notes
I've had the best most consistent results from refrigerating my coconut milk in the door of the refrigerator. It seems to be the perfect temperature to whip the coconut cream at. I used to store the cans on the top shelf of the refrigerator, and it would sometimes make the whipped cream lumpy, so the door is a much better option.
To make shaved chocolate in bigger pieces like the photos, melt a couple ounces of dark chocolate in a double boiler. Then spread the melted chocolate in a thin layer over a piece of parchment paper on a baking sheet. Place the baking sheet briefly in the refrigerator just until the chocolate starts to set up, but isn't rock hard. Take the baking sheet from the refrigerator, and using a metal spatula, scrape the chocolate off the parchment paper breaking it until shards as you go. Refrigerate until you're ready to use it as a garnish.
Prep Time:

20 mins

Cook Time:

10 mins