This grilled Tuscan Style Steak is the tastiest steak you'll ever make, and it's super easy too! It's based on the authentic Bistecca alla Fiorentina. This is a simple Italian-style preparation that uses just a few ingredients to create so much flavor. It's perfect served over arugula or spinach with your favorite steak side dishes. Our personal go-to's are my Grilled Prosciutto Wrapped Asparagus and my Garlic Butter Sautéed Mushrooms. To make this steak into the simplest meal just pile your favorite veggies onto the grill with the steak!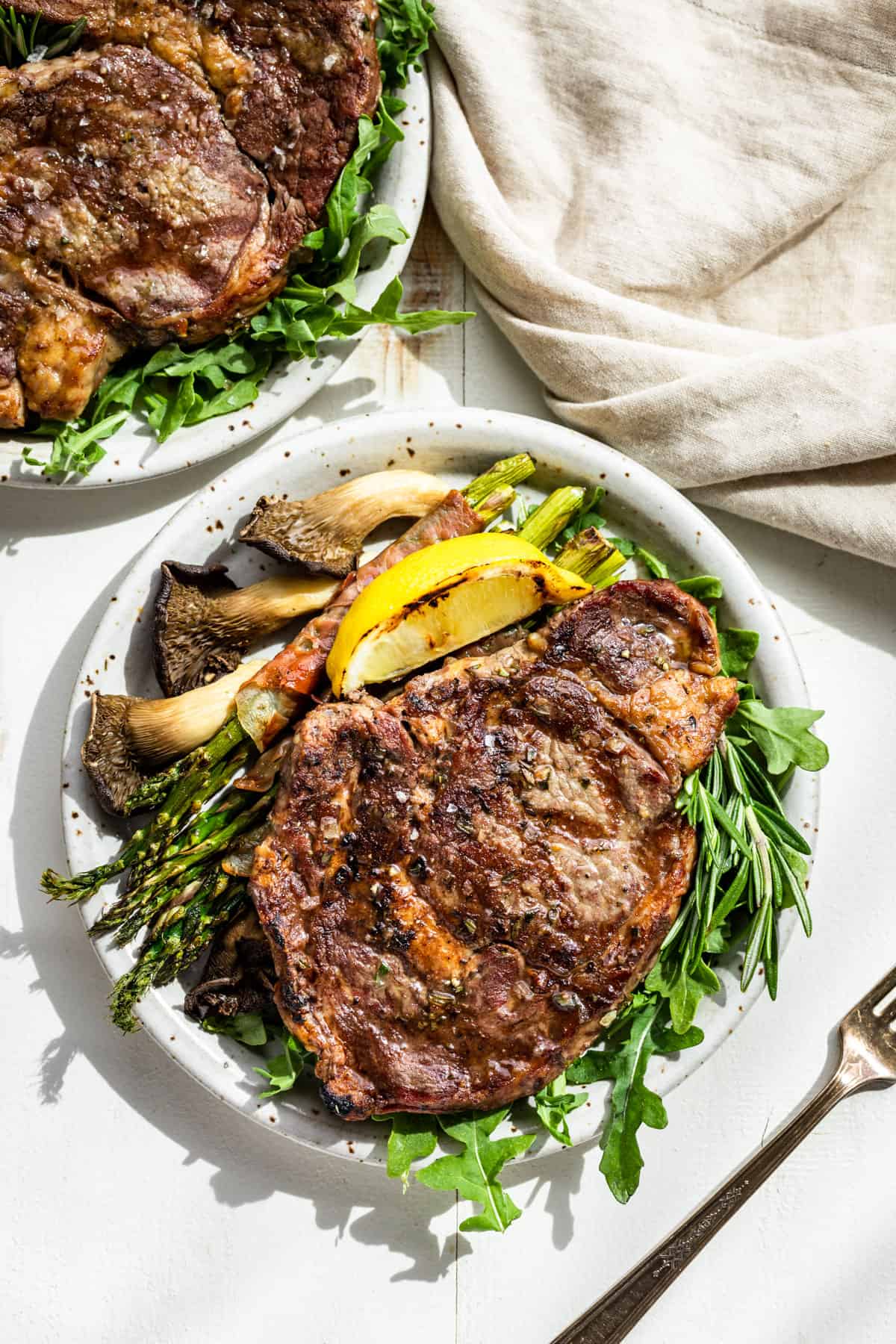 Tuscan Steak or Bistecca alla Florentina is essentially steak with a touch of olive oil, garlic, and rosemary. It sounds fancy, but like most traditional Italian foods, it's simple to make. We were first introduced to Tuscan Steak at an Italian restaurant, and have been loving it ever since.
The first Tuscan Steak we ever had was a few inches thick and meant to serve 2 people. We were eating in a restaurant where you could watch the open kitchen as your food was cooked. I kept seeing these gorgeous, and monstrous steaks going on the grill. And of course, I knew we had to try them too!
It was 'love at first bite' so to speak because you really can't go wrong with garlic and rosemary. And luckily steak is really easy to make at home as well. So you can enjoy this simple, yet incredibly flavorful steak anytime!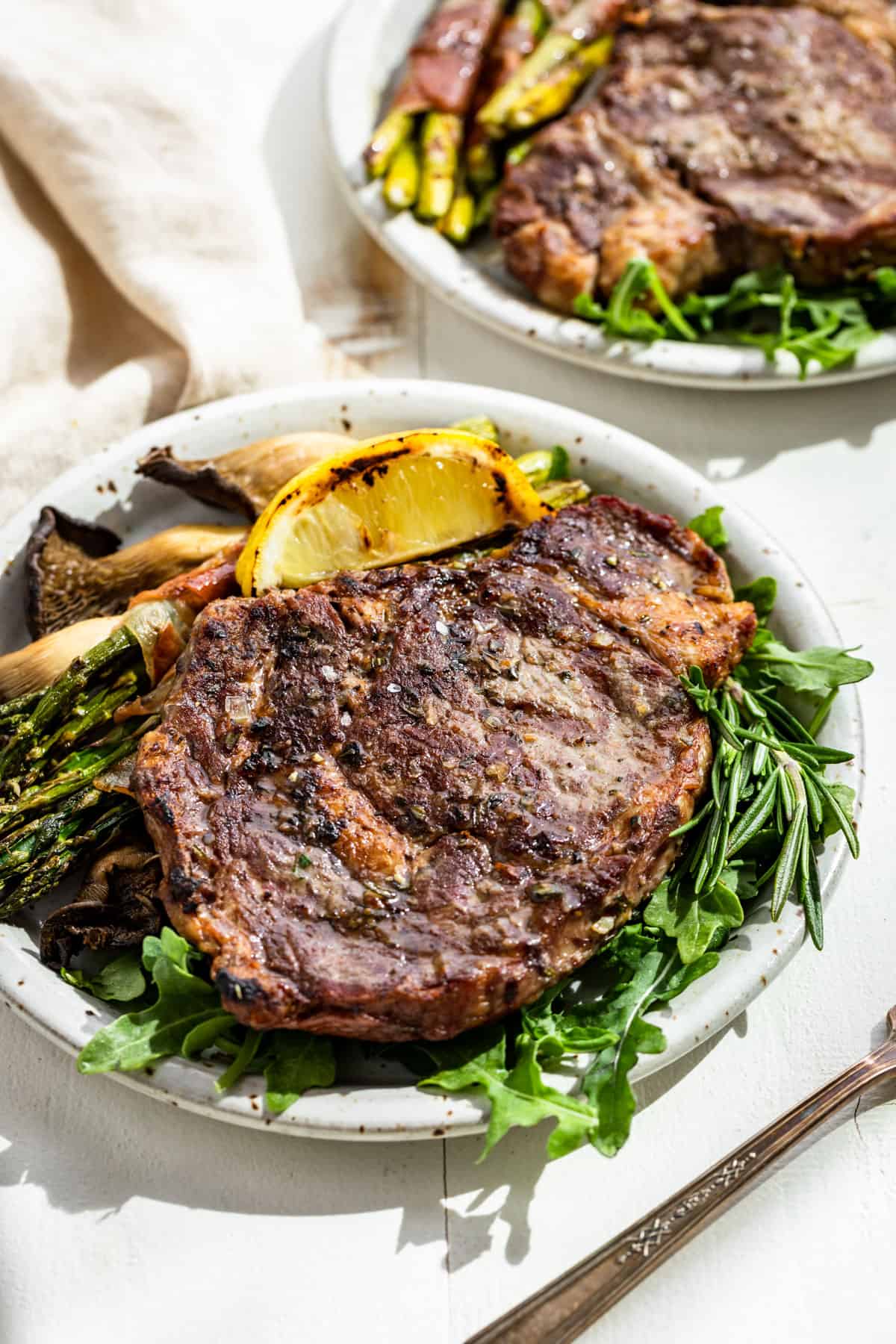 Ingredients & Substitutions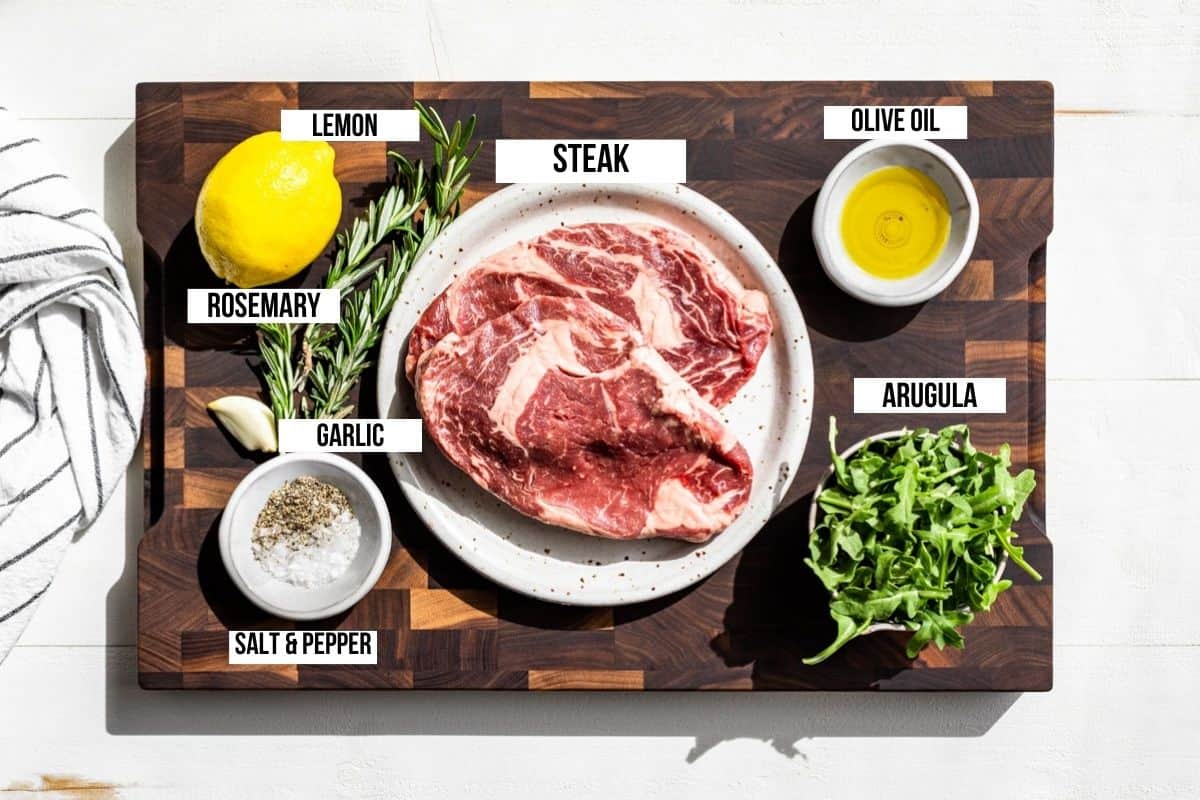 Steak – Porterhouse is the traditional cut used in Tuscan Steak, but it is pricey. Another nice option we love to use is Rib eyes, or a T-bone works well too. You can also use this Tuscan Steak marinade on any tender cut of steak you like. The best quality meat pays dividends in this simple recipe!
Olive oil – the best quality you can find pays off here because it's in the marinade but it's also drizzled on top of the finished steak.
Rosemary – fresh rosemary is traditional here and also our favorite herb to use in this marinade. You could also use thyme, but really it's all about the rosemary flavor here.
Garlic – is sometimes included in this classic dish and sometimes not. We love Tuscan Steak with minced garlic and it really does add a wonderful depth of flavor.
Sea salt – again quality is important here! If you can find/order flaked sea salt like Maldon sea salt, I highly recommend it for sprinkling over the top of your steak for the final touch.
Lemon – a squeeze of fresh lemon over the top is often a part of the classic. However, I started grilling my lemon wedges after having it that way in a restaurant and I've never looked back because it's so tasty. Grilling the lemon caramelizes the outside of it and takes the edge off the sour factor.
Arugula – Tuscan steak is usually placed over or next to a pile of greens. I've most often seen arugula used in restaurants, but baby spinach works really well too. I only have access to arugula during the short season it's grown here locally. But from the times I've had it out of season in a restaurant, it's on the bitter side. So depending on what you have available, work with what tastes the best!
Important Note: This recipe is super simple, so the quality of each ingredient matters, especially the beef, olive oil, and sea salt!
How to make this recipe step by step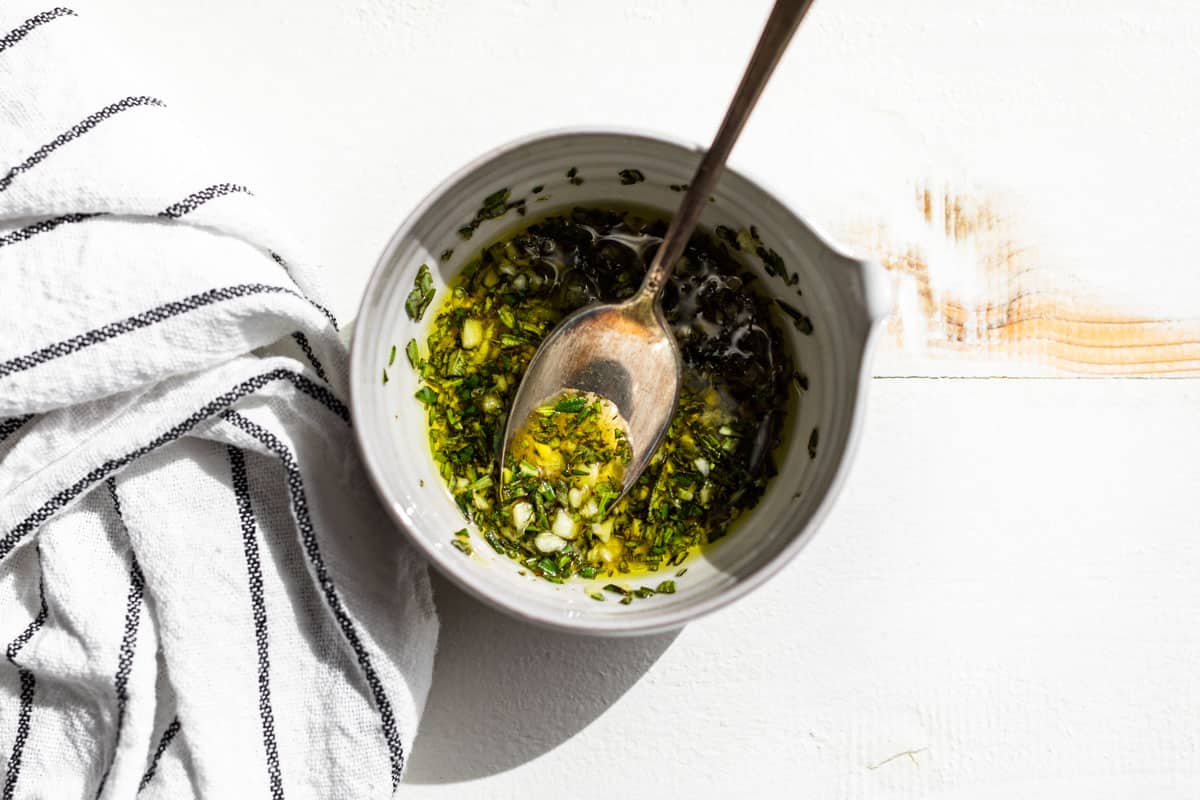 Step 1
Start by mixing together the minced garlic and rosemary with the olive oil.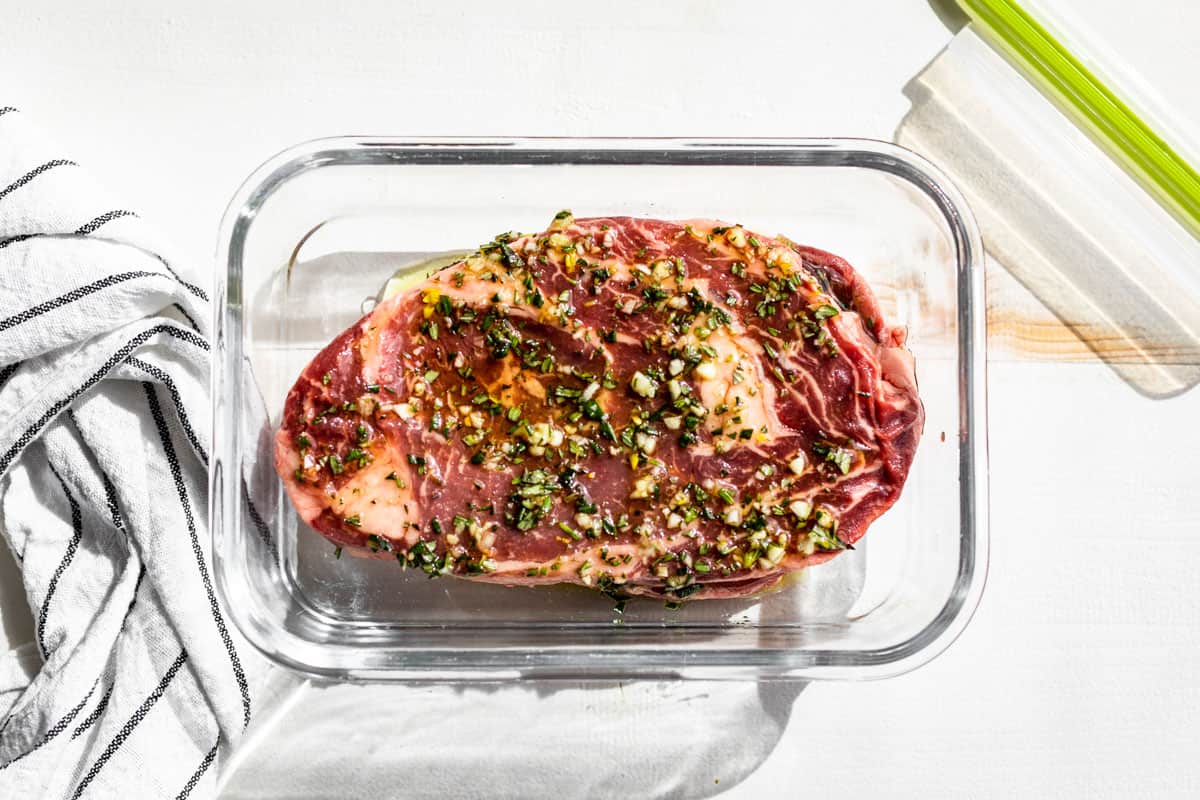 Step 2
Next coat the steaks in the marinade you just made, cover, and refrigerate to marinate for at least 1 hour or overnight for the best flavor.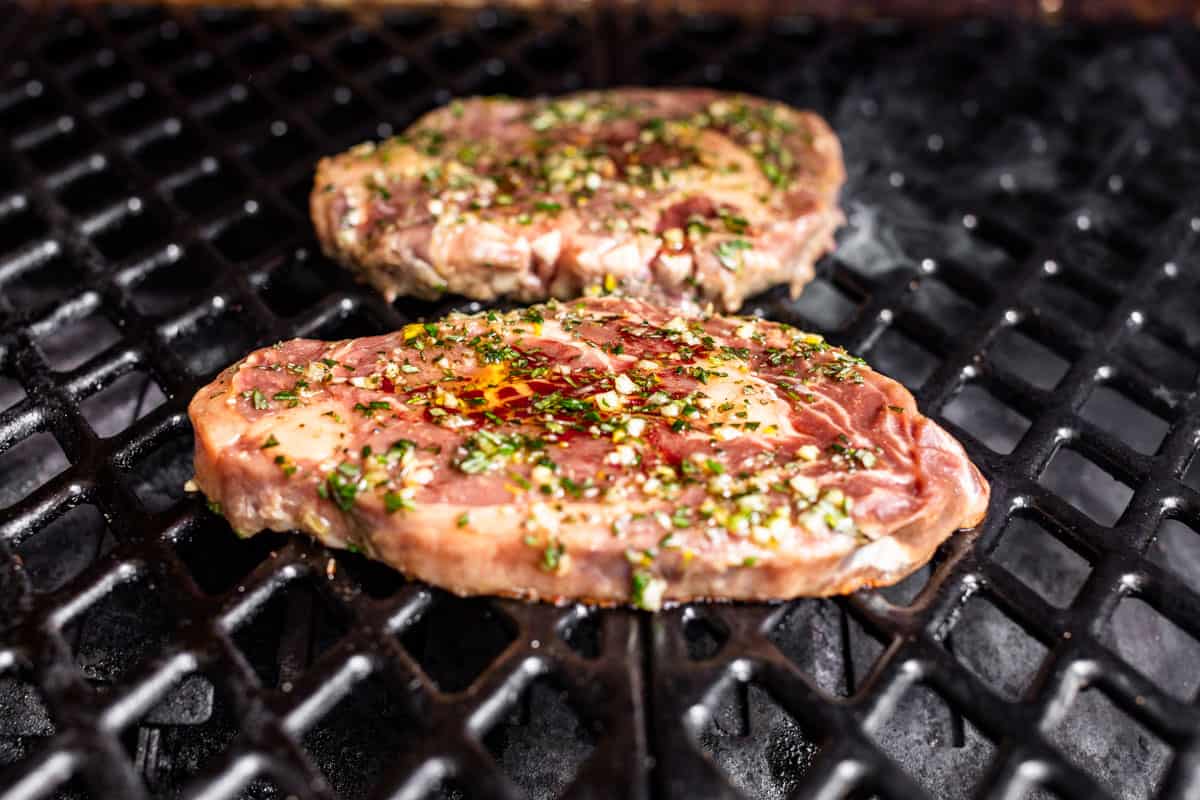 Step 3
Take the steaks out of the fridge to begin to come up to room temperature while you heat up the grill. When the grill is hot, place the steaks on the cleaned surface and grill just until the meat naturally loosens and is ready to turn about 3-5 minutes.
Note: You can also pan-sear your steaks if you don't have a grill. A cast iron pan works well or a grill pan if you have one.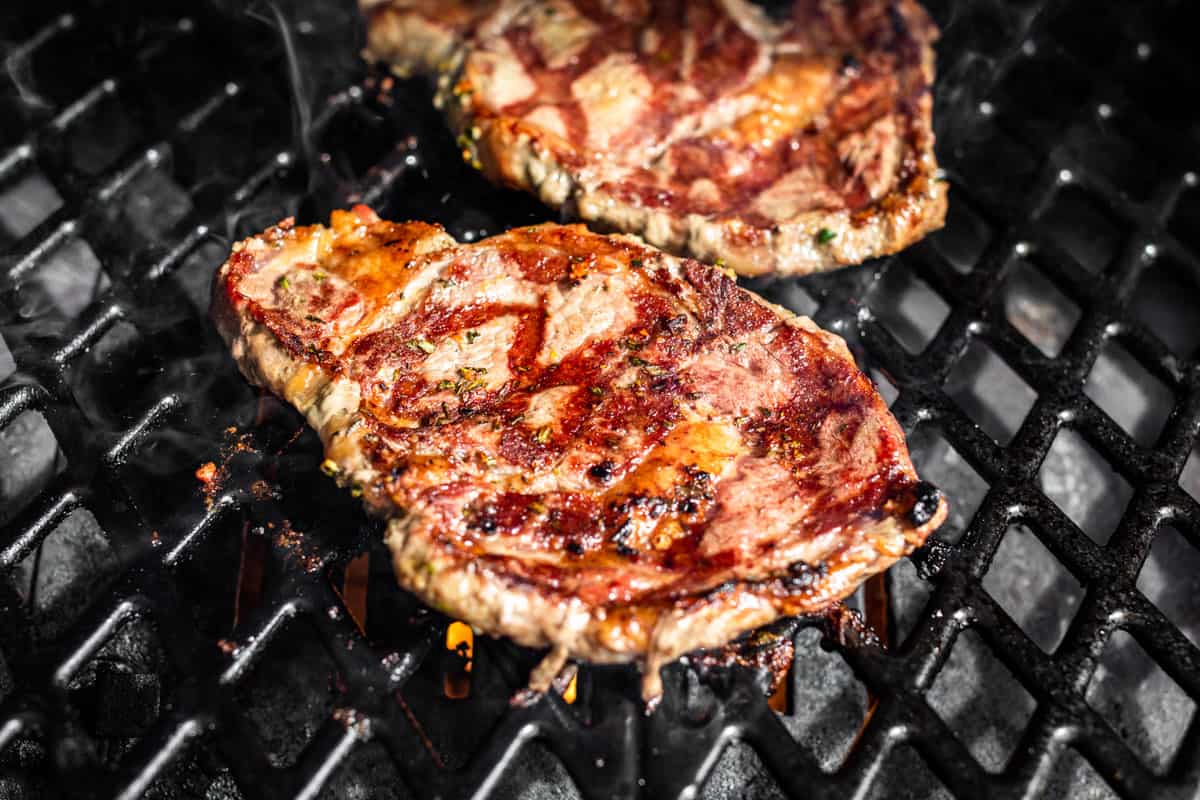 Step 4: Turn the steaks and cook for another 3-5 minutes or until your desired doneness is reached.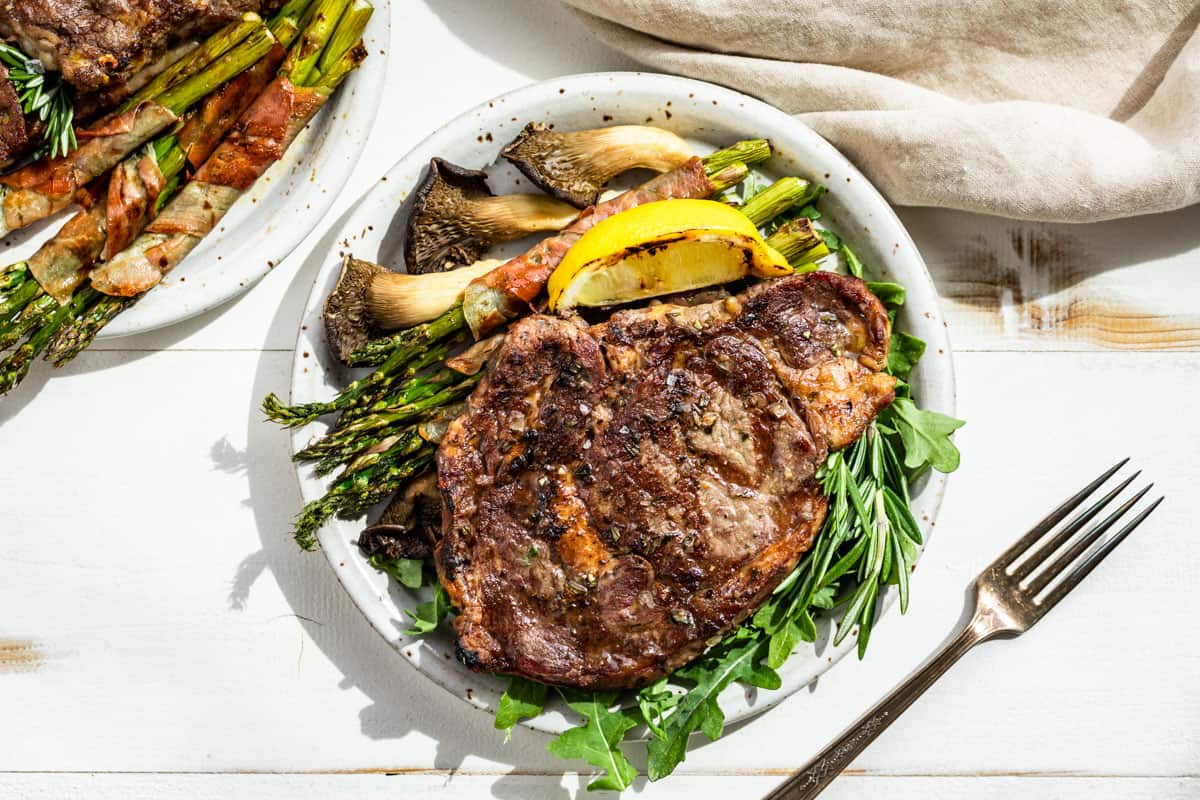 FAQ's
What kind of steak can you use for Tuscan Steak or Bistecca alla Fiorentina?
Any naturally tender cut of steak will work for this recipe including Ribeye, sirloin, fillet mignon, Porterhouse, T-bone, and NY strip steak to name a few.
Can I use this Tuscan Steak marinade on other kinds of meat?
Yes, this rosemary garlic marinade works well on pork chops and chicken and well. It's too strong of a flavor to use with seafood though.
Storing leftovers
To store – place any leftovers into an airtight container and refrigerate for up to 3 days.
Reheat – You can heat up larger portions of leftover steak in the oven, a small skillet over medium heat, or in a microwave. But I like to chop it up into small bite sized pieces and heat it up with any leftover side dishes I have. Or it's also really good added to scrambled eggs for breakfast.
To freeze – place any leftover steak whole or chopped up into and airtight container and freeze for up to 1 month. Defrost in the refrigerator and reheat as directed above.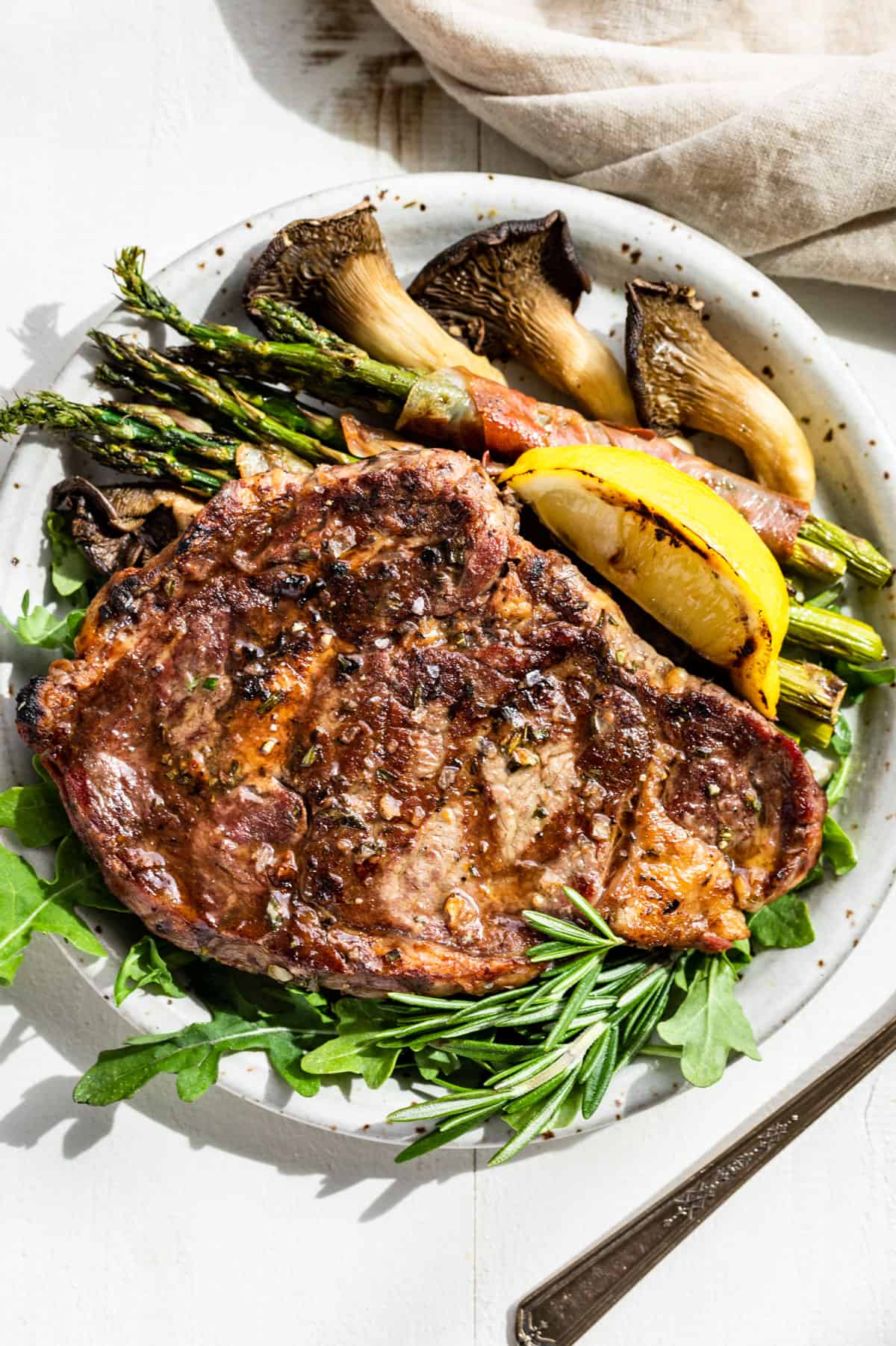 Tips & Tricks
If you love medium rare or rare steaks, try cooking extra thick steaks around 2″ thick. Cook over medium heat until the desired doneness is reached. Thicker steaks are so much easier not to overcook and really make a statement as well. I love serving them for at-home date nights because they easily serve 2 plus a bit leftover to dice up and put in our scrambled eggs the next morning.
The bed of greens is totally optional here, but we had it served to us this way in an Italian restaurant and have been loving it ever since.
To get the 'cross-hatched' grill marks when you have single slats on your grill, rotate the meat 90º halfway through the cooking time on each side. If you don't see grill marks appear, that's a sign your grill isn't hot enough.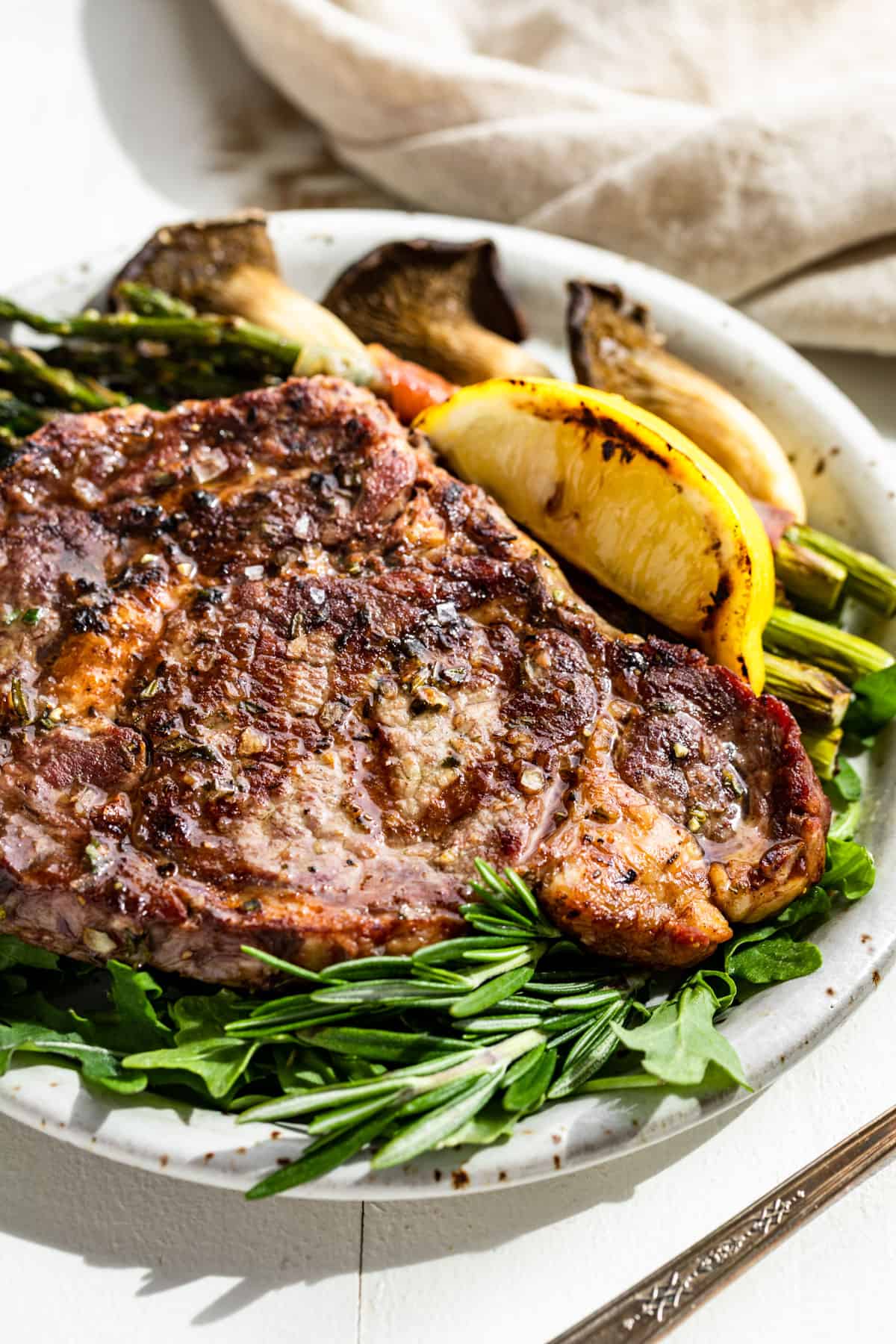 More Italian-Inspired Recipes
I really hope you enjoy this Tuscan Steak! If you do get a chance to make this recipe, please leave a rating below, I'd love to hear from you in the comments.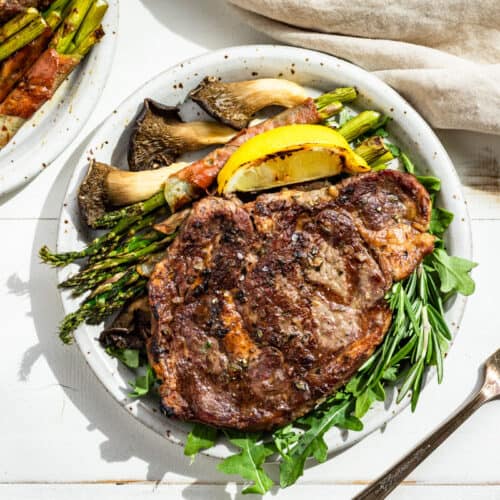 INGREDIENTS
2

steaks

-

1 pound, Rib-eye steak, T-bone, or Porterhouse

2

tbsp

extra-virgin olive oil

2

tsp

chopped rosemary

1

clove

garlic

-

minced

1/2

tsp

sea salt

1/4

of a lemon – a wedge cut lengthwise

1

cup

arugula

1/2

tsp

Sea salt for sprinkling over the cooked steak

-

or to taste

2

tsp

Olive oil for drizzling

1/4

tsp

Freshly ground black pepper

Sprigs of fresh rosemary to garnish if desired
INSTRUCTIONS
Marinate the steak in the olive oil, chopped rosemary, and minced garlic overnight in the fridge, or at least for 1 hour.

Preheat the grill to 500ºF, it's important to have a very hot grill when cooking steak. Steak cooks relatively fast, so to get the criss-crossed grill marks like the picture the grill has to be sizzling hot.

Rub the teaspoon of sea salt evenly over the steak, and place it on the grill at a 45º angle to the grill slats. All this angle talk if only important for the grill marks, so feel free to skip ahead!

After about 2 minutes, rotate the steak 90º to make the second set of grill marks – this turning is what makes the criss-cross pattern.

Once you've made the rotation to the steak, place the lemon wedge on the grill. Grill each cut side of the lemon until golden brown marks appear – take the lemon wedge off whenever it's done and keep it off to the side until the steak finishes cooking.

Cook the steak another 2-3 minutes, and then turn the steak over and repeat the rotation process on the other side, taking the steak off the grill when it's at your desired doneness. Our steak was about 1 1/2 inches thick, and it took 10 minutes to cook it to medium rare.

The timing will depend entirely on the thickness of your steak, whether or not it you've chosen a cut with a bone in (like a T-bone), and your desired doneness. Use a meat thermometer to make this easier!

When the steak is done to your liking, remove it from the grill and place it on a bed of greens. Sprinkle with sea salt and drizzle with olive oil – serve immediately with the grilled lemon wedges, and with your choice of side dish!
Bonus Step
If you made this recipe, please leave a rating/comment. Ratings really help us continue to bring you high-quality free recipes. Rate This Recipe!
NOTES
You can also use spinach in place of the arugula.
This is a 'meat heavy' meal and can easily be split between 4 people with added sides.
nutrition facts
Calories:
639
kcal
|
Carbohydrates:
2
g
|
Protein:
46
g
|
Fat:
50
g
|
Saturated Fat:
17
g
|
Polyunsaturated Fat:
3
g
|
Monounsaturated Fat:
28
g
|
Cholesterol:
138
mg
|
Sodium:
1284
mg
|
Potassium:
672
mg
|
Fiber:
1
g
|
Sugar:
1
g
|
Vitamin A:
279
IU
|
Vitamin C:
9
mg
|
Calcium:
40
mg
|
Iron:
4
mg
This post was originally published in 2014, but has been updated in 2022 with new photos more informations and tips.