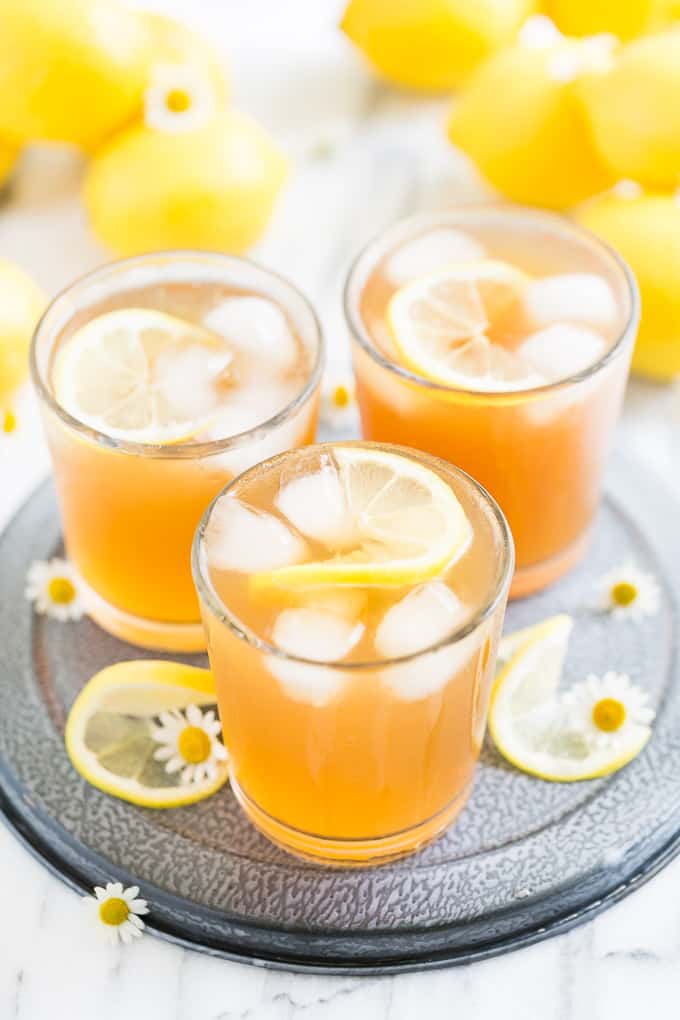 I would've never gotten into ice tea if it wasn't for my husband. I've just never liked it, the sweetened version has always been too sweet for me, and the unsweetened version… well don't even get me started on that!
I think it's the black tea flavor I'm not overly fond of, because once I changed what kind of tea I was using, that was all it took for me to start loving the stuff. It all happened by accident really, I'm not a tea drinker by nature, (can you tell) but my sister had just discovered this white peony tea, and sent me some to try.
Of course not being a tea drinker, it just sat in my cupboard for several months. But one day in the heat of summer, my husband came home and asked if I ever made iced tea. Obviously the answer was a resounding no. But being newly married and not wanting to disappoint, I decided to give it a go.
Since I didn't have the traditional black tea on hand, I used the only tea I had – the white peony my sister had sent. And you know what, I've never looked back! Not only is this the best iced tea I've ever had, (really I actually drink iced tea now) but everyone else loves it too. It has an incredible light and refreshing flavor, and it goes down so easily, I have to cut myself off sometimes!
The key as you might have guessed by now is this premium peony white tea, (pictured above). The brand is Prince of Peace and you can easily order it online, or weirdly enough, it's also available at Walmart.
Tip: When steeping big batches of tea, lightly tie the tea bag strings around the handle of the pot to keep the tags from falling in.
A little sweetener to taste along with freshly squeezed lemon juice really brings out the flavors, and make it taste like a proper iced tea. I really love a touch of honey in my iced tea, but you can easily substitute Grade A maple syrup, which has a really light flavor.
More refreshing drinks:
This iced tea keeps easily for a week in the fridge, so it's nice to make an extra big batch sometimes to have lots on hand!
Print
White Peony Iced Tea
---
8 cups

of water

6

white peony tea bags

1/4

–

1/3

cup honey or maple syrup to taste

2

lemons, juiced
---
Instructions
Bring the water to a boil over high heat. When the water is at a rolling boil, turn off the stove, and remove the pan from the heat.
Tie the tea bags around the handle of the pot to keep them from slipping in, and steep the tea bags for 15 minutes.
Remove the tea bags and sweeten to taste.
Refrigerate for about 4 hours to completely cool the tea before adding the freshly squeezed lemon juice.
Serve the tea thoroughly chilled over ice, with additional lemons slices if desired.
Prep Time:

5 mins

Cook Time:

20 mins