I love a traditional Caprese Salad in the peak of tomato season with the tomatoes still warm from the vine. Now that it's fall, nothing is warm off the vine in our garden anymore. Enter delicata squash, roasted and caramelized to perfection.
So… instead of mourning the loss of tomatoes, this year I'm reveling in the caramelization of squash! The great thing about this squash is, you don't have to peel it, so it's super quick and easy to roast for this salad. This salad is best served as soon as the squash comes out of the oven because the squash is lightly crispy and similar to oven fries.
For the squash, cut off both ends and then cut in half. Scrape out the seeds – I like to use a spoon, and place the halves face down on the cutting board.
Cut the squash into 1/2″ rounds.
Lay them on a parchment lined baking sheet and drizzle with olive oil and sea salt.
Roast the squash for 10 minutes, turn the slices over and roast for another 10 minutes. This helps you get a crispy brown exterior on both sides – more crispy caramelized = more happiness!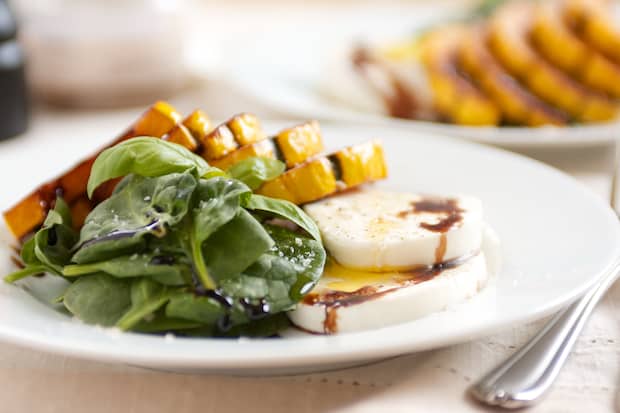 Arrange a small pile of greens and 2 slices of cheese per plate. When the squash is done, arrange the slices on each plate and drizzle with olive oil, reduced balsamic vinegar, sea salt, and a grating of black pepper. Finally, garnish with sprigs or chopped basil.
The sweet roasted flavor of the squash is perfect for the syrupy balsamic vinegar and the fresh mozzarella cheese. I like to serve this version of the caprese with a small stack of spinach greens and basil because the freshness of the greens rounds out the flavors and pulls it all together in delicious harmony.
Print
Winter Caprese Salad with Caramelized Delicata Squash
---
1

pound delicata squash, halved and seeded

2 Teaspoons

olive oil, plus 3 Tablespoons for drizzling

1/2 teaspoon

sea salt

6 ounces

fresh mozzarella, cut into

8

slices

2 cups

baby spinach leaves

1/4 cup

basil, chopped

2 Tablespoons

reduced balsamic vinegar, or balsamic crema
Freshly ground black pepper and sea salt for sprinkling
---
Instructions
Preheat the oven to 400°F and line a baking sheet with parchment paper.
Cut the squash halves into 1/2″ pieces and place on the baking sheet. Drizzle with the 2 Teaspoons of olive oil and the 1/2 Teaspoon of sea salt. Roast in the oven for 10 minutes, turn the squash over and roast another 10 minutes or until the squash is tender and browned.
Arrange the mozzarella, spinach and roasted squash onto 4 salad plates or 1 serving platter. Garnish with the basil, reduced balsamic vinegar, and remaining 3 Tablespoons olive oil. Sprinkle with sea salt and freshly ground pepper.
This salad is best served immediately while the squash is still crispy.
Prep Time:

10 mins

Cook Time:

20 mins