This Winter Fruit Salad is super fresh, juicy, and tossed with a honey lime dressing that makes it irresistible! Deep into the winter months, there's still plenty of fruit 'in season' so to speak for all those fresh produce cravings. Sweet pineapple combines together with kiwi and mandarin oranges, with a bright pop of juicy pomegranate arils, and some optional blueberries. It's perfect alongside so many recipes for brunch, potlucks, and holiday meals as well.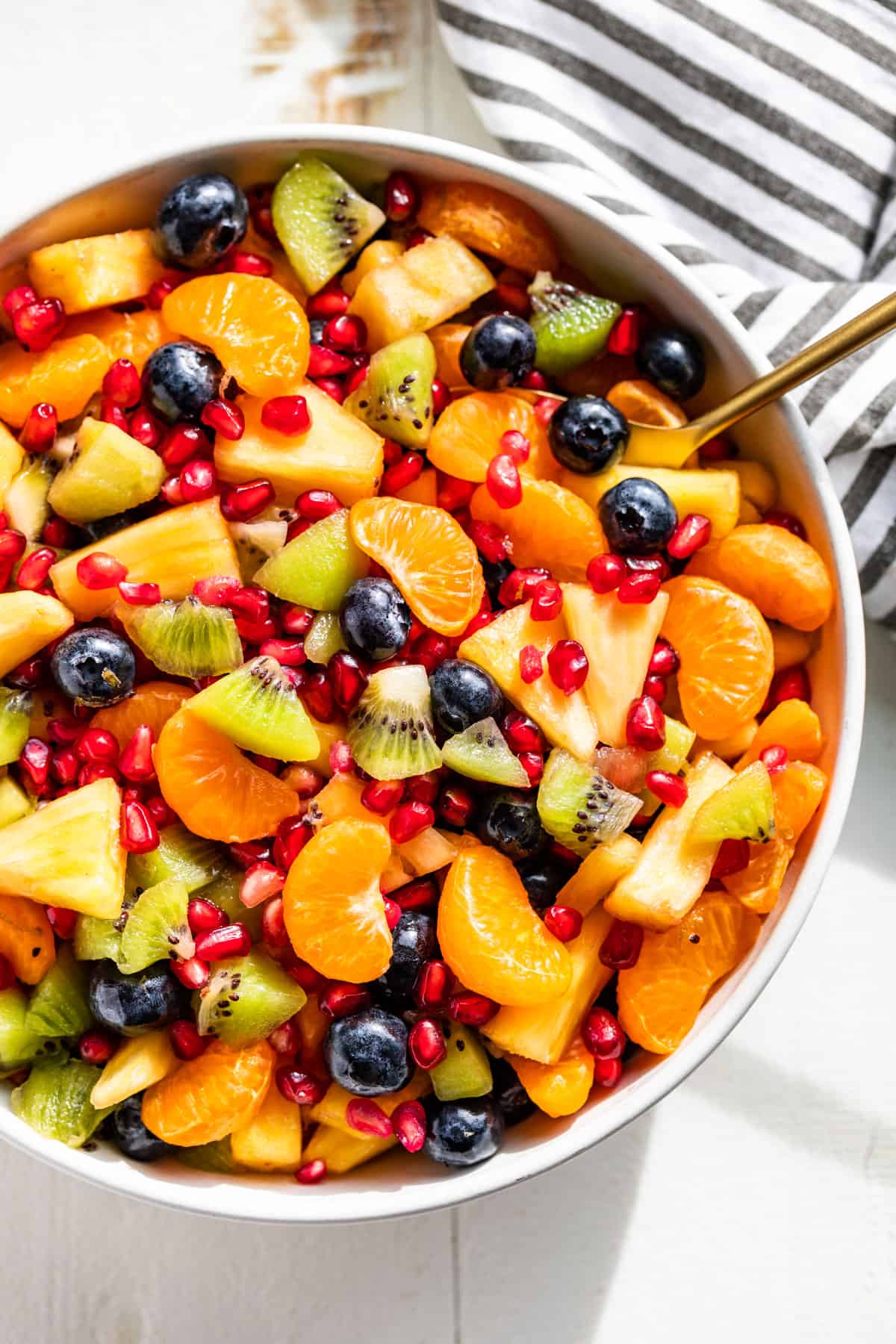 Fresh, bright, and juicy, this Winter Fruit Salad really hits the spot in the colder months when produce gets scarce. This fruit salad relies on tropical fruits that are abundant in the winter months.
And while all these tropical fruits are delicious on their own, the honey lime dressing really takes the flavor right over the top. It also strategically makes up for any lack of sweetness in the fruit.
You'll find my tips and serving suggestions below along with substitutions. But if you don't eat honey, no worries because this recipe works perfectly with maple syrup or agave as well.
In any case, this winter fruit salad recipe will keep you coming back for more. And we really enjoy this as a fresh and light dessert as well. It's so pretty and tasty, it's welcome at every holiday table. So let's just call it a 'Christmas Fruit Salad' because it's so incredibly festive looking.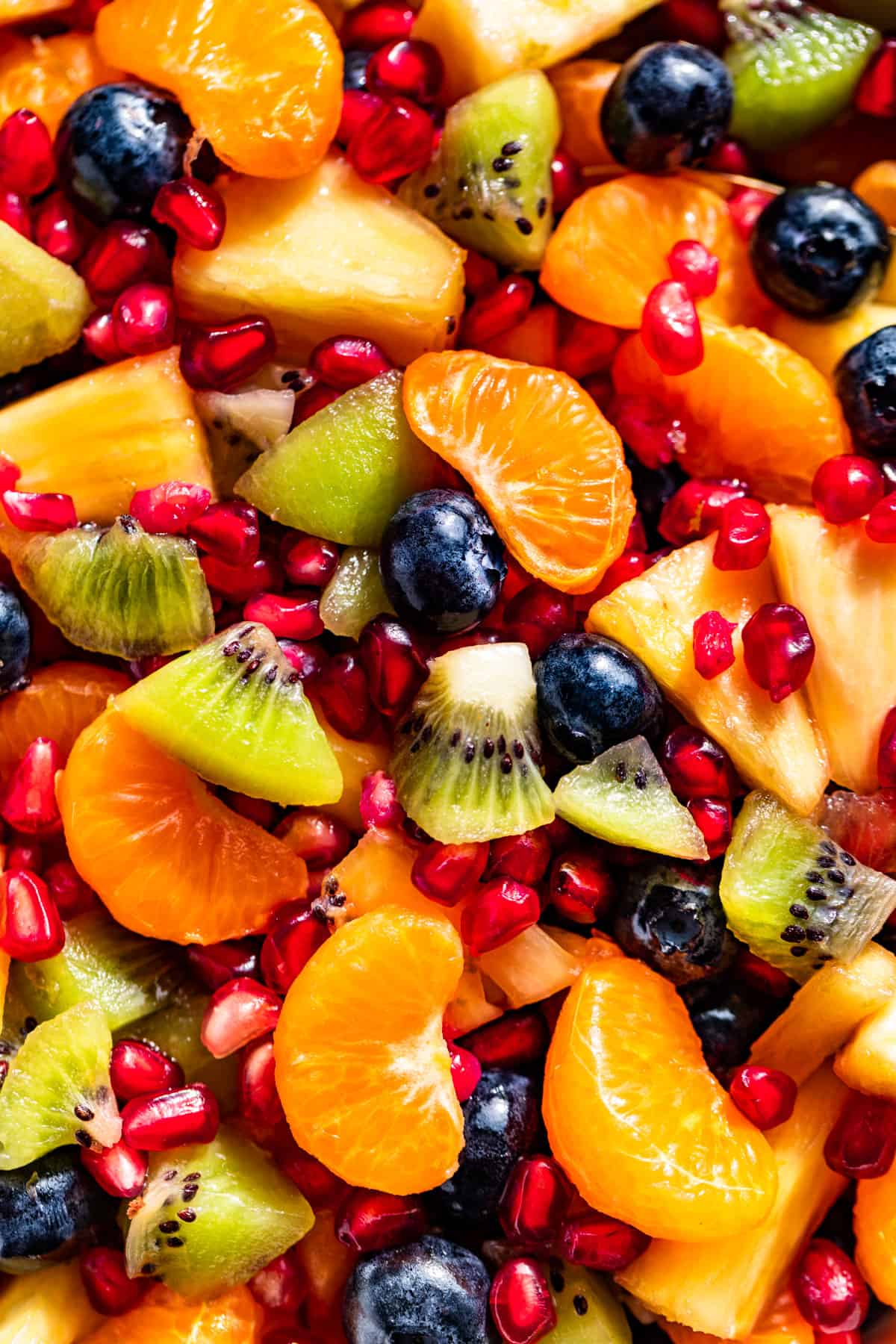 Ingredients & Substitutions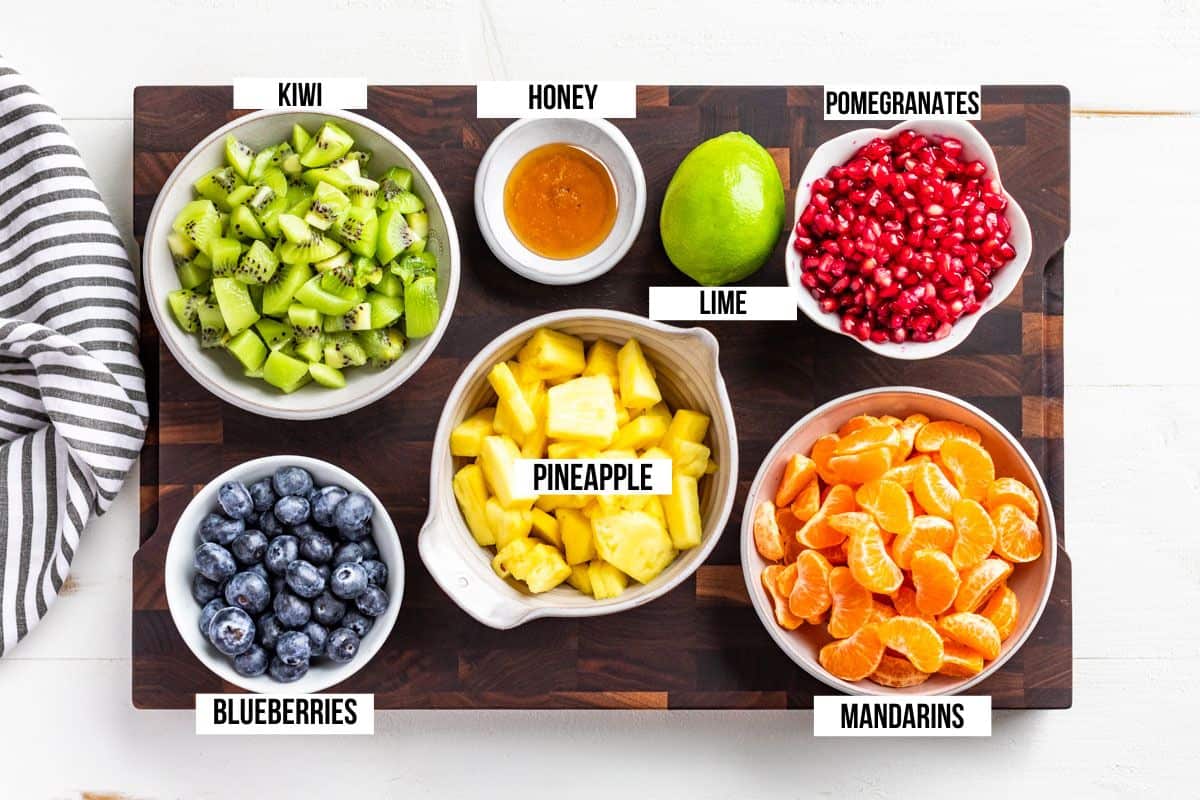 Pineapple – makes up the base of this recipe, so try your best to get the ripest pineapple you can. Fresh is a must here in this fruit salad, canned pineapple doesn't have enough flavor. You can also use part of the measurement with mango, or sub in all mango for the pineapple if your find really good ones.
Mandarins – or any citrus orange you can find from Cara Cara to tangerines, & blood oranges, just makes sure you cut them up into bite sized pieces.
Kiwi – add both juiciness and crunch from the seeds along with a nice green color to the mix.
Pomegranate arils – sometimes called pomegranate seeds. You can omit these if they're hard to find, but they do add a nice pop of color and juiciness. You can buy them all ready to go, or prep your own quickly with my Pomegranates 101 method. It's super quick and easy!
Blueberries – are optional but they can be quite affordable at times throughout the winter months. They add nice flavor of course, but also a great pop of color too.
Honey lime dressing – is simply made with lime zest, lime juice, and honey whisked together. It's so simple but incredible paired with tropical winter fruit. You can sub in a Grade A amber maple syrup or agave nectar for the honey if desired. You could also use fresh lemon juice or orange juice here, but the lime really is extra special.
How to make this recipe step by step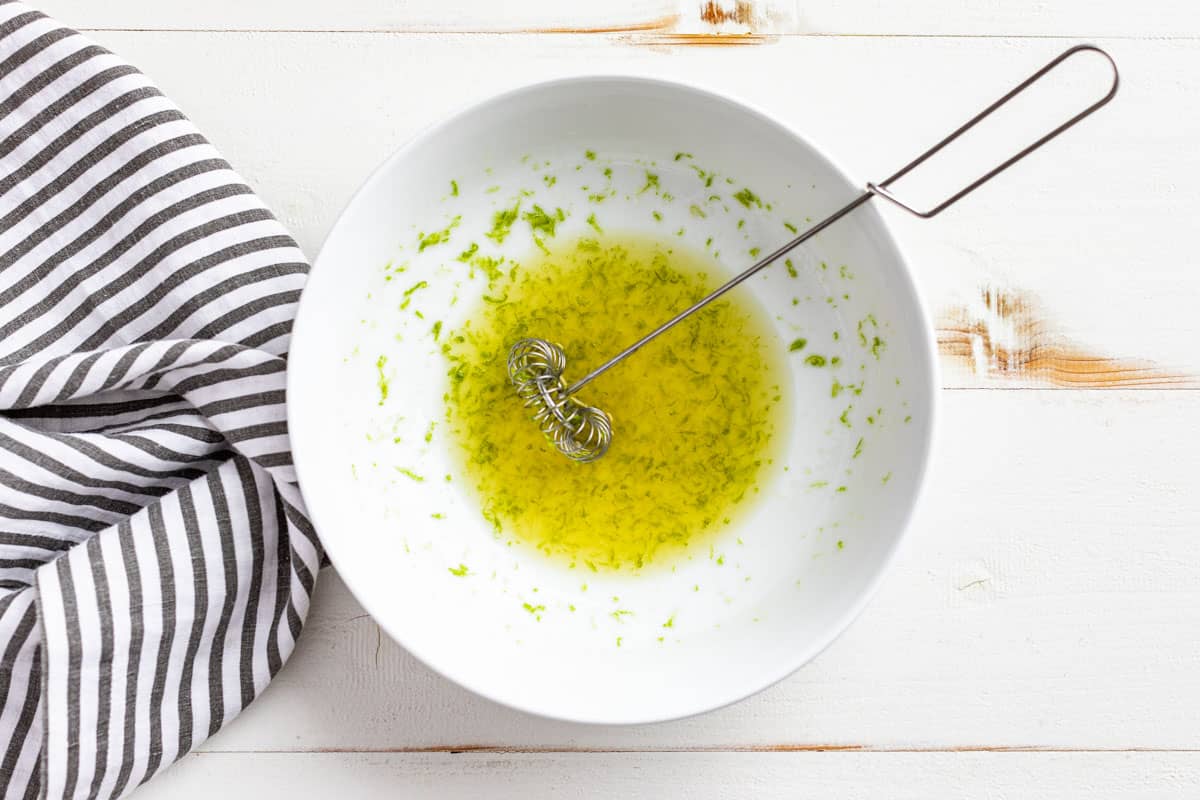 Step 1: Start by whisking together the lime zest, lime juice, and honey together until smooth in a small bowl.
Tip: Lime zest is just the green part of the peel of a lime. Use a microplane grater for the best fine textured zest, (plus it's the easiest grater to use as well).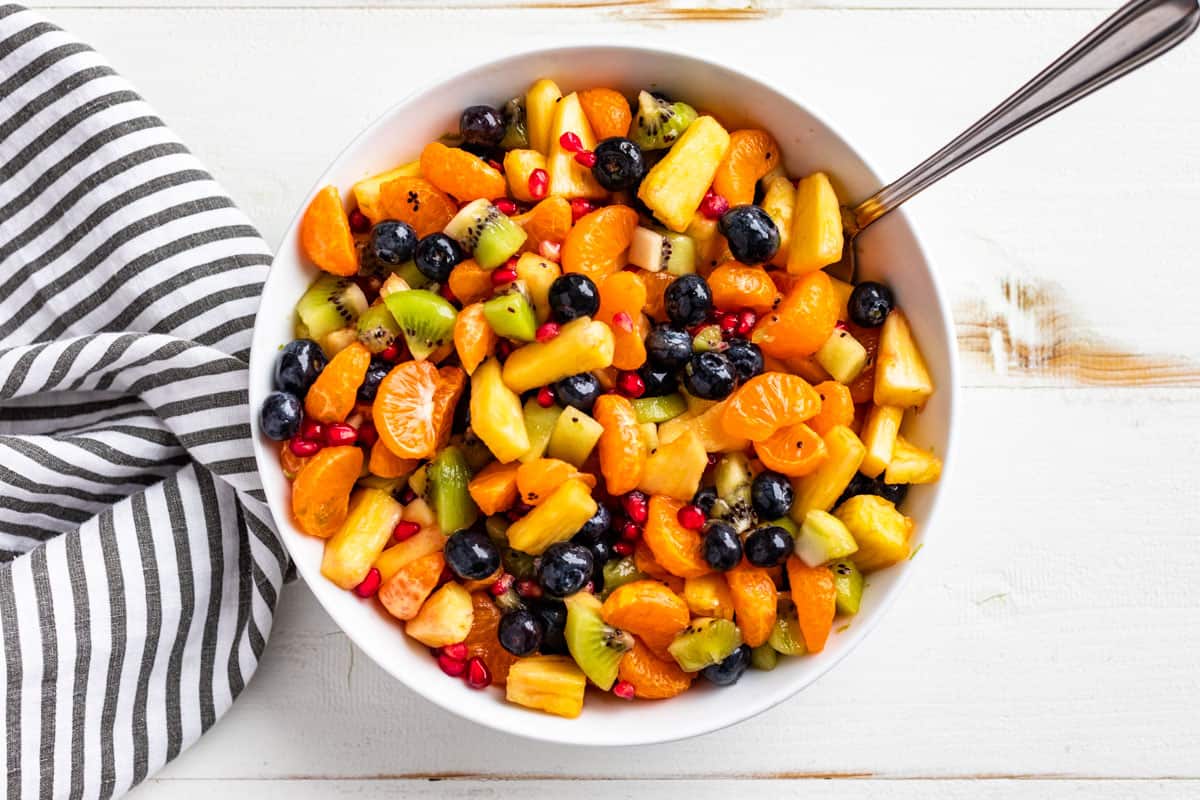 Step 2: Pour the honey lime dressing over the cut up fruit in a large bowl, and toss together.
Step 4: Serve right away or refrigerate and serve within 4 hours for the best texture and flavor.
FAQ's
What fruits should not be mixed into a fruit salad?
Any fruit that turns brown when it's cut up shouldn't be mixed into a fruit salad until the last minute. If you choose to use apples, pears, or banana, add them right before serving.
What can I use in place of the honey?
You can use either Grade A amber maple syrup (lighter flavor) or agave nectar to make this fruit salad vegan.
Can you cut up fruit for fruit salad the night before?
You can prep the pineapple, mandarin oranges, and pomegranate arils ahead of time and refrigerate for up to 2 days or so before making the fruit salad. Other fruits in this recipe are better cut up closer to the serving time.
Storing leftovers
To store – place any leftovers into a tightly sealed container and refrigerate for up to 2 days. This salad is best eaten within 4 hours of being made, but it does keep ok for a few days. If you vary the fruits from what is listed, you may not have the same luck. Mango – apple – pear – banana will all turn brown in the refrigerator.
Freeze – you can freeze this fruit salad and use it to make smoothies if you can't finish it fast enough! See my How to Make Your Own Freezer Smoothie Packs.
Tips & Tricks
Use the ripest fruit you can find for the best flavor, but don't worry too much because the honey lime dressing helps to cover up less than awesome fruit.
You can cut up the pineapple and segment the mandarin oranges 2-3 days in advance to help speed things up. Pomegranate arils will usually keep well for 2-3 days. Prepping ahead is useful if you want to serve this with a holiday meal, or take it to a potluck.
Definitely use freshly squeezed lime juice and fresh lime zest only! Better to just eat the fresh fruit rather than use bottled lime juice. It takes just a minute to zest a lime with a microplane grater and juice it with a reamer – and you'll love the fresh flavor!
Don't use frozen fruit in this recipe, it will get watery as it thaws – fresh fruit is the best here.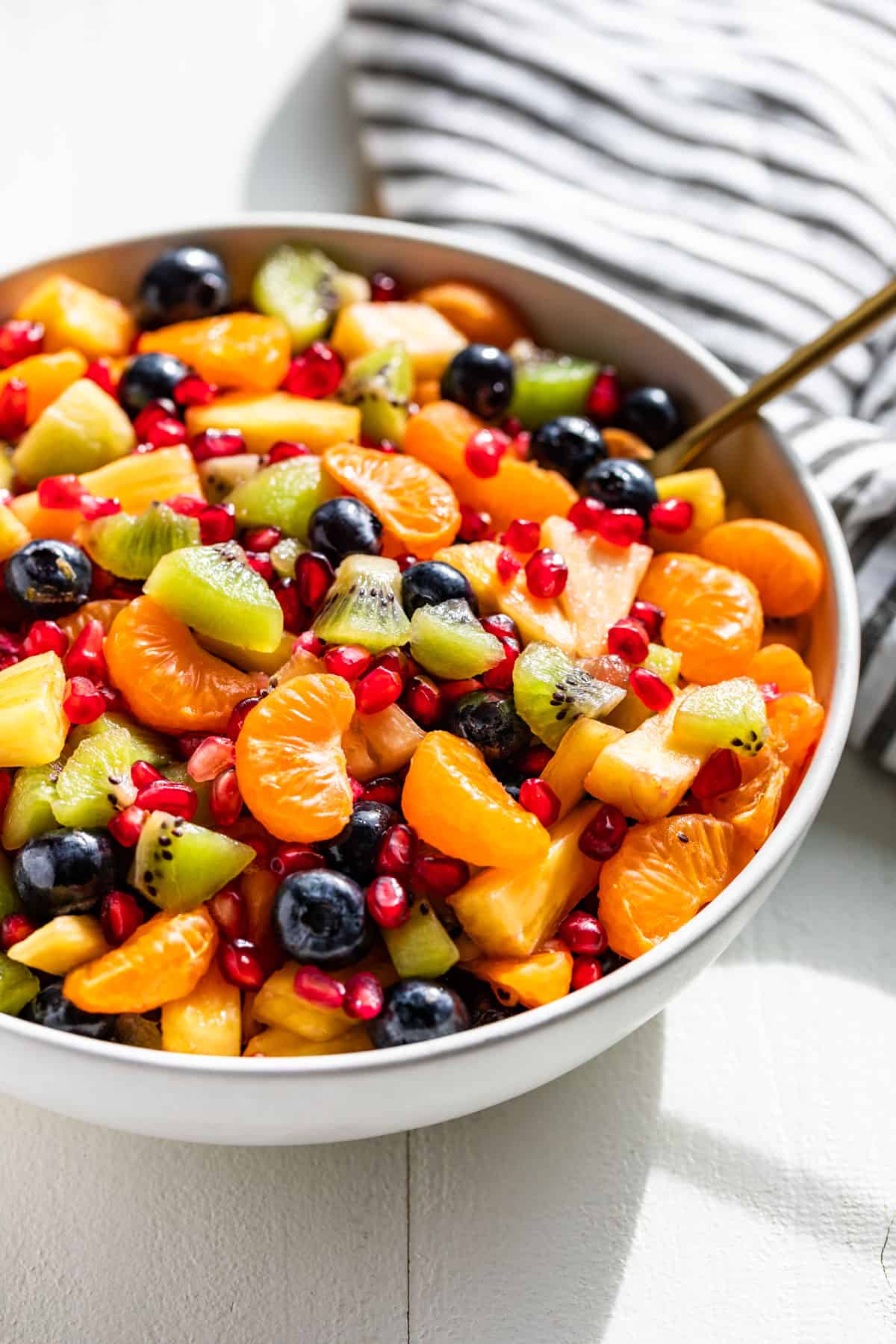 More Winter Salad Recipe Inspiration
I really hope you enjoy this Winter Fruit Salad! If you do get a chance to make this recipe, I'd love to hear from you in the comments.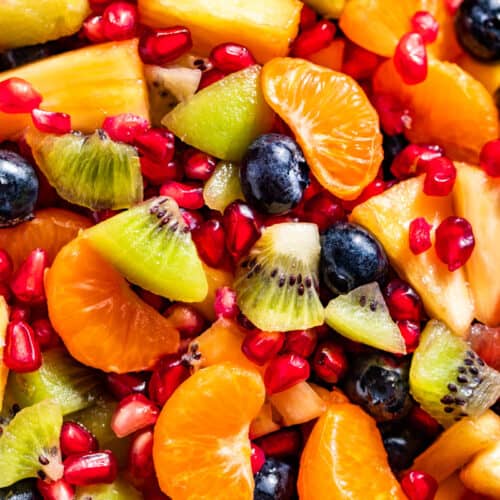 INGREDIENTS
2

cups

fresh pineapple chunks

2

cups

mandarin orange sections

-

4-6 mandarin oranges

1

cup

pomegranate arils

2

cups

kiwi chunks

-

4

1

cup

blueberries

-

options
Honey Lime Dressing
2

tbsp

lime juice

-

freshly squeezed

1

tsp

lime zest

-

grated with a microplane grater

2

tbsp

honey

-

maple syrup or agave
INSTRUCTIONS
Start by prepping all of your fruit, you want to make sure everything is in bite sized pieces.

Next whisk together the lime juice, lime zest, and honey until combined.

Add the fruit to a serving bowl and pour the dressing over the top.

Toss to combine and serve immediately, or cover and refrigerate for up to 4 hours before serving.
Bonus Step
If you made this recipe, please leave a rating/comment. Ratings really help us continue to bring you high-quality free recipes. Rate This Recipe!
NOTES
You want to use honey that is liquid at room temperature. If yours is solid, heat it over low heat just until it's liquified, but not hot, before whisking it in.
This fruit salad tastes best the day it's made, but it will keep for 2-3 days refrigerated.
nutrition facts
Calories:
218
kcal
|
Carbohydrates:
54
g
|
Protein:
3
g
|
Fat:
1
g
|
Saturated Fat:
0.1
g
|
Polyunsaturated Fat:
0.4
g
|
Monounsaturated Fat:
0.1
g
|
Sodium:
12
mg
|
Potassium:
534
mg
|
Fiber:
8
g
|
Sugar:
42
g
|
Vitamin A:
1389
IU
|
Vitamin C:
148
mg
|
Calcium:
61
mg
|
Iron:
1
mg