The idea for this centerpiece comes from my Mother-in-law. She has a couple of them, and her house always smells amazing! After spending some time with them lately, it was just the inspiration I needed to finally make one for myself.
Her centerpiece is made with hazelnut coffee beans, which smell really delicious. I had a dark roast from Guatemala (unflavored), so I stirred hazelnut extract into the beans to make a similar version. I also did a version with vanilla extract and coffee beans, which might be my favorite because I'm partial to vanilla.
First, choose your coffee beans and extract of choice. If you're using an extract for extra smell, stir the beans and extract together. Next, place your choice of candles on a decorative plate or platter. Scatter the coffee beans around the candles. Even them out a bit, and you're done!
My platter was about 15 inches, and I used 3 pillar candles for the center. For the coffee beans, I used 1-2 cups stirred together with 1 tablespoon of extract and it was perfect for filling the white space around my candles. Measurements will vary depending on the size of platter and candles that you use. I also did a few with tea-lights and really small plates for smaller spaces.
Don't worry about ratios though, this is a really simple project and you can add more extract, beans, or candles. That's what I love about this centerpiece, you can't go wrong! There's no flower arranging or watering to keep up, just a great smelling centerpiece that's perfect year-round.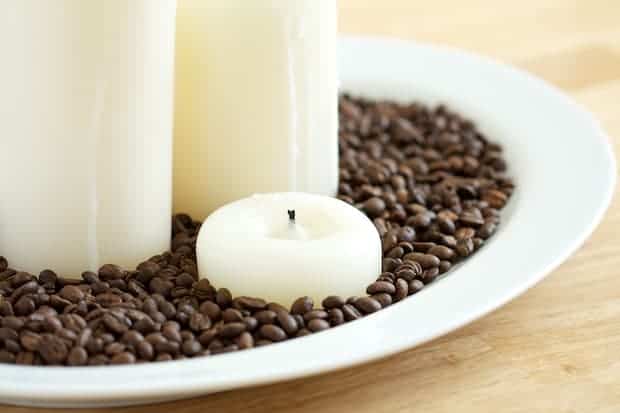 It's no small secret that we're big coffee fans around here, (addicts might be more accurate)! Both Tyler and I could live off coffee if such a thing was possible. Alas, one must have sustenance other than delectably rich espresso! All joking aside, we love having the delectable smell of this centerpiece around, even when we're not drinking coffee.