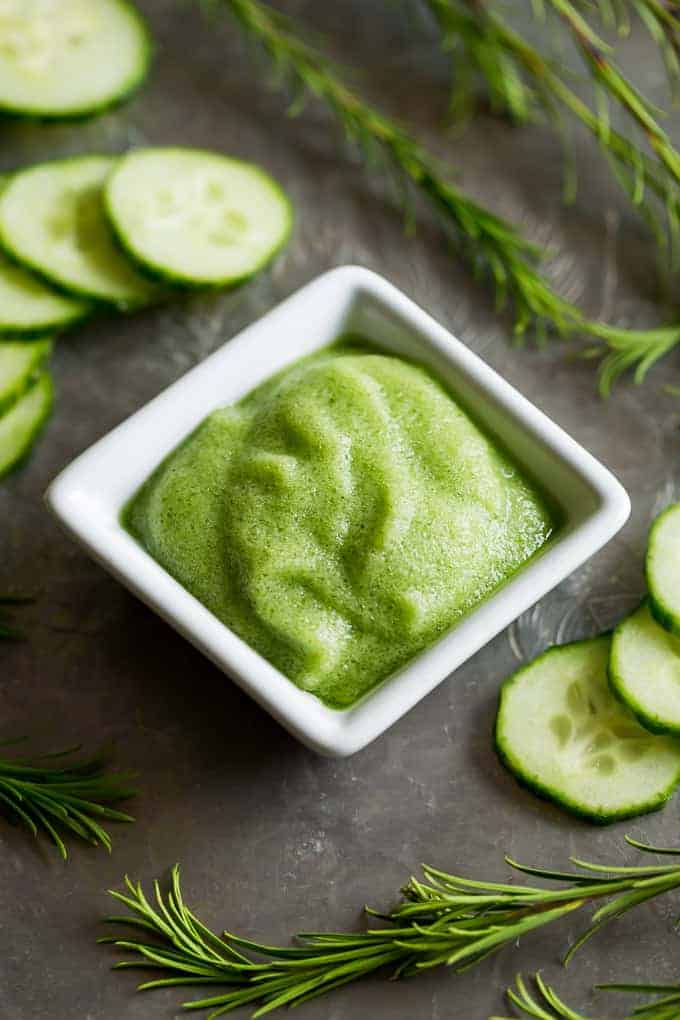 I just got done rinsing this mask off in the shower, and I love how smooth my skin feels right now. I've been putting collagen into my green smoothies for the last few months. But it was just recently I thought of putting it into a facial mask as well.
Collagen is reported to be incredible for your skin, hair, and nails. And while I can't vouch for the part about your nails since I already have fairly strong nails. I can tell you that my hair is much more bouncy, (really it's hard to explain, but it just has more body and shine to it). But the most obvious change since starting to consume collagen is how much my skin is glowing and smooth.
This leads me to this facial today that's been a 2-part skincare regime that has my skin really glowing. Collagen inside and out has been nothing short of great for my skin. I also added cucumber to the mix for its fantastic hydrating effects, and a touch of gelatin to hold it all together and make it easier to use.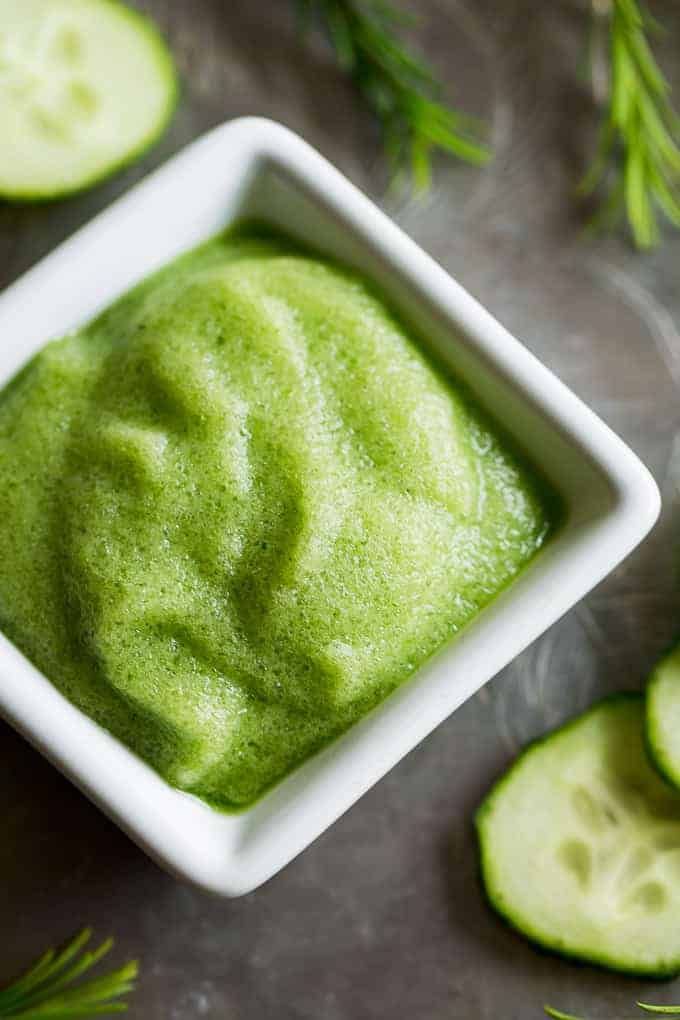 Bonus recipe: if you enjoy the cooling effect of this recipe you may also enjoy my Aloe Vera Sunburn Soother which is perfect for light sunburns.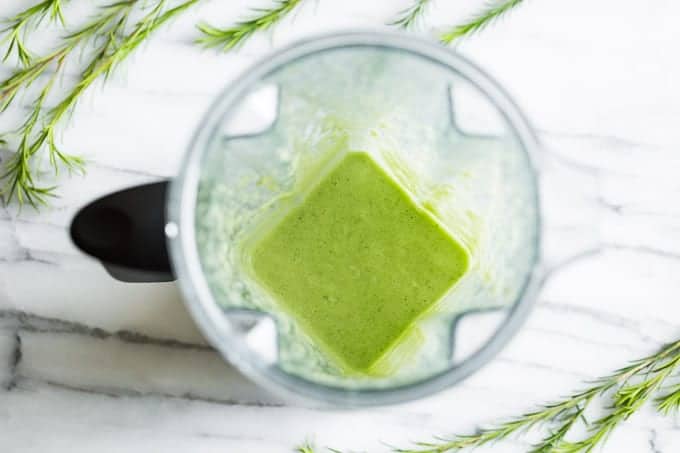 This mask is super simple to make because you just add everything to the blender and give it a whirl. But since you need a certain amount in a blender for things to actually blend, this recipe does make a few cucumber facial treatments at a time.
However this is more of a benefit than anything else because you can just freeze the leftovers in an ice cube tray for facials to come.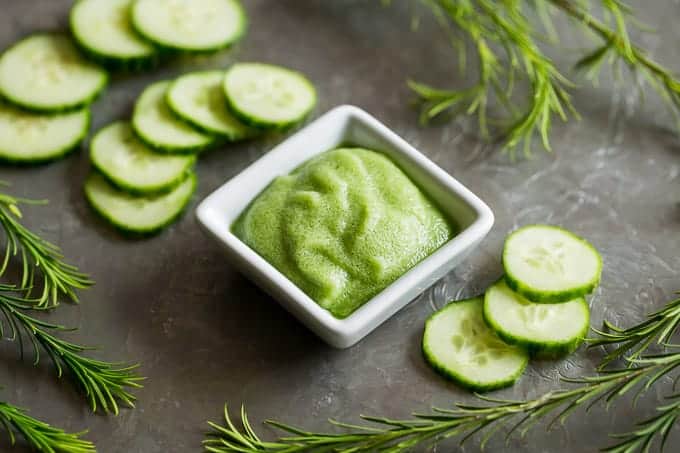 I kept about 1 tablespoon out for a facial right away. Then I froze the rest, and I still have couple facial ice cubes left after a month, which is so great! I love it whenever you can cut down on prep time because it makes beauty treatments actually doable.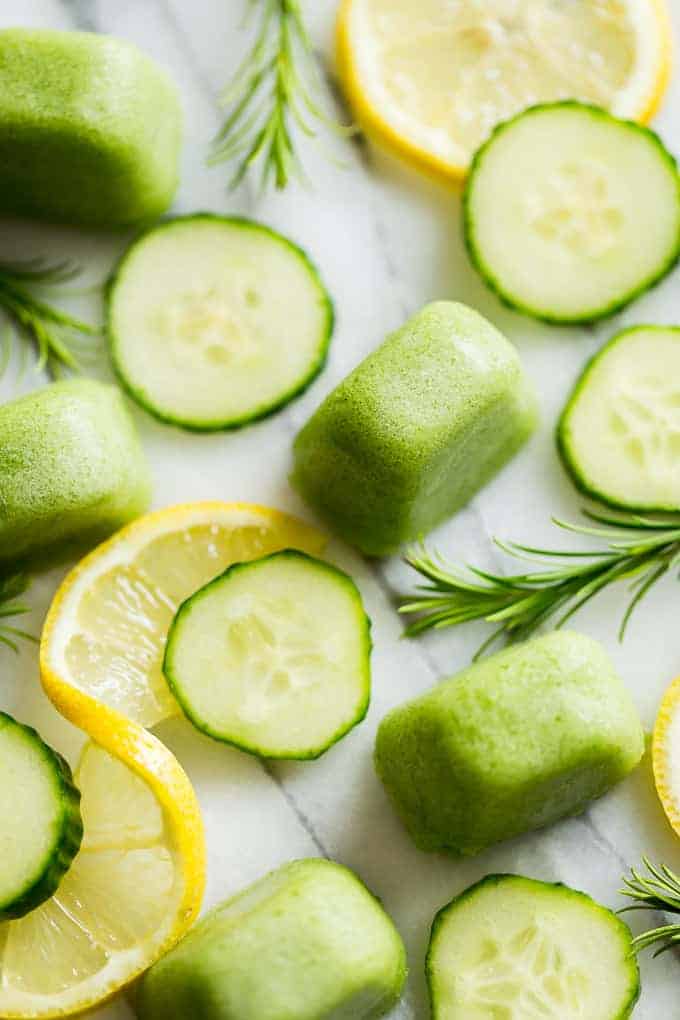 When you do want to use one of your frozen facial cubes, simply get one out of the freezer to thaw. What usually works best for me is to get one out before I go to bed, then place it in a container in the refrigerator to use the next day. Or the exact opposite, I get one out in the morning before work, place it in the refrigerator, and use it right before bedtime. They also thaw in about 1 hour on the countertop as well, if that's more convenient.
Cucumber Collagen Facial
Ingredients:
1/2 small English cucumber, 5 ounces
2 Teaspoons freshly squeezed lemon juice
1 Tablespoon gelatin, preferably grass fed, regular gelatin from the store can have a funny smell.
1 Tablespoon collagen powder
Instructions:
Place all the ingredients into a blender. Blend starting on low working up to medium speed, blending until the mixture is smooth.
Keep about 1 tablespoon out for a facial right away, (within 1 day). Then portion the rest out into an ice cube tray for a total of 12-14 facial cubes.
Freeze the facial cubes until solid. Then remove them from the ice cube tray, and place them in an airtight container to store in the freezer for at least 1 month.
Frozen facial cubes will thaw in 1 hour at room temperature. Or you can place them in the refrigerator for 4+ hours to thaw, and use within 1 day.
To use this facial, apply it to your clean face, and let it sit for 15-20 minutes or until it begins to dry and feel tight around the edges. Rinse thoroughly in the sink, or in the shower.