This DIY Homemade Massage Oil is simple to make, and makes a great gift when you customize the scent for each person you're gifting to!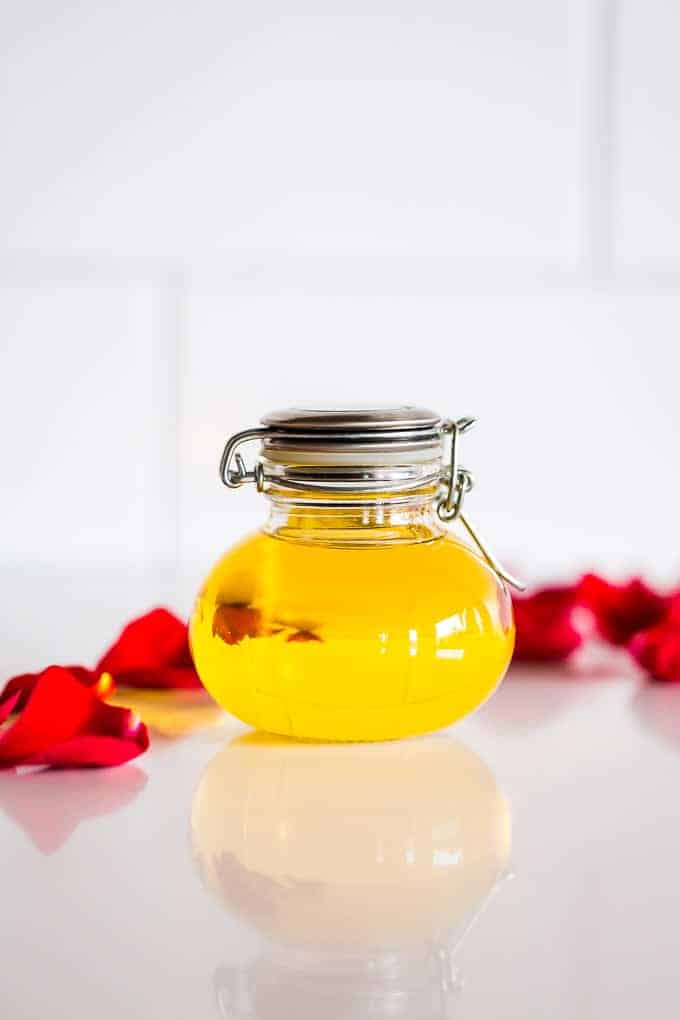 There's nothing more soothing and relaxing than a nice massage. And today I have a customizable oil blend for you to enjoy this comfort right from your home. This makes a great gift, especially with Valentine's Day right around the corner.
Our anniversary is just a couple weeks after Valentine's Day, so that was my inspiration for this massage oil. Last year for our 10 year anniversary we stayed at a little B&B in Fernie B.C. where we got married. (You see some photos of our wedding and Fernie in our 7 tips from 7 years of marriage post.)
Between sleeping in, eating at our favorite places, and soaking in their wood fired hot tub, things were pretty awesome that weekend. But on top of that they had a sauna as well. And I'll tell you what, there's nothing quite like getting a nice massage, only to follow it up with the sauna or hot tub.
All in all we were feeling pretty pampered, and decided massages should be a more regular thing for us. We're both looking to take a class to improve our skill since it's such a nice way to unwind. (So I'll definitely let you know if I find an online class that works well!)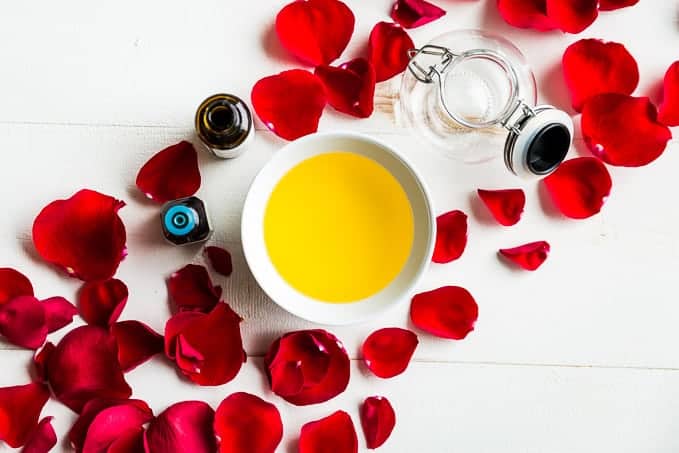 And now how to make this DIY Homemade Massage Oil:
Start by selecting what they call a carrier oil – this should be a lightweight oil that literally carries the scent you'd like to add. My favorite is jojoba oil since it's properties are very similar to that of our skin. But you can also use almond oil, grape seed oil, or any other lightweight skin safe oil you prefer.
Add your favorite essential oils and transfer the mixture to a dark bottle so that it keeps well. For the photos here I used a clear glass jar for visibility purposes, but dark glass preserves the essential oils better.
Gift right away to a partner or friend, and it should be used within 3-4 months. Just be sure to shake it well before each use as the essential oils will separate over time.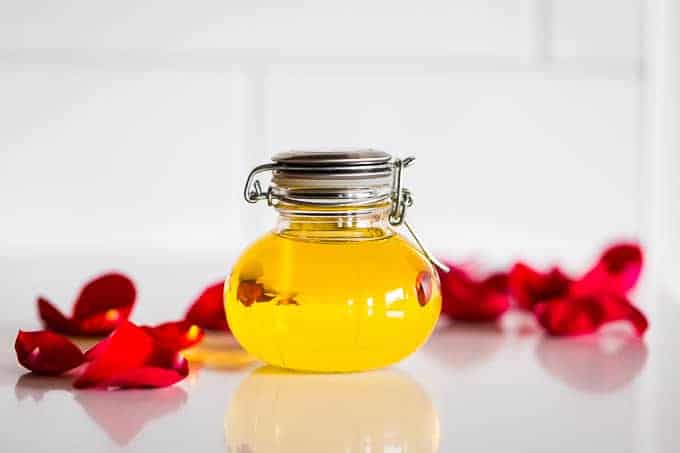 Hands and Feet Massage:
Our hands and feet do so much for us, and they love a little TLC. Pick either one or both if you have time to do for your self, or for a partner. Just 10-15 minutes later you'll feel like a whole new person! I particularly notice it with my feet and so does my husband, but I guess it's because we're both on our feet for the bulk majority of every day.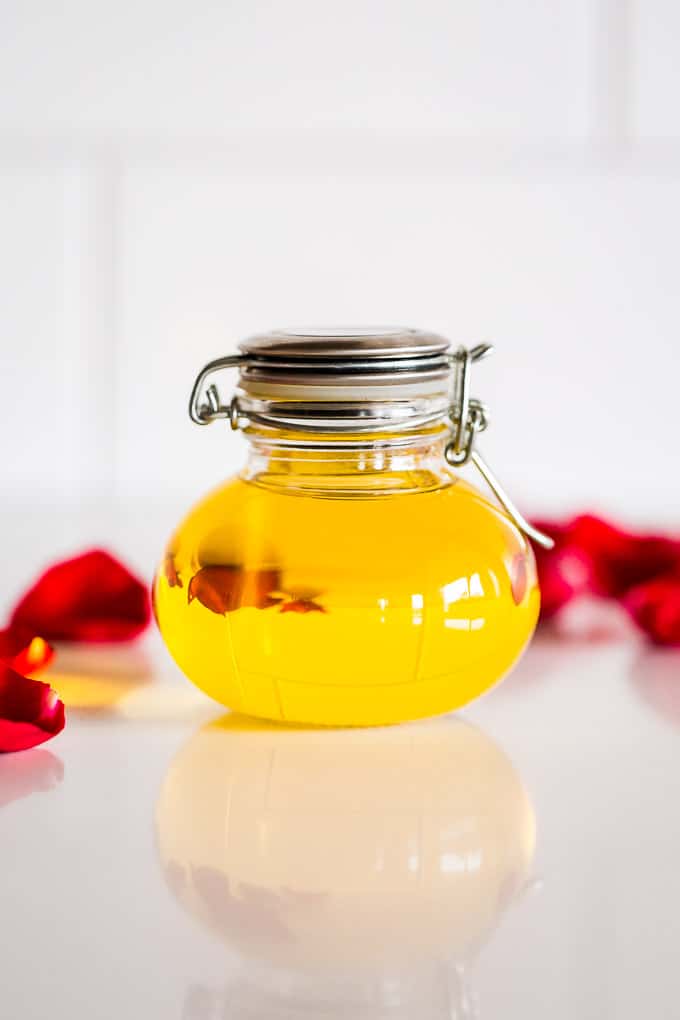 How to turn this massage oil into a spa basket: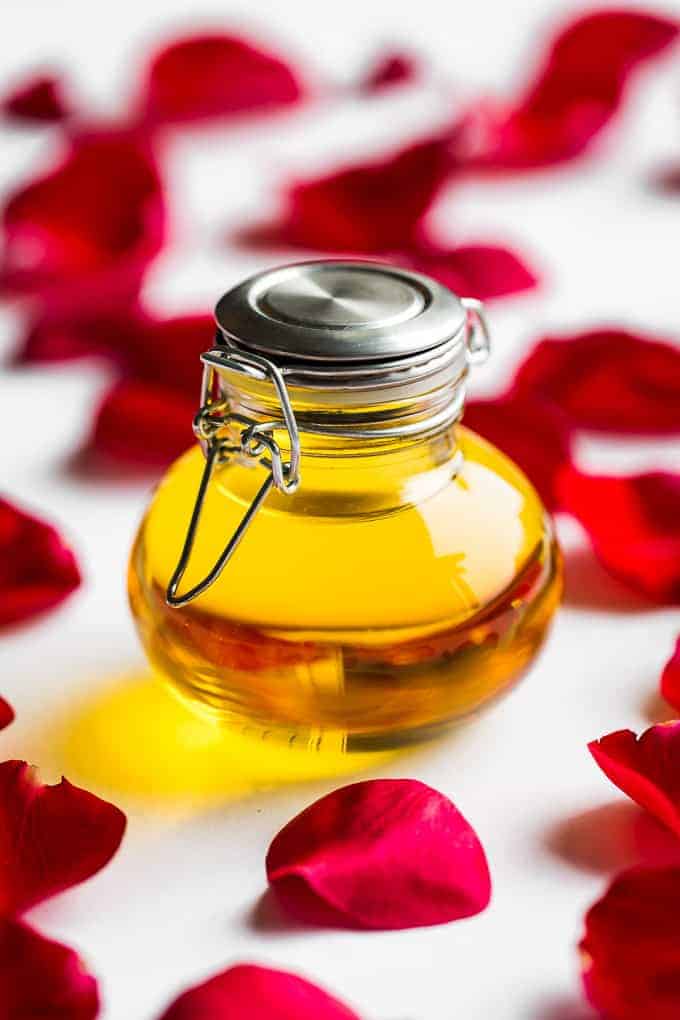 Facial Massage:
This is one of my favorite relaxing 'end of the day' things to do that's fantastic for your skin. I use straight jojoba oil without any essential oils because my facial skin is so sensitive.

But you just take a few drops and massage it into your skin, starting at your chin and working upwards in small very soft circles. It's very relaxing, great for circulation, and provides a nice moisturizing effect as well!
If you do make this DIY Homemade Massage Oil, I hope you'll leave me a comment/rating below. And I always love hearing from you here and over on Instagram where you can tag me at #getinspiredeveryday with your photos.
Print
DIY Homemade Massage Oil
---
Author:

Kari

Total Time:

5 minutes

Yield:

1/4 cup or about 12 massages
Description
This massage oil comes together in just minutes and makes a great gift!
---
Carrier Oil: Jojoba, sweet almond oil, or grape seed oil
Vanilla jojoba oil, see notes
Essential Oils: 12 drops total of whatever blend you'd like, see notes
Orange and Lemon for bright and fresh
Lavender or chamomile for calming
Cinnamon or nutmeg for comforting or romantic
Other combinations:
8 drops orange with 4 drops rose added to the vanilla base above
4 drops cinnamon, 4 drops lemon, 4 drops nutmeg for a bright baking smell
8 drops mint and 4 drops eucalyptus for invigorating, especially nice for hands and feet
---
Instructions
If you'd like to add vanilla to your carrier oil, I've found a 3:1 ratio works best. So if you have 3 Tablespoons jojoba oil, then use 1 Tablespoon of vanilla oil.
Otherwise, use 1/4 cup jojoba or carrier oil of your choice. Then select a blend or single essential oil you'd like to use and add it to the carrier oil.
Mix them together and check to see if you like the amount of scent. Add more if desired, then transfer to a dark/opaque container for storing up to 3 months.
Use about 1 teaspoon for a massage, less if it's just hands and feet.
Notes
Since vanilla essential oil is very expensive, I like to use a vanilla jojoba oil which is just the essential oil in a carrier oil. It's much more affordable that way.
The recipe calls for 12 drops of essential oil, but you can add as little or as much as you'd like.
Prep Time:

5

Category:

DIY

Method:

Mixing
Keywords: DIY, Homemade Massage Oil, Homemade Beauty Products