You can make this easy Homemade Sugar Scrub in less than 1 minute, and it costs just pennies to make! Making your own sugar scrub is the easiest DIY recipe for sure and it works way better than anything you'd buy in the store. You also control exactly what goes into your sugar scrub for non-toxic skin care. This scrub is perfect for exfoliating dead skin cells keeping your skin nice and smooth. You won't have to worry about dry skin, and it's perfect for spa days.
Why bother making your own sugar body scrubs? Well… so many reasons really! It's way cheaper and more effective for one. And then there's all the fillers and questionable ingredients you find in the store bought ones.
When you make your own sugar scrub, you can be assured there's no unnatural dyes or chemicals added in. Did you know the average women uses 168 chemicals per day on her skin? But there's no Polysorbate 20, Benzyl Benzoate, or propylene glycol here! So many ingredients you find on the label can cause skin irritations and more for some peoples skin.
As someone who has extremely sensitive skin, I started making my own skin care products over 20 years ago now as a young teenager and I've never looked back. And I often get compliments on my skin with follow up questions about what I use.
I always tell people it's the quality of homemade ingredients and maybe even more important, what I don't use on my skin! So if you're looking for ways to simplify your skin care, or for recipes without all the strange additives, be sure to check out the extra DIY's I linked to at the end. You'll find all kinds of natural beauty products to choose from with simple recipes!
Budget friendly! This homemade sugar scrub at current prices (April 2022) cost $2.40 to make vs. $10 for cheaper store bought and upwards to $32 for higher end store bought sugar scrubs. I use to be able to make this for less than $1 but oil prices are higher at the moment.
Ingredients & Substitutions
Sugar – I like to use organic cane sugar, also called raw sugar, or turbinado sugar, for my scrubs because it has a great texture for exfoliating. You can use different types of sugar as well like regular white sugar which also works, it's more fine in texture which can be good if you have extra sensitive skin. You can also use brown sugar if desired.
Oil – use any oil that works well with your skin type. I like to use coconut oil or jojoba oil. Coconut oil takes a couple of minutes to work into the sugar. But if you use an oil that is liquid at room temperature like jojoba, you can stir this scrub together in less than 1 minute! Some people also like to use sweet almond oil or olive oil as well. I tend to stick to coconut and jojoba because they work best for me.
Essential Oils – are completely options and I often don't use them. But they do smell nice and you can pick your favorite to use here. I tend towards the citrus oils like lemon, orange, and grapefruit, but peppermint, cinnamon, or lavender essential oil can be a really nice change too. Or you can use any blend you like as well.
How to make this recipe step by step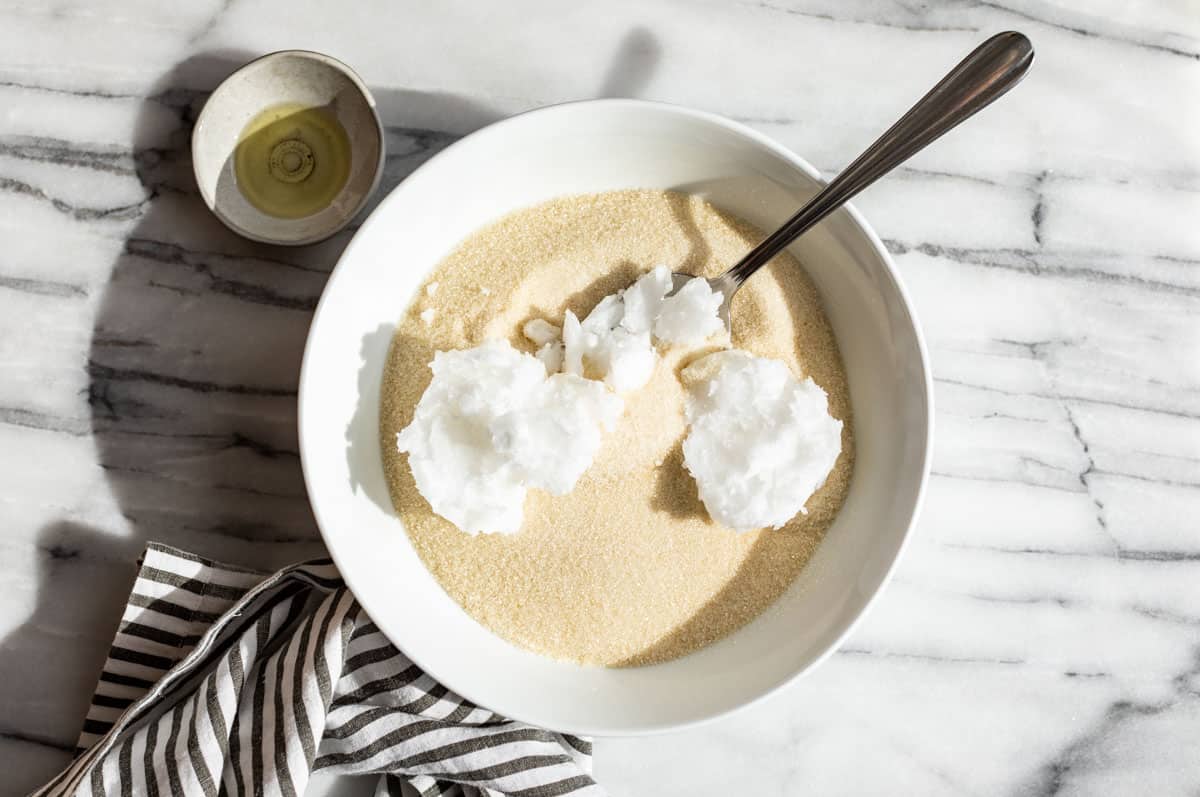 Step 1: Start by adding the sugar and oil to a large mixing bowl. You want to make sure you have plenty of room to mash the oil and sugar together with spilling over the edge, especially if you use coconut oil. I like to use a serving spoon to mash the oil into the sugar.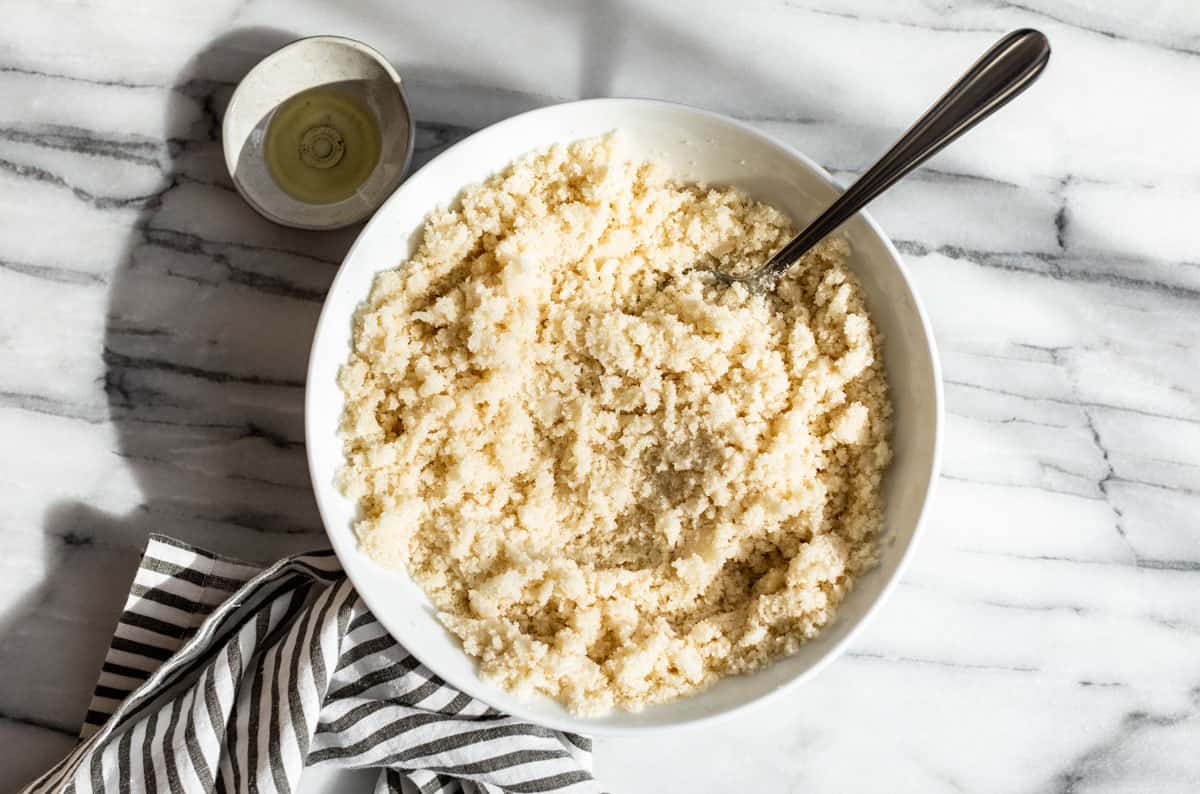 Step 2: Once the oil is completely worked into the sugar, and it's the consistency of lightly wet sand, stir in drops of essential oils if desired.
Step 3: Finally transfer the batch of sugar scrub to a clean container for storage.
How to use sugar scrub: Using 1 tablespoon at a time, gently rub the sugar scrub into your wet skin in the shower, then rinse off. 1/4 cup sugar scrub works pretty well for a full body scrub, but you can use more or less.
Important Note! Sugar scrub can cause the bottom of the shower/bathtub to become oily so be careful not to slip. I also soap off the bottom of the shower after I'm done using sugar scrub so the next person to use it doesn't slip!
FAQ's
What does sugar scrub do?
Sugar scrubs exfoliate and moisturize at the same time leaving your skin glowing and smooth!
Is sugar scrub good for your skin?
Yes and no! Sugar scrubs are safe and great for most people. However they are not suitable if you have any kind of skin inflammation like a rash, sunburn, or skin condition!
What kind of oil is best for sugar scrubs?
Any oil you know works well for your skin is the best one to use. Coconut oil works great for a lot of people, and jojoba is the closest to our own skin oils which makes it good for almost everyone. Try to avoid low quality oils like canola, vegetable oil, soybean oils, etc.
Can I use extracts for different scents in sugar scrubs?
Only if they're glycerin based. I don't recommend using vanilla extract because it's usually alcohol based which can cause hardened chunks to form in your sugar scrub.
Storing
Place the extra sugar scrub into sealed container or small individual containers and store in a cool dark place for up to 3 months.
Tips & Tricks
Try any kind of oil works best for your skin. I love going back and forth between coconut oil and jojoba oil. Also any oil that's liquid at room temperature is super easy to mix together with the sugar.
Mix it up with the essential oils to create fun variations.
Place these in nice containers tied up with colored string or brown string for a homemade gift. Mason jars come in different colors now which work really well for sugar scrub. They're a great gift for Mother's Day, a Christmas gift, or as a gift idea for bridal showers and baby showers.
More DIY Recipe Inspiration
I really hope you enjoy this Homemade Sugar Scrub! If you do get a chance to make this recipe, please leave a rating below, I'd love to hear from you in the comments. You may also enjoy my Lemon Sugar Scrub or my Lavender Sugar Scrub.
Easy Homemade Sugar Scrub
---
INGREDIENTS
2

cups

organic cane sugar

1/2

cup

coconut oil

-

room temperature, or jojoba oil, sweet almond, or olive oil

Optional: essential oils of choice
INSTRUCTIONS
Mix together the sugar and coconut oil until thoroughly combined. Use a spoon to mash the oil into the sugar. Or if you're using an oil that's liquid at room temperature, simply mix it in.

Add drops of essential oils if desired until it smells the way you like. Mix again to combine.

Transfer the finished sugar scrub into a sealed container or small containers.  Store in a cool dry place and use within 6 months.
Bonus Step
If you made this recipe, please leave a rating/comment. Ratings really help us continue to bring you high-quality free recipes. Rate This Recipe!
NOTES
This recipe makes at least 8 full body sugar scrub treatments, but this is a generous portion of 1/4 cup of scrub.