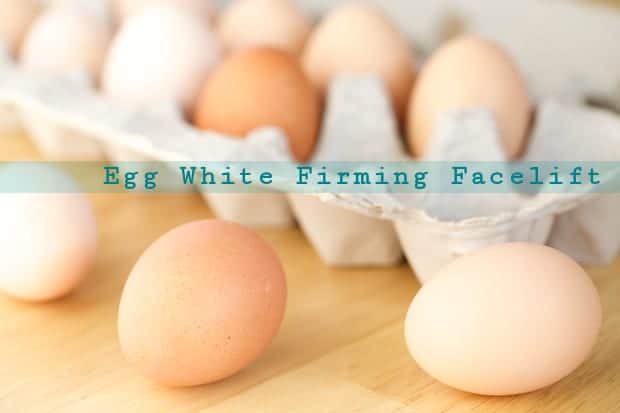 "This mask can dramatically tone your skin and visibly shrink your pores!" This was said by the author of this recipe, Stephanie Tourles, and I'll admit I thought it might be a bit dramatic. You see… I can be a bit of a skeptic about these kinds of claims. However, the results are dramatic – it really works wonders on my face. She says it's like a temporary facelift, and she's not exaggerating!
This is definitely my number one go-to mask when I want serious results quickly. The only downside I can see, (other than the lifting being temporary and all) is you have to lay quietly somewhere for 15-20 minutes while it dries. You see the problem? Lying still for 15 minutes presents more of a challenge than I'm up to sometimes. All the other masks I use can be applied while on-the-run, so to speak. I always multitask while I'm doing beauty treatments because they take such a long time to set up, and I can usually get a load of laundry done, dishes washed, and floors cleaned in the time it takes a hair treatment and a facial to be finished!
It's really relaxing to just slow down for 15 minutes for this mask. I find it's easier for me to relax when I listen to my latest audiobook, and at the end of the treatment my skin looks miles better! The whole reason for the 'laying flat while it dries' is so that the mask lifts and tightens in the right direction. If you're standing while it dries, it will pull your skin downward – not what we're after here! I would highly recommend using this mask whenever you have anything big coming your way, and you want to pull out all the stops!
Life has gotten so busy over the last several years, I find myself not taking the time to enjoy the little things. Bringing this mask back into a more regular rotation is probably a good start to slowing down the hyper multitasking, and just enjoying a little time out and some pampering!
Print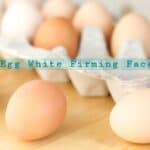 Egg White Firming Facelift Mask
---
The white of 1 cold fresh egg

1 Teaspoon

cornstarch
---
Instructions
Combine the egg white and cornstarch in a small bowl with a small whisk or fork. Mix well, and make sure the mixture isn't lumpy.
Using your finger, apply the mask to a clean face and throat area in a thin, even coat.
Lie flat for 15-20 minutes while the mask dries.
This mask is really tightening. At the end of the drying time you won't be able to move your face. When it gets to the point where it's uncomfortable and starting to itch, it's time to rinse it off. I find it's easiest to remove this mask in the shower.
This mask is for all skin types and can be used 1-2 times per week.
Notes
I always reserve the leftover yolk for my scrambled eggs the next day.