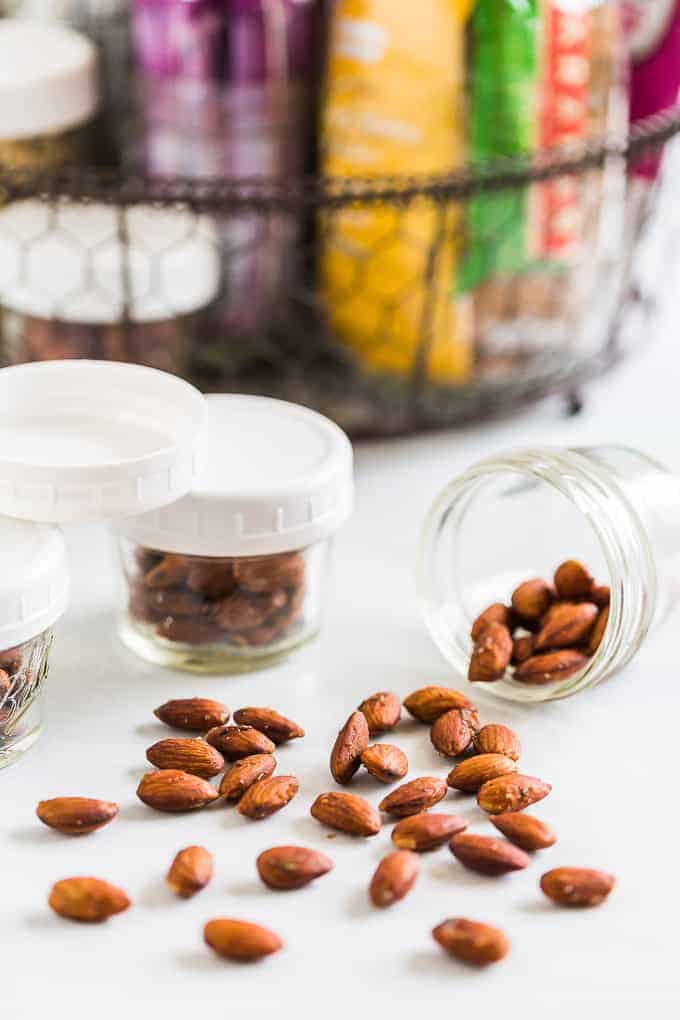 Meal prepping has been so helpful to both of us for eating healthier on a regular basis. But meal prepping snacks has been just as important if not even more so. Having a healthy option around to grab when you're running out the door in a hurry is beyond helpful.
So with that in mind, all of my meal prepping snacks are based off things that keep for weeks to even months at a time. You can buy any of the components to put together your snacks when you're short on time. Or you can do a combination of homemade and store bought.
The way we've found works best for us is to have a 'snacks station' of sorts in a central area of our house. I keep the basket pictured below on a counter where our kitchen, dining, and living room all intersect. That way, when we're on the way out the door, it's perfectly placed if we need to grab something to take along.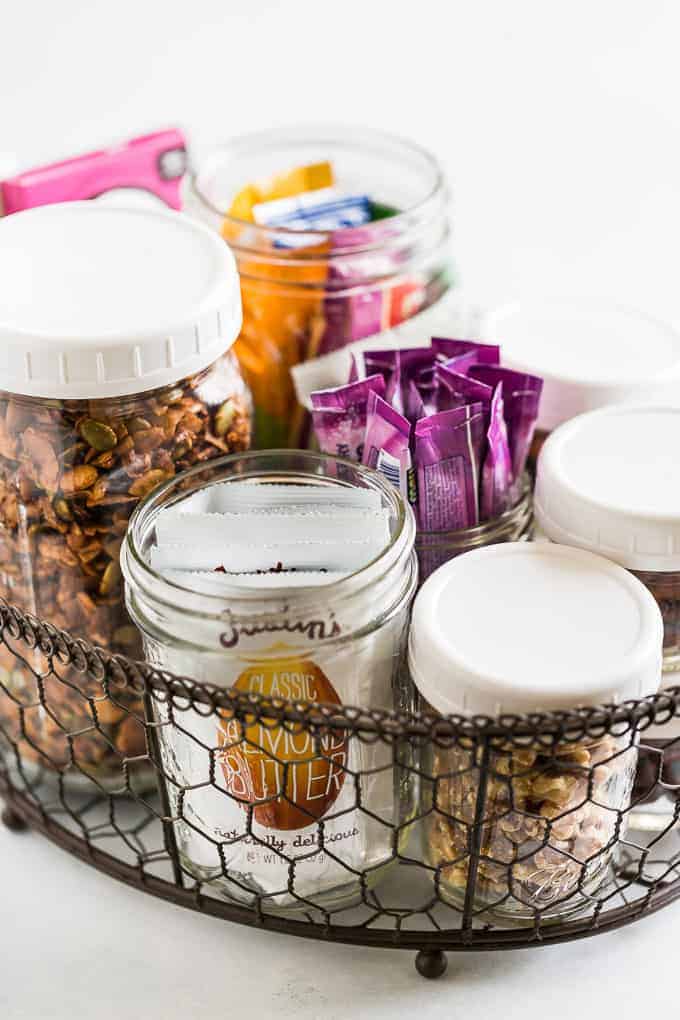 I always vary what we keep in the basket, but today I have a rundown on the basic snacks we always have on hand. First up I keep most things stored in mason jars to keep it organized and simple. I almost always have a jar of my Maple Cinnamon Granola because it's so versatile, and sometimes I have it portioned into mini 1/4 cup mason jars as well.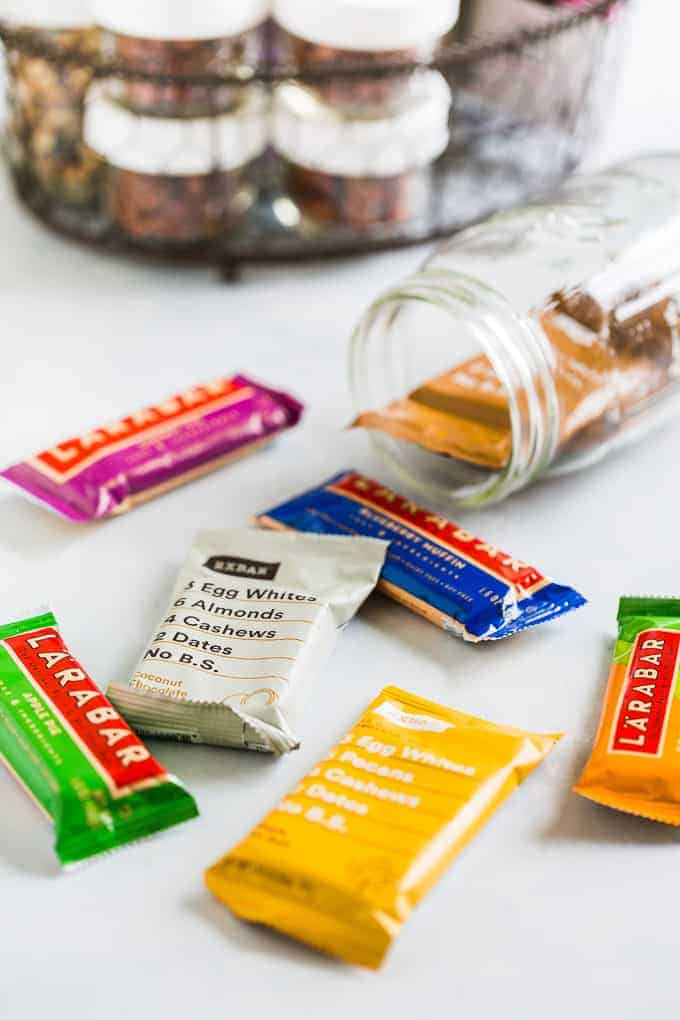 Then I have another jar filled with energy and protein bars. I love making my own energy bars, and usually have some in the freezer, but it's really nice to have some options that don't need to be refrigerated. I also keep another jar full of individual nut butter packets I can grab with a piece of fruit. Mostly I just grab some nut butter from the tubs in the fridge, but the packets are super handy for any kind of travel or errand days, (once again the convenience comes in because they don't have to be refrigerated.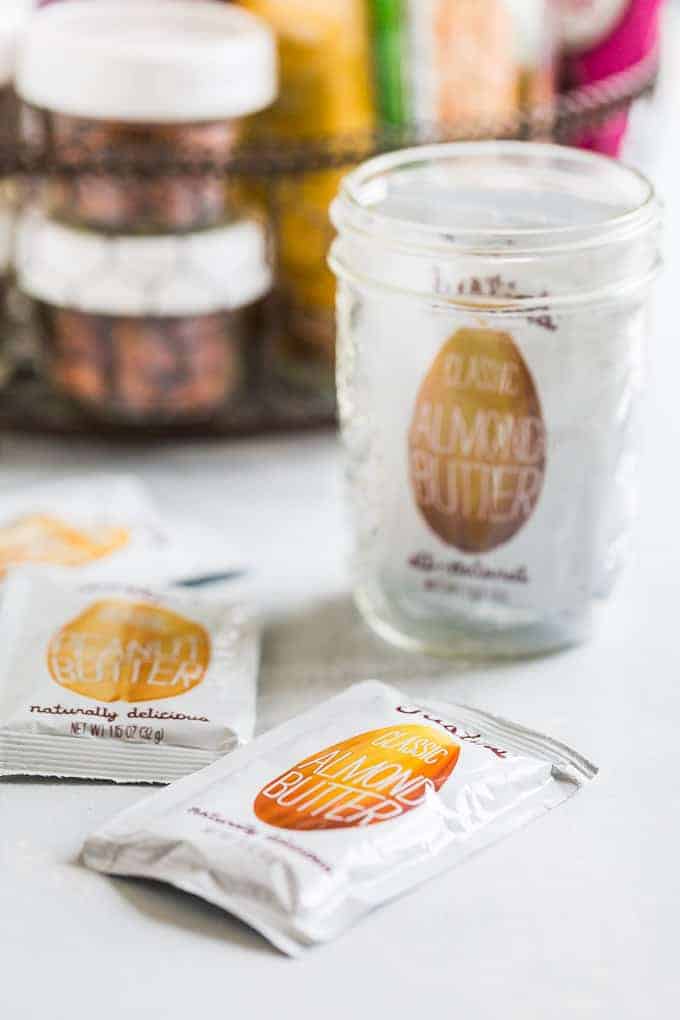 I also try and have some sort of flavored roasted nuts like my Rosemary Sea Salt Roasted Almonds portioned out into mini 1/4 cup mason jars with lids. These make a really great grab and go snack. And if you're short on time, you can always portion out raw nuts, or buy your favorite flavor from the store.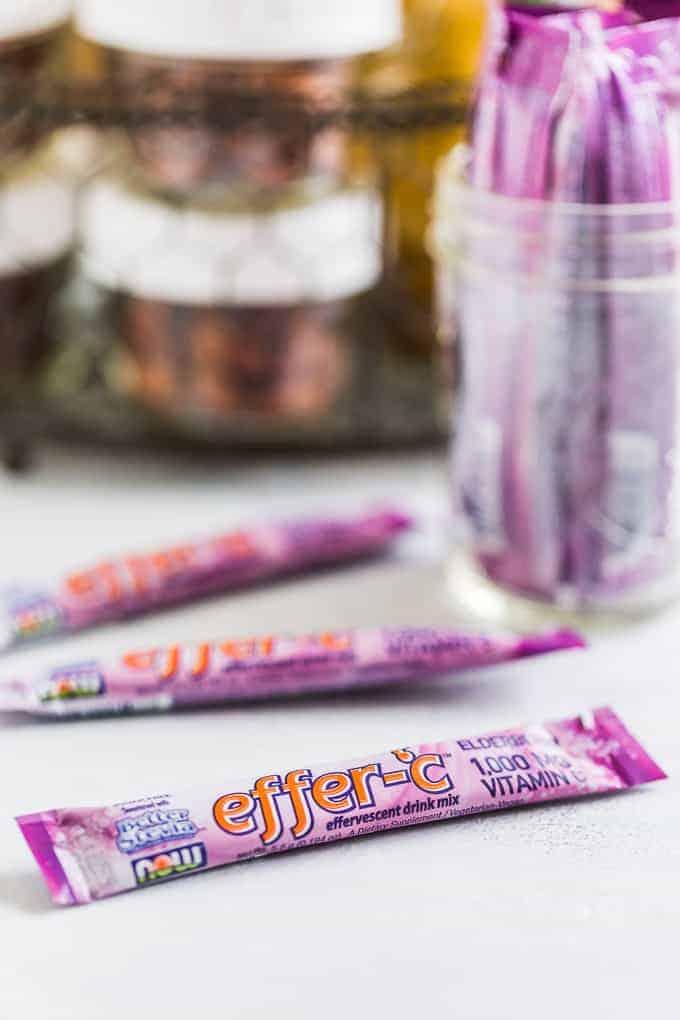 In the middle of the basket I have a small jar filled with Vitamin C packets, which aren't technically snacks since there's no calories in them. But I do find them to be a great pick me up in the afternoon when I feel like I'm lagging a bit. Also having the Vitamin C packets out and visible helps me remember to have one whenever I feel like I might be coming down with something. This has actually helped both of us avoid getting sick by making things more convenient.
Finally tucked away in the back is where I keep my chocolate bar supply. I love having a piece or 2 of chocolate as the ultimate afternoon indulgence. But this is definitely something that comes and goes, because it's better for me if I don't have chocolate around 24/7.
And that's all there is to our meal prepping in the snacks department. It's super simple and doesn't actually require any cooking at all if you don't want it to. But we've both found it to be really essential to eating healthier. Sometimes you just need a snack/mini meal to tide you over a few hours, and having something healthy waiting for you, is the perfect way to go.