This homemade Moisturizing Mint Body Wash is easy to mix together, and I love the cooling effect of mint on my skin!
I don't really know why it's taken me so long to make another body wash recipe. But ever since I first did this Grapefruit Ginger Body Wash, I haven't made another one.
It could have something to do with selling our house – then moving – then the crazy process of building. You know what… that's probably it! Making body wash, and my even skin care products took a bit of a backseat over the last couple of years. But I'm back today with an all new fresh, (no pun intended) body wash recipe.
The inspiration for this recipe came from a minty body wash I used to buy. I loved the refreshing/cooling feeling of a mint body wash. But here's the thing… they stopped making it, and I haven't found one since that I'm all that crazy about. So the obvious solution was to make my own!
I also wanted to make a body wash that was a bit more moisturizing. Depending on where you live, you might be all too familiar with the extra dry skin that seems to accompany the last bit of winter.
I think what happens for me is a slow slide into laziness with my skin care habits. This usually results in really dry skin around January. That seems to continue right through April until we really start to see the sun again. But this year has actually been better thanks to this moisturizing body wash!
What you need to make this homemade Moisturizing Mint Body Wash
Castile soap – I use the unscented one from Dr. Bronners.
Jojoba oil or coconut oil, (melted) – as you can see from the photo above the soap pictured here is made with coconut oil. But I also like jojoba oil as well because I find it absorbs really well into my skin.
Aloe vera gel – I love how aloe moisturizes without leaving an oily residue behind. That's why I like to combine it with oils for my lotion and body wash recipes.
Honey – just a touch of this to help with moisturizing as well. Honey is a humecant which means it draws water to itself, and helps your skin to stay moisturized.
Essential oils – I like to use a combination of eucalyptus and peppermint essential oils here because it smells even better than just mint by itself.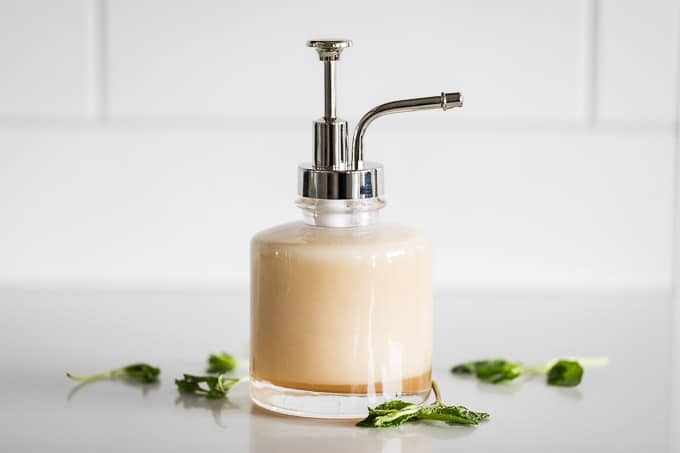 Once you mix everything together, transfer it to a pump handled container. I found this one at Target, and they usually have a good selection of different styles.
Tip: Use a funnel to make pouring the soap into the container a lot easier!
Important Note: This body wash separates between uses because there are no binders or stabilizers. Simply shake it together before each use!
And finally, I hope you enjoy this body wash recipe! If you do make it, I hope you'll leave me a comment/rating below. And I always love hearing from you here, and over on Instagram where you can tag me at #getinspiredeveryday with your photos.
Moisturizing Mint Body Wash
---
INGREDIENTS
1/2

cup

unscented castile soap

1/4

cup

melted coconut oil

-

or jojoba oil

2

tbsp

aloe vera gel

-

at room temperature

1

tbsp

honey

-

melted into a liquid if needed

25

drops

peppermint essential oil

5

drops

eucalyptus essential oil
INSTRUCTIONS
Whisk together all the ingredients until completely combined.

Use a funnel to pour the body wash into your choice of container. I like to use one with a pump handle to makes this soap easier to use as it's thinner than a store bought body wash.

Use within 1 month for the best results, and if the body wash separates, simply shake it back together before use.
Bonus Step
If you made this recipe, please leave a rating/comment. Ratings really help us continue to bring you high-quality free recipes. Rate This Recipe!
NOTES
You can also keep this body wash unscented or use any combination or single essential oil you love. You may also enjoy my Grapefruit Ginger Body Wash.