So why bother adding superfoods to your smoothie? I mean.. smoothies are already packed with fruits and veggies which are pretty healthy all on their own. But I guess I'm more along the lines of why not?
Superfoods pack a lot of nutritional punch in small doses, so adding a little goes a long way! I definitely suggest using a small amount and working up to what tastes good to you. Superfoods often have an intense flavor that's perfect in small amounts but can be overwhelming if overused.
Below I've listed out my favorite superfoods to add to smoothies and smoothie bowls. It's by no means a comprehensive list, since there's tons of superfoods out there, these are just the ones we use consistently. I've also included some links to smoothie/smoothie bowl recipes for lots of inspiration!
Since adding smoothies into the regular rotation, we've both noticed a definite improvement in overall energy. It's a super easy way to get in several servings of fruits and veggies without having to work at it. And what makes smoothies even better in my opinion is they're portable for on the go nutrition!
Below are our favorite superfood smoothie boosters:
1. Turmeric – this one has had the spotlight lately for good reason. It's superpower is the antioxident curcumin which studies are showing to be an anti-inflammatory. My favorite way to consume it (besides curries) is in this Golden Milk Tropical Turmeric Smoothie.
2. Bee Pollen – It's superpowers are so numerous, it's hard to know where to start! Bee pollen is made up of 40% protein which contains essential amino acids. It's also rich in vitamins, especially the B-complex. It's used to boost the immune system, and has been shown to help in some cases with allergies. It has anti-bacterial, anti-viral, and anti-fungal properties and is just generally awesome! I love sprinkling bee pollen over the top of my smoothie, (I personally don't like it blended in). You can also sprinkle it on any smoothie bowl like my Green Smoothie Breakfast Bowl.
It's best to drink/eat the bee pollen quickly before it starts to melt into your smoothie for the best flavor.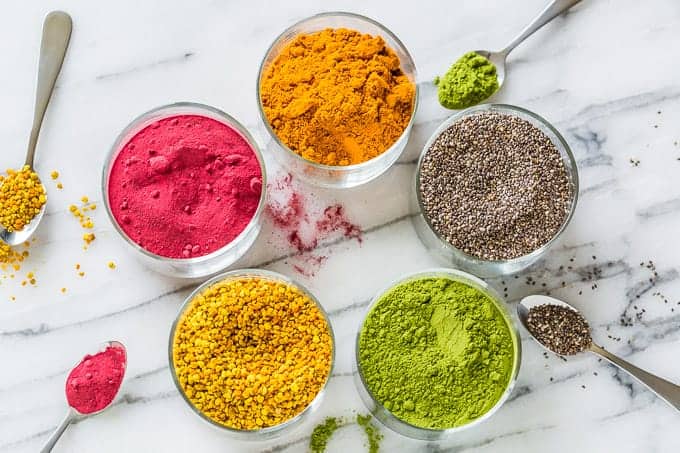 3. Green Powders of all kinds – My favorite way to add a green punch of nutrition to my smoothie is alfalfa or barley grass juice powder. Both of these have a fruity green flavor that blends really well into your green smoothies. You can also add Hawaiian Spirulina which is an algae packed with protein, antioxidents, vitamins, and more. The only thing with spriulina is sometimes I've gotten batches that have a very strong 'ocean' taste if you know what I mean. I now buy mine at a local health food store in the bulk section. What you want to look for is a slightly sweet smell and no offensive fishy odor.
Alfalfa has a wide selection of vitamins and minerals as well as being the most concentrated source of chlorophyll in the plant world! It's a fantastic way to boost the nutrients in any smoothie. Barley grass juice powder has all the same things going on as alfalfa, plus it's a source of organic sodium which helps to dissolves calcium deposits in joints.
You can add any green powder you choose to any smoothie you'd like. I like to add them to my green smoothies to increase the nutrient levels and get a double boost of greens.
4. Beet Root Powder – You can definitely just add fresh beets to your smoothie. But since I don't always have them in stock, I bought a raw (not heated) beet root powder to add a boost to smoothies. Beets are full of superpowers too with their phytonutrients having anti-cancer properties.
They can help fight inflammation being a source of the nutrient betaine. And they're rich in all sorts of nutrients including Vitamin C, manganese, potassium, Vitamin B6, and folate.
I've found the powder to be milder than adding fresh beets to your smoothie, so it's easy to incorporate a teaspoon here and there to any fruit smoothie. My favorites are Glowing Berry Beet Smoothie and this Tropical Strawberry Bliss Smoothie. It's also great to add to my Berry Green Smoothie to help make sure this purple smoothie doesn't show picky eaters there's spinach hiding in there!
5. Chia seeds – These are a great way to boost your smoothies! You can sprinkle them on top, or soak them in water and refrigerate them overnight to add to your smoothie bowl the next morning. Chia seeds main claim to fame is that they're high in Omega-3 fatty acids. They're also really high in fiber which helps you stay full for longer, and they have a decent amount of protein as well. They're high in vitamins a minerals pretty much making them nothing short of amazing!
6. Hemp Seeds – These are another favorite, mostly because they're packed with plant-based protein. But they're also rich in Omega-6 and Omega-3 fatty acids as well as vitamins and minerals. I like them in small amounts blended into my smoothies, or larger amounts over the top of smoothie bowls. I personally don't like the flavor of more than a tablespoon or two blended into my smoothies, so just experiment to see what you like. Try them sprinkled over my Cranberry Orange Smoothie Bowl or a Cinnamon Crunch Apple Pie Smoothie Bowl.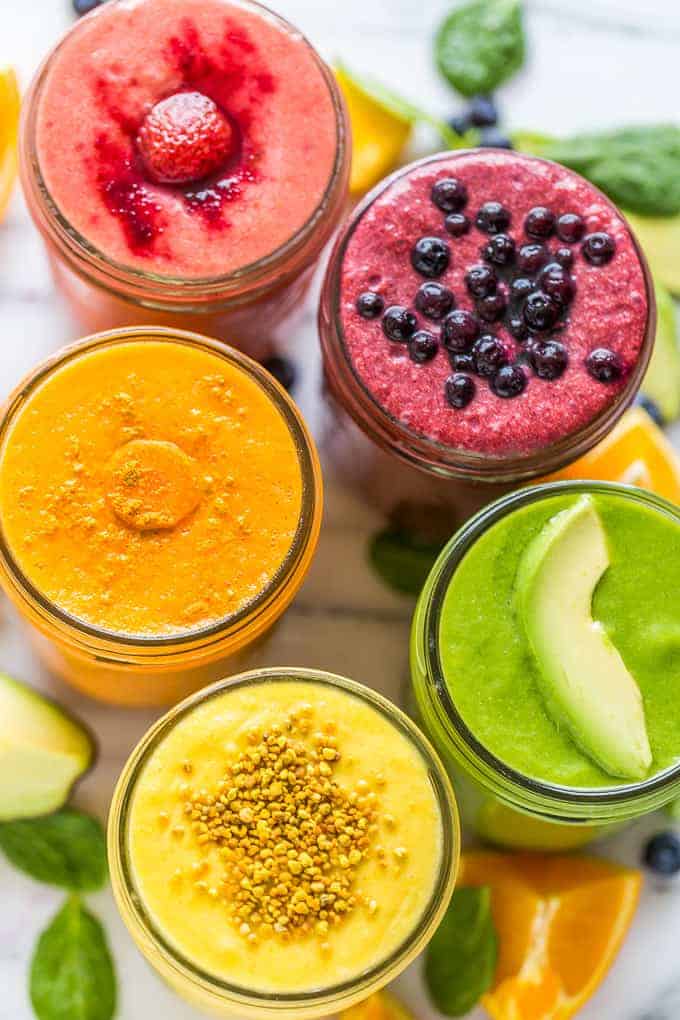 And finally my favorite way to add even more goodness to a smoothie is to use either kombucha or coconut water as the liquid instead of water or juice. Most store bought juices has been pasteurized, and is basically empty sugar filled calories. By using coconut water instead, it's a great way to add electrolytes to your smoothie, and kombucha is a fermented beverage that adds probiotics, and is rich in B vitamins.
If you made it through all that, I hope you've come along with me in thinking 'why not' add some of these nutrient dense foods to your morning smoothie!
P.S. I thought I included them all, but I forgot all about avocado! I love adding avocados to my smoothies for a good source of healthy fats. They're especially good in green smoothies, and they help green smoothies stay tasty all day long. Otherwise without avocado, green smoothies are the tastiest when consumed immediately after blending. Healthy fats help you absorb all those vitamins and minerals, so avocado might be the most important superfood of all!
Update: I've really been enjoying the benefits of smoother skin from adding collagen to my smoothie over the last while. Not only is it a great source of protein, but it's said to be a source of nutrition to help with healthy skin, hair, and nails.