Avalanche Lake in Glacier National Park is my favorite 'first hike of the season'. spring and Fall are my favorite times to hike it because it is one of the most touristed trails in the Park during the summer, and for good reason. It's fairly short with a round trip of 5 miles, not much elevation gain, and absolutely stunning views. You also get the see Avalanche Gorge (which is accesible by wheelchair), so it's two for one! If any of you are runners, this is my favorite trail run (back when I used to run). I'm looking forward to being in running shape again, but for now hiking and scrambling are my new favorite activities.
Avalanche Lake sits in a mountain cirque, and the views are gorgeous all around. There is still a fair bit of snow in the mountains, so as we were sitting by the lake we could here it avalanching out of the mountains. The lake takes on different colors throughout the seasons. It's more glacier blue and a little cloudy in the spring, but in the fall it's crystal clear.
We hiked to the other end of the lake and Tyler got his fly-fishing rod out for the first time this year. It was so peaceful, and the sun was so nice and warm that I had a nap before we headed back out.
The peaks on the other side of the lake reminded me a little of the Valley of the Ten Peaks in Banff. It made me miss Canada with all our fun adventures there, and I can't wait for our next visit to the mountains there.
On the way back we stopped to take a few pictures of the first wildflowers. Above is a Trillium and below is the Glacier Lilly.
A couple of years ago, an avalanche ripped through this area and opened up the views. It's probably the only time I've thought the destruction of an avalanche added a lot to a hike. It's fitting to the name and adds a lot of interest to this trail.
There are giant Cedar trees here, beautiful ferns, and lush (for Montana) undergrowth. The sun trickles through making dappled patterns on the forest floor.
We always stop at the gorge on the way back. As many times as I've been here, I never get tired of watching the water rush through. The perk of coming to Avalanche early in the season is the gorge is roaring with all the spring runoff. Even though it can be really busy here in the summer, it is definitely worth while especially if you don't have much time for any longer excursions.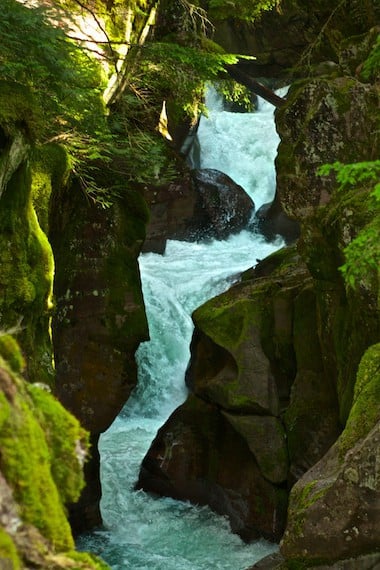 Have a great long weekend!