Hiking the Cassidy Arch Trail in Capitol Reef National Park is a 'must see' as you make your way through Utah's mighty 5. It's one of the rare arches you can stand on, and the views are absolutely incredible! It's a moderate trail that's perfect for families and even kids enjoy this one. You can also combine this hike together with the Grand Wash Trail as well for some extra credit.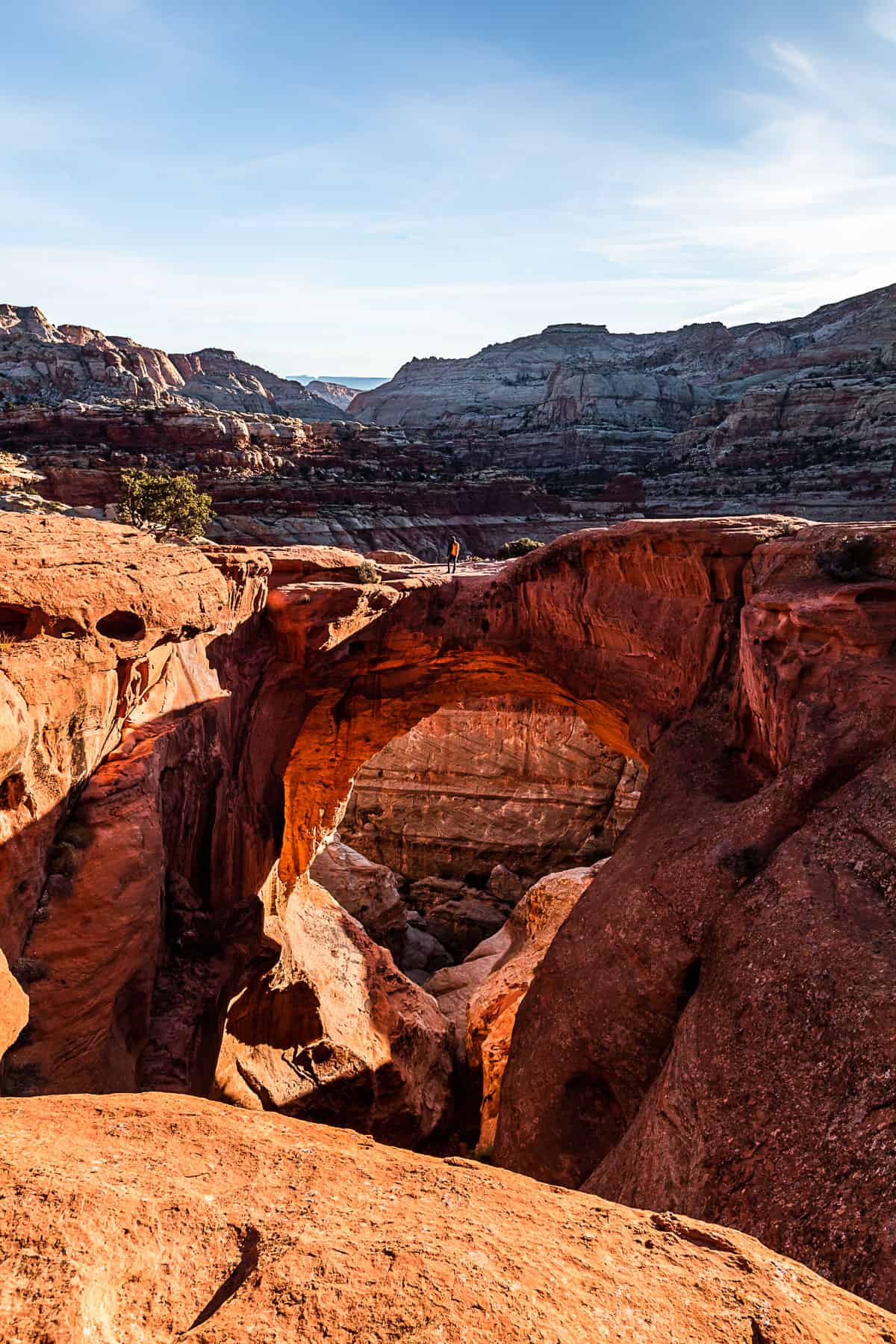 This hike was one of our all time favorites in Utah's National Parks, and that's really saying something! Utah has what they call the 'Mighty 5' of national parks including Bryce Canyon, Zion, Arches, Canyonlands, and Capitol Reef.
And while you can't go wrong with any of these stunning parks, Capitol Reef is a bit of a hidden gem among the 5. We enjoyed this quieter park, and were consistently surprised by the different hikes we went on. Each one was unique in it's own way, but Cassidy Arch really stood out.
First of all because you get to stand right on the arch which feels amazing as you take in the views around you. And secondly because we took some extra time here to sip from thermoses of coffee as the sun rose giving the whole scene a truly unreal glow.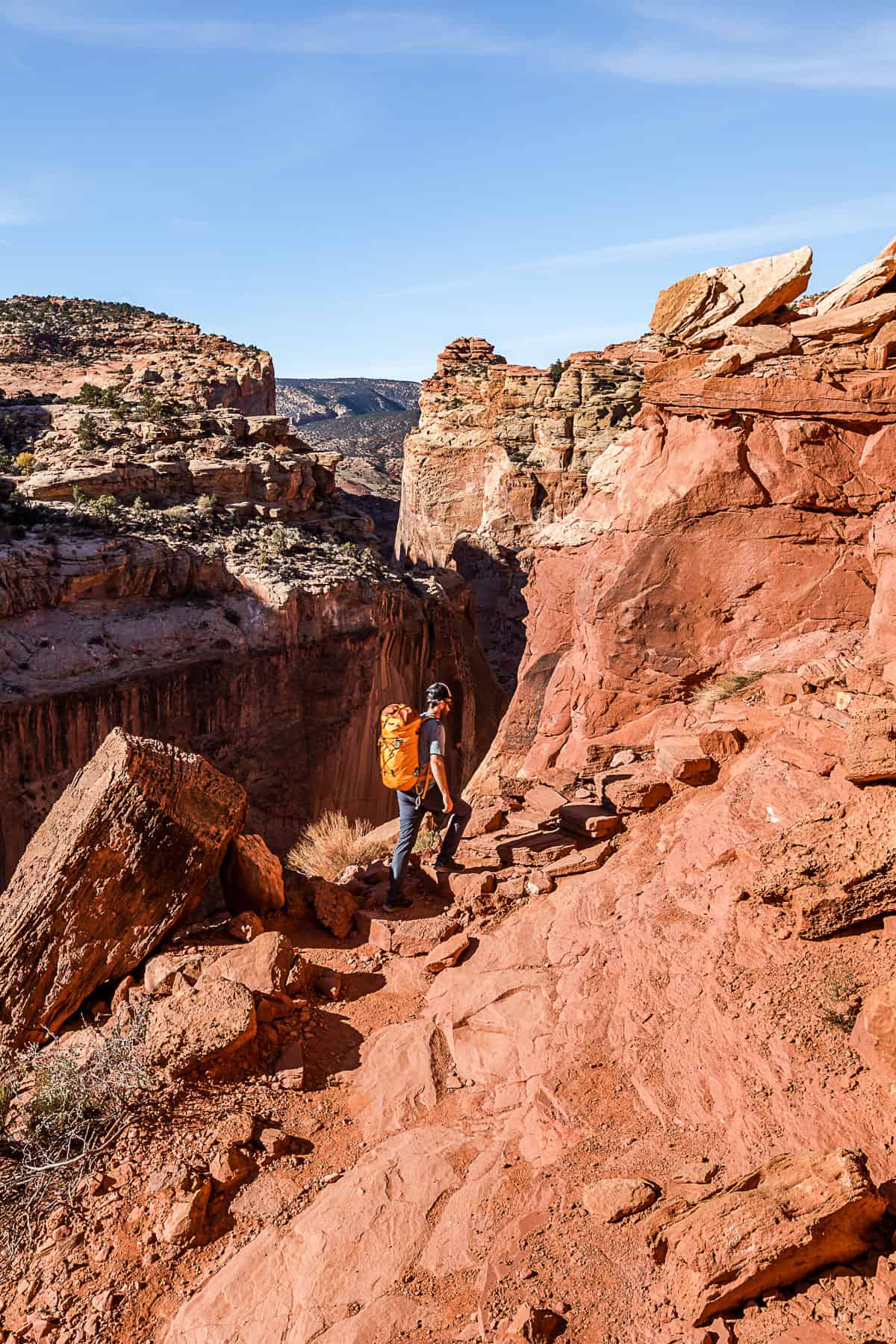 Everything you need to know to hike Cassidy Arch Trail in Capitol Reef National Park
Distance – 3.5 miles rountrip
Elevation gain – sources vary between 600-700′
Trailhead – Grand Wash Trailhead located off Scenic Drive. From the visitor center, drive on Scenic Drive about 3.4 miles, then take a left onto the gravel Grand Wash road and drive to the end, about 1.2 miles.
Trail – mostly rubble and rock with some slickrock near the arch, not much sand on this hike!
Bathrooms – pit toilets at the parking lot.
When to hike – year round for this hike, but spring and fall have the best temperatures and less crowds.
FAQ's
Can you stand on Cassidy Arch?
Yes! It's one of the rare arches you can stand on in a national park and it's legal at this location.
How long does it take to hike to Cassidy Arch?
About 2 hours roundtrip depending on how fast you hike of course, but this takes in account a moderate pace. You may want to book some extra time in to get a photo at the arch. There's plenty of people who will take a photo for you for one in return!
Is Cassidy Arch worth it?
Yes, a resounding yes! This hike is stunning with views all around. It begins with a steep climb with a few switchbacks from the parking area, but ascent quickly levels out and becomes very moderate.
Where do you park for the Cassidy Arch trail?
At the Grand Wash trailhead parking at the end of Grand Wash road which intersects with Scenic Drive.
Why is it called Cassidy Arch?
It's named after the famous or 'infamous' outlaw Butch Cassidy who was a bank and train robber as well as the leader of the 'Wild Bunch' his gang in the Old West.
Tips for hiking Cassidy Arch Trail in Capitol Reef National Park
When you get to the slick rock, stay on the most level area and look for the cairns, they can be hard to see. The rock will go up steeply to your right, stay below this and work left following the cairns to the arch.
Take a moment to look around if you're not seeing the arch, it creeps up on you! I was looking and looking, then I turned to my left and there it was!
The arch is really wide, so you may be able to go out on it even with a fear of heights. If you're with children, keep a close eye on them! Everything is safe as long as you stay away from the edge and the giant hole under the arch.
Go in the morning or evening for the best temperatures and fewer crowds.
Be sure to bring clothes to cover up/sunscreen and sunglasses because there's little shade.
If you go later in the day, don't forget the rocks hold onto the heat which makes it feel hotter.
Be sure to bring salty snacks and plenty of water.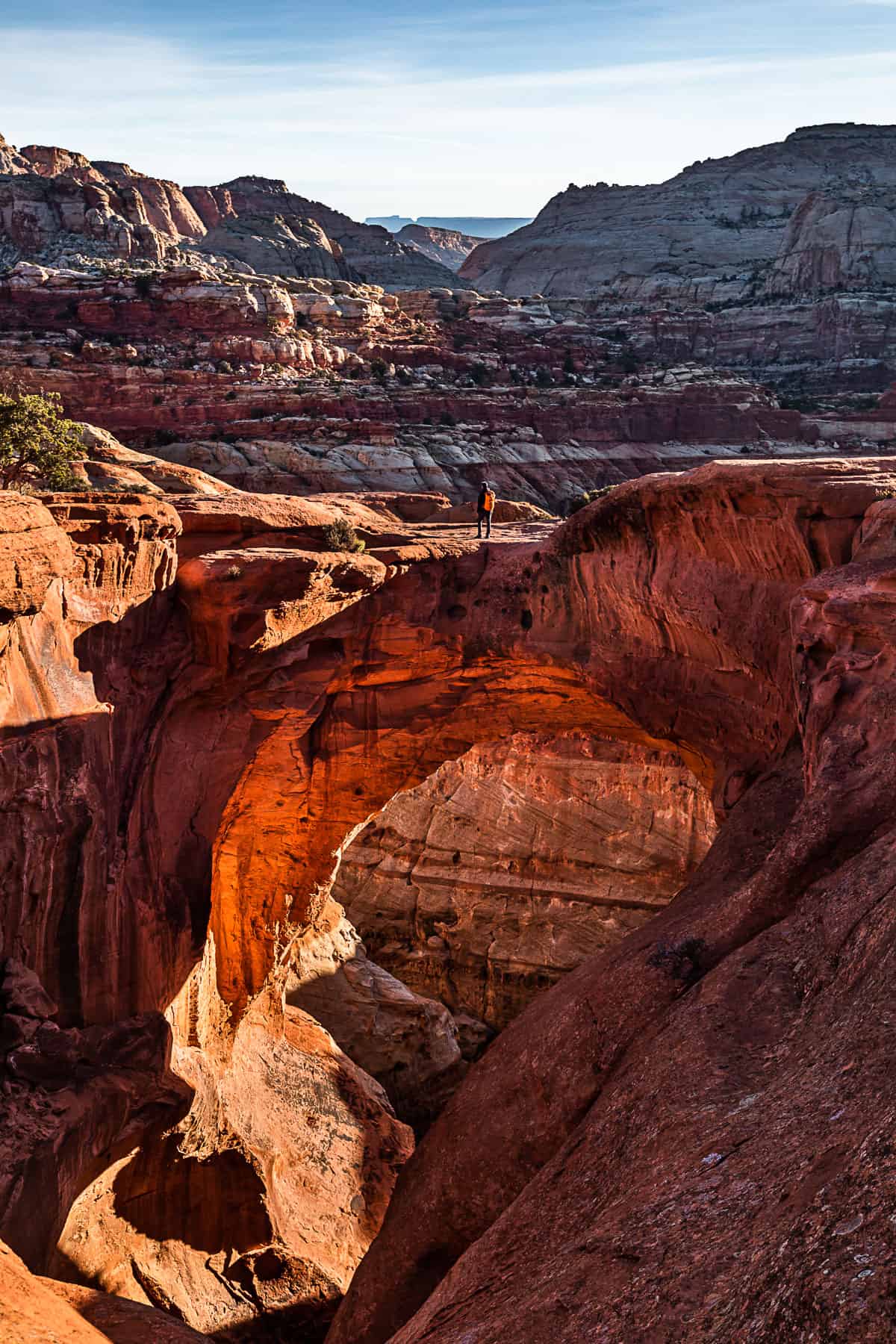 Other great hikes in Capitol Reef
Hickman Bridge
Grand Wash Trail – shares the same trailhead as Cassidy Arch – the Frying Pan Trail also connects with Cassidy Arch from a spur trail partway through.
Rim Overlook/Navajo Knobs
Cohab Canyon
Chimney Rock
Story of our day in Capitol Reef National Park
We started this hike in the dark because we knew it had the possibility to be busy. And we pretty much flew up the trail because we could hear people behind us already. I have to admit… I found myself thinking 'what does it take anymore to get away from the crowds?'. But it all turned out for the best. There was just one group behind us and they were climbers that were headed in to rappel down the arch.
They took some photos of us standing on the arch, then we took photos for them before they started gearing up. We had planned on just watching the sunrise, drinking coffee, and snapping the occasional photo. But instead, we were treated to all 3 of them taking turns rappeling down in the giant hole underneath the arch.
Outline of our day visiting Cassidy Arch
Sunrise at Cassidy Arch with freshly brewed coffee in a thermos.
Pie at the Gifford Pie House.
Hiking Cohab Canyon in a sugar coma mid-afternoon, (it wasn't too hot).
Scenic Drive
Burgers at Capitol Burger food truck
After a spectacular morning, we decided to head back down now that the sun was well up in the sky. As we headed back we met a lot of people heading up, mostly groups of climbers on the weekend. But there were also a fair amount of families with young children. As a side note, this hike is great for kids because it's not too long.
We got back to the parking lot as people were starting to really get stressed about the small parking lot. There was a family double parked behind our truck waiting for something to open up. So when we showed up to leave, that pretty much just made their day!
From there we headed over to the Gifford Pie House and bought some pies to take across the street to a large park full of picnic tables. We made some more fresh coffee and enjoyed it with our pie in the shade of the large trees overhead.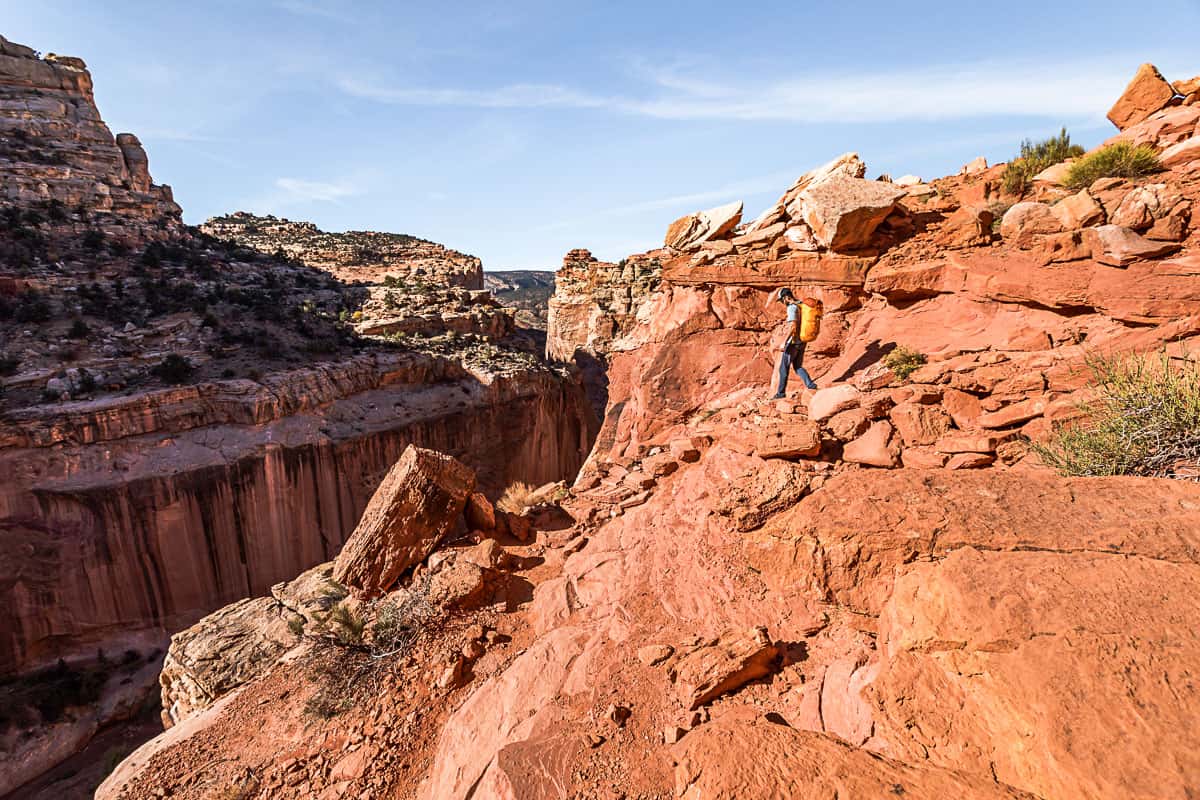 (Pro tip: Strawberry Rhubarb was the clear winner of all the pies we tried!)
Normally we eat pretty healthily at home, so we were really feeling it that we got up in the dark and had only had coffee and pie that day. So we headed back to the truck to find some protein. Then in a sugar coma, we headed out to hike Cohab Canyon in the afternoon. I should mention this was the fall, so it was cool enough to be hiking.
From there we decided to do a sunset drive up the Scenic Drive all the way to the very end and back. I definitely recommend it even if you do just the paved section. But the dirt road is suitable for all types of vehicles, just check for restrictions on the length if you have a very large vehicle like an RV.
With the sun dipping behind the hill we headed into the town of Torrey, (just 8 miles outside the park) and got burgers at Capitol Burger food truck. They sure lived up to the hype! We got a classic burger along with their famous 'mac and cheese' burger with green chilies. Obviously, after 2 hikes and a long day, we pretty well crushed the burgers in just a few minutes.
From there we headed to some dispersed camping nearby, parked and fell asleep almost the second we laid down! That's it for now, but I've listed out our 3 days in Capitol Reef National Park below. For reference, we go really hard on vacations, so please don't pile too much into a sightseeing schedule if you're planning your visit!
3 Awesome Days in Capitol Reef National Park
Day 1:
Starting the afternoon before we drove from Escalante on the Loop the Fold route backcountry route, and camped in dispersed camping outside Capitol Reef.
We got up in the dark and hiked into Hickman Bridge for sunrise, then backtracked a bit and took the side trail to the Rim Overlook and on to the Navajo Knobs. From there we set up a time-lapse at Sunset Point and sat around for a bit because we were exhausted!
Day 2:
Sunrise at Cassidy Arch with freshly brewed coffee in a thermos.
Pie at the Gifford Pie House.
Hiking Cohab Canyon in a sugar coma mid-afternoon, (it wasn't too hot).
Scenic Drive & Grand Wash Scenic Drive
Burgers at Capitol Burger food truck
Day 3:
Drove some of scenic Hwy 9
Hiked to Chimney Rock
Tacos at Chak Balam – so good!
Drove towards Salt Lake City heading home
Everything I've written about Utah's Mighty 5 Parks to help you plan your trip
Arches National Park – haven't written about this but Double O Arch and Delicate are worth the hike.
Canyonlands National Park – only have 1 written, but definitely try Syncline Loop if you're up for a challenge, or Upheaval Dome. Mesa Arch is incredible but crowded.
Zion National Park – lots of inspiration here.
Bryce Canyon National Park – you can't go wrong here and we've also done Fairyland Loop which was great.
Capitol Reef National Park – Cassidy Arch is the 1st one I've written here, but I can vouch for all the hikes we listed above. If you have time for just a few, Cassidy Arch, Navajo Knobs, and Hickman Bridge are all great.
And finally, if you're traveling in this area of Utah, don't forget about the whole wonderful area around Moab like Corona Arch!