We loved hiking the Fairyland Loop Trail in Bryce Canyon National Park with its incredible views! This hike is considered strenuous, but I highly recommend it if it's within your abilities. It's quieter than other hikes in Bryce Canyon, but no less scenic. Be sure to bring snacks, plenty of water, and a camera for all the stunning scenery along your adventure.
A bit less traveled than Navajo and Queens Garden with the beautiful 'Wall Street' section, Fairyland Loop is a 'can't' miss hike. It's non-stop ever changing views with plenty to keep you entertained throughout the day. We did this hike counterclockwise starting at Sunrise Point pictured above and really enjoyed hiking this way.
It does mean you have the most 'boring' part of the hike along the rim of the canyon last. But it also means you can be down with the hoodoos and see all the things before the heat of the day. You can't go wrong with this hike though, the landscape is gorgeous no matter which way you go. If you're lucky enough to be there with 2 vehicles, you can leave one at Fairyland Point and skip the final rim section!
Everything you need to know to hike Fairyland Loop Trail
Distance: 8.0 miles, or 12.9 km, some sources say 8.4 miles
Elevation gain: 2,309′ according to the park website
Difficulty rating: it's rated as strenuous but we found it moderate. Difficulty changes a lot with desert hiking depending on heat etc., so you want to come prepared.
Trailhead: you can start at either Sunrise Point or Fairyland Point to complete this loop. We preferred starting at Sunrise Point for the best photography and views earlier in the day.
Trail – Dirt or orange mud depending on moisture with some rocky rubble.
Bathrooms: at Sunrise Point, but they didn't open until 9 am when we were there. There are no facilities at Fairyland Point.
When to hike – year-round for this hike, but spring and fall have the best temperatures and fewer crowds.
Hiking Tips for Fairyland Loop Trail
Hike counterclockwise! For the best experience start at Sunrise Point rather than Fairyland Point. This way you'll hike down into the canyon and have the best light and coolest temperatures with the best scenery. You can't go wrong any way you go, but we were so glad we went this way. However, it does mean a slight uphill slog in the heat of the day along the rim trail which has good views but boring sections. So make sure you save something fun to talk about for the end of the hike… like food… we always talk about food on the way back to the truck!
Begin the day early if you're starting at Sunrise Point. Sunrise Point is very popular and the parking area begins to fill up early in the morning even in the off-season.
Skip the spur trail to Tower Bridge. If you're short on time we didn't think it was worth the detour to a viewpoint with a lot of trees in the way, (pictured above). You also get to see it a bit better from the main trail without having to take the spur trail. This is just a personal opinion of course, and if you have plenty of time and energy you might as well get a nice close look. After Tower Bridge hike counterclockwise and you'll see Boat Mesa next.
Hike with plenty of water and snacks! You need a lot of water and salty snacks/food to hike in the desert. The park service recommends 1 liter per person for every 2-3 hours. We packed 2 liters each for this trip which took us about 6 hours, (average is 4.5 hours). We always pack a bit extra because we stop a lot for photos, and these canyons get very hot during the day.
Bring layers, sunscreen, etc. to cover up as the sun gets higher in the sky. We started off on a 23ºF morning with some snow and I forgot my baseball cap. I ended up lightly burning the tops of my eyelids which swelled up for a couple of days and was quite cute haha! Luckily it was a very light sunburn but be sure to double check you have everything you need before starting off!
Check for road closures to Fairyland Point at the park entrance station or visitors center. This access road is occasionally closed, so it's better to know before you head into the park.
FAQ'S
Where do you park to hike Fairyland Loop?
You can park at Fairyland Point or at Sunrise Point to hike this loop hike. Ask for a map when you enter the park and follow the signs if you don't have cell phone service to use Google Maps.
How long is Fairyland Loop Trail?
The Fairyland Trail is 8.0 miles and takes between 4-5 hours to complete. We took 6 hours and we stop constantly for photos etc and took a long lunch as well.
Just after I got the above photo of Tyler standing on the ridge viewpoint, a large group of hikers came through all wearing fairy wings. I started talking to them and asked what the occasion was for wearing fairy wings.
They looked at me weirdly, but were nice enough to say it was for 'Fairyland Loop'. I had to laugh at myself when I realized how obvious that was, but I'll just blame my slowness on a lack of sleep.
By the time I finished talking to them, I realized I never got a photo of the 'fairies' hiking through Fairyland Loop. But there is a video clip somewhere I'm going to add to this post someday!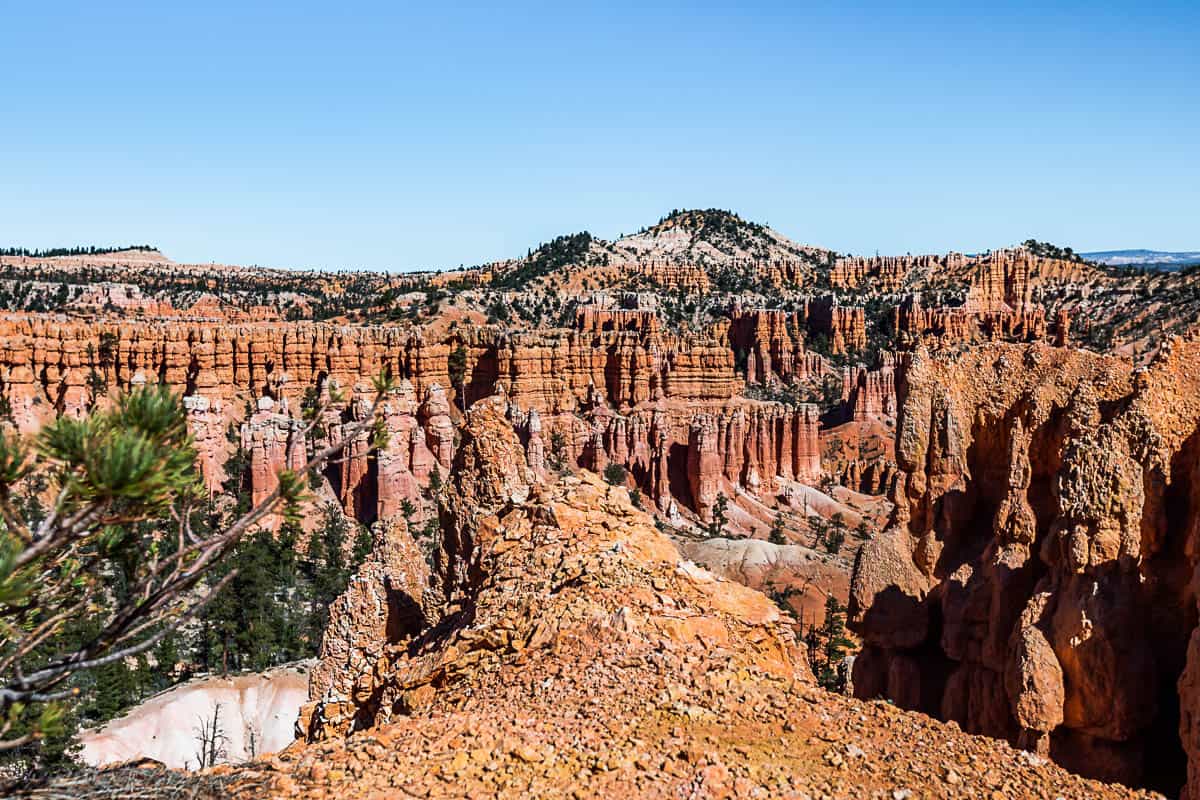 We really lucked out in early October to hike this with a touch of fresh snow. The views in Bryce Canyon are even more stunning with white dusting.
By the afternoon the trail had turned to very sticky mud, (2 photos above) and we had mud spattered all the way up the back of our pants. We also had to take breaks to scrape the 4-5″ buildup from the bottom of our hiking shoes.
Definitely be ready for a big mess if you happen to be here when the trail is wet, but is more than worth some mud!
Overall there wasn't any part of this trail we didn't enjoy, except some portions of the Rim Trail that complete the loop. The scenery varies so much as the trail changes elevation up and down, there's always something to see.
From a mix of hoodoos to more treed areas with ponderosa pine, the variety was really nice. We also enjoyed how much quieter this trail was than others we've done.
We definitely recommend Navajo Loop and Queen's Garden of course, but they're much busier. (Navajo trail takes off from Sunset Point.) If you do decide to add them to your trip, start early and add Peek-a-Boo Loop afterward if you have the energy. Peek-a-Boo is also a bit quieter and really gorgeous as well.
We met a couple on this trip that had hiked Fairyland, Navajo & Queen's Garden, and Peek-a-Boo Loop all in 1 day for a total of 20 miles! I personally wouldn't recommend it, and they did say the scenery got to be 'all the same' by the end of the day.
We call it getting 'Bryce Canyon-ed out'! There are just only so many hoodoos you can see before the awe starts wearing off. In fact, I would probably just choose 1 hike in Bryce combined with other parks in Utah. And then hike in Bryce Canyon again another time if possible.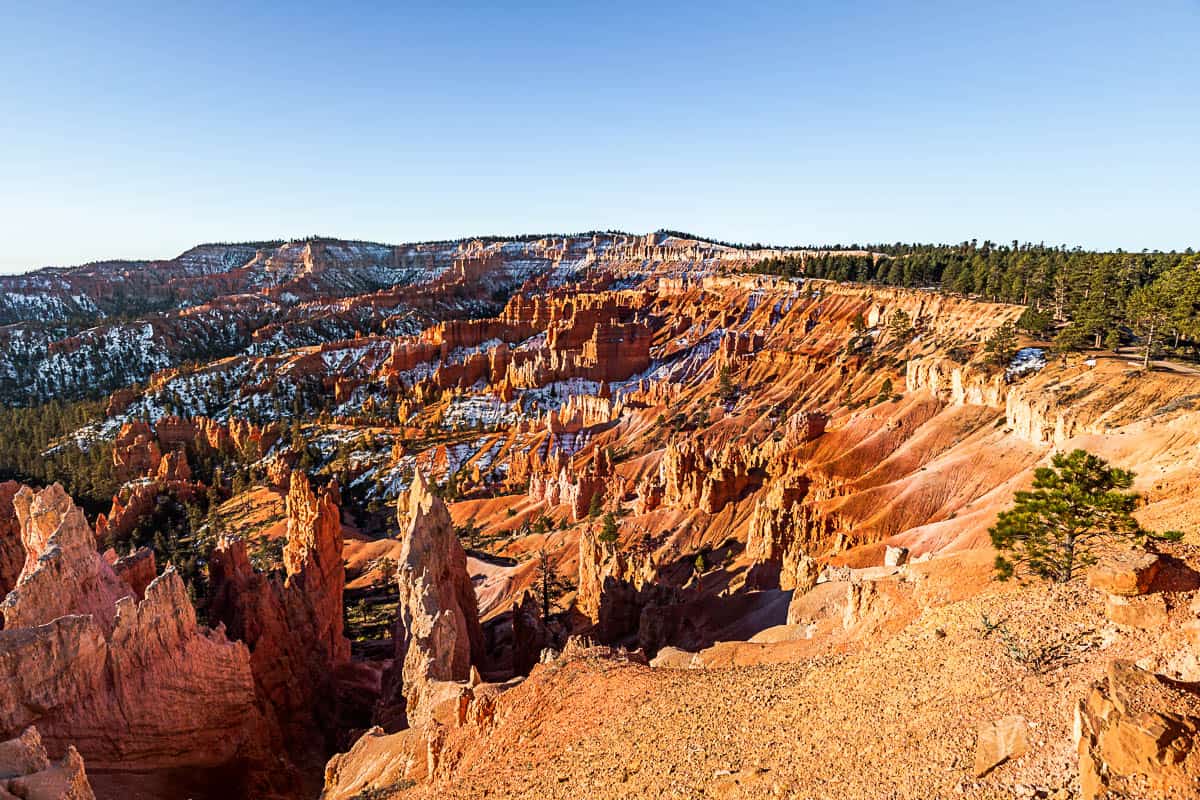 Everything I've written about Utah's Mighty 5 Parks to help you plan your trip
Arches National Park – haven't written about this but Double O Arch and Delicate are worth the hike.
Canyonlands National Park – only have 1 written. But definitely try Syncline Loop if you're up for a challenge, or Upheaval Dome. Mesa Arch is incredible but crowded.
Zion National Park – lots of inspiration here.
Bryce Canyon National Park – you can't go wrong with any hikes here.
Capitol Reef National Park – Cassidy Arch is the 1st one I've written, but I can vouch for all the hikes in that post. If you have time for just a few, Cassidy Arch, Navajo Knobs, and Hickman Bridge are all great.
And finally, if you're traveling in this area of Utah, don't forget about the whole wonderful area around Moab like Corona Arch! I sure hope you enjoyed this taste of Fairyland Loop Trail. And be sure to leave me a comment below if you've hiked it or have any questions!