The Fountain Paint Pots Trail in Yellowstone National Park is a short 0.6 mile loop trail. You'll see countless geysers, and it's perfect for almost anyone!
You'll see 16 different sights on the Fountain Paint Pots Trail in just .6 miles! All this beauty in one small area also makes this trail insanely popular. (This is the case with most of the geyser trails in Yellowstone).
The best solution is to avoid the hours between 10am-4pm when these areas are the most crowded. We knew the traffic was going to be intense. But we decided to brave it anyway because we wanted to hike all the geyser loops!
One of the great things about the geyser hikes in Yellowstone, is they're accessible to almost everyone because they're built on boardwalks. (The ground is too unstable to walk on.) So, anyone from strollers to wheelchairs can see a good portion of this amazing National Park!
This is the first big pool you come to on this trail, and the colors are jaw dropping with the orange surrounding the aqua blue!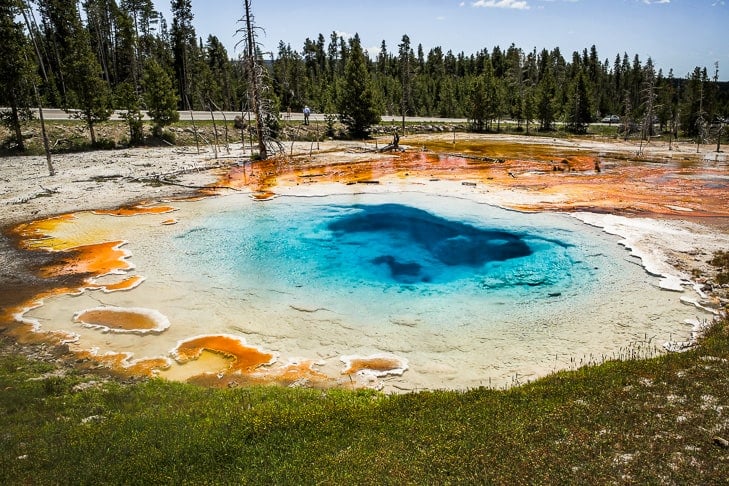 The Fountain Paint Pots Trail is aptly named because it's incredibly diverse and colorful!
You will see some interesting oranges and reds surrounding some of the geysers. These are called Bacteria Mats. (I know… how appetizing does that sound?). Certain types of bacteria can live at high temperatures, and these pools have their own mini eco-system.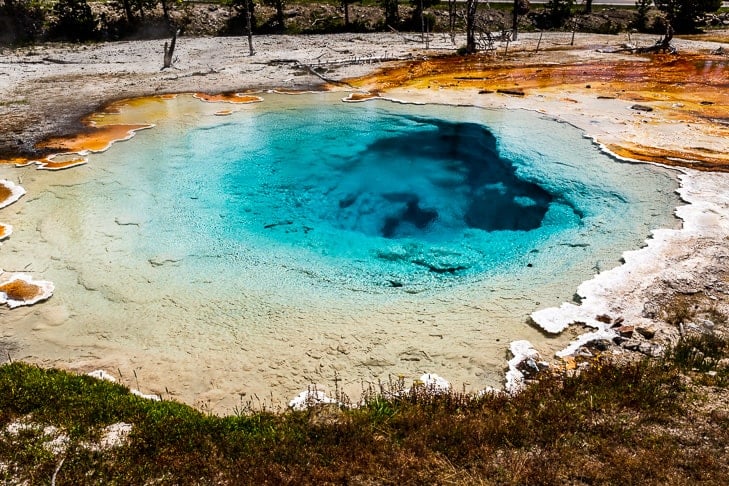 They ask that you don't throw anything into the geysers anymore. (I guess this used to be a common practice like a wishing well of sorts.) But it throws the geysers off balance – it's similar to coral reefs in that a little disturbance could take decades to resolve itself!
As the path travels upwards, you come across these boiling vats of mud. This are is what the trail was named for. And just a little further you'll find what's called Fumeroles which are boiling spewing mud shooting out of the ground. There are several other small geysers and pools throughout this area as well.
The Fountain Paint Pots Trail in Yellowstone National Park is beyond colorful!
About 1/2 way through the trail you come across this geyser called Clepsydra which is Greek for 'water clock'. It used to erupt every 3 minutes,. But now is erupts pretty much all day long, so it's a great photo op!
The Fountain Paint Pots Trail is a loop, so you'll start and end where the photo below was taken. I hope you enjoyed today's Yellowstone National Park adventure, and there will be few more to come!
Fact: Did you know, Yellowstone was the very first National Park in the United States? Somehow, I didn't know that even though I live about 7 hours from it.
Update: You can find each of our Yellowstone posts in my 10 Tips for Visiting Yellowstone National Park. I put together everything we learned into that post. And at the end each place we visited is linked so you can read about them individually!