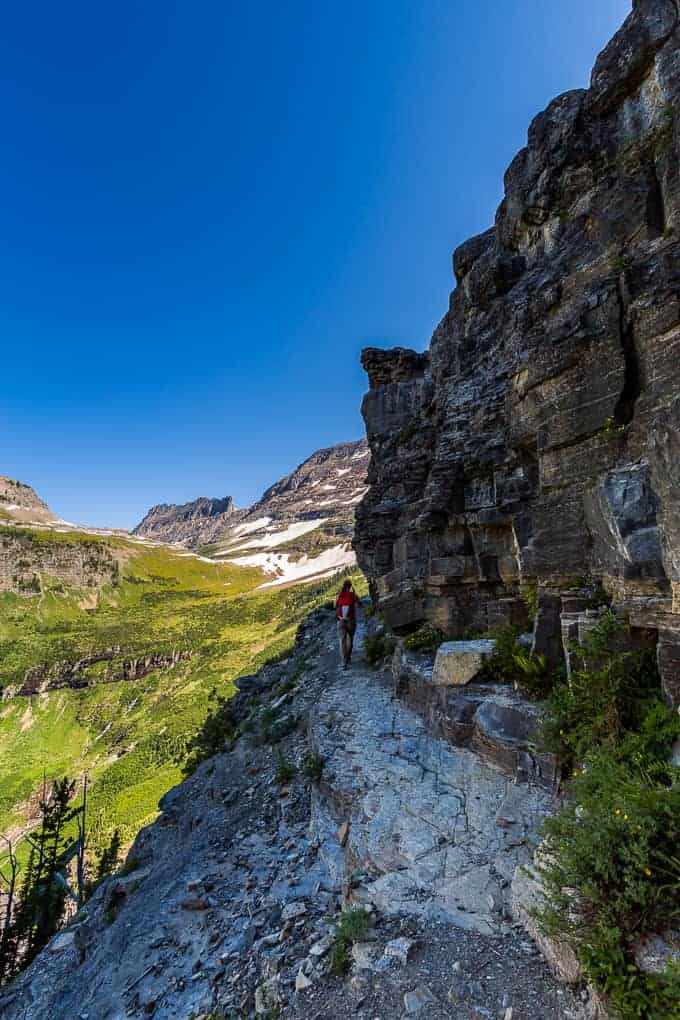 The Highline Trail is one of my most recommended trails to anyone visiting Glacier National Park! The trail is 7.6 miles to Granite Park Chalet, where you can stay the night and hike in the area the next day. Or you can hike down the loop trail, and catch a shuttle back to Logan's Pass where this hike begins.
My favorite way to do this hike is to the Chalet, and all the way back out to Logan's Pass. The views are absolutely stunning both ways, so you can't loose either way you hike this.
No description of this hike would be complete without telling you about the beginning of the trail. It's a 4-6 foot wide ledge, (picture below) and the drop off is around 100+'. There is a cable in place if you're feeling nervous. But I thought it deserved a mention in case you have a severe fear of heights.
Another reason this hike is so amazing is you almost always see wildlife. Generally you see goats and big horn sheep. But a couple of my friends saw a grizzly and 2 cubs in the distance when they did this hike a couple of weeks ago!
The wildflowers are truly a sight to see on this trail. They start about the second week of July and run into August. The weather can vary greatly from year to year. This means there are often still a few big snow fields in July, so bring good hiking boots, or come in the beginning of August.
This is one of the views you'll see on the hike back out! You can see why I feel like I'm missing out when I do the through hike down past the Chalet. You'll find yourself wanting to look at the 360º view. This is why I love to hike back out the way I came. Otherwise I spend half my time looking over my shoulder to see the view behind me.
This hike is also a photographers dream because the mountains you're looking at in the morning are highlighted by the sun. And the range of mountains you see at the end of the day are highlighted by the setting sun, So it's a win win all the way around!
On the way to the Chalet, you'll have great views of Heaven's Peak (the peak in the middle of the above photo). Heaven's Peak keeps it's snow pretty much year round, so it always makes for a great picture!
Here we're crossing one of those last remaining snow fields in early July. If you have good boots, and/or balance you really don't need Yak Traxs if you're very careful about footing. Many people get their tennis shoes wet which can cause a major blister problems, so bring good footwear.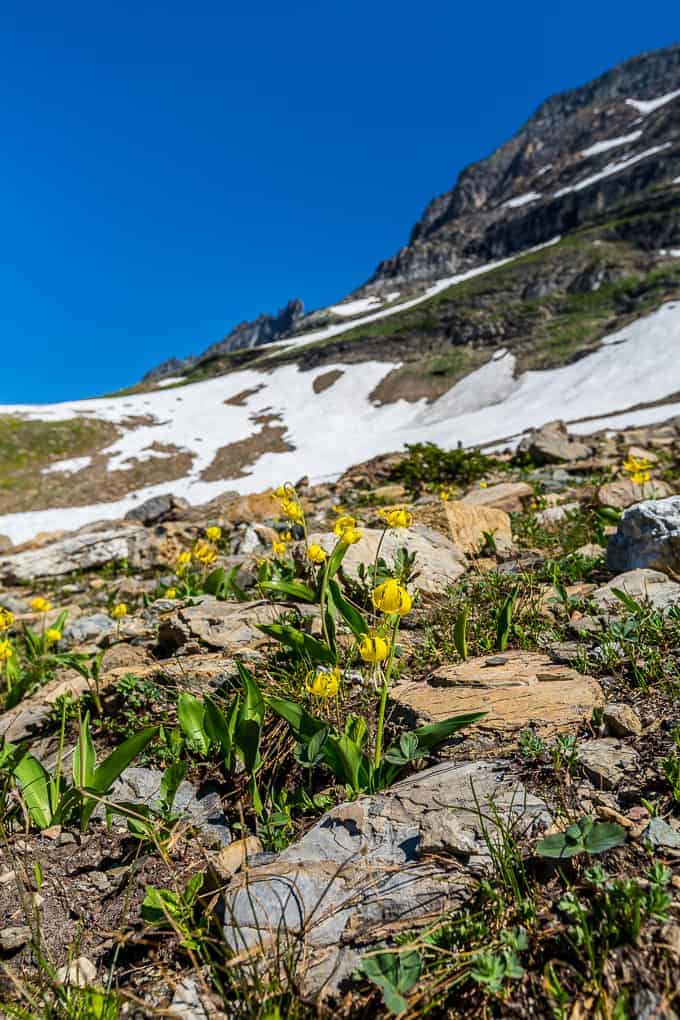 There is an additional spur to this trail that takes you to a view point called Grinnell Glacier Overlook. Since this post is already out of control with so many pictures, I'll give you the spur trail in an additional post here – Grinnell Glacier Overlook.