The short walk through the West Thumb Geyser Basin in Yellowstone National Park is stunning. The geysers are right on the shores of Yellowstone Lake, and there's lots of variety with all the different geysers as well. This boardwalk adventure is perfect for small children, and it's wheelchair friendly as well. It's heavily trafficked and very popular. But if you go in the 'off' hours or during the 'off-season' you may even have it mostly to yourself!
Don't let these photos fool you… Yellowstone is very busy! These short scenic boardwalk hikes are often wall-to-wall with people. But if you go in the off hours or the off season it's so much quieter. West Thumb Geyser Basin is a Yellowstone classic that we missed on our first trip through Yellowstone.
So we knew we really wanted to see it when we realized our next road trip would pass right through this area. These super popular hikes are popular for a reason – they're so scenic. But since we knew it would be crowded, we decided to try it just before sunset.
This turned out to be a great idea, and we really lucked out with an incredible sunset as well. And there was almost no one there, which was unexpected for July. To top off the whole experience, a herd of elk came through the geyser basin which was amazing to see.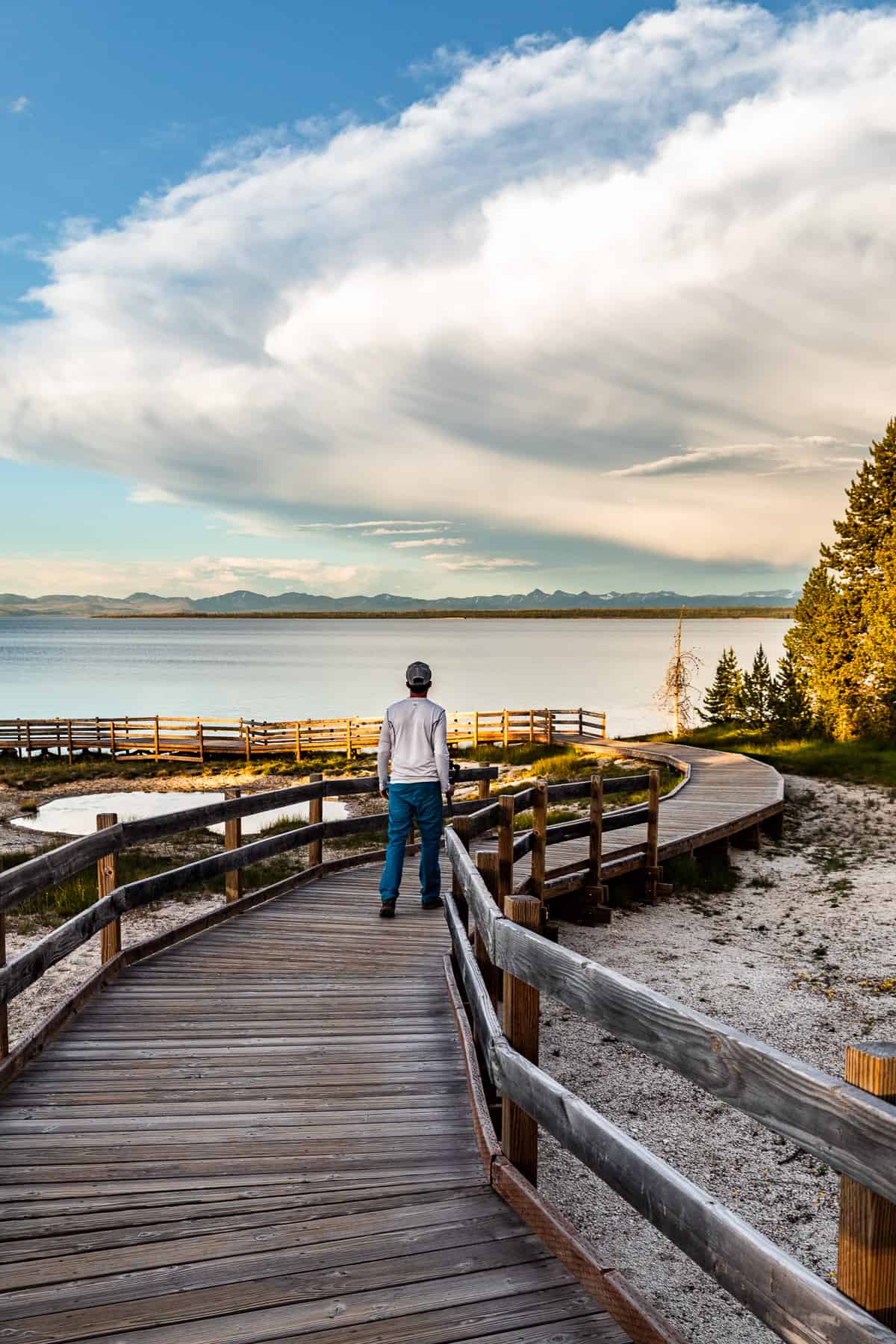 Everything you need to know about the West Thumb Geyser Basin
Distance – 0.6 – 1.0 miles with the connector trail through the middle.
Elevation Gain – 59′
Length of time – 30 minutes to 2 hours depending on how long you explore and how many photos you like to take.
Trailhead – west side of Yellowstone Lake near the Grant Village Visitor Center. (Grand Loop Road, Yellowstone National Park, WY 82190)
Bathrooms – located at the end of the parking lot at the trailhead.
Trail – is mostly a boardwalk with a bit of pavement in the beginning.
When to go – summer is the busiest because the weather is the best. But spring and fall bring fewer crowds. We went at sunset in July and it was pretty quiet.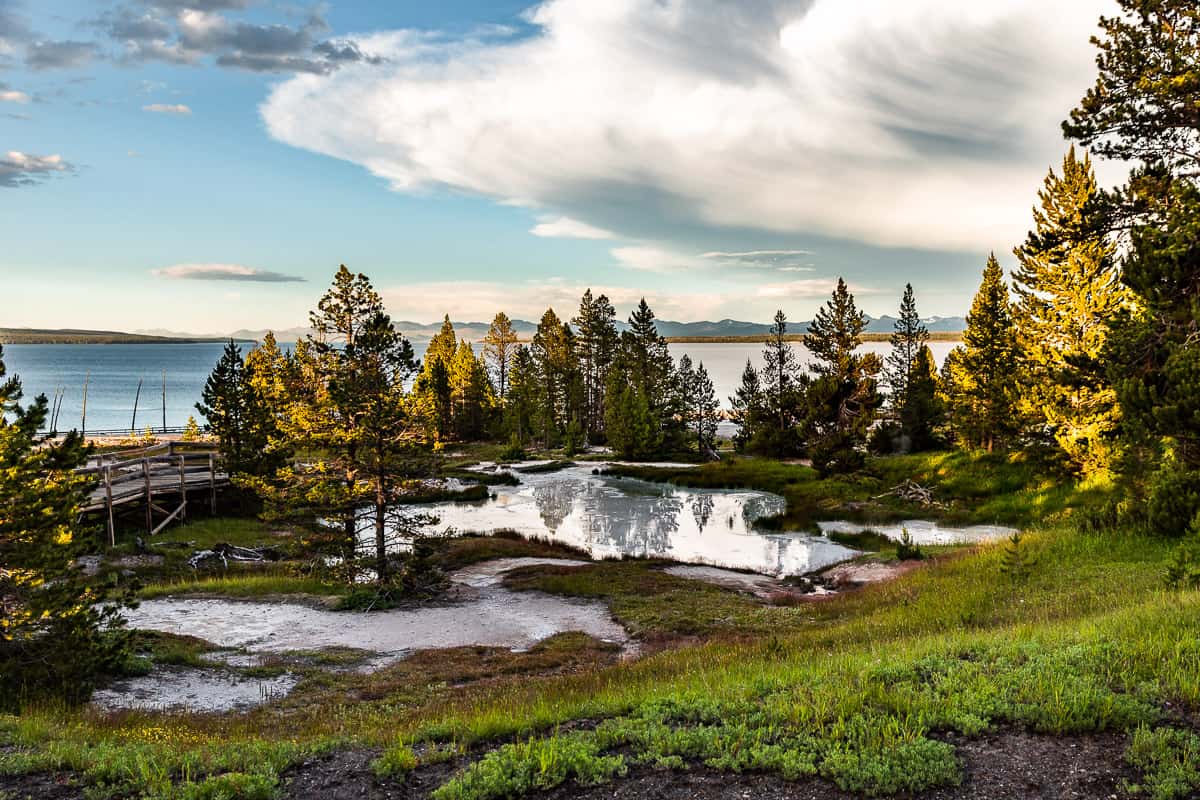 One of the coolest things about this geyser hike is it sits right next to the giant Yellowstone Lake. This makes the views extra expansive, and perfect for sunrise and sunset.
Tip: Be sure to look out into the lake because there's a few small geysers on that side as well which are really neat to see. There's 3 total, going clockwise – Fishing Cone, Lakeshore Geyser, and Winter Spring.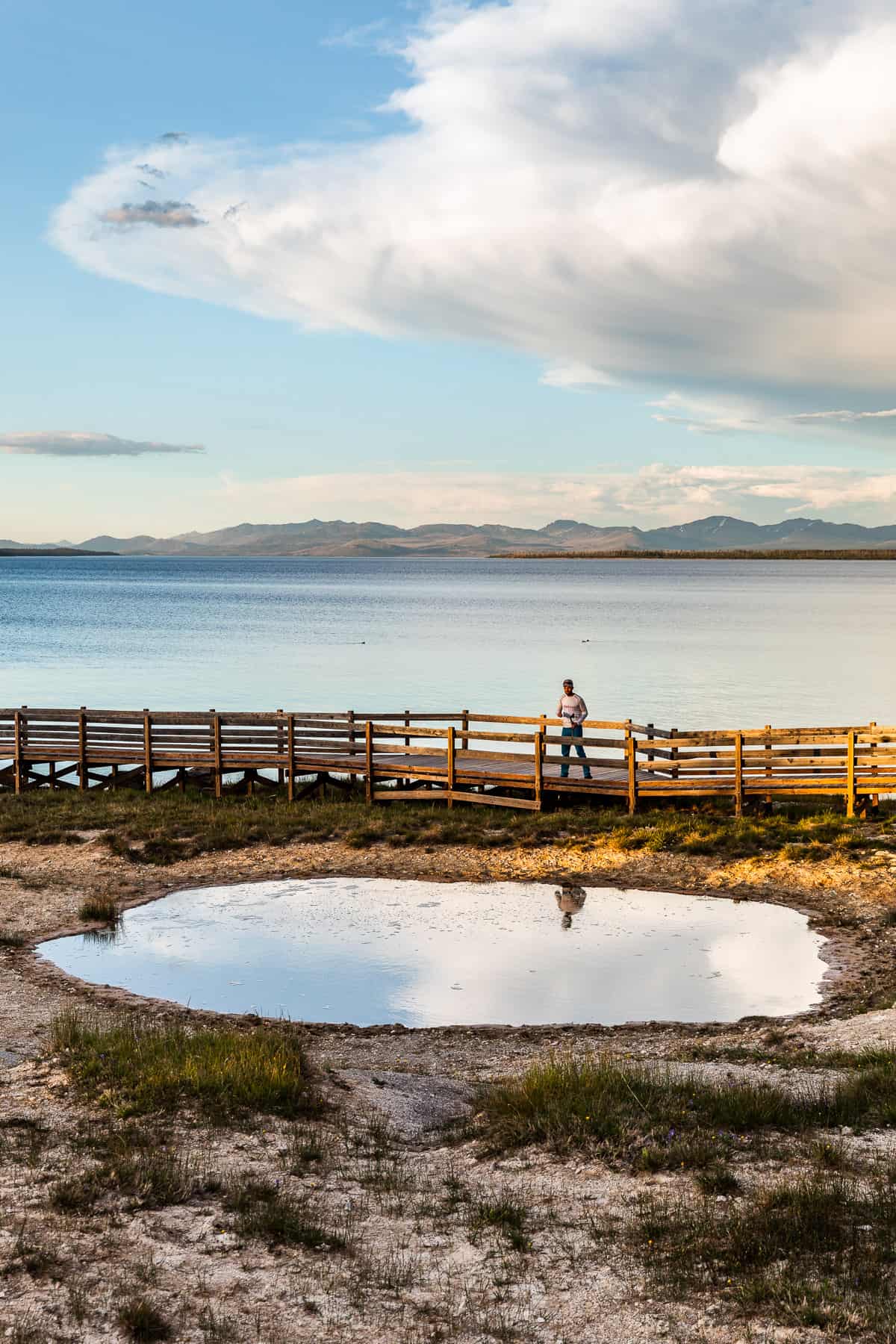 The only drawback of going late in the evening is the reflection on the geysers. You can't see their colors quite as well when the sun is setting. But for us, the quiet trail was worth the fading light!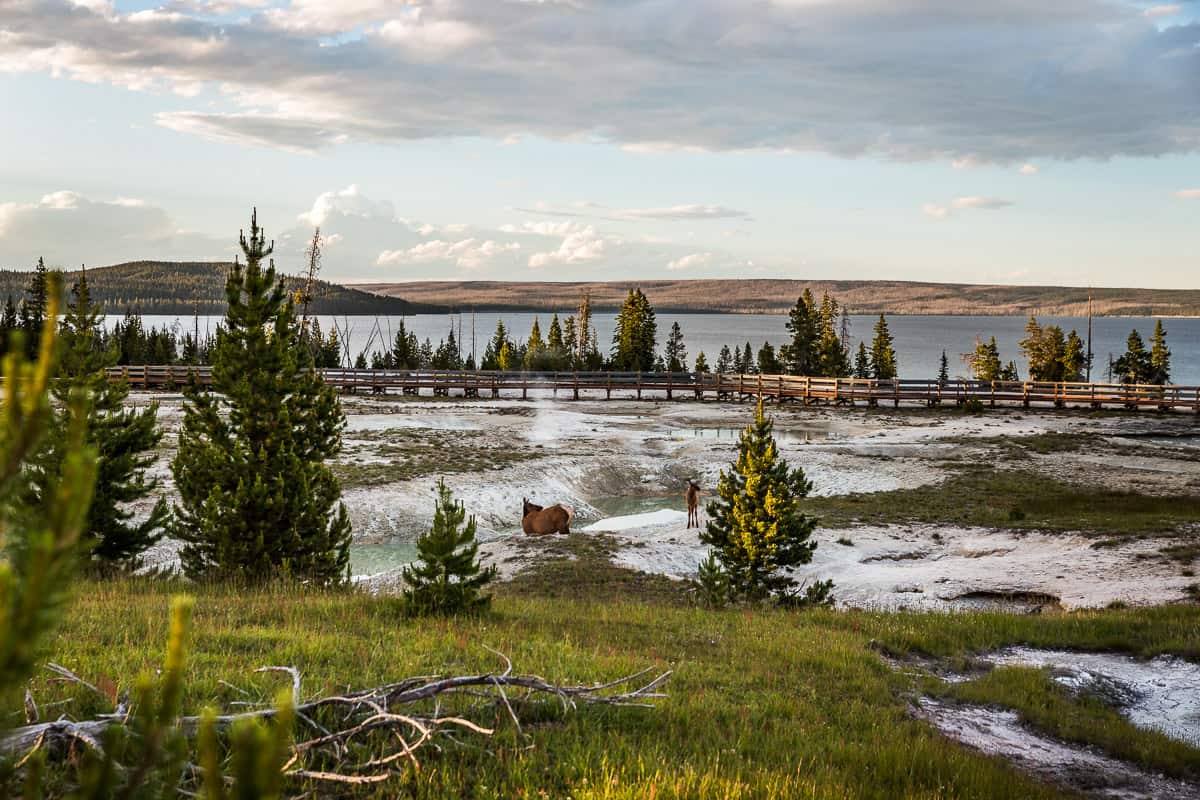 You can see a couple of elk in the above photo. An entire herd wandered through when we were there, and it was a challenge to avoid them. They had new babies, and you don't want to get close to the wildlife.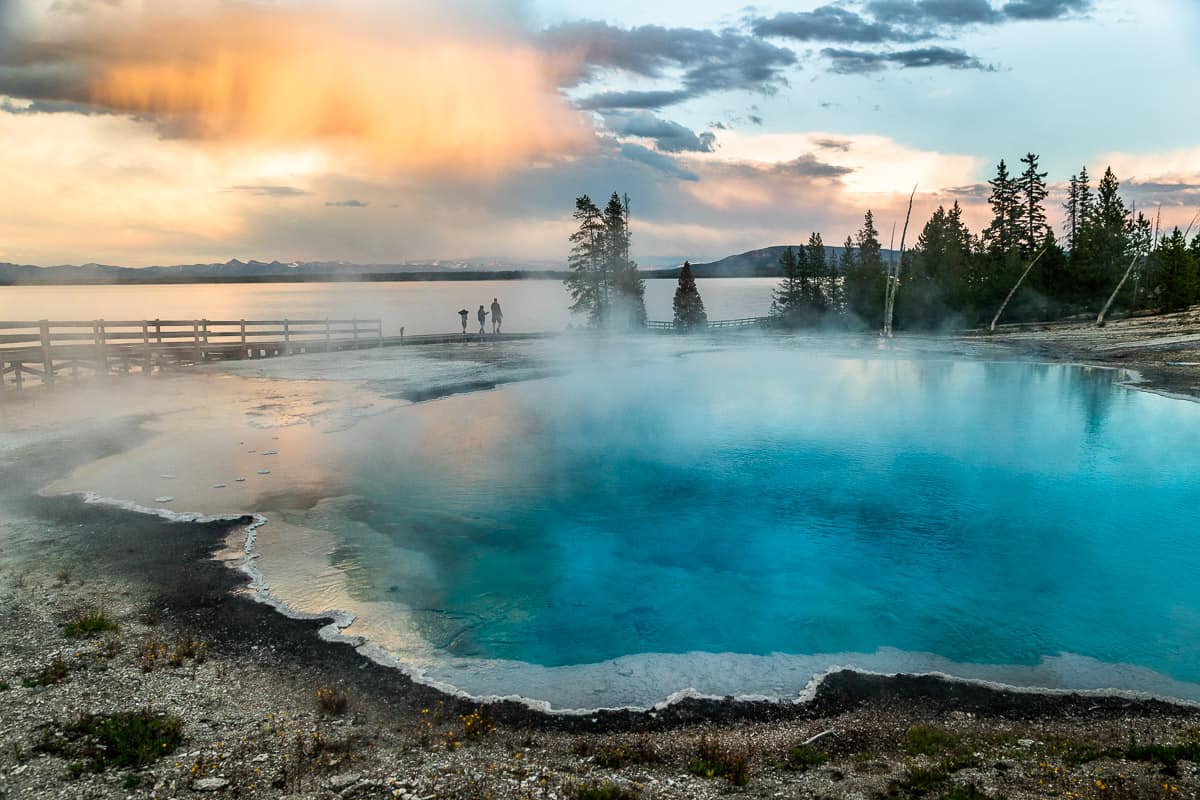 FAQ's
Which way should you hike West Thumb Geyser Basin?
I think this loop trail is best hiked clockwise. You get to see the prettiest pools first this way. And 2 of the most colorful ones are first in line when you go counterclockwise, (one is pictured above.
What's interesting about West Thumb?
It's the biggest geyser basin and it's on the shores of Yellowstone Lake which makes it extra scenic.
Is hiking West Thumb Geyser worth it?
I would say yes even though we don't care for busy trails. This one is very unique and definitely worth a visit if you're taking a trip to Yellowstone. If you also don't like crowds, try going during the off hours.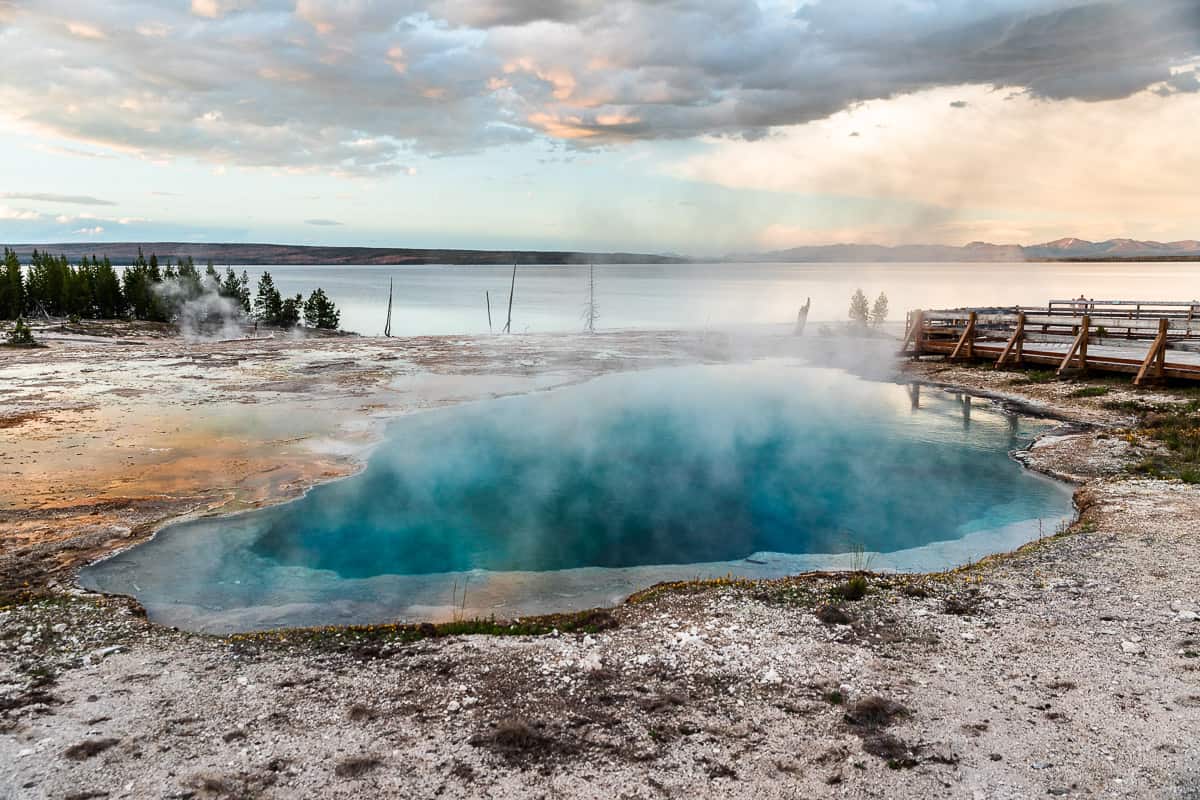 Pros & Cons
Pro – super scenic and nice and short which makes it perfect for all ages. It's also wheelchair accessible as well.
Con – really crowded during the peak season during the main hours, 8 am-6 pm.
Pro – really interesting and varied geysers, can't get bored with all the variety.
Con – doesn't feel much like a hike with the boardwalk. It's necessary to have a boardwalk in these unstable areas, but it does take away from the hike and nature vibe. I like to think of it more like a scenic tour than a hike.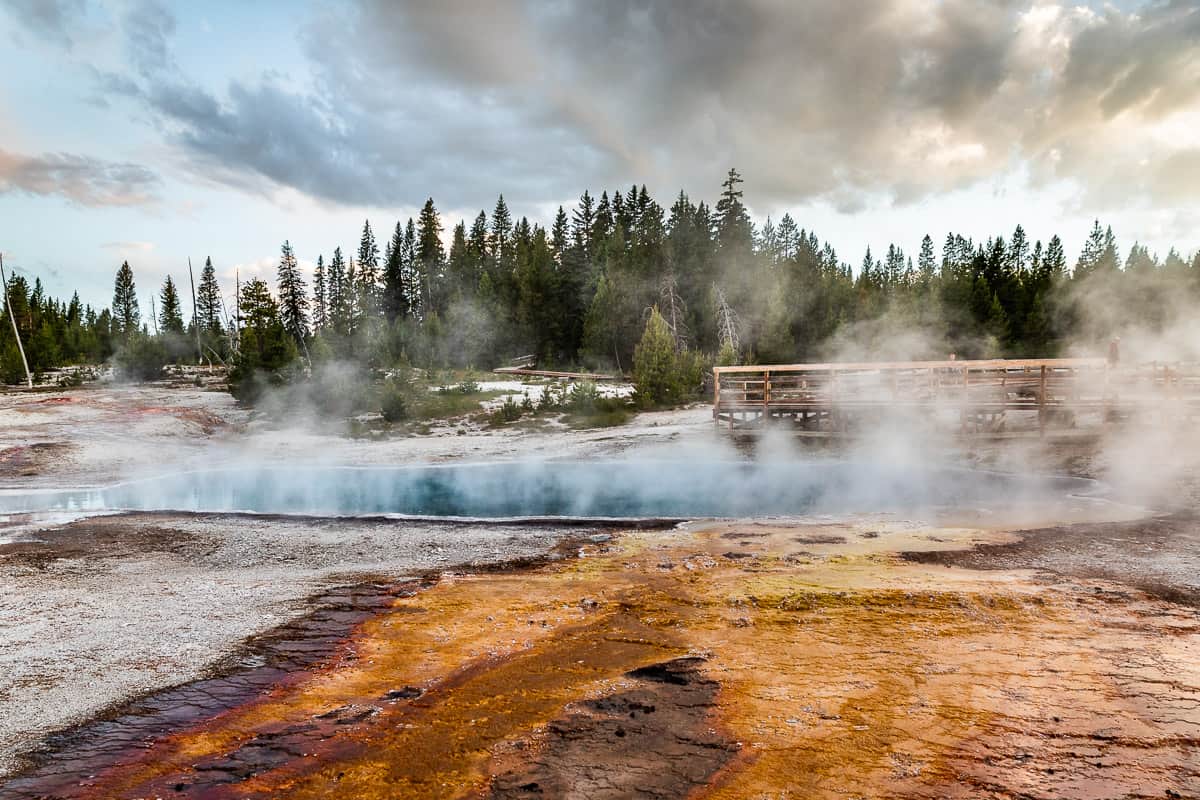 Another great thing about this geyser basin is it's close to Old Faithful as well as the West Yellowstone entrance. This makes it the perfect thing to do before you head back out of the park for lodging or dinner.
If you're planning a trip to Yellowstone, be sure to check out my Top 10 Tips for Visiting Yellowstone National Park. As I mentioned above, Old Faithful is fairly close to West Thumb. So you might consider making a day of it by starting at Old Faithful early. Then hike the Old Faithful Geyser Loop Trail which takes off from Old Faithful.
That trail is home to the famous 'Morning Glory' pool that's stunning to see. Next, find somewhere to hunker down during the peak mid-day hours. Have some lunch or a picnic, and play at the lake. Then hike West Thumb towards the end of the day when things quiet down again.