I'll take savory over sweet any day for any meal, which is a little strange since I've always had a sweet tooth in the past. But something's changed over the years, and I'd choose to eat anything to do with cheese/bacon rather than a muffin, without a second thought.
I had the idea for this breakfast pizza during the cauliflower pizza crust craze a couple of years ago. (Cauliflower crusts are a lot of work, and I though 'why not hashbrowns since they're come ready to go'?) I scribbled it down on a piece of paper, and then promptly forgot about it. But it resurfaced just a couple of weeks ago, and I knew I needed to make it right away before the idea was lost again.
It all starts with a cheesy hashbrown crust that is so good, I can't wait to experiment with all types of pizza toppings. Then you add some bacon bits, eggs, and a sprinkling of cheese before baking it into bubbling golden deliciousness!
And since toppings are half the fun, be sure to go all out with whatever your favorites are. I topped mine with the last of my garden tomatoes, avocado, green onions, and sriracha. To keep it extra simple, you can just go with the green onions and sriracha during the winter months. (I'm bummed to be all out of garden tomatoes now, but I did have them right to the end of November, so I can't really complain!)
I used pre-made frozen hashbrowns (thawed) for this recipe because it makes it super convenient. But I do want to keep experimenting with making my own hashbrowns with leftover baked potatoes, (if all goes well, I'll add another hashbrown crust recipe down the road).
Once the hashbrowns have been mixed with some seasonings, grated cheese, and eggs, you pat the mixture into a pizza crust with slightly raised edges.
While the crust is baking, you prepare the toppings, and once it's golden brown the eggs, bacon, and cheese get added and baked again for a few minutes.
Once the eggs are done to your liking, it's time for the toppings! You can just add cubed avocado over the top, but I did an avocado rose (my first one) just for fun.
Tip: To make an avocado rose, cut a ripe avocado in half and remove the pit. Then, using a spoon, scoop out an avocado half and place it cut side down on a cutting board. Using a sharp knife, make thin horizontal slices across the avocado half, and finally start separating the avocado slices into a line before wrapping them into a circle to form a flower shape. It's kinda hard to describe, but just type 'avocado rose' into YouTube and in under a minute you'll see just how easy it is! I found the key to the best looking flower, is to keep your slices really thin.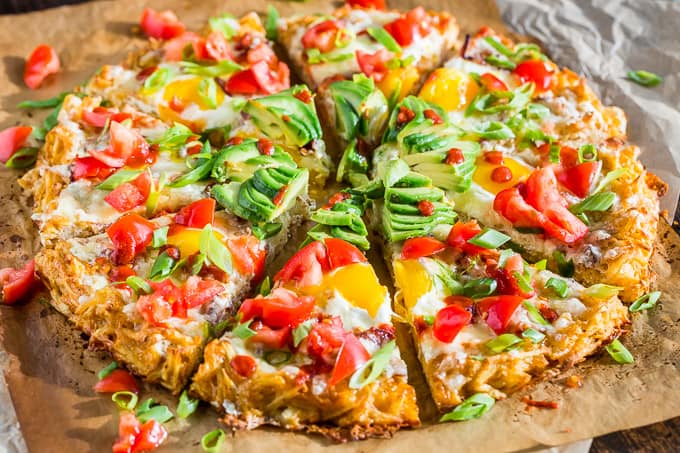 Sriracha is definitely optional, but as a hot sauce lover myself,  I can barely contain my enthusiasm for how awesome it is on this pizza!
Print
Bacon and Eggs Breakfast Pizza with Hashbrown Crust
---
Hashbrown Crust:
4 cups

frozen seasoned hashbrowns, thawed, see notes

1/2 Teaspoon

smoked paprika

1/4 Teaspoon

black pepper

2

eggs

1 1/2 cups

grated cheese, 4 ounces, Jack or Mozzarella are both great
Toppings:
6

strips of bacon, cut into bite sized pieces, 6 ounces

6

eggs

1 cup

grated cheese, 2 1/2 ounces
Fresh Toppings:
1 cup

thinly sliced green onions, about

1/2

a bunch

1 cup

diced tomatoes, or halved cherry tomatoes

1/2

ripe avocado, thinly sliced or cubed
Sriracha to taste
---
Instructions
Preheat the oven to 400ºF and line a baking sheet with parchment paper.
Mix together all the ingredients for the hashbrown crust in a bowl until combined. Pat the mixture into a crust shape about 1/2″ thick and 10-12″ in diameter, making small ridges around the edge as you go. Bake the crust for 20-25 minutes, or until golden brown.
While the crust bakes, fry the bacon pieces until they're crispy, drain and set aside. Prepare your choice of the fresh toppings, and set them aside.
When the crust is done, take it out of the oven and sprinkle the bacon bits over the top. Crack the eggs one at a time into a small dish, and then carefully place the eggs as evenly as you can around the pizza. Top with the grated cheese, and bake again until the eggs are your desired doneness, about 6-8 minutes for over easy eggs.
Remove the pizza from the oven and top with the fresh toppings.
Serve immediately. If you do have any leftovers, remove any avocado before refrigerating them (the avocado turns brown). Then reheat the leftovers gently at 300ºF until warm. The eggs get a little firmer but otherwise it's still delicious.
Notes
I used the Alexia brand Organic seasoned hashbrowns. They come with a little onion/garlic powder added in which makes for a great flavor in the crust.
Prep Time:

20 mins

Cook Time:

30 mins