There's something about a bowl of cereal, a certain kind of implied comfort. It's quick, easy, oddly addicting, and satisfying in a comfort food sort of way. I'm a recovering cereal addict myself, having lived on it through some overly busy times in my life. True story: I lived on cereal drowned in half n half for the better part of eight months one year with the occasional real meal thrown in for good measure. Obviously, that's really unhealthy and calls for serious action! So… I eliminated all cereals from the house, that way I have to eat real food kind of meals, even when I'm in a hurry.
It probably goes without saying, but even after 2 years without cereal, I still really miss it! Enter Banana Chai Granola, it's lightly sweetened with lots of nutty flavor and spiced with chai and cinnamon. It's like a cross between my favorite banana bread and a coconut chai latte – Yum! On top of all that flavor, this cereal also packs some nutrition in as well.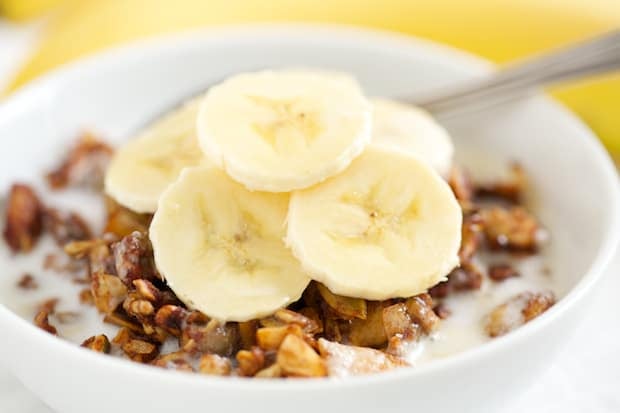 To keep this granola 100% fruit sweetened, I made a banana date paste in the food processor. For this reason, this granola takes much longer to bake than usual, about 1 1/2 hours at a low temperature. This helps the banana mixture dry as it creates a caramelized coating for the granola mix.
For the dates, cut them in half to remove the seeds, and then cut them into quarters.
Process the banana mixture until it's mostly smooth with little bits of date remaining. Toss the banana mixture with the seeds, nuts, and coconut. Spread the mixture evenly over a parchment lined baking sheet. During the baking process, it's important to stir the granola every 20 minutes because it will cook more evenly resulting in a nice, crunchy granola.
Don't be tempted to turn the oven temperature up, because the granola will burn before it becomes crispy (I tell you this from personal experience). If you've ever made granola with applesauce, it's a similar technique. The baking time may seem long, but it's not much 'hands on' time, which is always a bonus.
I haven't found any chai spices that don't contain black tea with them, (if you know of a brand, be sure to let me know). So, if you're avoiding caffeine, you can double the cinnamon instead and you'll have banana bread granola!
Print
Banana Chai Granola
---
Granola Mixture:

2 cups

walnuts, small pieces

1 cup

pecans, small pieces

1 cup

coconut, big flakes

1/2 cup

pumpkin seeds

1/2 cup

sunflower seeds
Banana Date Paste:

2

bananas, very ripe

8

medjool dates, pitted and quartered

1/2 Teaspoon

sea salt

2 Teaspoons

chai spices

1 Teaspoon

cinnamon

2 Teaspoons

vanilla extract
---
Instructions
Preheat the oven to 200°F.
For the granola mixture, you want everything to be about the same size so it will cook evenly.
Mix all the ingredients for the granola mixture together in a medium sized bowl.
Combine everything for the banana date paste in a food processor and process until it's mostly smooth with some small pieces of date remaining.
Mix together the granola mixture with the banana date mixture until thoroughly combined.
Spread the granola evenly over a parchment lined baking sheet.
Bake for 1 1/2 – 2 hours, stirring every 20 minutes, until the granola is golden brown and almost crisp. Turn off the oven, keeping the door shut, and let the granola cool down with the oven. This step is important to make the granola fully crispy.
Store in an airtight container for about a week for the best freshness, or in the freezer for longer keeping.
Prep Time:

15 mins

Cook Time:

2 hours