All the flavors from our favorite Banh Mi sandwich turned into these Banh Mi Salad Bowls with Sriracha Lime Aioli. This recipe is the perfect way to enjoy all the flavors of the classic Vietnamese Banh Mi in a naturally gluten free and dairy free way. Plus it's loaded with veggies making this a 'one and done' dinner!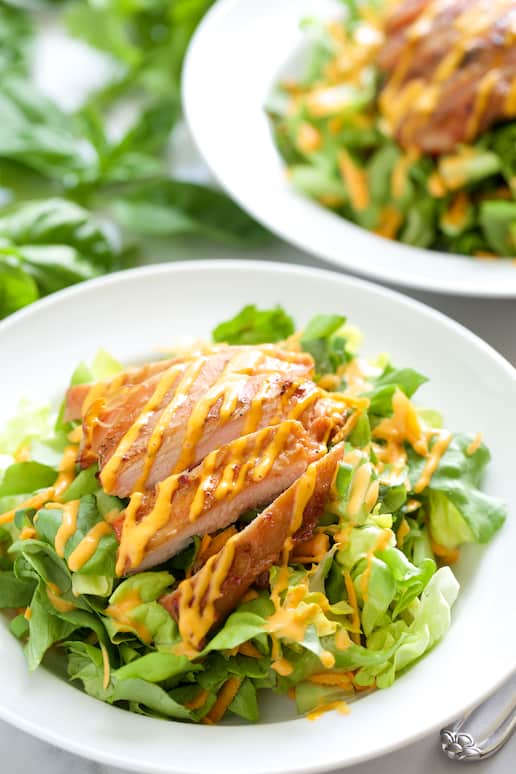 Next to pizza, Banh Mi are my ultimate weakness (I've been know to eat 2-3 of these Vietnamese subs in a single day)! Specifically Sate Chicken Banh Mi, and my order is always the same – I'm all for branching out, but you just don't mess with perfection!
There is a single sandwich of course that is the source of constant day dreams (if you're in downtown Chinatown, Calgary check out Thi Thi Vietnamese Subs for the sandwich of your life)! It is the sandwich of all sandwiches in my opinion! And since I'm living over 5 hours away from said sandwich, it was time for an at home version.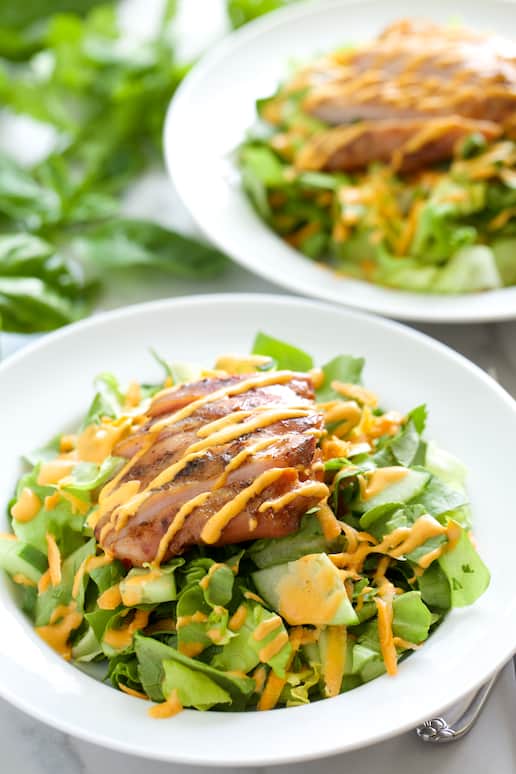 Over the last few years, I've changed my eating habits to cope with inflammation issues due to a car accident (meaning sandwiches and pizza are an occasional treat these days). Fortunately or unfortunately depending on how you look at it, the diet changes are really helping – as it turns out veggies are still #1!
So, if you leave out the bread in a sandwich, what's left? Double the amount of the flavorful filling in a typical Banh Mi sandwich, that's what! Now… I'm not going to sit here and tell you that I don't miss all things bread (because I do, oh I do) but this salad was everything I was hoping for in the flavor and textural department. It tastes just like my beloved sandwich, and my husband agrees, (it's his favorite sandwich as well) in fact he ate it for dinner, then lunch, and then dinner again!
Check out the huge head of butterhead lettuce I picked up at Farmer's Market!!! It weighed in at over a pound and was bigger than my cutting board! If you can't find butterhead lettuce, you can always use romaine or leaf lettuce, it will just have a firmer texture.
For the cucumber, peel 4-5 strips lengthwise and cut off both ends. Cut it into quarters lengthwise, and then thinly slice the quarters crosswise to make triangles. I like to roughly chop the cilantro leaving some bigger pieces, it's part of the flavor appeal for me.
We tried this salad 2 different ways, the first time was with a plain aioli, and the second was with a sriracha lime version. We both like the sriracha lime a bit better, but if you don't care for heat, you can leave the sriracha out. I also tried the chicken marinated 1 hour at room temperature and another time with the marinade left overnight, and overnight wins out hands down!
Whatever you're doing this weekend, I hope it now includes the most outrageously delicious salad I've ever tasted!
Print
Banh Mi Salad Bowls with Sriracha Lime Aioli
---
Description
All the flavors from our favorite Banh Mi sandwich turned into a dinner salad loaded with fresh juicy veggies and topped with a Sriracha Aioli makes this one of our favorite dinners.
---
Sate Chicken:
1.5 pounds boneless, skinless chicken thighs
2 cloves garlic, minced
3 Tablespoons soy sauce or coconut aminos
2 Teaspoons sambal chili paste
1 Tablespoon maple syrup
Sriracha Lime Aioli:
1 egg, left at room temperature for 30 minutes
2 Tablespoons fresh lime juice
1 Teaspoon sea salt
2–4 Tablespoons sriracha chili sauce
3/4 cup avocado oil
Salad:
1 butterhead lettuce, weighing 1 pound 4 ounces
2 cucumbers, weighing 1 pound
1 pound carrots, peeled and grated
3 Tablespoons rice wine vinegar
1 Tablespoon maple syrup
1 small bunch cilantro, roughly chopped – about 2 ounces
1 small bunch basil, roughly chopped – about 1 ounce
Soy Sauce or Coconut Aminos for serving
---
Instructions
Combine all the ingredients for the sate chicken and refrigerate 8 hours or overnight.
For the aioli, place the egg, fresh lime juice, sea salt, and minimum amount of sriracha (if you're using it) into a blender. Start blending on low, increasing the speed to 3 or 4 on a Vitamix, slowly add the avocado oil in a thin stream.
Continue to blend until all the oil has been added, and the aioli has become thick. At this point, taste it and see if you might want to add more sriracha. Transfer the aioli to a container and refrigerate – I used a squeeze bottle to get the cool looking lines across the salad.
For the salad, cut the lettuce into bite sized pieces, wash, and spin it dry. Transfer it to a serving bowl.
Peel 4-5 strips from each cucumber and cut off both ends. Cut the cucumber into quarters lengthwise, and then thinly slice the quarters crosswise to make triangles – add the cucumbers to the serving bowl.
Toss the grated carrots with the rice wine vinegar and maple syrup in a separate bowl and let them 'pickle' while you finish the recipe.
Preheat the grill over high heat.
Add the roughly chopped herbs to the serving bowl with the lettuce and cucumbers.
Place the chicken on the grill and immediately lower the heat to medium. Cook the chicken 6-8 minutes per side (the timing will depend on the size of your chicken thighs). A good way to tell if they're ready to flip is when they're no longer sticking to the grill, and they have nice grill marks.
When the chicken has cooled enough to handle, chop it into bite sized pieces or into strips like the photos.
Toss the carrot mixture in with the rest of the salad and serve it with the chicken.
Top each individual salad with sriracha aioli and soy sauce or coconut aminos to taste. The juices from the chicken combine with the pickled carrots, aioli and soy sauce to form a dressing.
Notes
The sriracha lime aioli makes enough for 2 recipes, but it can't be downsized. If you're looking for less quantity, try mixing together a good quality mayonnaise with sriracha and fresh lime juice to taste.
Prep Time:

45 mins

Cook Time:

15 mins

Category:

Dinner

Method:

Grilling

Cuisine:

Asian
Keywords: Banh MI Salad Recipes, Vietnamese Banh Mi Salad, Saté Chicken Salad