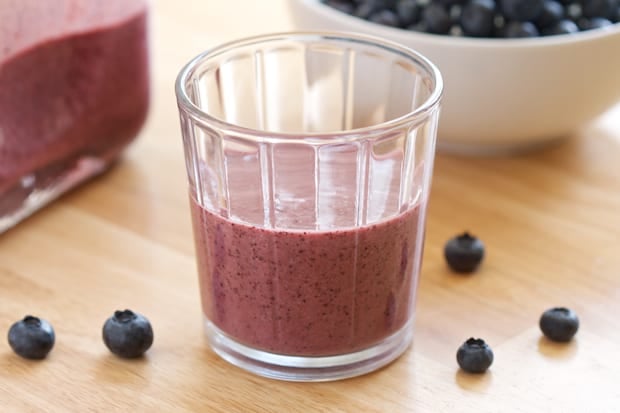 I love all things creamy! Whether it's sweet or savory, I'm always finding ways to add creaminess to whatever I'm making. This started out as a blueberry peach smoothie, but somewhere along the way, coconut milk snuck in there and another recipe turned creamy. The coconut milk rounds out the edges of the fruit making this smoothie extra smooth and 'dessert like'. Whenever I can have something sweet for breakfast, I'm happy!
I've been loving the abundance of fresh produce. It seems like there's a small window of time where everything collides, and the market is full of everything from berries and peaches to corn and tomatoes. I like to build the weeks menus around as many fruits and vegetables as I can to 'make hay while the sun shines' so to speak.
For preparation, pit the peaches and place them in the bottom of the blender. Next add the blueberries and ice cubes. Finally, pour the coconut milk, sweetener (if using), and vanilla over the top. Blend on high until completely smooth. This smoothie tastes best within the first few hours, but it will keep up to a day in the fridge.
I love this combination so much, I've even taken to making it in the winter season with frozen wild blueberries, and frozen peaches. It works best if you let the frozen fruit thaw for at least 20 minutes or you'll have more of a slushy!
Print
Blueberry Peaches and Cream Smoothie
---
2 peaches, pitted, fresh or frozen
2 cups blueberries, frozen
1 cup coconut milk
1–2 Tablespoons maple syrup or honey if needed
1 Teaspoon vanilla, optional but delicious
---
Instructions
Place all the ingredients in the blender and blend on high until smooth.
Serve immediately, or place in the refrigerator for up to one day.