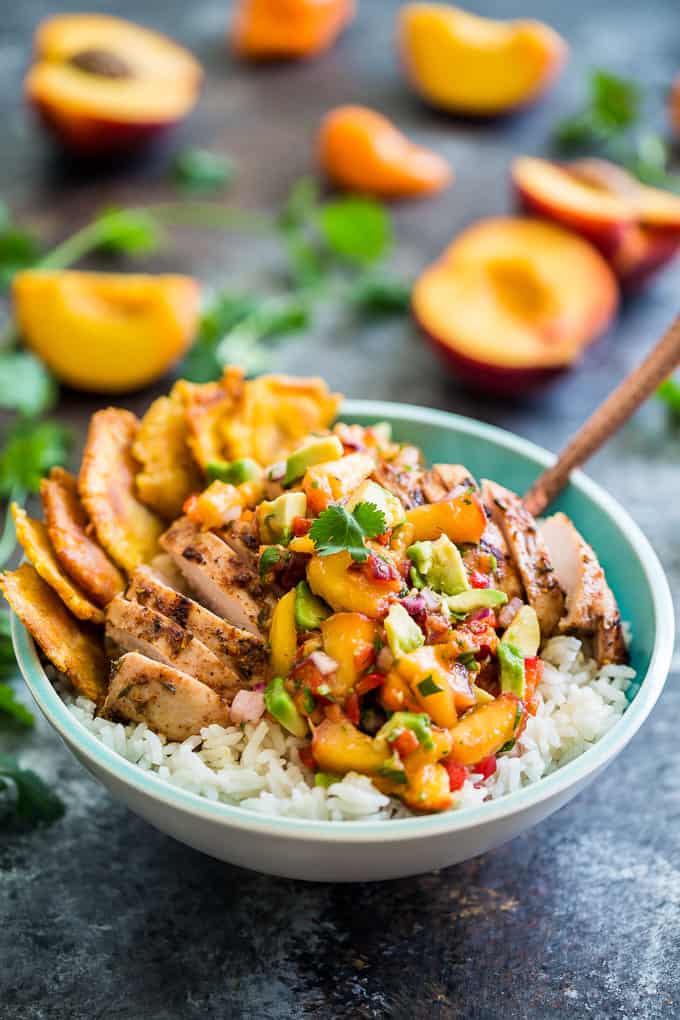 This whole recipe started with an overload of peaches, and with them I decided to create a salsa. And it just spiralled from there into a whole meal! There's so much going on here though, you can easily break out just certain parts of the recipe.
The peach avocado salsa is awesome on it's own in a 'chips and salsa' situation (try sliced cucumber or plantain chips for a fun variation on corn chips). Then there's the Jerk Chicken which is way too good to just use in these bowls, (think awesome salads for lunch). And as if that weren't enough, there's the Coconut Rice which is pretty much so delicious, I can't stop eating it! Finally to just go ahead and gild the lily, I included some tostones for the ultimate crunchy addition.
Since I first made these bowls, I've been making the Jerk Chicken for salads for packed lunches with the peach salsa. You can also serve it as a simple meal, (pictured above) without the coconut rice or tostones as well. I've also been pairing just the tostones with the peach avocado salsa, so the possibilities are definitely endless here.
The Jerk Chicken in this recipe isn't 100% authentic because it's a super easy version that doesn't involve making a paste, or anything you wouldn't want to do on a regular ole' Monday night.
This chicken is so flavorful and easy to make, I recommend making more than you need so you can use it for lunches, or freeze it for later.
Also can we just talk about habenero chilies for a moment… I called for jalapenos in the recipe because you really do need to be careful with habeneros. If you want a more authentic Caribbean flavor, go ahead and grab some habeneros, but be sure to wear gloves. If you want to make the salsa a little ahead of time, mix everything together except the avocado, and add that in right before serving.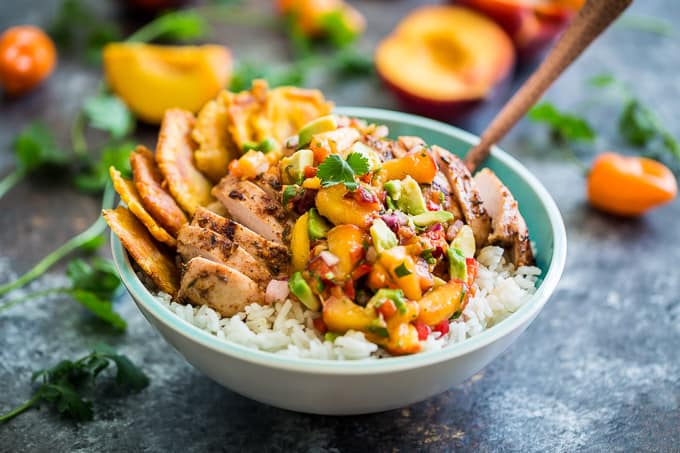 You can also sub in cauliflower rice for the coconut rice in this recipe. If you want to make it coconut cauliflower rice, just add a few tablespoons of coconut cream at the end of the cooking time.
Print
Caribbean Jerk Chicken Bowls with Peach Avocado Salsa
---
Tostones:
2

green plantains
coconut oil for frying
Coconut Rice:
1 1/2 cups

white jasmine rice, see notes for Paleo

1 1/2 cups

water

1

–

14

ounce can coconut milk

1/2 Teaspoon

sea salt

1 Tablespoon

maple syrup
Caribbean Jerk Chicken:
4

boneless skinless chicken breasts, about

2

pounds

1 Tablespoon

maple syrup

2 Tablespoons

Jamaican Jerk Seasoning, see notes

1 Tablespoon

avocado oil

3 Tablespoons

freshly squeezed lime juice, 1 large lime

1

clove garlic, minced

1 Teaspoon

sea salt
Peach Avocado Salsa:
4 cups

diced ripe peaches, about

1

pound

1/2 cup

finely diced red onion

1 Tablespoon

freshly squeezed lime juice

1/4 Teaspoon

ground cumin

1

–

3

Teaspoons minced jalapeno or habenero to taste, see notes

1/2 cup

diced red bell pepper

1/4 cup

chopped cilantro

1

ripe avocado, diced
---
Instructions
Start by making the tostones. Cut a small slit in the skin the length of the plantain being careful not to cut into the fruit. Use a spoon to help you remove the peel. Then cut the plantains into 1 1/2″ slices. Heat a 9″ cast iron pan over medium heat. When the pan is hot, add about 1/4 cup coconut oil along with as many of the plantain slices as you can fit into the pan. Cook for 2-3 minutes per side, or until golden and slightly softened. Remove the plantain slices from the pan and set them aside to cool a bit. Cook any remaining slices, then flatten each cooked plantain slice until it's about 1/4″-1/2″ thick. Fry the flattened plantain slices for a second time until they're crispy and browned on each side, 2-3 minutes per side. Add more coconut oil if necessary. Once all the flattened plantain slices have been fried, remove them from the pan, and keep them warm until you finish the recipe. They can also be kept at room temperature while you finish the recipe.
Thoroughly rinse the rice 3x until the water runs clear. Then place it to a large saucepan and add the rest of the coconut rice ingredients. Bring the rice to a boil, then cover and lower the heat to a simmer. Simmer until all the liquid has absorbed, about 20 minutes.
While the rice is cooking, preheat the grill over medium heat for the chicken. Toss the chicken breasts with all the Caribbean Jerk Chicken ingredients until well combined. When the grill is a steady temperature of 350ºF-400ºF, place the chicken on and grill about 10-12 minutes per side, or until the chicken is no longer pink in the center.
While the chicken and rice are cooking, prepare all the ingredients for the Peach Avocado Salsa. Stir the salsa together, and set it aside to let the flavors develop.
When the chicken and rice are done, serve everything together.
Notes
This recipe can be greatly simplified by just making 1 or 2 of the 4 parts to this meal. Each part is great on it's own, and can be mixed and matched with other recipes you might want to try in the Caribbean flavor realm.
The Peach Avocado Salsa keeps well for 2-3 days in the refrigerator. Be careful to use gloves and do not touch your face if you use habenero chiles.
The Caribbean Jerk Chicken can be frozen and used for a later meal. I cubed up all our extra chicken, and used it for salads at lunch time with the peach avocado salsa.
For a Paleo Cauliflower Coconut Rice, steam cauliflower rice, then add a few tablespoons of coconut cream, and season to taste with sea salt.
For the Jerk Seasoning I used 'The Spice Hunter' brand all natural Jamaican Jerk Seasoning which is salt free.
Prep Time:

30 mins

Cook Time:

20 mins