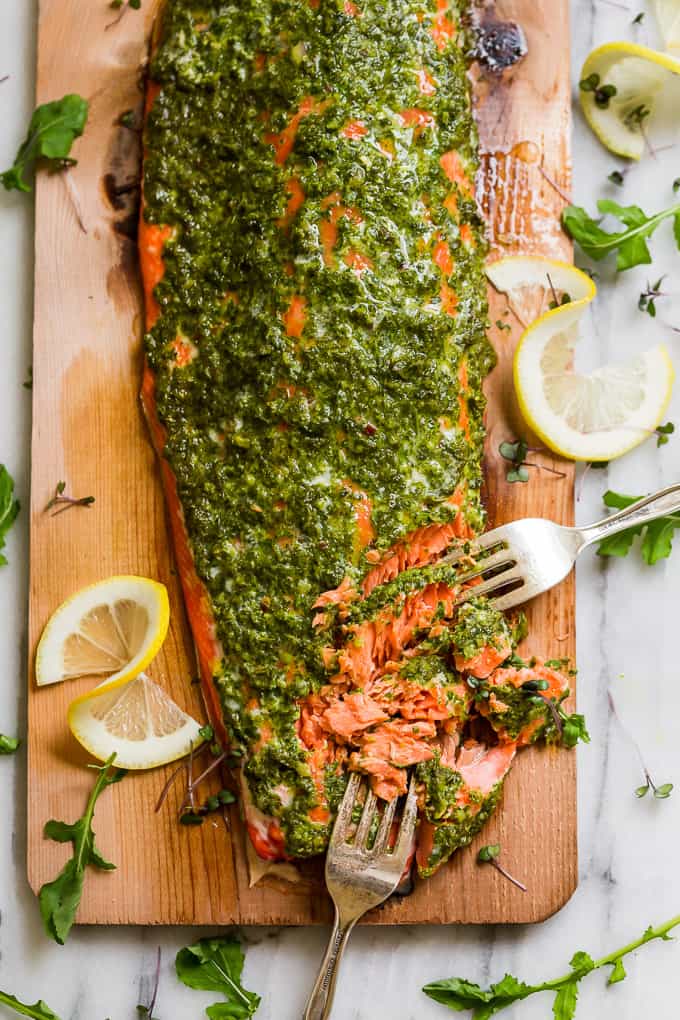 This Cedar Plank Grilled Salmon with Mixed Herb Chimichurri is a showstopper and so easy to make! Grilling on a cedar plank is the perfect way to make anything look incredible, and the flavor is so good with everything I've tried.
The first time I ever used a cedar plank, I couldn't find anything that was big enough to soak the plank in – which is something I didn't think about when I bought the big pack of cedar planks from Costco. I also happened to be on a tight deadline to get some recipe testing and photos done for a client.
So I ended up sterilizing our bathroom sink, which was the only thing in the house big enough to hold the cedar plank. But a full year after that ridiculous situation, I finally have a solution – a turkey roasting pan is absolutely perfect for cedar planks, or any super large roasting pan for that matter.
And by large I mean something bigger than a regular 9″x13″ baking pan. Another solution might be to just find smaller planks, but as long as you have a big roasting pan, you're good to go!
Even if you're not a fan of salmon, you can still make the mixed herb chimichurri, and serve it with grilled chicken. With the abundance of fresh summer herbs right now, this chimichurri is a must make!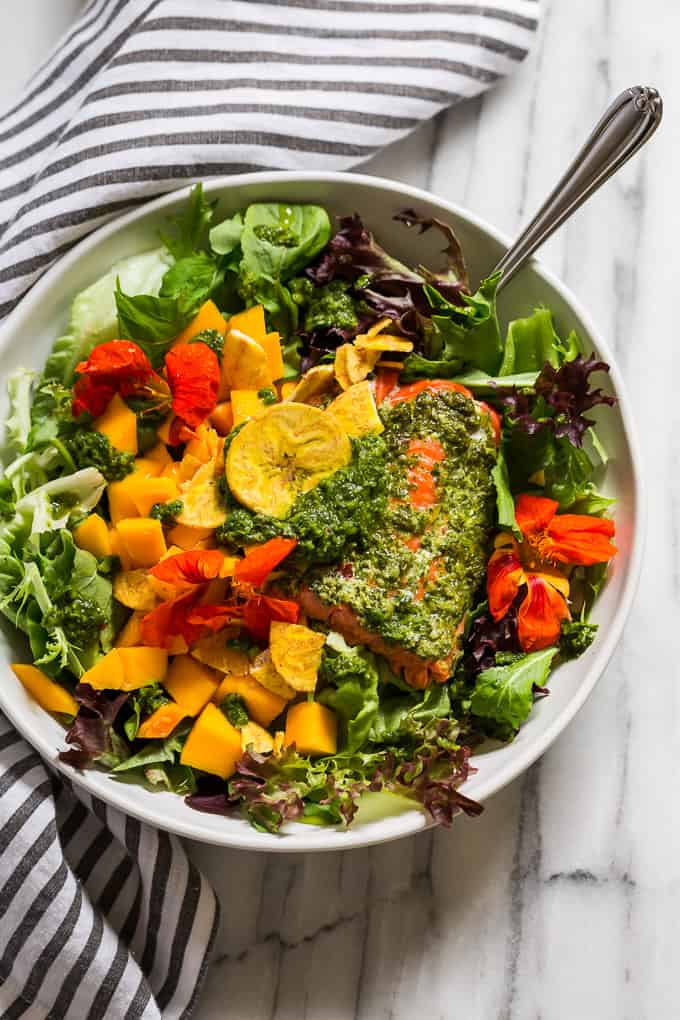 If you're lucky enough to have some leftovers, it's great in salads. Pictured above is the salad I made for days in a row with my leftover salmon, (I'm the only one in our house that likes it). I filled up a bowl with mixed greens, then added cubed Champagne mango, crushed plantain chips, leftover salmon, and drizzled it with leftover chimichurri.
So here's my turkey roasting pan, and you can see it's wall to wall to fit the cedar plank in it. To keep the plank submerged, I set a 1-quart mason jar full of water on top which worked really well.
For the mixed herbs, I like to use a combination of basil, cilantro, and parsley. You can always choose just one herb, (cilantro is really good all by itself). But if you can, definitely try this with all 3.
Once you've removed the stems from the herbs, roughly chop and add them to a food processor. Then process until you have a texture similar to the above photo.
And finally you add the oil and pulse until it's combined.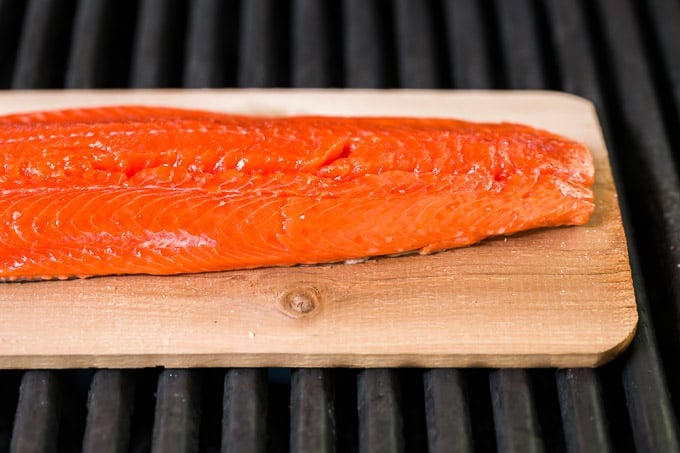 I like to add the chimichurri halfway through the cooking time so that it retains it's fresh flavor.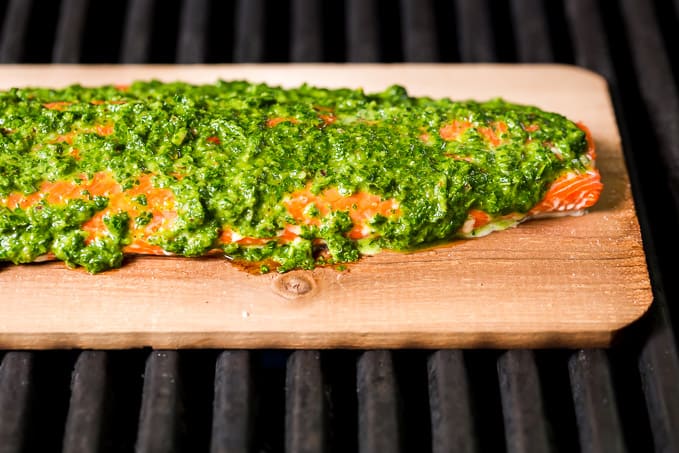 Once the salmon has had a bit of time on the grill, spread an even coat of the chimichurri over the top, and finish cooking. Be careful of cross contamination when you're spreading the chimichurri over the salmon, if your utensil has touched the half cooked fish, you don't want to put it back into the bowl with the chimichurri. Instead, just spoon the sauce over the fish without touching it, then spread it over the fish. If you find you need more sauce, get another spoon that hasn't touched the fish.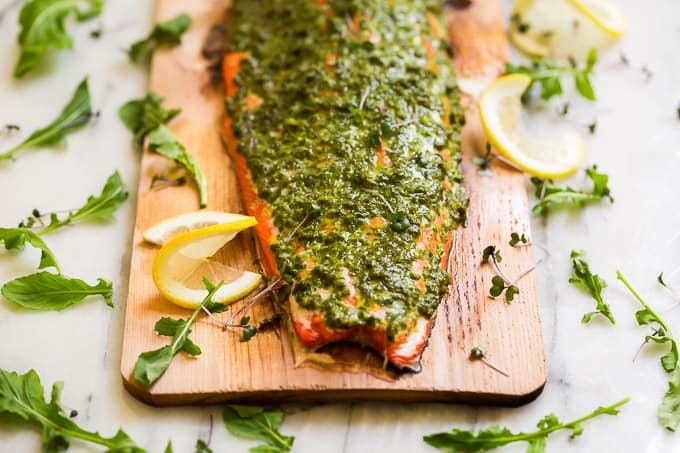 Once the salmon is starting to flake apart, it's done. From there it's time to dig in with extra chimichurri served alongside! Also, if you think you might have leftovers to make lunch salads with, you can double the batch of chimichurri which keeps well for a few days in the fridge, and makes an excellent dressing.
Print
Cedar Plank Grilled Salmon with Mixed Herb Chimichurri
---
Author:

Kari

Total Time:

38 minutes

Yield:

4

servings

1

x

Diet:

Gluten Free
Description
This salmon is a showstopper perfect for entertaining, but it couldn't be any easier to make!
---
1 – food grade cedar plank, (1′ 4″long x 7″ wide)
1 – 1 pound salmon fillet (12″ long by 1″ thick)
olive oil
sea salt and pepper
Micro greens, arugula, and lemon slices for garnishing
Mixed Herb Chimichurri:
3 Tablespoons finely diced shallot or red onion
2 cloves garlic, minced
2 Tablespoons freshly squeezed lemon juice
1/4 cup cup fresh parsley leaves, 1/2 ounce
1/2 cup fresh cilantro leaves, 3/4 ounce
1/2 cup fresh basil leaves, 1/2 ounce
1/4 Teaspoon red pepper flakes
1/4 Teaspoon sea salt
1/4 Teaspoon freshly ground black pepper
3 Tablespoons olive oil
---
Instructions
Start by soaking the cedar plank for at least 8 hours before the cooking time, or up to 1 day.
When you're ready to grill the salmon, make the mixed herb chimichurri. Start by adding the shallot/red onion, garlic, and lemon juice to the bowl of a food processor. Let them marinate together for 10 minutes. This takes the edge of raw onion and garlic.
While the onion and garlic marinate, prepare the herbs by removing as much of the stems as possible. Wash and spin them dry in a salad spinner. Then very roughly chop them into slightly less large pieces. Place the herbs into the food processor with the marinated onion and garlic, along with the red pepper flakes, sea salt, and black pepper.
Process until the herbs are finely chopped. Then with the machine running add, the olive oil and process just to combine.
Preheat the grill over medium heat until a steady temperature of 350ºF is reached. Place the soaked cedar plank on the grill for 5 minutes to preheat before placing the salmon on it. While the plank is preheating, season the salmon by lightly coating it with olive oil. Then sprinkle it with sea salt and freshly ground black pepper. Place the seasoned salmon on the cedar plank, and grill for about 8 minutes, or until you start to see the smallest amount of flaking starting on the edges of the salmon.
Measure out about half of the chimichurri into another bowl and spread it evenly over the salmon, reserving the remaining chimichurri for serving. Continue to grill the salmon just until it starts to flake apart, about 8-10 more minutes for a fillet that's 1″ thick.
Garnish the salmon with micro greens, arugula, and lemon slices. Serve immediately with the reserved chimichuri.
Notes
Prep time doesn't include the 8 hours to soak the cedar plank.
Prep Time:

20 minutes

Cook Time:

18 minutes

Category:

Dinner

Method:

Grilling

Cuisine:

American