This is what happens when our local Flathead cherries come into season! I've been getting 4 pounds of local cherries every week at Farmer's Market for the last 3 weeks in a row! It's not really that many cherries when you split them between 2 people, but I ate 2 pounds by myself yesterday so it it sure looks like someone else is getting the short end of this deal!
I go a little crazy every year eating local fruit, it starts with berry season, continues through cherry season, and on into local melons. It all tastes so amazing that I tend to get carried away – my record in raspberries is 3/4 of a gallon in a single afternoon! Everyone tells me they can't eat fruit like that, but it doesn't bother me at all, in fact I always feel better the more fruits and veggies I eat!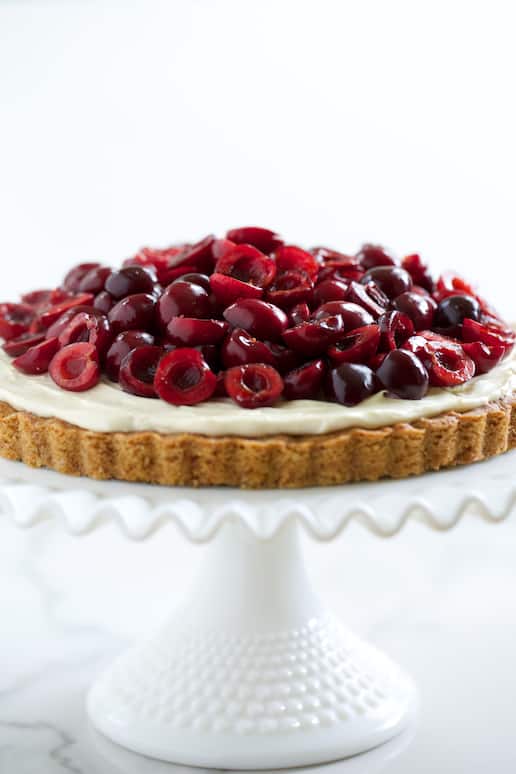 But… back to the subject at hand – Cherry Cheesecake Cookie Tart. And yes, it's totally worth turning your oven on even if it's 90º out! The cookie base is chewy, soft, moist, and vanilla scented. The fresh cheesecake topping is super easy to make, (kind of like a simple frosting) and has a hint of lemon in it. Then you top that all off with the sweetest, juiciest cherries. You can also use all kinds of fruit to top this dessert, (since cherries are only here for a bit) berries and fresh peaches are also great options!
The cookie dough base is adapted from my Chocolate Chunk Cookie Bars – its really easy to make, and you don't even need a mixer. You don't have to use a tart pan for this dessert, but it adds a nice fluted look and it's easier to serve that way.
Tips for removing the tart from the pan:
Hold your hand flat on the removable bottom of the tart pan and gently loosen the ring shaped edge piece being careful not to break your dessert. Slide the tart ring up onto your forearm and slide the tart (bottom metal piece and all) onto a cake stand or decorative plate of your choice. Sliding the ring up your arm is a trick I learned when I worked in a bakery – works like a charm!
We enjoyed some of this tart after a long day hiking in Glacier National Park – what is it about hard exercise that makes dessert taste so good!?!?
Print
Cherry Cheesecake Cookie Tart
---
Cookie Crust:
1 1/2 cups

almond flour

1/2 cup

blonde coconut sugar

1/4 Teaspoon

sea salt

1 Teaspoon

baking powder

1 Tablespoon

tapioca starch, (also called tapioca flour)

1/3 cup

coconut oil, melted

1

large egg

1 Tablespoon

vanilla extract
Cheesecake Layer:
1

–

8

ounce package of cream cheese, softened

2 Tablespoons

honey

2 Teaspoons

vanilla extract

1 Tablespoon

lemon zest

1 Tablespoon

freshly squeezed lemon juice
a pinch of sea salt
Topping:
1

pound of pitted, halved sweet cherries
You can also use berries/ peaches or whatever is in season.
---
Instructions
Preheat the oven to 350ºF.
Lightly grease a 9″ tart pan with coconut oil, and cut out a circle of parchment paper to fit in the bottom of the pan. Lightly grease the top of the parchment circle as well.
Whisk together the almond flour, coconut sugar, sea salt, baking powder, and tapioca starch.
Add the melted coconut oil, egg, and vanilla – mix until a thick cookie dough forms.
Spread the cookie dough as evenly as possible into the tart pan, using a spatula to push the cookie dough into the edges. This is important for an even, fluted look later when you take it out of the pan!
Bake the cookie crust for 15-18 minutes or until lightly puffed but still very moist, (but not doughy) in the middle. Remove the crust from the oven and set it aside to cool.
Meanwhile make your cheesecake filling by beating all the ingredients together until smooth. I tried this in a stand mixer and a mini food processor, and I prefer the food processor. You can do this with a mixer, you just need to scrape down the sides a lot because it's such a small amount. If you use the food processor, cut the cream cheese into cubes before placing it in the bowl. Place the cheesecake filling into the refrigerator until your cookie crust has cooled.
Prepare your fruit for the topping. If you're using cherries, wash, stem, and pit them before cutting them in half. To get the perfect cherry halves in the photos, you have to do the pitting by hand – using a paring knife cut all the way around the cherry. Gently twist the 2 halves apart and remove the pit. If you use a cherry pitter, the cherries look a bit messier, but it's much faster!
Sliced strawberries, raspberries, blackberries, and peaches are all great toppings as well.
When the cookie crust has cooled to room temperature, spread the cheesecake topping evenly over the top. You can cover and refrigerate the dessert at this point for 1 day.
When you're ready to serve, top with the fresh fruit of your choice.
To remove the tart from the pan place your hand flat on the bottom of the tart pan. Gently loosen and remove the tart ring being careful not to break or crack your dessert – as the ring comes away from the edge simply slide the tart ring up onto your forearm and place your dessert onto a cake stand or decorative plate.
Notes
The prep time for this dessert is 45 minutes, but most of that is for the cherries. If you choose to use an easier fruit such as strawberries/blackberries/blueberries, this dessert comes together quickly!
Prep Time:

45 mins

Cook Time:

15 mins