From the first bite of this dish, I knew it was going to go into the regular rotation. While I love every recipe I've ever posted here, I definitely have my favorites, and they tend to be the easiest weeknight dinners.
This enchilada skillet dinner has a lot going on it it's favor, from the comfort food aspect right down to the fact that it's packed with veggies. (And more even importantly, it uses up tons of zucchini which is overflowing in both my garden and my fridge right now!)
It all comes together in 1 pan, and from there you can just go crazy with the toppings and side dishes. My favorite way to eat this is with a side of either cauliflower rice or steamed long grain rice, (both are delicious).
For toppings I've been loading it up with fresh tomatoes because we have them in abundance right now, but for the winter months, your favorite salsa will work as a great stand in. I have served it with both Greek yogurt and sour cream, as well as thinly sliced green onions and avocado, but all you really need is a side of rice.
For the zucchini in this dish there's no exact way to cut it up, the only thing you're looking for is small bite sized pieces. If you're zucchini isn't one of the garden giants the size of a baseball bat, cutting them up will be much easier. Just slice off the ends of a regular sized zucchini, cut them into quarters lengthwise, and finally cut the quarters crosswise into bite sized pieces.
Sauté the zucchini until tender but firm. The zucchini will be cooked further in the oven, so you don't want it to be completely soft before baking it.
I had pre-cooked grilled chicken on hand, (I'll leave the method below) which I added to the skillet. But if you don't have pre-cooked meat, sauté the meat before the zucchini, and then add it back to the pan after the zucchini is finished.
My method for pre-grilled chicken:
Buy chicken thighs or chicken breasts in bulk, (around 5-6 pounds).
Heat the grill over medium high heat.
Grill all of the chicken at once, right after getting home from the store.
Let it cool slightly, cut into bite sized pieces, and package it in airtight containers for the freezer.
Freeze and use within 6 weeks.
Having already cooked chicken on hand is so awesome for quick and easy dinners/lunches! I add it to salads, pasta dishes, and all kinds of skillet dinners like this one.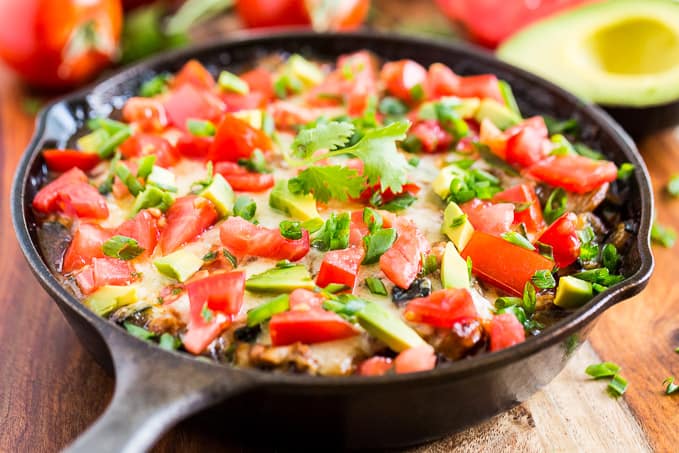 Anyways back on track: once the sauce is added to the pan, you top it with cheese, and bake it until bubbling.
Then serve immediately with all the toppings you desire. And if you're like us, you make this dish on repeat, week after week because it's just that good!
P.S. This recipe started off as enchilada stuffed zucchini boats, but I got lazy, and just threw everything in a skillet instead – yay for easy right!?!
Print
Chicken Enchilada Zucchini Skillet Dinner
---
2

pounds zucchini, about

4

medium

1/2

medium white onion, small dice, 1 cup

2 Tablespoons

avocado or olive oil

2

cloves garlic, minced

2 Tablespoons

chili powder

1/2 Teaspoon

cumin

1 Teaspoon

sea salt, or to taste

1

pound pre-grilled or pre-cooked chicken, see notes

1/2 cup

chicken stock

1 Tablespoon

tapioca starch or organic cornstarch

2 cups

grated sharp cheddar cheese
Toppings:
1

pound tomatoes, diced, 3 medium tomatoes

1

avocado, peeled, pitted, and diced

1

bunch of green onions, thinly sliced
Side dish: cauliflower rice or steamed rice
optional: Greek yogurt or sour cream
---
Instructions
Slice both ends off the zucchini and cut them into quarters lengthwise. Then slice crosswise to the quarters to create small bite sized triangular pieces.
Before starting the enchilada skillet, prep your toppings, and choice of rice. This skillet dish only takes about 15 minutes to cook, so it's best to have everything else ready.
Preheat the oven to 425ºF.
Preheat a 9 or 10″ cast iron skillet over medium heat. When the pan is hot, add the avocado oil along with the chopped zucchini and onion. Sauté just until tender but still firm, about 5-6 minutes.
Add the minced garlic and the spices to the pan, sauté 1-2 minutes, stirring until the spices are mixed in.
Then add sea salt to taste along with the grilled chicken, stir to combine. Mix the chicken stock and tapioca starch or cornstarch together until there are no lumps. Pour the chicken stock mixture into the pan, stirring constantly to combine.
As soon as you've finished adding the chicken stock mixture, remove the pan from the heat and taste it to see if you may need more salt. Then top the skillet dish with the grated cheese. Place the skillet in the oven, and bake for 5-7 minutes, or until the cheese on top is melted, and the skillet is bubbling.
Remove the pan from the oven and serve immediately with your choice of sides and toppings.
If you have any leftovers, they're great reheated as well.
Notes
I love having pre-cooked meat on hand to make dinner even faster, but if I don't happen to have any around, I just cut up 2 chicken breasts and sauté it until it's done. Then remove it from the pan and proceed with the recipe, adding the chicken back in before adding the chicken stock mixture.
Prep Time:

25 mins

Cook Time:

15 mins