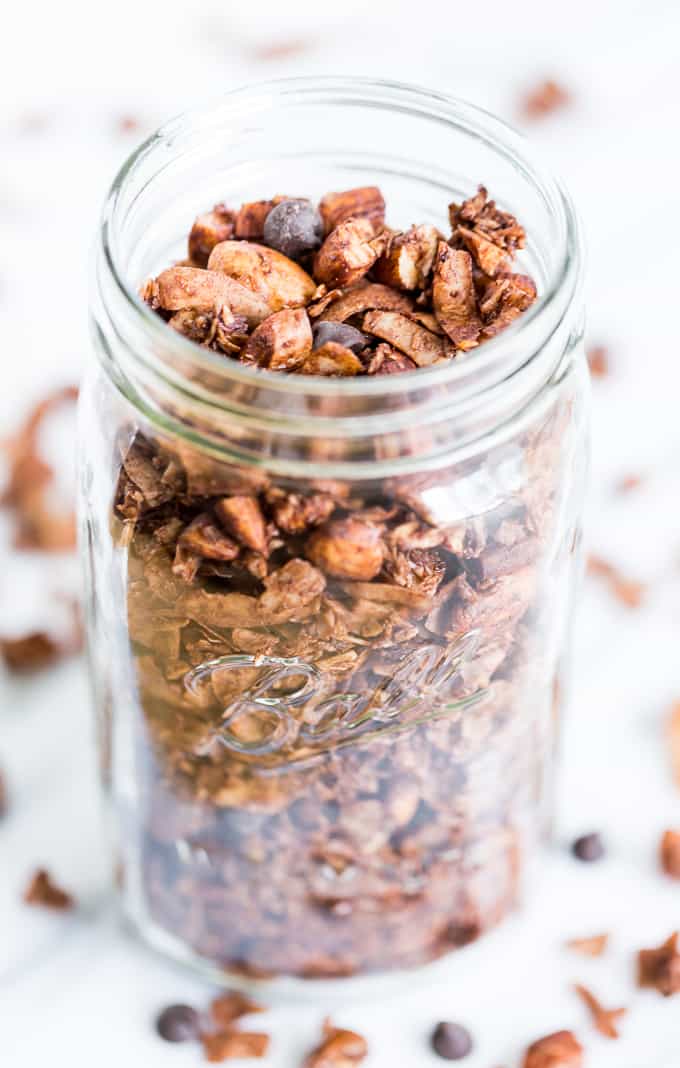 You can thank my Mom for this recipe, it seems every recipe has a story behind it, and this one is no exception. She casually mentioned one day that a healthy granola with the flavors of her favorite candy bar might be nice for hiking season, and who can go wrong with chocolate, almonds, and coconut!?! I of course got right to work, and here we are with the most addictive snacking granola I've ever made… or maybe it's just that I'm really partial to chocolate, (truly my mother's daughter). So anyways it's definitely Mom approved, and it's really great on the trail if that's your thing.
The method for this granola is just like all my other grain free, Paleo granolas (ok… so weirdly I don't think there is a plural for granola so we'll just roll with it). I always keep the oven heat low and slow to caramelize the coconut and nuts without burning them, and make the crispiest granola. With the longer oven time, I find it easiest to bake the granola during dinner, and let it cool down in the oven overnight rather than wait an hour or two to take it out.
Here's the view without the chocolate chips. While it's pretty good like this, I like the chocolate chip addition for snacking, and I prefer it without them as a breakfast cereal (so to each their own I guess – why am I always such a contradiction?).
Try this granola with my Chocolate Covered Pomegranate Acai Bowls.
There are a few great things you need to know about this granola:
1. It's really easy to make and keeps for at least 1 month in a sealed jar or container.
2. The coconut flakes caramelize while baking which is unbelievable with the chocolate flavor!
3. It absolutely does not taste like boring, cardboard-like granola you may have had before. I used to think I hated granola until I started making it homemade!
So… with all that in mind, here's to summertime trail snacking!
Print
Chocolate Covered Almond Coconut Granola
---
3 cups

unsweetened big flake coconut, 5 ounces

1 cup

unsweetened fine shred coconut, 3 ounces

2 cups

sliced almonds, 6 ounces

1/3 cup

cocoa powder

1 Teaspoon

sea salt, or to taste

1 Tablespoon

vanilla extract

1/2 Teaspoon

almond extract

1/3 cup

maple syrup, I used Grade A

2 Tablespoons

avocado oil
Optional

1 cup

of chocolate chips, I used Enjoy Life
---
Instructions
Preheat the oven to 300ºF and line a baking sheet with parchment paper.
In a large bowl, combine the coconuts, almonds, cocoa powder, and sea salt. Stir until the cocoa powder is thoroughly mixed in.
Add the vanilla and almond extracts, maple syrup, and avocado oil. Mix to thoroughly combine.
Spread the granola evenly over the baking sheet.
Place the granola in the oven and bake for 20 minutes, stirring once at the halfway point.
After the 20 minutes, turn off the heat, open the oven and stir the granola one last time. Leave the granola in the oven and shut the door. Let the granola cool in the oven for at least 1 hour or overnight.
When the granola has completely cooled to room temperature, transfer it to an airtight container.
You can also add the optional chocolate chips when the granola has cooled.
This granola keeps well for 1 month in an airtight container.
Notes
You can also substitute 2 cups (or 9 ounces) of chopped whole almonds for the slivered almonds which is a more economical choice, and adds lots of extra crunch!
Prep Time:

10 mins

Cook Time:

1 hour 20 mins