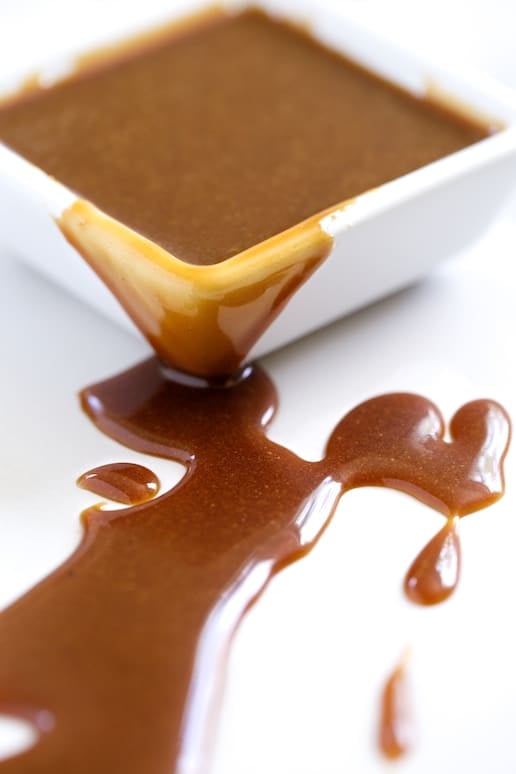 Everyone needs a good caramel sauce – it's a basic like chocolate sauce or aioli, these things are essentials!
Don't be fooled by the double coconut in the title, because it doesn't really taste like coconut, just a deep caramel flavor. The coconut part of this recipe comes from the coconut sugar and coconut cream, which is what makes this recipe healthier than a traditional caramel sauce. It's dairy free but it doesn't loose any of it's richness, and coconut sugar is a great alternative to regular sugar. It's not that I'm saying alternative sweeteners are healthy – they're 'healthier' which is good enough for me!
For caramel sauces, it's best to use the lightest colored pan you own so you can clearly see the color. If you try to cook caramel in a black nonstick saucepan, you'll really struggle to tell when it's done, and it's really easy to burn it if you can't see the true color!
I found making caramel with coconut sugar to be easier than regular sugar, (which I've burned on a number of occasions). It starts off brown and thin in consistency like the left hand photo above, and after a bit of simmering, it turns just slightly browner like the right hand photo above and gets thicker (refer to photo below). The best way to tell if it's done or not, is to taste it over and over again, (it's a rough life but someone has to do it) until it tastes like caramel which will happen after about 8-10 minutes of simmering depending on how vigorous of a simmer you've got going on.
Tip: Any sauce you make needs to thicken a little, from a cream sauce to caramel sauce, you'll know they're done by the way they stand up on their own. In the photo above, you can see the caramel sauce isn't spreading around, it 'sits up' by itself.
I highly recommend serving this with the Caramelized Banana Vanilla Bean Ice Cream I posted earlier this week. Both recipes are great used separately, but when they're put together it's too good for words! Actually… the word magical comes to mind, but that could be too much Harry Potter influence lately!
Tip: Speaking of Harry Potter, try listening to the books on audio. I'm a huge fan of reading, but I also love audio books and the narrator is beyond entertaining! I'm serious about the audio book thing though – the next time you have a crazy amount of dull things to do, consider listening to that book you haven't gotten around to reading yet, and time will fly!
Print
Double Coconut Salted Caramel Sauce
---
Description
This caramel sauce is perfect with so many desserts and made with alternative sweeteners!
---
1 – 13.5 ounce can coconut milk, refrigerated, (only the cream)
1 cup coconut sugar
1/4–1/2 Teaspoon sea salt (start with the lesser amount and add more to taste)
1 Tablespoon vanilla extract
---
Instructions
Choose a light colored saucepan so you can see the color of your caramel while you're cooking it.
Skim the hardened coconut cream from the top of the refrigerated can of coconut milk, reserving the liquid for another use.
Combine the coconut cream, coconut sugar, and the sea salt together in the saucepan.
Bring the mixture to a boil, and lower the temperature until the caramel it at a rolling simmer, which means it's bubbling across the entire surface.
Simmer, stirring every couple minutes until it begins to thicken and darken slightly. This will take about 8-10 minutes on average, but you'll need to taste your sauce once you notice it thickening up.
Once it takes on a caramel flavor, remove it from the heat. Let the sauce cool for a few minutes before whisking in the vanilla extract.
Serve the sauce as desired, or refrigerate to use within 10 days.
Prep Time:

5 mins

Cook Time:

10 mins

Category:

Dessert

Method:

Stove Top

Cuisine:

American
Keywords: Dairy Free Caramel Recipe, Paleo Caramel Recipe, Recipe for Paleo Caramel